This post contains affiliate links. Read my disclosure policy here.
You're going to love this collection of 25 Delicious Vegan Thanksgiving Recipes—from beverages to mains to desserts. You'll find some traditional recipes and some with a fall twist. Your table will be complete with colorful, flavorful, and peaceful food to celebrate this wonderful holiday.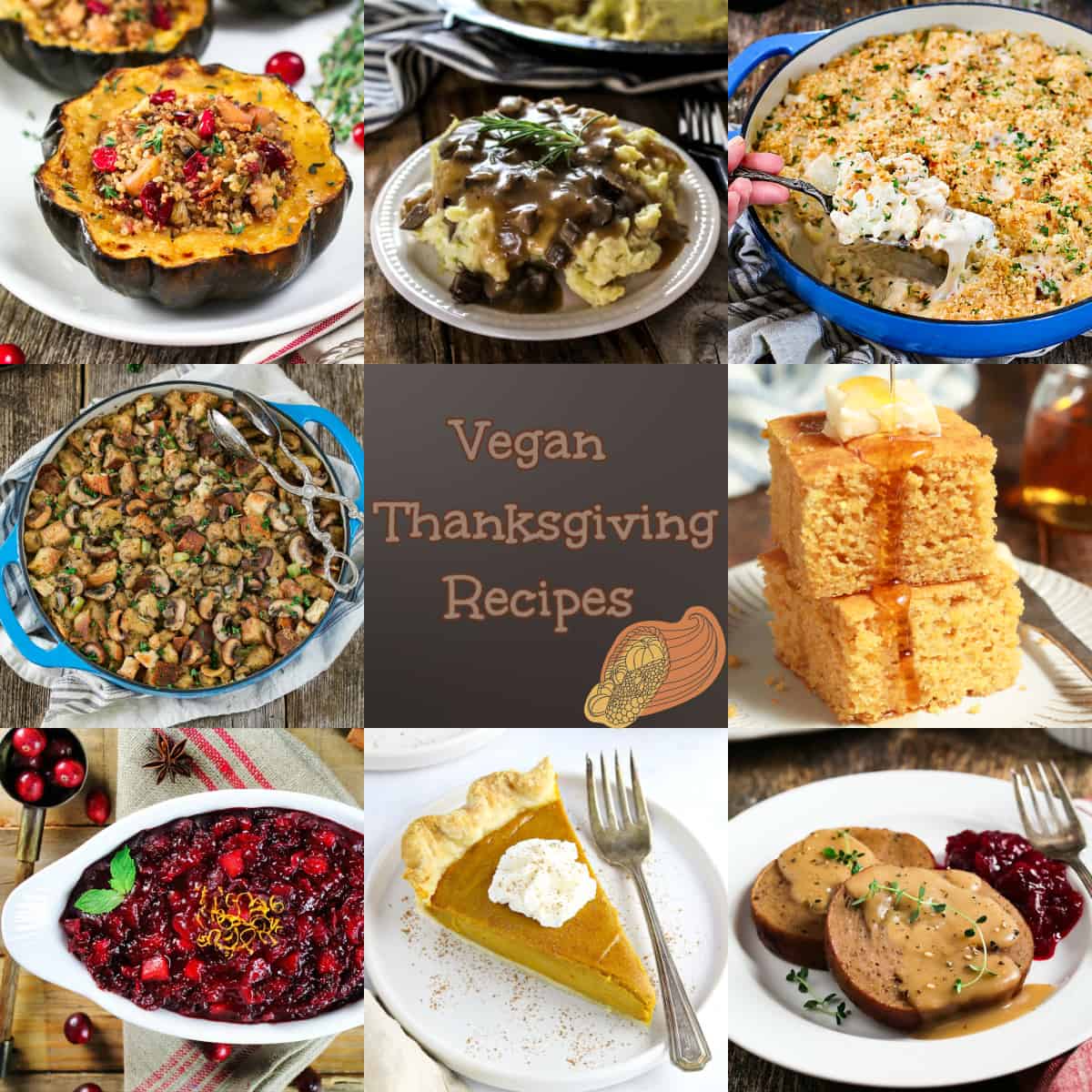 Thinking about hosting a Vegan Thanksgiving this year but not sure where to start? Sometimes it can be overwhelming especially if you have omnivore guests coming, too.
Well, don't worry, because this scrumptious selection of Vegan Thanksgiving Recipes will prepare you for the chow down and make everyone happy. Eating vegan food on Thanksgiving doesn't mean that we have to miss out. We just have to veganize some classics and bring some love to the table.
So yes, we can have savory stuffing, buttery mashed potatoes, creamy green bean casserole, and pumpkin pie. It's all delicious, satisfying, and cruelty-free!
Let's show our omni friends that we don't have to eat kale and tofu (which are both delicious) to celebrate the holiday. So, leave that ToFurkey at the store, and let's get down to business!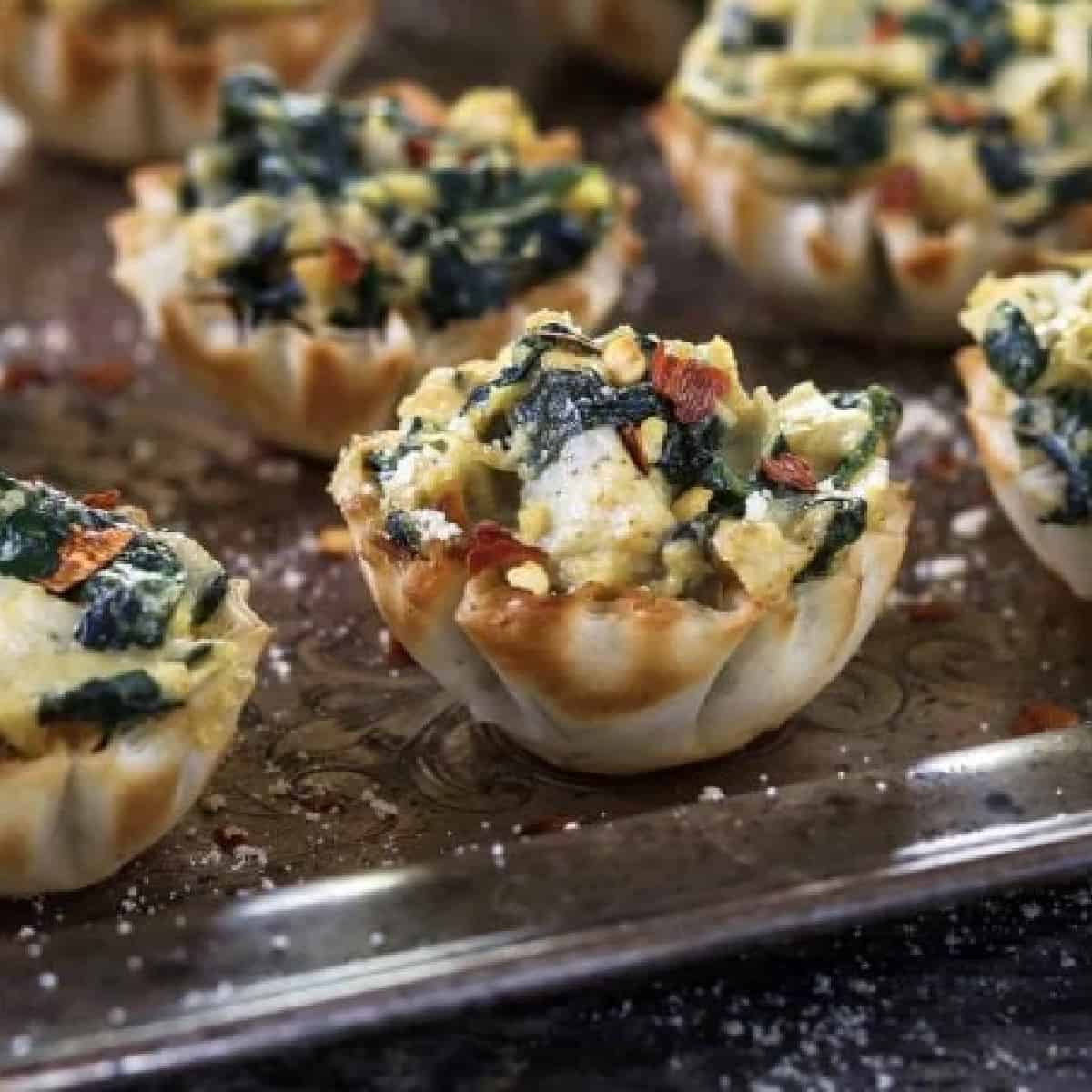 Vegan Spinach Artichoke Cups
It's everyone's favorite dip but in a bite-size version. Just make the filling, then stuff it in phyllo shells, and bake for 10 minutes. So easy and so good!
Vegan Cheddar Cheese
This Vegan Cheddar Cheese is smoky, sharp, and sliceable. It's a great choice for a snack board that includes sliced vegan meat such as vegan pepperoni along with crackers, nuts, veggies, fresh herbs, olives, or fruit.
Crabless Vegan Stuffed Mushrooms
These Crabless Vegan Stuffed Mushrooms are simple to make and are totally delicious! The filling has a crab-like texture and an ocean-like flavor that will wow your guests!
Vegan Thanksgiving Soups
Fall-inspired soups are so cozy and perfect for your vegan Thanksgiving celebration. Serve as a starter or along with the other side dishes.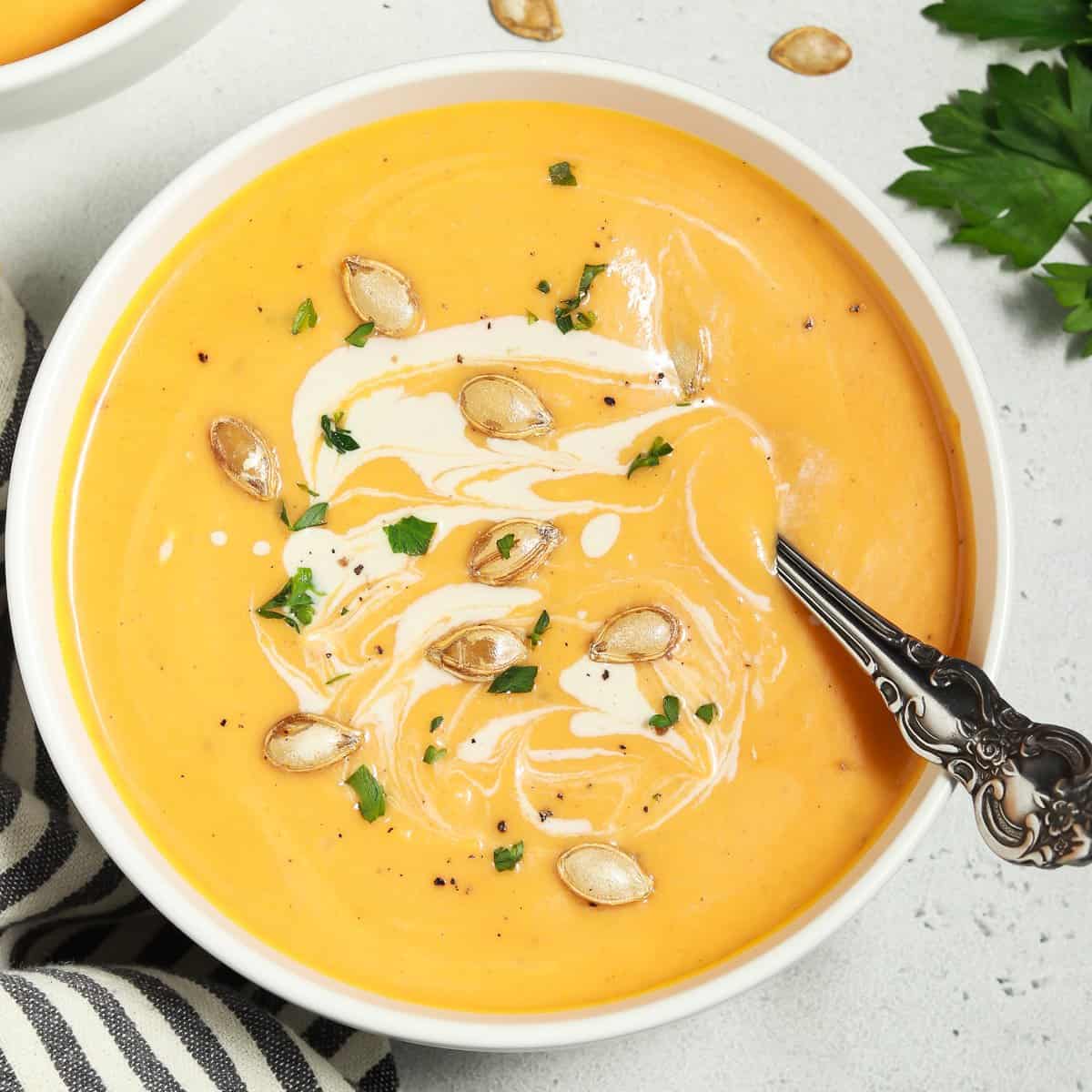 Vegan Butternut Squash Soup
This Vegan Butternut Squash Soup is the perfect way to celebrate fall! It's warm-spiced, hearty, and oh-so-cozy!
Vegan Potato Leek Soup
This version is made in an Instant Pot which is great because it will help free up space on your stove and it will keep the soup warm. You can even serve it right from the Instant Pot. If you don't have one, you can make my vegan potato leek soup stovetop version. You can make it the night before and just heat it up when you're ready.
Vegan Thanksgiving Sides
Traditional Thanksgiving sides such as mashed potatoes, stuffing, gravy, and green bean casserole can all be veganized. Here's a list of my plant-based versions and some non-traditional sides to choose from.
Vegan Cornbread Stuffing
This Vegan Cornbread Stuffing is chock-full of autumn flavors and it'll be a hit at your holiday table. The combination of sautéed aromatics, savory vegan sausage, tart cranberries, and rustic cornbread will have them going back for seconds.
Vegan Sweet Potato Casserole
This Vegan Sweet Potato Casserole is a must-have classic for your holiday table. It's warm-spiced, subtly sweet, and a real crowd favorite!
Vegan Green Bean Casserole
This Vegan Green Bean Casserole is a must for your holiday table. The tender veggies are wrapped in a savory mushroom sauce, topped with crispy fried onions, then baked until hot and bubbly.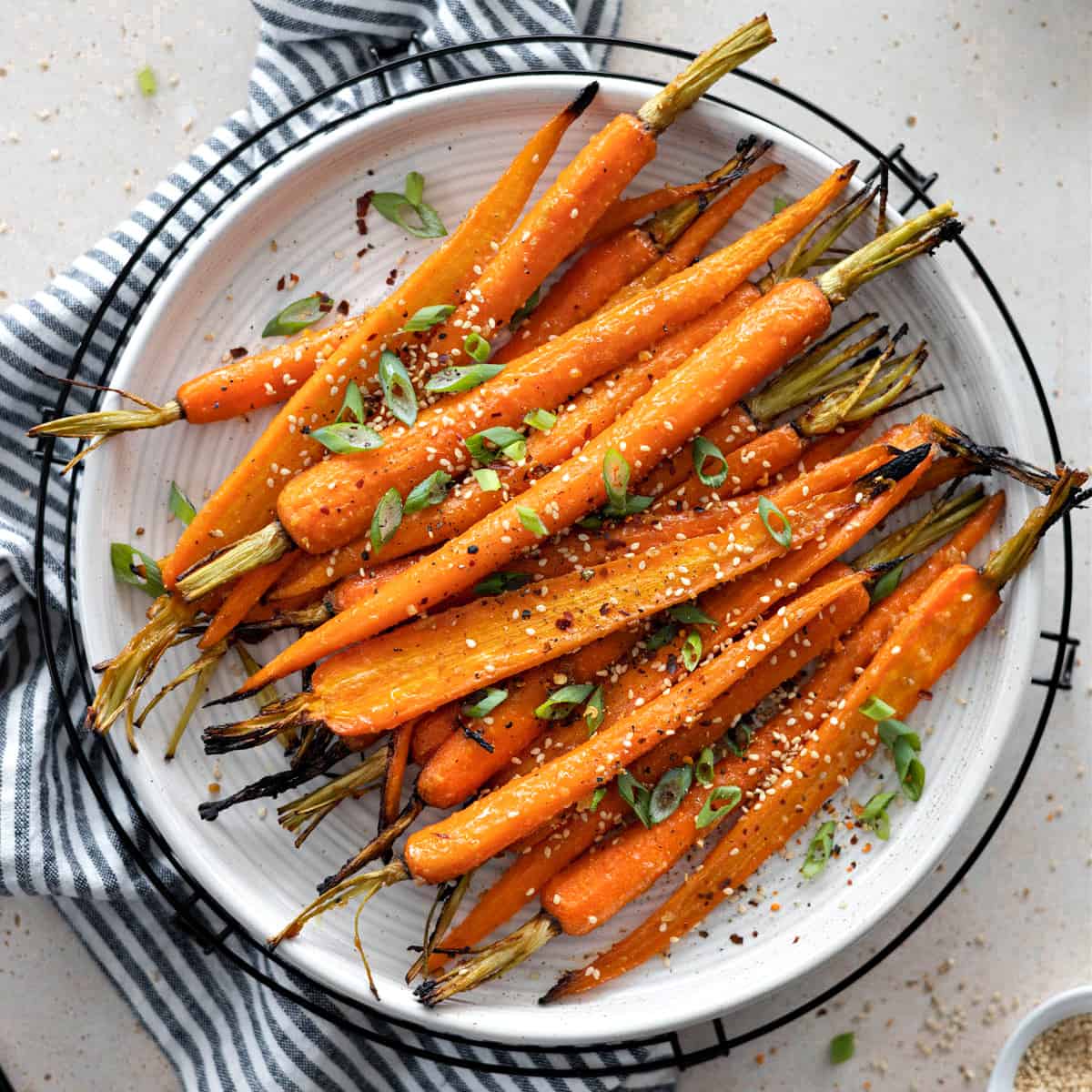 Vegan Miso Glazed Carrots
These Miso Glazed Carrots will liven up your holiday meal with the tastiest flavor combination. They come out of the oven perfectly roasted with a caramelized glaze that is zesty, subtly sweet, and filled with umami flavor!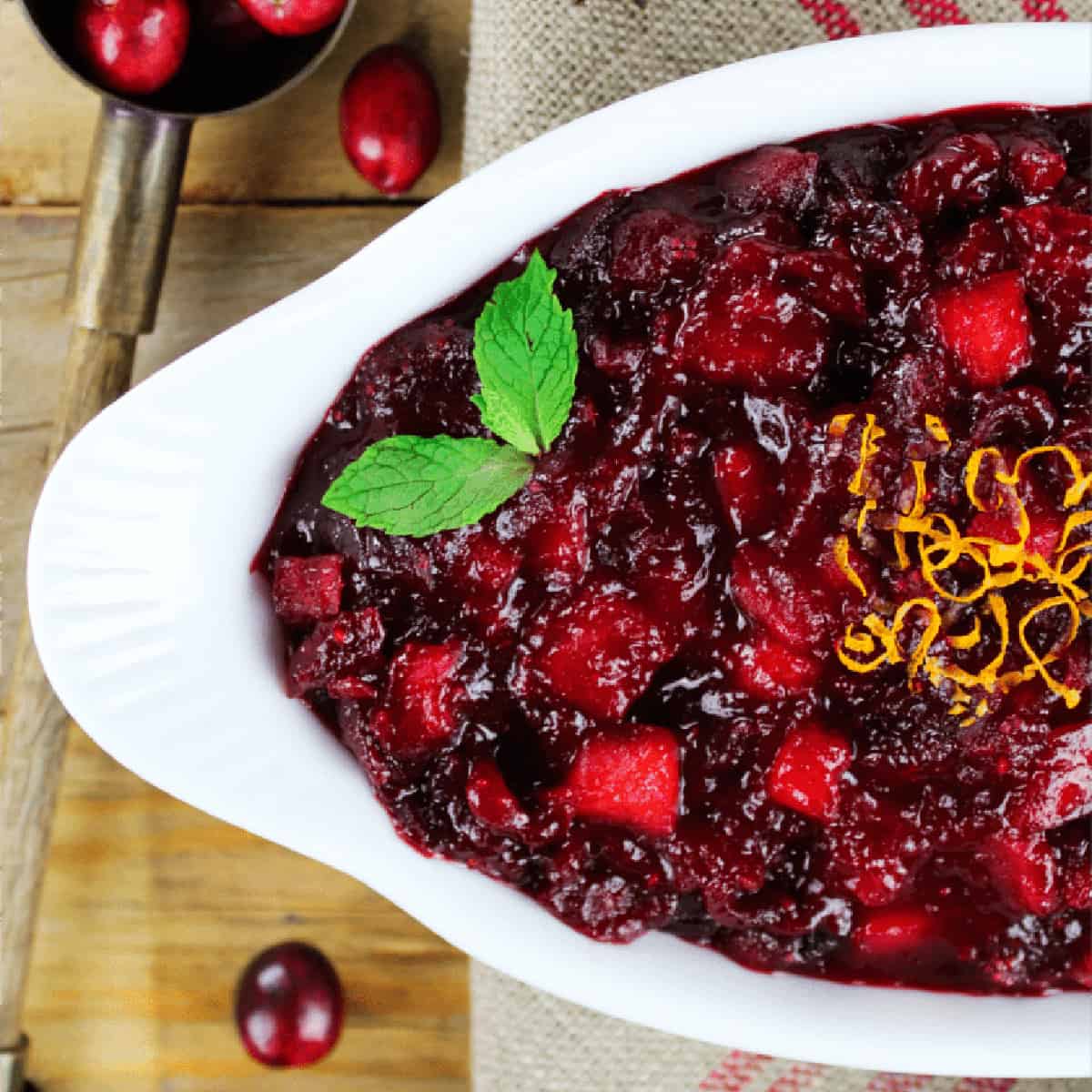 Apple Cranberry Sauce
This Apple Cranberry Sauce is bursting with mouth-watering flavors and has the perfect balance of sweet & tart. Your taste buds won't even know what hit 'em.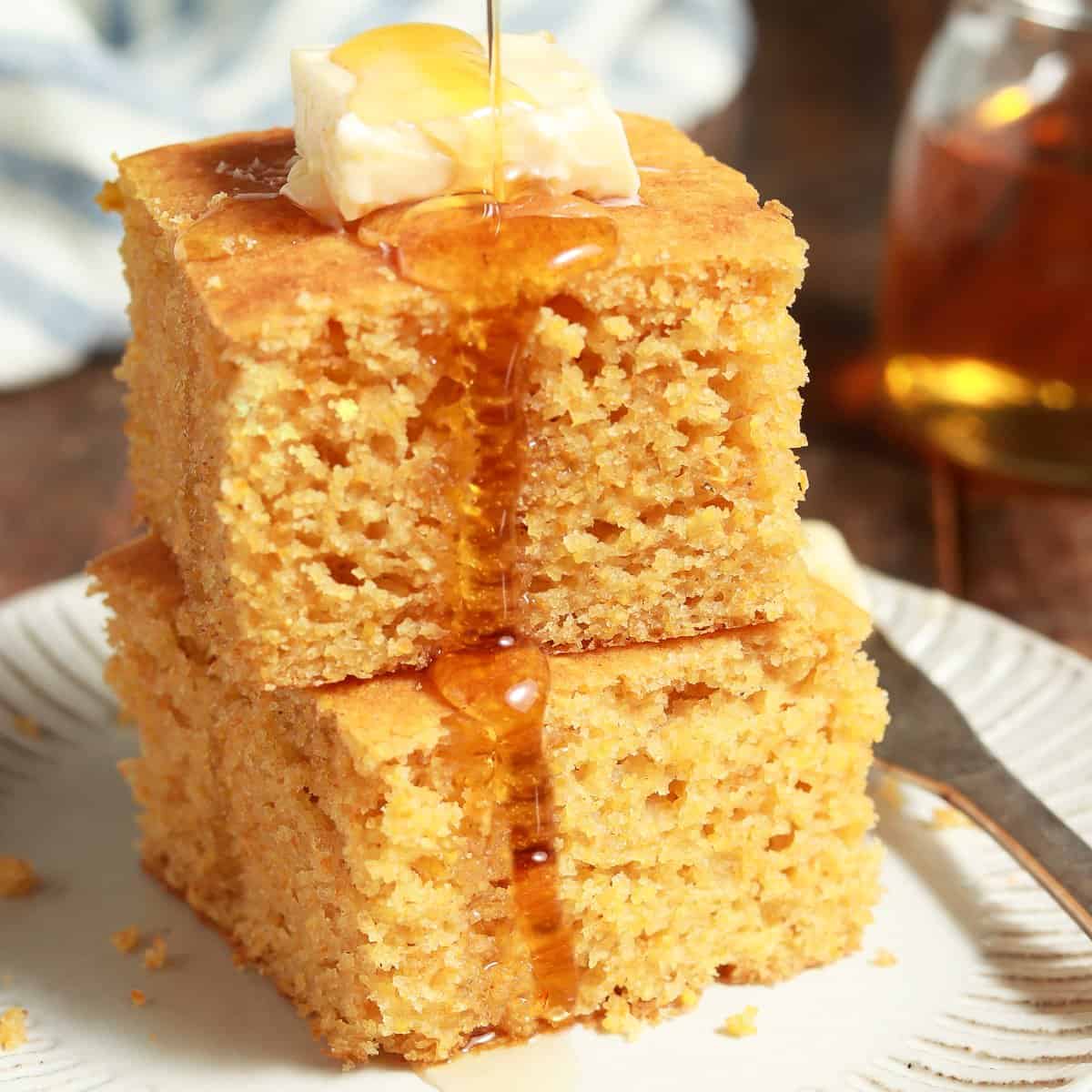 Vegan Cornbread
Make your Thanksgiving meal complete with a warm batch of this delicious Vegan Cornbread. It's easy to make and bakes to golden perfection in just 20 minutes!
Vegan Sourdoughbread Stuffing
This Vegan Sourdough Bread Stuffing tastes just like a classic stuffing recipe, but with a subtle zing in every bite. It's the perfect addition to your holiday table.
Cheesy Vegan Cauliflower Casserole
This veggie-loaded Vegan Cauliflower Casserole is layered with ooey-gooey cheese, topped with buttery breadcrumbs and then baked to perfection. It's easy and delicious!
Vegan Mashed Potatoes and Mushroom Gravy
Bring on the Creamy Mashed Potatoes & Mushroom Gravy! This traditional holiday goodness is so easy to make, super creamy, and comforting.
Baked Vegan Mac and Cheese
This Baked Vegan Mac and Cheese is the epitome of comfort food! It's loaded with rich, cheesy, and buttery goodness that'll have you coming back for seconds. It's perfect for holiday entertaining.
No-Knead Artisan Bread
I'm not exactly sure if this Artisan Bread is considered a side, but it certainly fits in the must-make category. The crust is golden and crackly, while the inside is soft and fluffy. Plus, there's no kneading required and you can easily make this ahead.
Main Dish Vegan Thanksgiving Recipes
Below, you'll find a delicious list of vegan Thanksgiving recipes that would be perfect to serve as the main course. They are all full-flavored, satisfying, and beautiful!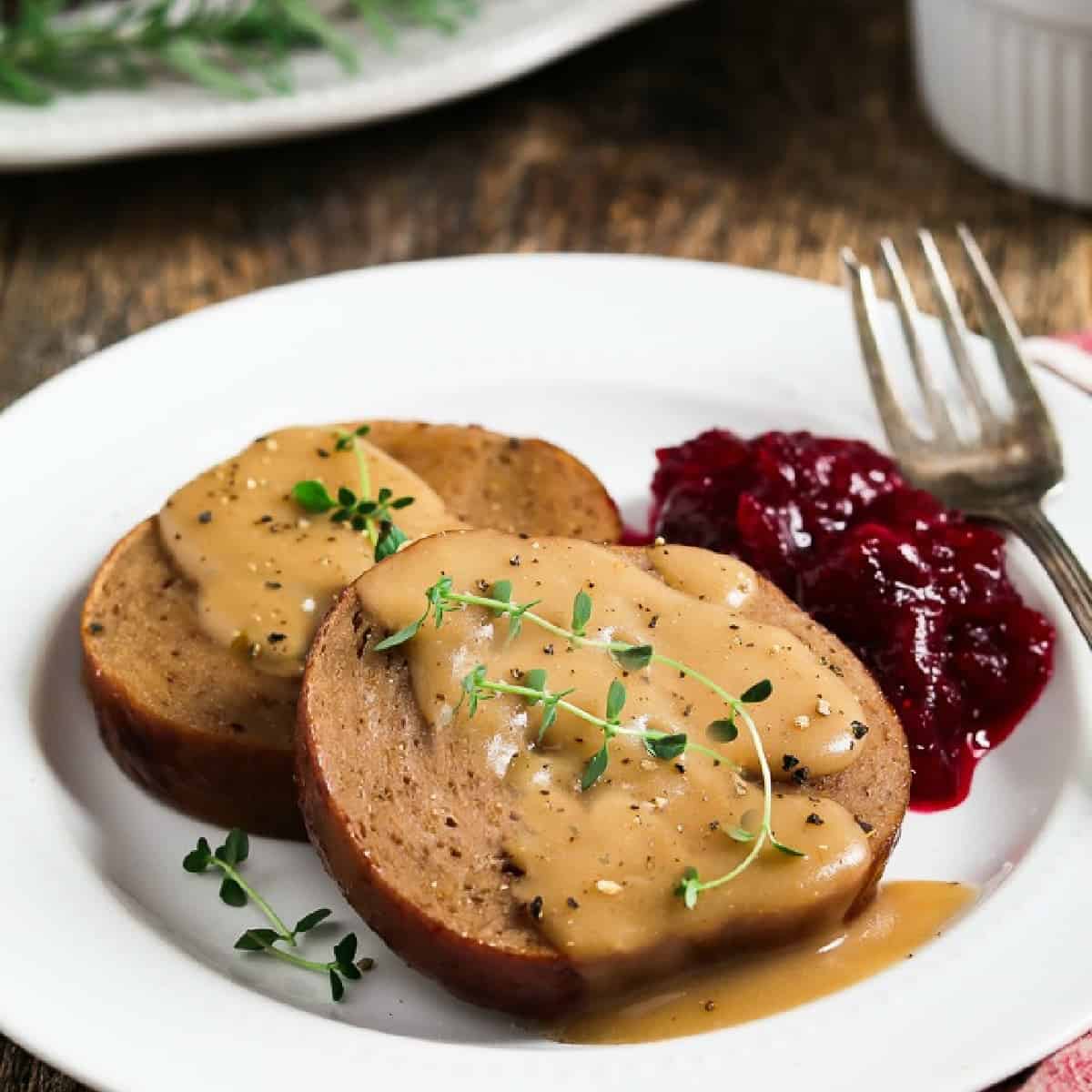 Vegan Holiday Roast
Make your festive dinner complete with this succulent Vegan Holiday Roast. It's filled with savory flavors and finished with a mouth-watering glaze.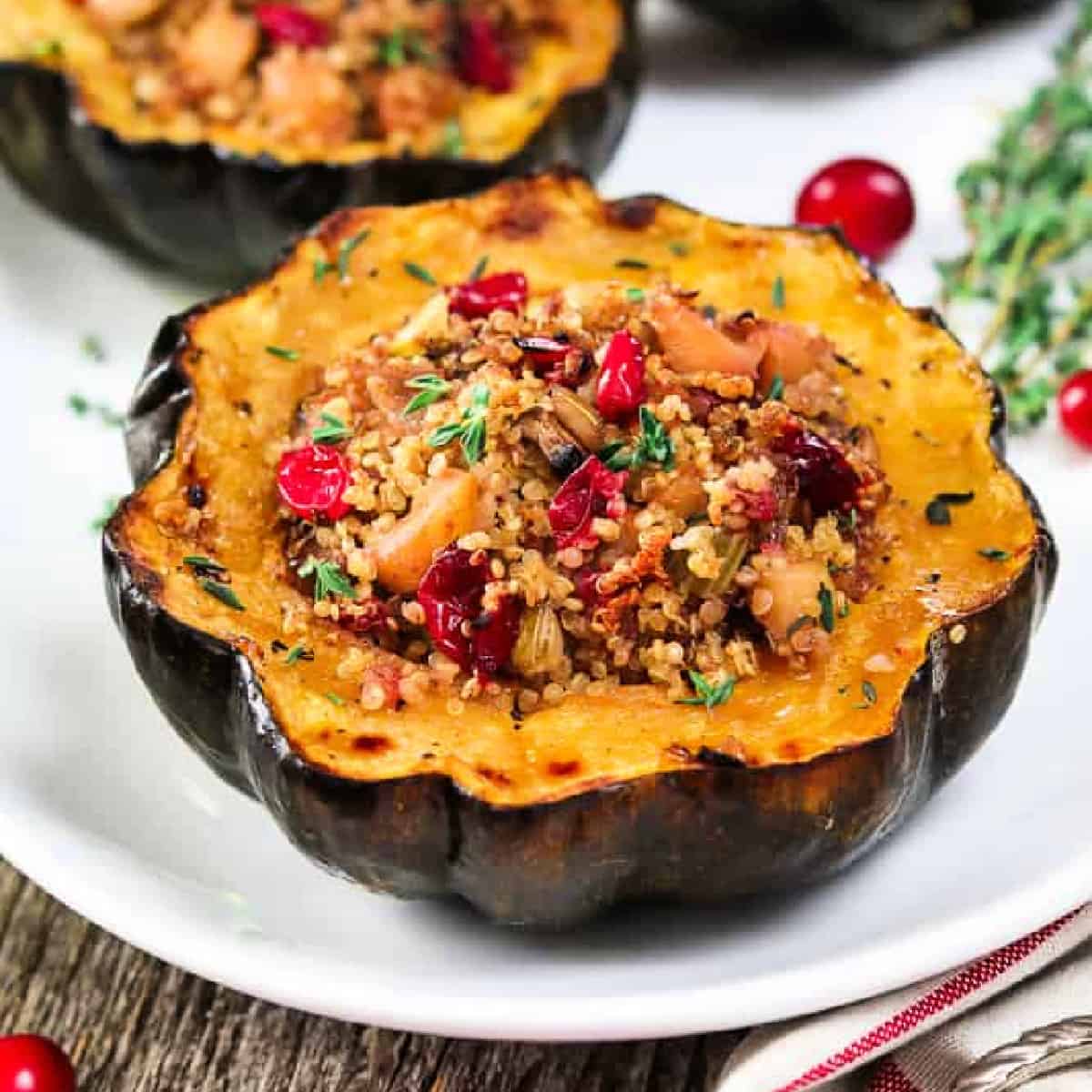 Stuffed Acorn Squash
This Stuffed Acorn Squash is a great addition to your lineup of vegan Thanksgiving recipes. It's an all-in-one meal that's bursting with fall flavors. The savory goodness comes from sautéed onions, celery, mushrooms, and warm spices. Then it's balanced out with subtly sweet and tart flavors from apples and cranberries. The quinoa gives it a nice texture and lots of added protein. It's heavenly!
Vegan Wellington
Impress your guests with this gorgeous Vegan Wellington! The filling is meaty, satisfying, and ever-so-tasty! It's surprisingly easy to make too!
Vegan Meatless Loaf
This Mushroom-Walnut Meatless Loaf w/ Ketchup Glaze is hearty, meaty, and full of savory flavor. It will keep the vegans and non-vegans at the table together.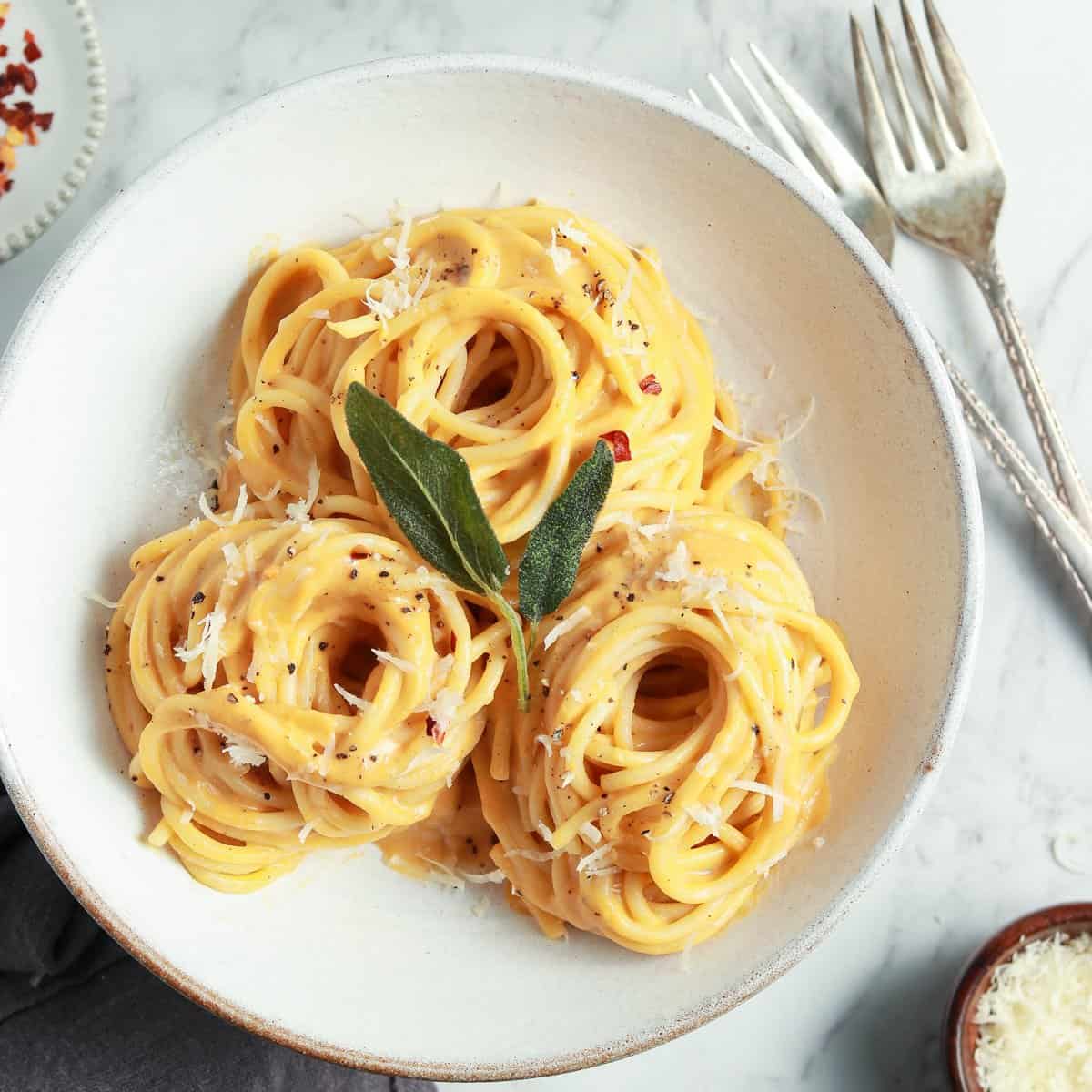 Vegan Butternut Squash Pasta
This Vegan Butternut Squash Pasta is the ultimate comfort food with its rich, silky-smooth sauce and crispy sage topping. It tastes like fall!
This Stuffed Butternut Squash is an all-in-one meal that is hearty and bursting with flavors. The stuffing is filled with savory vegan sausage, rice, crisp apples, tart cranberries, and warm fall spices. It's a beautiful main dish which also makes it perfect for a holiday dinner.
Vegan Thanksgiving Desserts
Your vegan Thanksgiving festivities wouldn't be complete without something sweet! Below, you'll find a few of my favorite easy and delicious desserts to try. If you want something non-traditional you can choose from my list of vegan dessert recipes.
Vegan Pumpkin Pie
Easy Vegan Pumpkin Pie – A silky, warm-spiced filling nestled in a buttery flaky crust that's baked to golden perfection! You won't believe how easy it is, and they won't even know it's vegan. It's a must for your holiday table!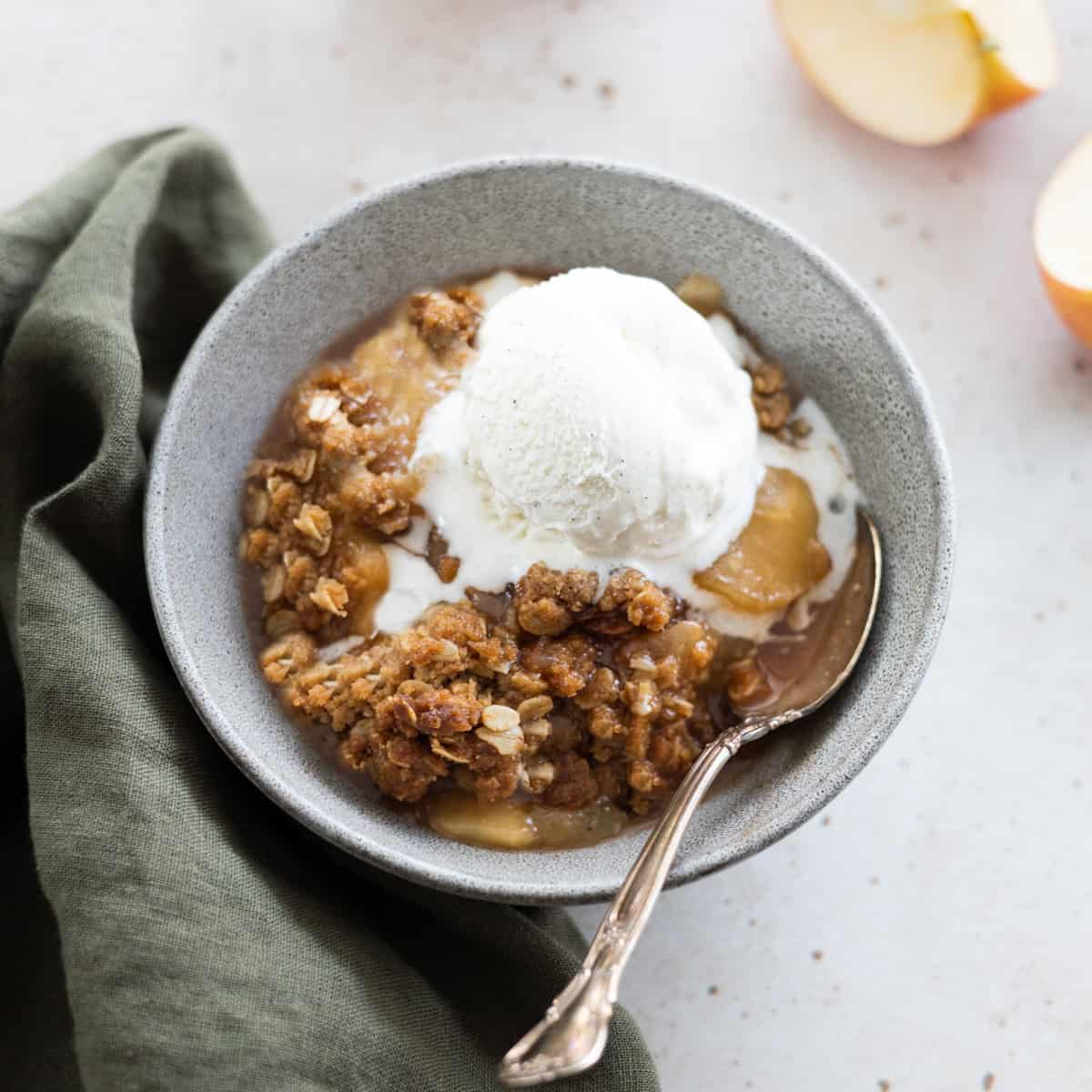 Vegan Apple Crisp
This Vegan Apple Crisp is a fall-weather must! It's brimming with warm cinnamon apples and topped with a buttery-crisp topping that is oh-so-good! Plus, it's so easy to make and requires minimal prep.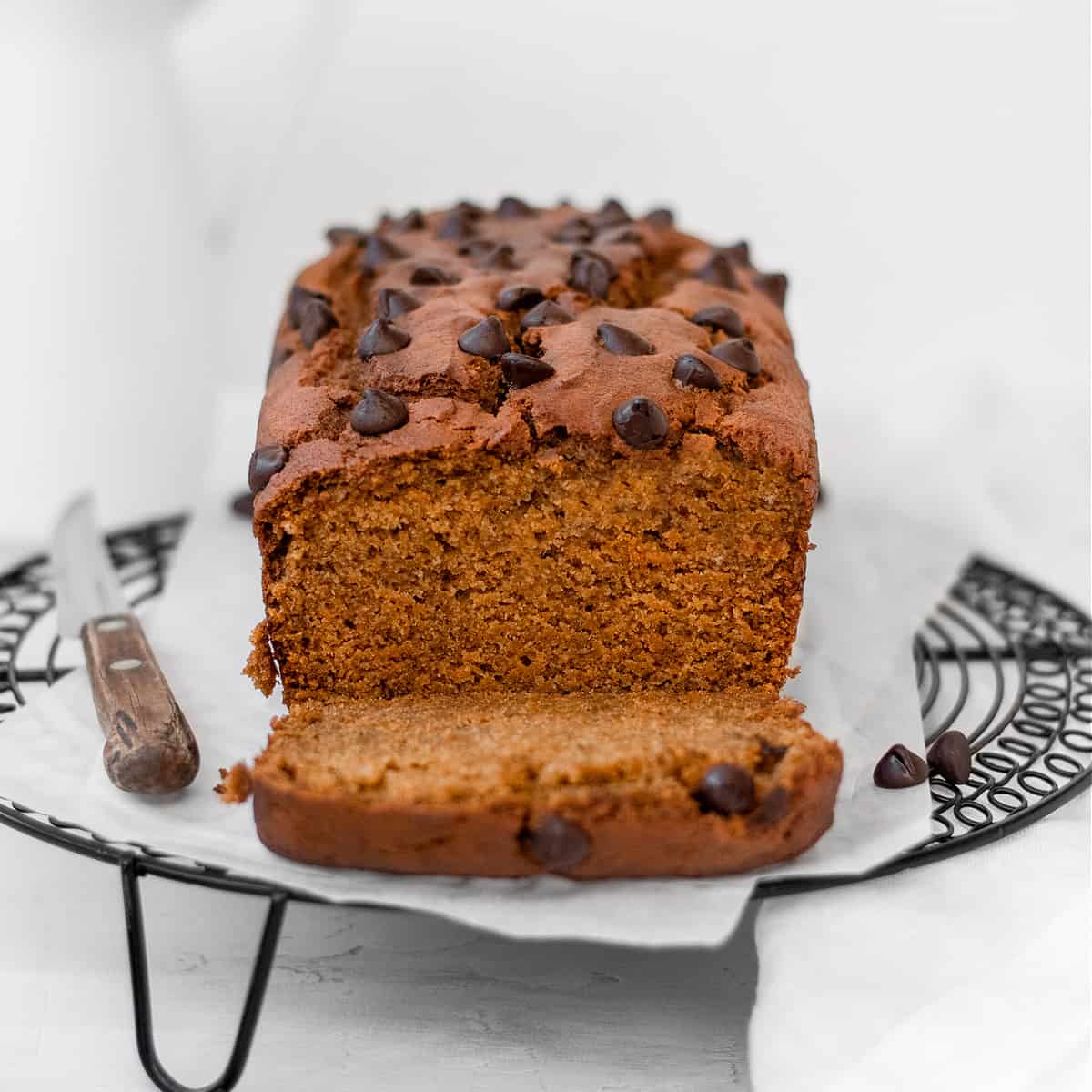 Vegan Pumpkin Bread
This Vegan Pumpkin Bread is perfect for the fall season or any time of year. It's warm-spiced, with a tender crumb, and it's loaded with pumpkin flavor. Plus, it's easy to make and calls for simple ingredients.
If you're interested in a gluten-free version for your guests, here is a delicious vegan gluten-free pumpkin bread recipe by Zardy Plants. It looks fabulous!
I hope you enjoyed this delicious lineup of vegan thanksgiving recipes and you find something to make for your family and friends. Have a happy holiday and feast to your heart's content!
25 Vegan Thanksgiving Recipes: Butternut Squash Pasta
25 of the tastiest vegan Thanksgiving recipes featuring savory appetizers, hearty main dishes, popular side dishes, soups, and classic desserts. If you want to keep things simple and make just one meal that encompasses fall, this Vegan Butternut Squash Pasta would be a great choice. It's the ultimate comfort food with its rich, silky-smooth sauce and crispy sage topping. You can serve it with roasted brussels sprouts or with a fall-style salad.
Ingredients
Crispy Sage
3-4

tablespoons

olive oil

10-15

fresh sage leaves
Butternut Squash Pasta
12

ounces

spaghetti

1.5

tablespoons

olive oil

+ more for drizzling on pasta

1

small

onion

, diced

2-3

cloves

garlic

, chopped or minced

½

teaspoon

dried thyme

¼

teaspoon

red pepper flakes

(more/less to taste)

⅛

teaspoon

ground nutmeg

(optional)

1.5

cups

vegetable broth

1.5

cups

butternut squash

, peeled and diced into ½-inch cubes (measured cubed)

¾

cup

non-dairy milk

, unsweetened

1

tablespoon

nutritional yeast

1

tablespoon

lemon juice

, freshly squeezed

½

teaspoon

sea salt

+ more for pasta water

Fresh cracked pepper

, to taste

⅓

cup

non-dairy parmesan

+ more for serving (optional)
Instructions
Start by heating up a large pot of salted water over high heat until it's almost boiling. Then cover and lower the heat to keep it hot until ready to use.

For the crispy sage, heat oil in a large skillet over medium-high heat until it's hot and shimmering. Now add the sage leaves in a single layer and fry for 15-20 seconds, then flip with tongs, and fry for another 15-20 until crisp, but not browned. The color should turn dark green. Transfer to a paper-towel-lined plate to absorb excess oil.

For the sauce, wipe out the pan and place it back on the stove, and heat up oil over medium heat. Once hot, add the onions and a pinch of salt. Sauté until tender and slightly golden. About 4-6 minutes.

Add the garlic, red pepper flakes, nutmeg, and thyme. Sauté for 30-60 seconds, until fragrant.

Pour the broth into the pan, then add the cubed squash, salt, and pepper, now give it a good stir. Raise the heat to get things simmering, then lower the heat to maintain a medium simmer. Cover with a lid and cook until the squash is fork-tender, about 12-14 minutes. Remove from heat.

While the squash is cooking, bring the pasta water to a boil, then add the spaghetti and cook until just shy of al dente, and according to package directions (usually around 8-9 minutes). Stir occasionally to prevent sticking. Once the pasta is cooked, reserve ½ cup of pasta water and set aside. Drain the pasta and drizzle with olive oil to prevent sticking.

Now, carefully add the contents of the pan into a blender, along with the milk, nutritional yeast, and lemon juice. Blend on high until smooth. Now pour the mixture back into the pan over medium heat. Taste for seasoning and add more if needed.

Add the pasta and gently toss to combine, then cook for 1-2 minutes more. If the sauce is too thick, you can start adding some of the pasta water until you've reached desired consistency. You may not need any or much at all.

Remove from heat and toss with a few crumbled sage leaves and vegan parmesan (optional). Serve with the remaining sage leaves and more vegan parmesan if desired. Enjoy!
Notes
Nutritional Yeast - adds a slightly cheesy flavor and helps thicken the sauce. You can also use vegan parmesan or 2-3 teaspoons of vegan cream cheese to thicken.
Butternut Squash - Choose a squash that has a medium-dark beige skin that is somewhat matte and not shiny. If it's too pale, shiny, or has green streaks in it, it's likely that the squash was picked too early and it will taste bland. You can also knock on the surface to check for ripeness. If it sounds somewhat hollow, it's likely ripened inside. The inside color should be deep orange for optimal flavor.
Cut the butternut squash cubes similar in size and no more than a ½ inch. This will help them cook quickly and evenly in the broth.
You will probably have leftover butternut squash if you purchased it whole. You can cube it and freeze/refrigerate it for another recipe.
This recipe goes well with vegan sausage crumbles (I highly recommend the Field Roast - Smoked Apple Sage flavor). You can crumble up 1-2 and brown them in a few tablespoons of oil over medium heat for 3-5 minutes (I usually cook them after the sage leaves). After browning the crumbles, remove from the pan and transfer to a paper-towel-lined plate. Then proceed with the sauce. I usually toss it with the pasta right before serving.
Nutrition
Calories:
489
kcal
|
Carbohydrates:
67
g
|
Protein:
13
g
|
Fat:
12
g
|
Saturated Fat:
2
g
|
Polyunsaturated Fat:
2
g
|
Monounsaturated Fat:
7
g
|
Sodium:
350
mg
|
Sugar:
6
g