Get ready to wow your guests with this elegant & scrumptious Stuffed Acorn Squash. It's sweet, savory, hearty and oh-so gorgeous!
Acorn squash is my favorite autumn vegetable.
They're so beautiful on the outside and have a sweet, nutty flavor on the inside. They are delicious steamed, stuffed, sautéed or roasted.
I prefer the Stuffed Acorn Squash because it's so versatile and can be filled with almost anything. Also, it can be served as a side dish or main meal. It's satisfying, beautiful and delicious.
Stuffed Acorn Squash makes the perfect holiday meal. It's festive, eye-catching and makes a wonderful centerpiece. You'll be the talk of the party (in a good way).
They'll think you slaved away for hours in the kitchen, but really you were drinking wine while everything was roasting.
Also, you can prepare the stuffing ahead of time and pop it in the fridge. Then the next day, you'll only have to roast, stuff & drink more wine.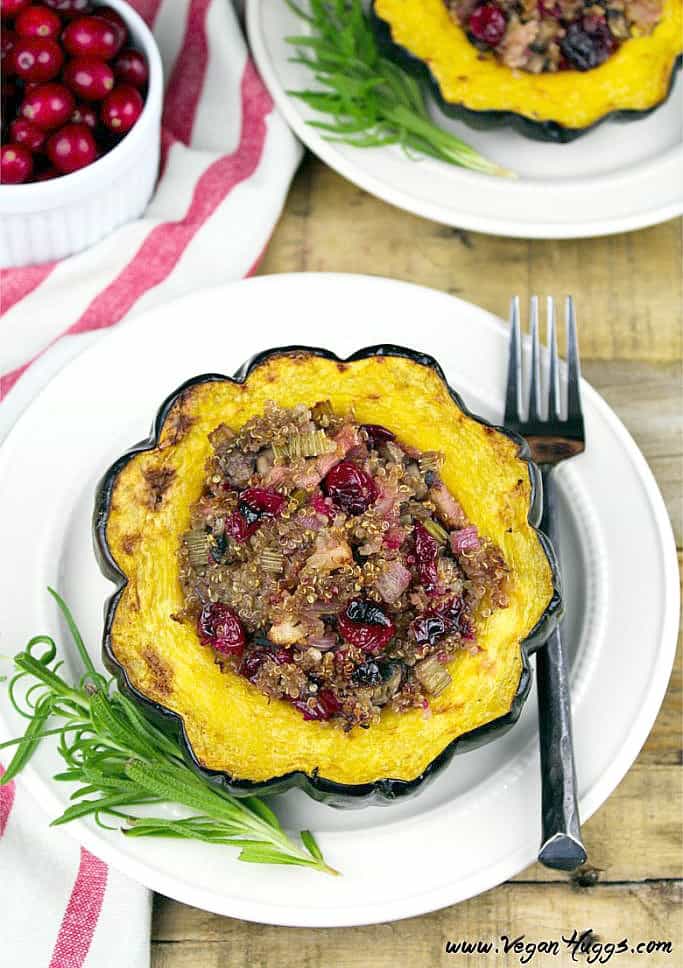 Sweet or savory?
I prefer a balance of both. I loaded these babies up with sautéed onions, celery, garlic, sweet apples, tangy cranberries, mushrooms, warm spices & quinoa. You'll get a burst of flavor in every bite. Sometimes I'll add vegan sausage to the mix. Yum!
This recipe could seem intimidating at first, but it's really quite easy. You just cut the acorn squash in half, scoop out the soft inside, brush on some oil, sprinkle with salt & pepper and stick in the oven to roast to perfection. It will transform into tender, golden & buttery goodness.
While the squash is doing its thing, you can prepare the filling. Chop up your veggies, add some oil to a pan & start sautéing away. When everything is tender & flavorful, add your cooked quinoa and let the flavors marry together.
If you have leftover filling, just store in the fridge for another day. It's perfect for wraps, or a side dish for breakfast, lunch or dinner. The options are endless.
When the acorn squash is ready, you just stuff it and bake it, until the top of the stuffing gets a little crispy. Feel free to skip this step if you'd prefer. The squash will still be delicious! I just prefer everything a little extra toasty, so I go for the home stretch.
Oh, did I mention that your house will radiate a heavenly aroma? You might have neighbors knocking at your door to "borrow" something, but they secretly want a last-minute invite. 😉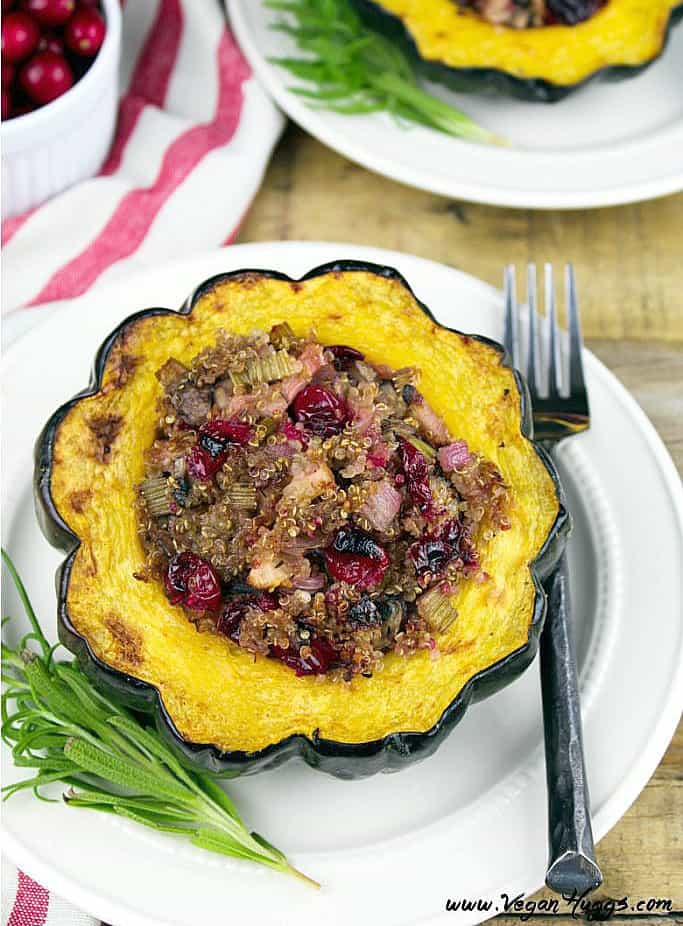 Stuffed Acorn Squash is fun to eat
I like each bite to have a balance of texture & flavor, so I scrape a bit of squash with the stuffing but feel free to mash it all together and go-to-town. It all works!
Now, you don't have to reserve this yumminess for special occasions only, so go ahead an enjoy these anytime. They are the perfect make-ahead meal, too.
You can prepare them on Sunday and have them for lunch or dinner during the week. Just wrap them up in foil and pop in the oven until thoroughly heated. Easy-peasy!
So, are you ready to enjoy this fall-fabulous meal? Let's do this!
*Click photo to pin*
I'd love to hear from you
If you make this Stuffed Acorn Squash, I'd love to hear what you think in the comment section below. It would really make my day. You can also follow me on Instagram and share your creation with me. Just tag me @veganhuggs and hashtag #veganhuggs so I don't miss it.
Stuffed Acorn Squash
Get ready to wow your guests with this elegant & scrumptious Stuffed Acorn Squash. It's sweet, savory, hearty and oh-so gorgeous!
Course:
Entree | Side, Main Course
Recipe Type:
Gluten-Free, Vegan
Ingredients
1

cup

dry quinoa

, cooked according to package instructions. (add a pinch of salt to the water)

3

acorn squash

(medium-sized)

2 1/2

tablespoons

olive oil

(or preferred cooking oil)

1

cup

onion

, diced

2

cloves

garlic

, minced

1/2

cup

celery

, diced

1

large apple

, diced

2

cups

cremini mushrooms

, cleaned and chopped (about 8 oz)

1/2

cup

cranberries

(fresh or frozen)

1

teaspoon

sage

1

teaspoon

thyme

1/4

teaspoon

cinnamon

1

teaspoon

Himalayan salt

(or preferred salt), more to taste
Instructions
Preheat oven to 375 degrees F

Cut the top & bottom off each squash (just enough to leave a flat edge, so the squash can stand up). Now cut each squash horizontally in half. Scoop out the membranes and seeds inside of the squash & discard.

Place the squash on a baking sheet, cut-side up. Brush the inside with the olive oil and sprinkle with salt & pepper. Roast the squash for about 30-40 minutes, or until tender (test tenderness with a fork)

While the squash is roasting, you can prepare the filling. In a large pan, heat the oil over medium heat. Sauté the onion, celery, garlic & apples, until softened. About 6-8 minutes

Add the mushrooms, cranberries, salt, pepper, garlic and spices. Sauté about 5-6 minutes, or until mushrooms & cranberries are softened. If the mushrooms have created too much liquid, cook down before adding the quinoa (some moisture is fine).

Add the cooked quinoa and combine well. Turn heat to medium low and cook for another 2-3 minutes, to combine flavors. Taste for seasoning & add more as needed.

When the squash is ready, fill with the stuffing mixture. Place in oven and bake 10-15 minutes, until the quinoa is a little browned & crispy.
Recipe Notes
*This recipe is very versatile, so feel free to add you favorite ingredients. I make this with vegan sausage on occasion. I crumble up 1-2 links and add it after the onions & celery have cooked for a few minutes. I lightly brown them ( a touch more oil might be needed) I leave out 1 cup of mushrooms from the recipe. My favorite brand is Field Roast & I love the Smoked Apple Sage flavor.
Nutrition Facts
Stuffed Acorn Squash
Amount Per Serving (1 Acorn halve)
Calories 280
Calories from Fat 63
% Daily Value*
Total Fat 7g 11%
Sodium 383mg 16%
Potassium 1115mg 32%
Total Carbohydrates 46g 15%
Protein 6g 12%
* Percent Daily Values are based on a 2000 calorie diet.