These Vegan Crab Cakes are crispy on the outside, yet moist & flaky on the inside. They can be enjoyed as an appetizer, side or a main dish.

Vegan Crab Cakes without crab? Why not call them something else?
That's the burning question!
I know the title could be a little confusing, or even annoying to some people (that's not my intention). However, since it's a mock version of the original recipe, the title helps people find it easier online.
I've had people suggest that I call them Hearts of Palm Cakes or Bean Cakes, but there's a reason that I don't. As a blogger, I have to title my recipes so they are easily searchable through Google. Otherwise, there will be crickets around here and nobody will see my recipes.
So, I have to do my own research first before selecting a title and it's not an easy task. Believe it or not, MANY people are searching for Vegan Crab Cakes and just a handful are searching for Hearts of Palm Cakes.
And NOBODY is searching for Bean cakes!! So, that's one of my reasons for my title choice, for anyone who might be wondering.
Another reason, I always hope it will grab a non-vegans attention while searching for the original recipe. Maybe it will tempt them into trying it. No harm done, right?
I also have an Un-Tuna Salad Sandwich on the blog. It's very similar to tuna but much healthier and kinder. You've gotta try it!

Why do vegans eat food that looks like meat?
Many of us grew us consuming meat in a variety of dishes. Lots of memories are attached to them and that's what we are familiar with. It's not the meat itself we are missing, It's the textures, flavors, and seasonings that are palate is used to.
We just don't want to hurt animals for our taste buds anymore. So, if we can recreate that experience without harming non-human friends, why wouldn't we do that?
Lots of people who say they love the taste of meat, have never tasted it plain, without seasoning. I used to say the same thing, but after going vegan, I I realized my "cravings" were coming from the smells and flavors of the herbs and spices.
Also, recipes like this make it easier for some people to transition from meat-eating to vegan. It surely helped me! So basically, you can still have an enjoyable dish from your past, and leave your friends in the ocean...where they belong. Sounds like a good deal to me.
Some vegans don't want to eat anything that reminds them of meat and that's perfectly normal too. We are all different and have separate journeys, but the one thing we share in common is that we don't want to harm animals.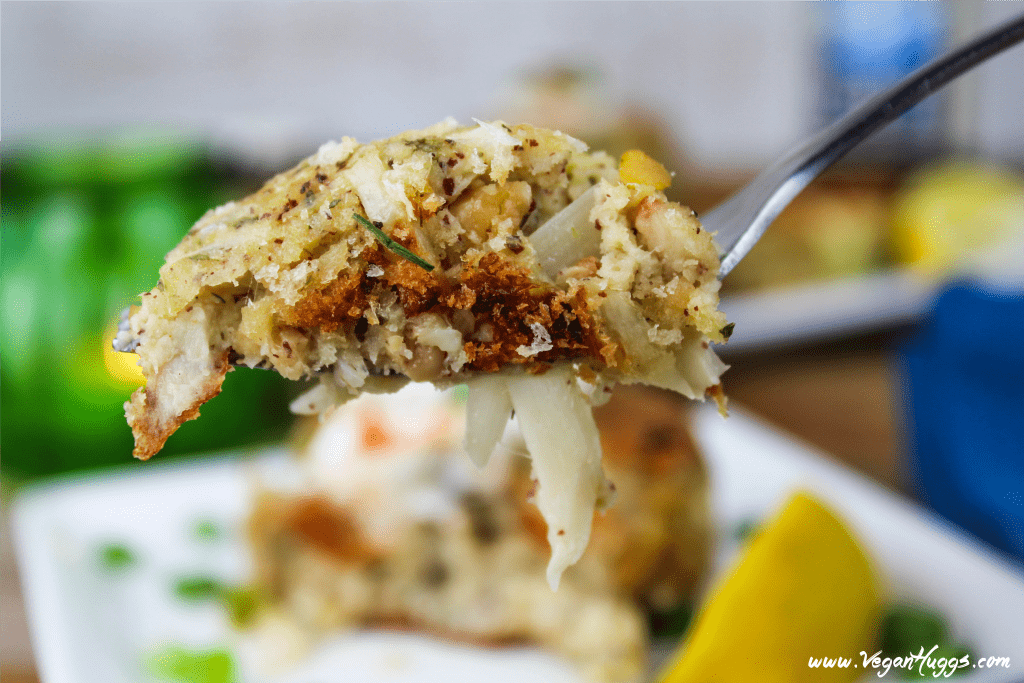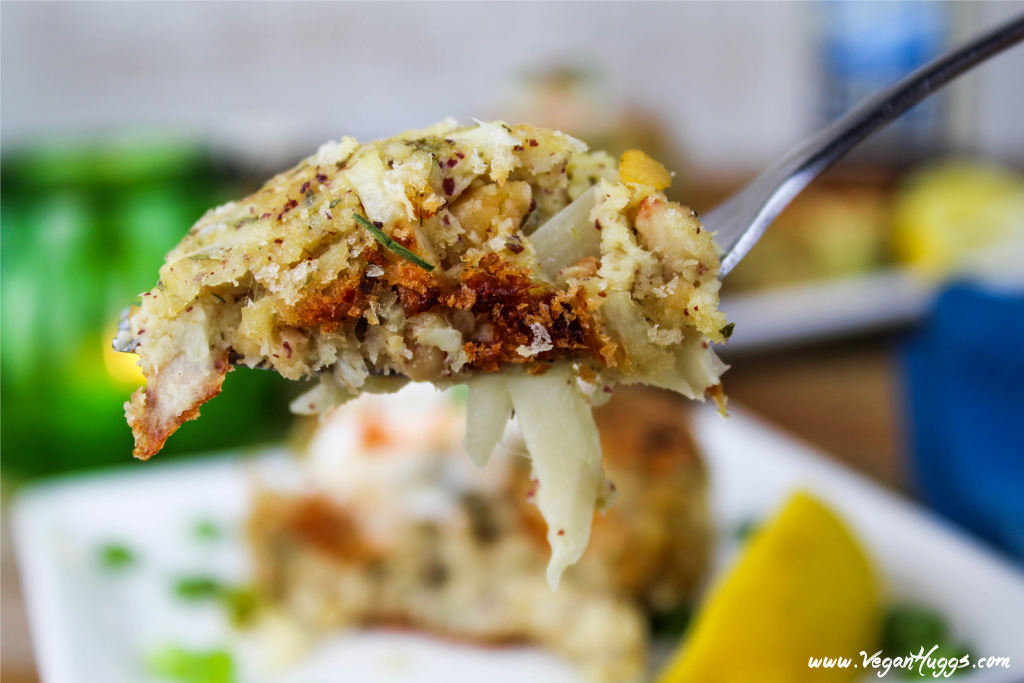 The original crab cakes
I'm from Long Island and I grew up eating many seafood dishes, but my favorite thing to order was crab cakes. They were very popular on the East Coast and especially in Maryland, where they are known for the best crab cakes.
It was a bit of a drive to get there from Long Island, so I settled for the crab cakes near home. However, I did make it out to Maryland a few times and ordered those famous cakes each time. Yes, they really were THAT good!
Being vegan now, I don't see any reason to miss out on those wonderful flavors, textures, and seasonings since I can enjoy them in a cruelty-free way now.
The solution...VEGAN Crab Cakes!
I can't claim that these taste exactly like a traditional Maryland Crab Cake. Those chefs have a way of making the recipe with as little breading as possible but still manage to get it to your plate in one piece. I did try to make them this way, but the method was frustrating and took much longer.
So, I wanted to make these taste as traditional as possible, but also make them easy to prepare. Keeping it simple is good.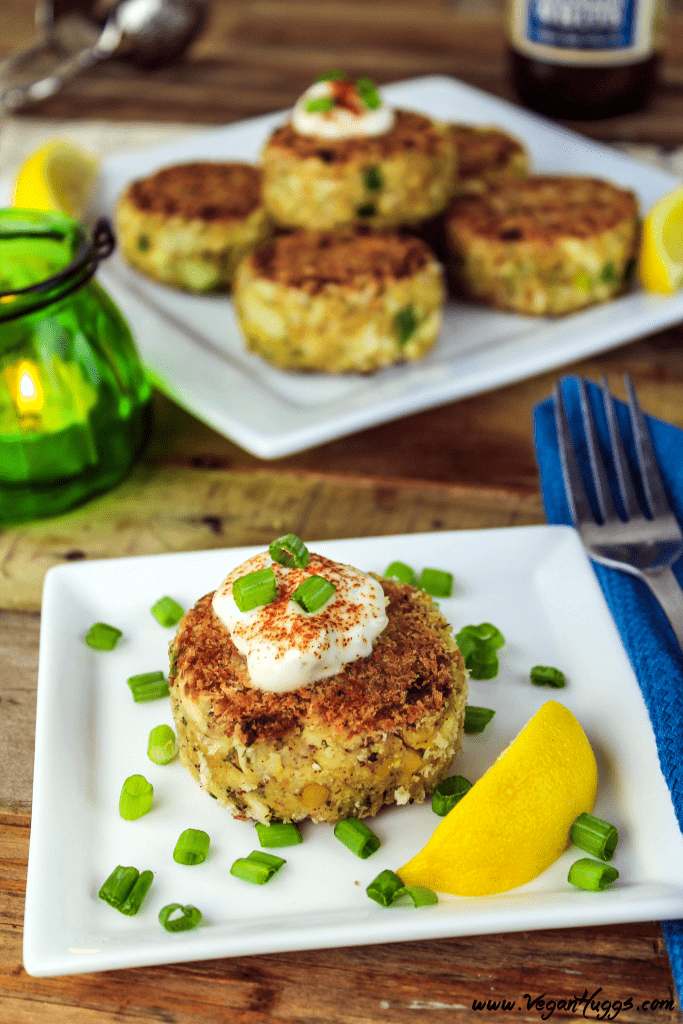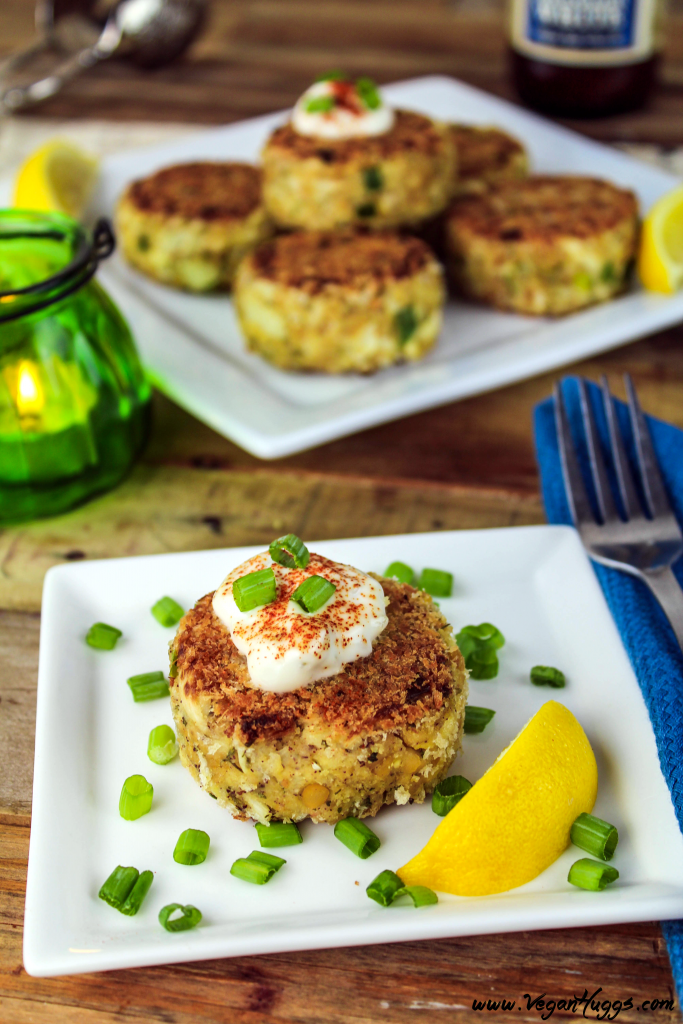 What's in a Vegan Crab Cake?
Well, I use Hearts of Palm which have a very similar texture to fish when it's broken up. It doesn't taste like crab, but that's where the seasonings come in. I also used garbanzo beans which have a flaky-like texture when broken up. They also add a nice dose of protein to the recipe.
So, basically, these two ingredients will be replacing the crab meat and create that flaky and stringy texture.
Now for the seasonings, I kept them as traditional as possible, and they are very basic ingredients. I used Old Bay Seasoning, Vegan Worcestershire Sauce, parsley, garlic powder, salt, and pepper.
If you can't find Old Bay Seasoning, you can use any basic seafood seasoning. Also, there have been times that I left it out altogether and they were just as delicious (you might need to add a little more salt though).
I use Kelp Granules or Dulse Flakes to give these cakes a subtle hint of the ocean. If you can't find those, you can break up a sheet of Nori or use any type of seaweed. It's not needed but adds a nice flavor and natural source of iodine to the dish.
For the rest of the ingredients, I used vegan mayonnaise, mustard, lemon juice, breadcrumbs and some fresh green onion. You can also add some celery, corn or bell pepper to change it up a bit.
I did use some oil to pan-fry them which doesn't make them über healthy. However, I use minimal oil and only use a high smoke point variety...like coconut, avocado, grapeseed, safflower or sunflower oil. The oil won't turn rancid under the heating process.
If you want to make a healthier version of this dish, you can definitely bake these. Just set your oven to 400 degrees F. and bake about 8-10 minutes on each side. Make sure to lightly grease your baking sheet too.
A few more vegan seafood recipes:
- Vegan Fish Tacos
- Vegan Clam Chowder
- Crabless Stuffed Mushrooms
I'd love to hear from you
If you make these Vegan Crab Cakes, I'd love to hear what you think in the comment section below. It would really make my day. You can also follow me on Instagram and share your creation with me. Just tag me @veganhuggs and hashtag #veganhuggs so I don't miss it.
Step By Step Photos Above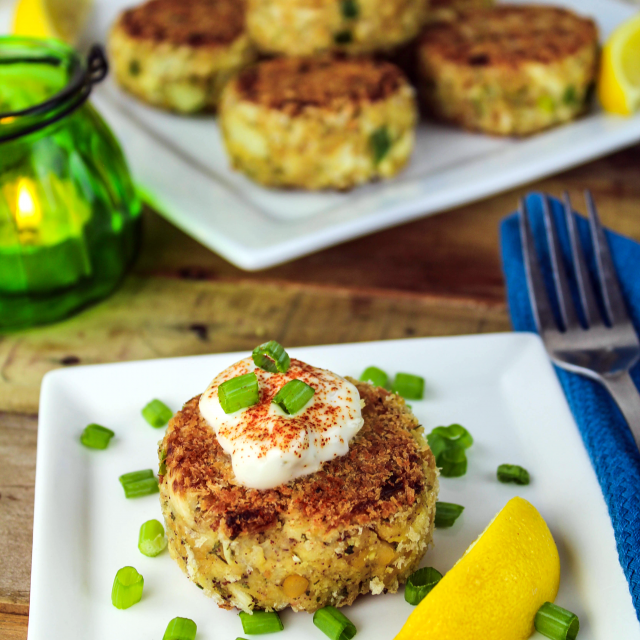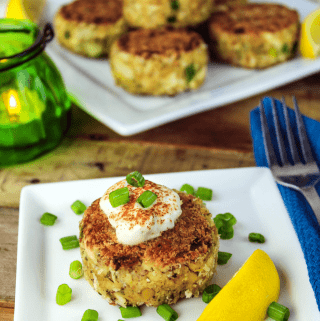 Vegan Crab Cakes
These Vegan Crab Cakes are crunchy on the outside, yet moist and flaky on the inside. They can be enjoyed as an appetizer, side or a main dish.
Print
Pin
Rate
Ingredients
1 15

oz

can garbanzo beans

, rinsed. *Save liquid

2 14

oz

cans hearts of palm

, drained, rinsed and cut in half

4

tablespoons

reserved garbanzo bean liquid

¼

cup

vegan mayonnaise

1

teaspoon

vegan worcestershire sauce

(*see note)

1

teaspoon

lemon juice

1

teaspoon

dijon mustard

½

cup

green onion

, sliced

2

teaspoons

kelp granules

(*see note for sub)

1

tablespoon

dried parsley

1 ½

teaspoons

Old Bay Seasoning

(or any seafood seasoning)

½

teaspoon

sea salt

, more to taste

1

teaspoon

granulated garlic

1

cup

breadcrumbs

(panko or regular) + more for breaded coating

¼

cup

preferred oil

for pan-frying (divided)
Instructions
In a food processor add the garbanzo beans and hearts of palm together. Pulse just a few times to break it up. Don't pulse too many times or it will turn to mush. It should have a crab-like consistency. You can also do this manually, just use a fork or your hands to shred everything up. Set aside.

In a large mixing bowl, whisk the reserved liquid (from the beans) well, until it's slightly foamy. Then add the vegan mayonnaise, lemon juice, Worcestershire sauce, mustard and all the dry seasonings. Whisk to combine well.

Now add the bread crumbs, green onion, and hearts of palm and garbanzo bean mixture. Gently fold to combine. Taste for salt or seasoning, add more if needed. Pop the mixture in the freezer for 20 minutes. This helps the mixture stay together a bit better.

Place enough breadcrumbs onto a shallow plate that will coat patties evenly. Take mixture out of freezer. Place about ¼ cup of mixture into your hands to form a ball. Then gently flatten to form it into a patty shape. Coat patty in the bread crumbs on each side. Place aside and continue until the mixture is gone.

Heat a large skillet over medium heat (about 2-3 minutes). Add about 2 tablespoons of oil and wait until it gets hot and shimmery before adding the patties. If you place the patty in the pan, and you hear it sizzle, it's ready.

Place about 4-5 patties on your pan at one time, but make sure you don't overcrowd the pan because they won't cook properly. Pan-fry them about 3-4 minutes on each side, or until light golden brown. Try to only flip each patty once. When done, transfer the patties to a paper towel-lined plate to absorb excess oil. Wipe out pan before the uncooked patties are added. Add fresh oil and continue until all patties are complete.

Serve hot with vegan tartar sauce, a lemon wedge and top with chopped green onions. Enjoy!
Useful Tools To make This Recipe
Notes
This recipe yields 10-12 cakes, using about ¼ cup of mixture for each one.
If you can't find kelp granules, you can use dulse flakes, dulse granules or break up a small piece of nori. If you don't want the ocean-like flavor, you can omit the seaweed altogether. It will still be delicious!
If the mixture is too wet for your taste, AFTER it comes out of the freezer, you can add a ¼ cup of breadcrumbs into it. Combine well.
The prep time doesn't include the 15-20 minute freezing time.
If you want to make a healthier version of this dish, you can definitely bake these. Just set your oven to 400 degrees F. and bake about 10-12 minutes on each side. Make sure to lightly grease your baking sheet too.
If you can't find vegan Worcestershire sauce, you can use low-sodium tamari or soy sauce.
*Note: in the video above, it shows the hearts of palm sliced before going into the food processor. I prefer to just cut them in half lengthwise to keep larger pieces in the mixture (for a flakier texture).
Nutrition
Serving:
3
patties
|
Calories:
441
kcal
|
Carbohydrates:
68
g
|
Protein:
13
g
|
Fat:
13
g
|
Saturated Fat:
2
g
|
Sodium:
949
mg
|
Potassium:
2379
mg
|
Fiber:
9
g
|
Sugar:
2
g
|
Vitamin A:
251
IU
|
Vitamin C:
13
mg
|
Calcium:
138
mg
|
Iron:
5
mg