This post contains affiliate links. Read my disclosure policy here.
Looking for a healthy & hearty sandwich recipe? This Vegan Tuna Salad Sandwich is satisfying, nutritious and out-of-this-world delicious!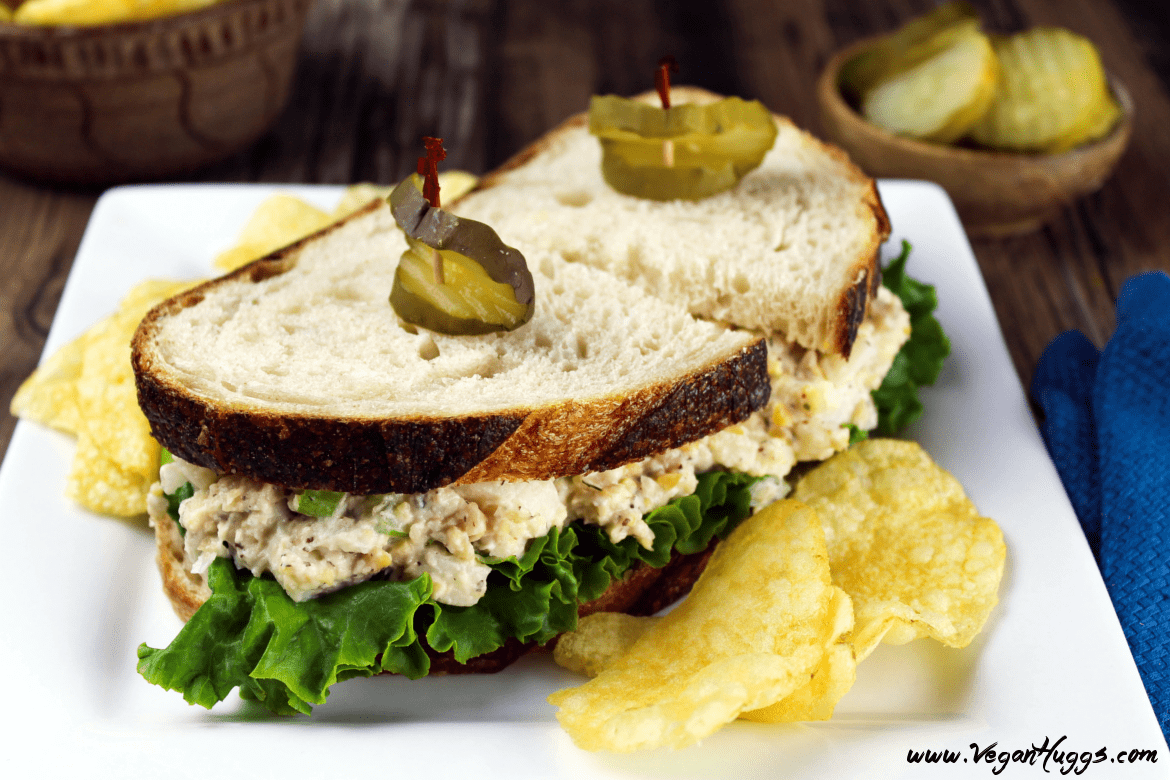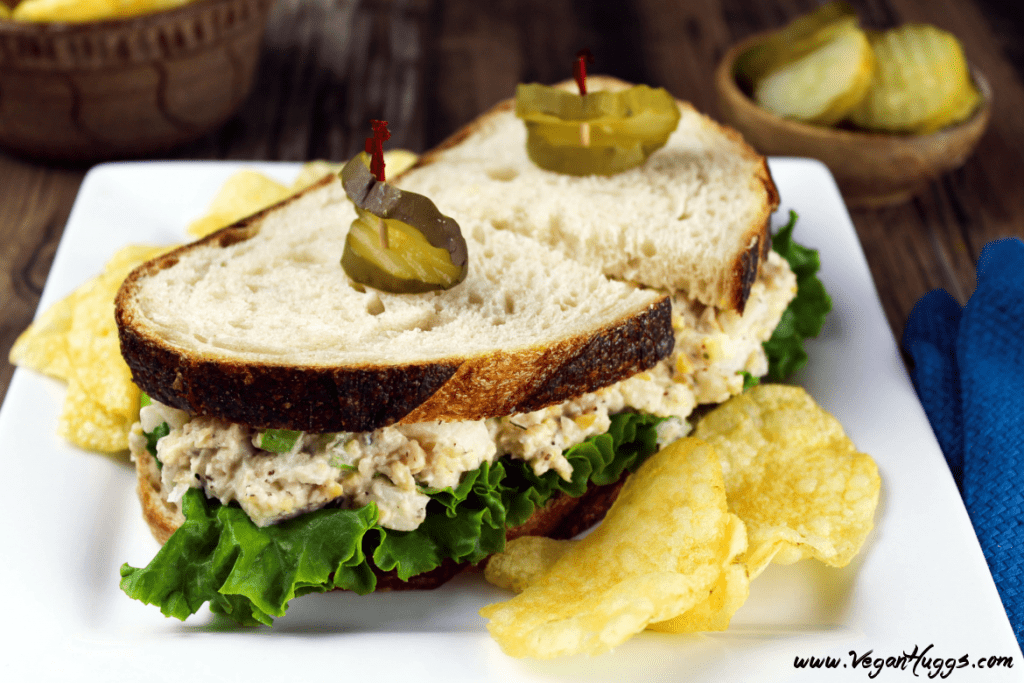 It's back-to-school time for most kiddos and that means, back to making to-go lunches. So today, I'm going to share my son's new favorite lunch…a Vegan Tuna Salad Sandwich.
It's always a difficult task to prepare fresh food that sits for hours before being eaten. It's even harder if you have a picky kid.
My son was always a good eater until he started preschool. Everything is "gross" now. He still likes to eat…he's just more fussy about textures. He won't even touch some of his favorite foods anymore and we have to keep changing things up (I have to pick my battles wisely).
I get him to eat beans by telling him, that they are magical and not to tell anyone. Of course, he eats them and tells everyone about it. Works like a charm!
I recently made him one of my favorite mock versions (there are many), of the classic tuna salad sandwich and he loved it. Boy, was I happy about this! I'm not sure how long it will last, but I'm enjoying it now.
This Vegan Tuna Salad Sandwich is creamy, tangy & delicious! Besides the tasty part, it's protein-packed and nutritious. I've been packing this is my son's lunch and he comes home with an empty lunchbox and a happy belly.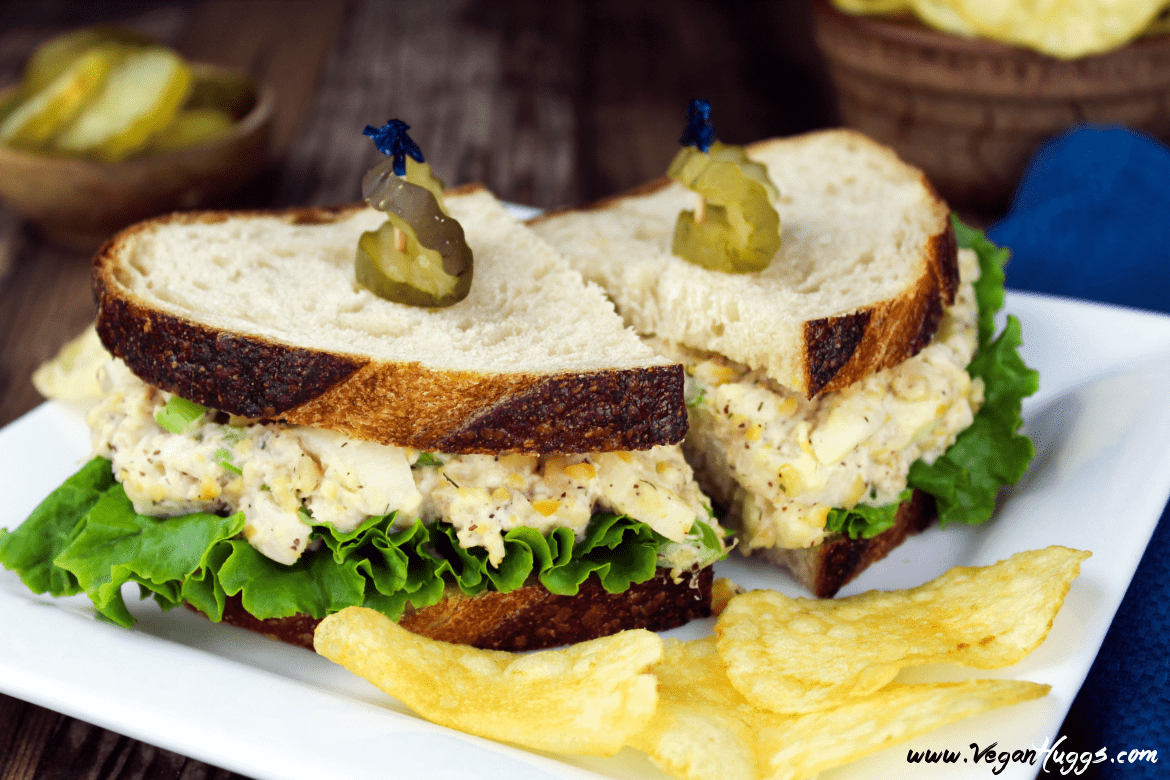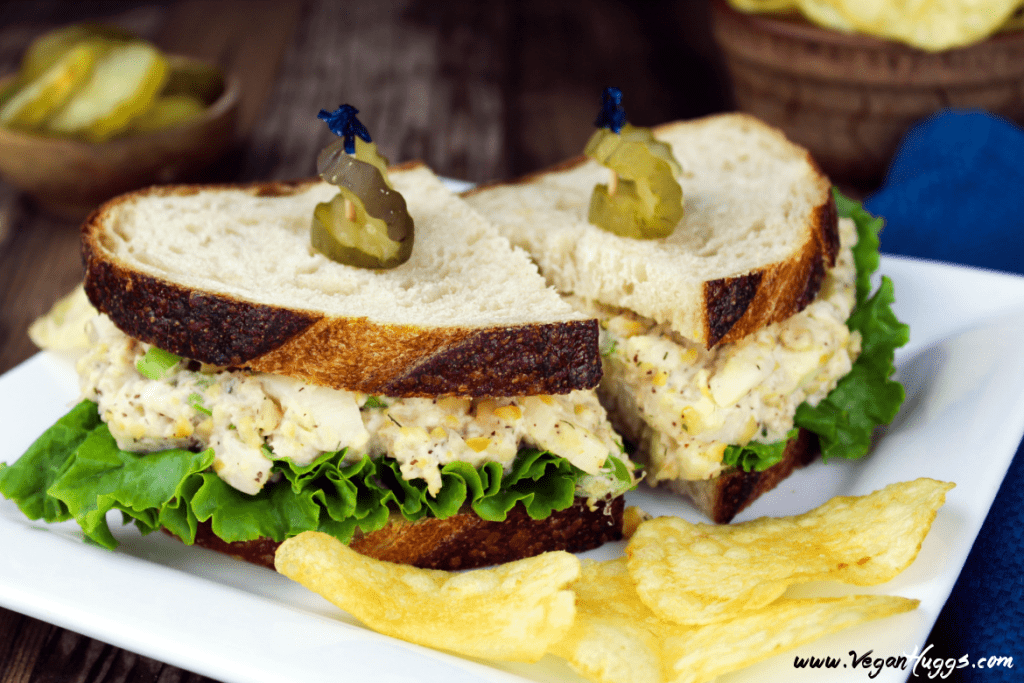 My mom always packed my lunch growing up and I really loved it. There were a few times though, that she packed me a tuna sandwich and although it was delicious, and my favorite sandwich to eat (besides PB&J), it made quite an offensive odor at lunchtime and the other kids let me know it (the same "gross" thing).
That wasn't so much fun, so we reserved them for home enjoyment after that.
I haven't eaten tuna in many years though. Even before going vegan, I stopped eating it when I learned of the high mercury levels in the fish.
However, I did miss that classic creamy & tangy sandwich and after going vegan, I was able to enjoy this mock version of it. It's not missing a thing, except mercury & that fishy smell.
Nothing fishy in this tasty sandwich
I love this Vegan Tuna Salad Sandwich because it brings me back in time and it's not hurting my health or my sea-friends. I use Hearts of Palm, which have a very similar texture to fish when it's broken up.
It doesn't taste like tuna, but that's where the seasonings come in, to create a subtle sea-like flavor.
I also used Garbanzo Beans (a.k.a chickpeas), which have a flaky-like texture when broken up. They also add a nice dose of protein to the recipe.
So, basically, these two ingredients will be replacing the tuna and creating that flaky, tuna-like texture. I use kelp or dulse flakes to give this vegan tuna salad a subtle hint of the ocean. It's not needed but adds a nice flavor and natural source of iodine to the recipe (nori can also be used).
This Vegan Tuna salad Sandwich is so easy to make and can be ready in less than 20 minutes. It yields about 3-4 sandwiches and it can be stored in the fridge for 3-4 days.
So, it's perfect for making ahead and saving time. This vegan tuna recipe is on the kid-friendly side, so feel free to add some diced red onions, bell pepper, olives or pepperoncini to the mix.
This mixture can be enjoyed as a healthy snack too, with some crackers or veggie sticks for dipping. To make this sandwich even healthier, you can choose a gluten-free bread or even a sprouted whole grain variety. The Ezekiel brand is one of my favorites.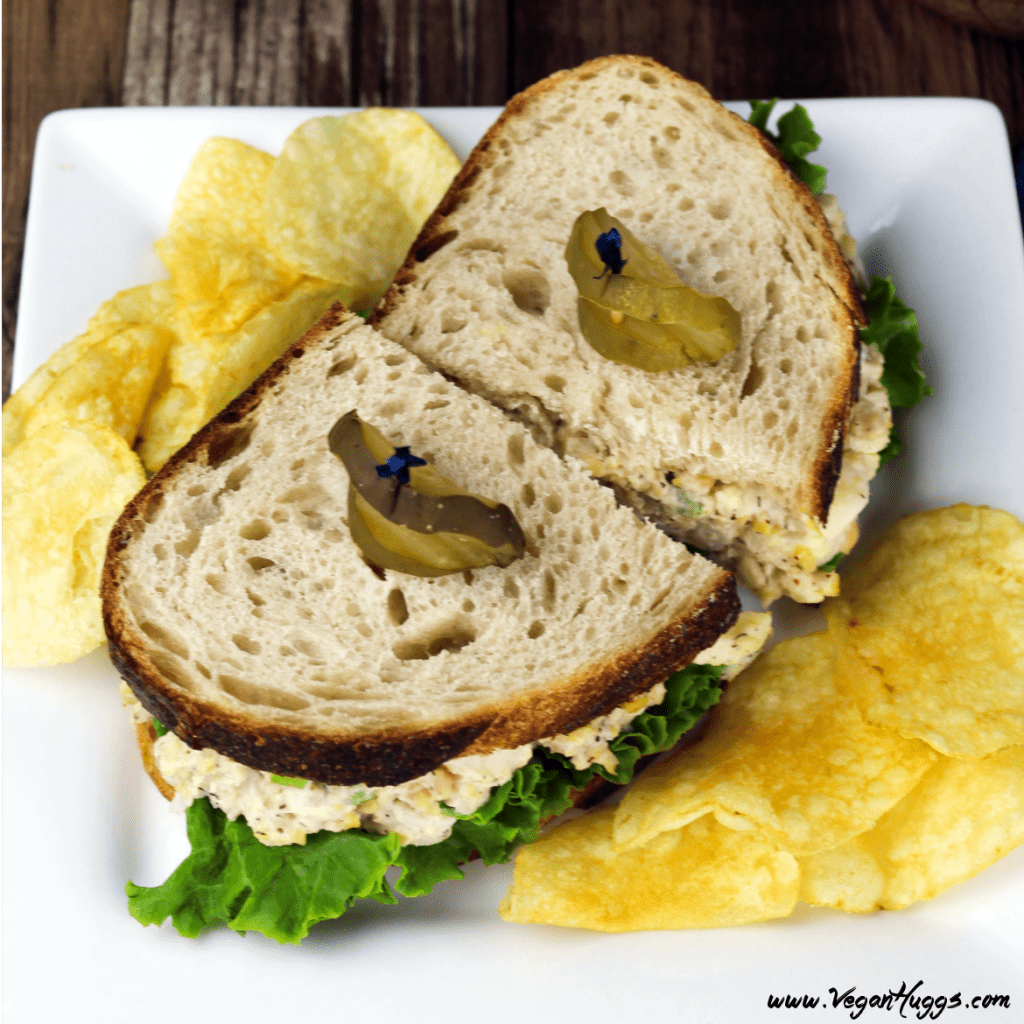 If you're not much into sandwiches but would like to make a vegan seafood recipe, you should try these Vegan Crab Cakes I made a few weeks ago. The ingredients are similar and will offer similar textures and flavors.
So, are you ready to try this plant-powered lunchtime favorite? Let's do this!
Vegan Tuna Salad Sandwich
Looking for a healthy & hearty sandwich recipe? This Vegan Tuna Salad Sandwich is satisfying, nutritious and out-of-this-world delicious! 
Print
Pin
Rate
Ingredients
1

can garbanzo beans

, drained and rinsed

1

can hearts of palm

, drained and rinsed

2

stalks celery

, diced

1/3

cup

vegan mayo

(more if needed)

2

teaspoons

dulce flakes or granules

or kelp granules/flakes (*See Note)

1/2

teaspoon

garlic powder

1/2

teaspoon

dill

1/2

teaspoon

sea salt

, more to taste

Fresh ground pepper

, to taste

6-8

slices

of bread

(gluten-free if preferred)

3-4

lettuce leaves

, washed and cut into sandwich size
Instructions
In a food processor add the garbanzo beans and hearts of palm together. Pulse just a few times to shred it up. Don't pulse too many times or it will turn to mush. It should have a tuna-like consistency. You can also do this by manually, just use a fork or your hands to shred everything up.

In a large mixing bowl, combine mayo, dulce or kelp, garlic powder, dill, salt and pepper. Add garbanzo bean/hearts of palm mixture, celery and combine well.

Line a slice of bread with lettuce and spread "tuna" mixture on the other slice. Close the sandwich together and cut diagonal. Use a toothpick to secure each half and add pickles, if preferred. Repeat with the additional sandwiches. Serve with some chips and enjoy!
Notes
*
This recipe will yield about 3-4 sandwiches.  
*
Sandwich add-on ideas: tomatoes, pickles, sliced red onion, olives or pepperoncini.  
*
If you can't find
kelp
or dulce flakes/granules, you can use any type of seaweed. You can even break up a sheet of
nori
. If you prefer to skip the subtle seaweed flavor, you can add a 1/2 teaspoon of
Old Bay Seasoning
.      
Nutrition
Serving:
1
Sandwich
|
Calories:
241
kcal
|
Carbohydrates:
23
g
|
Protein:
4
g
|
Fat:
13
g
|
Saturated Fat:
1
g
|
Sodium:
295
mg
|
Potassium:
163
mg
|
Fiber:
2
g
|
Sugar:
3
g
|
Vitamin A:
28.5
%
|
Vitamin C:
4.7
%
|
Calcium:
7.2
%
|
Iron:
9.1
%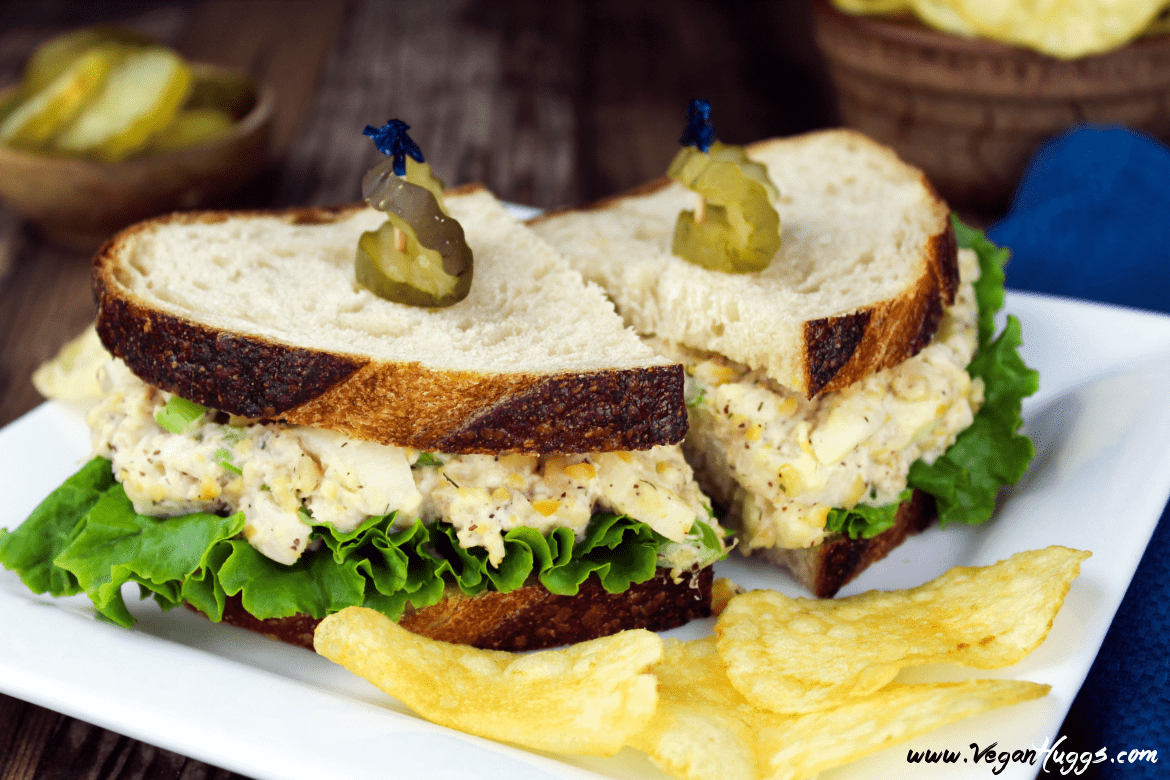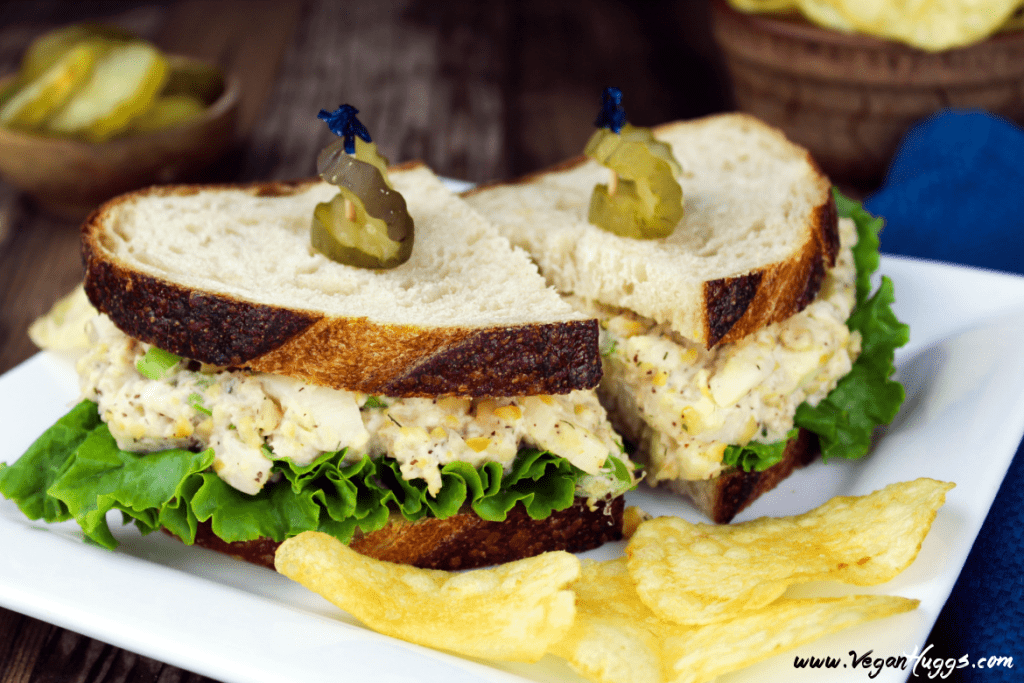 If you make this recipe, I'd love to hear from you. Leave a comment below and let me know what you think. It would really make my day. You can also follow me on Instagram and share your creation with me, Just tag me @veganhuggs and hashtag #veganhuggs.