This post contains affiliate links. Read my disclosure policy here.
Add a tangy twist to your meals with these Quick Pickled Red Onions! This vibrant and zesty condiment is the perfect addition to sandwiches, salads, tacos, soups, and more. Plus, they are so easy to make — just slice, marinate, and enjoy!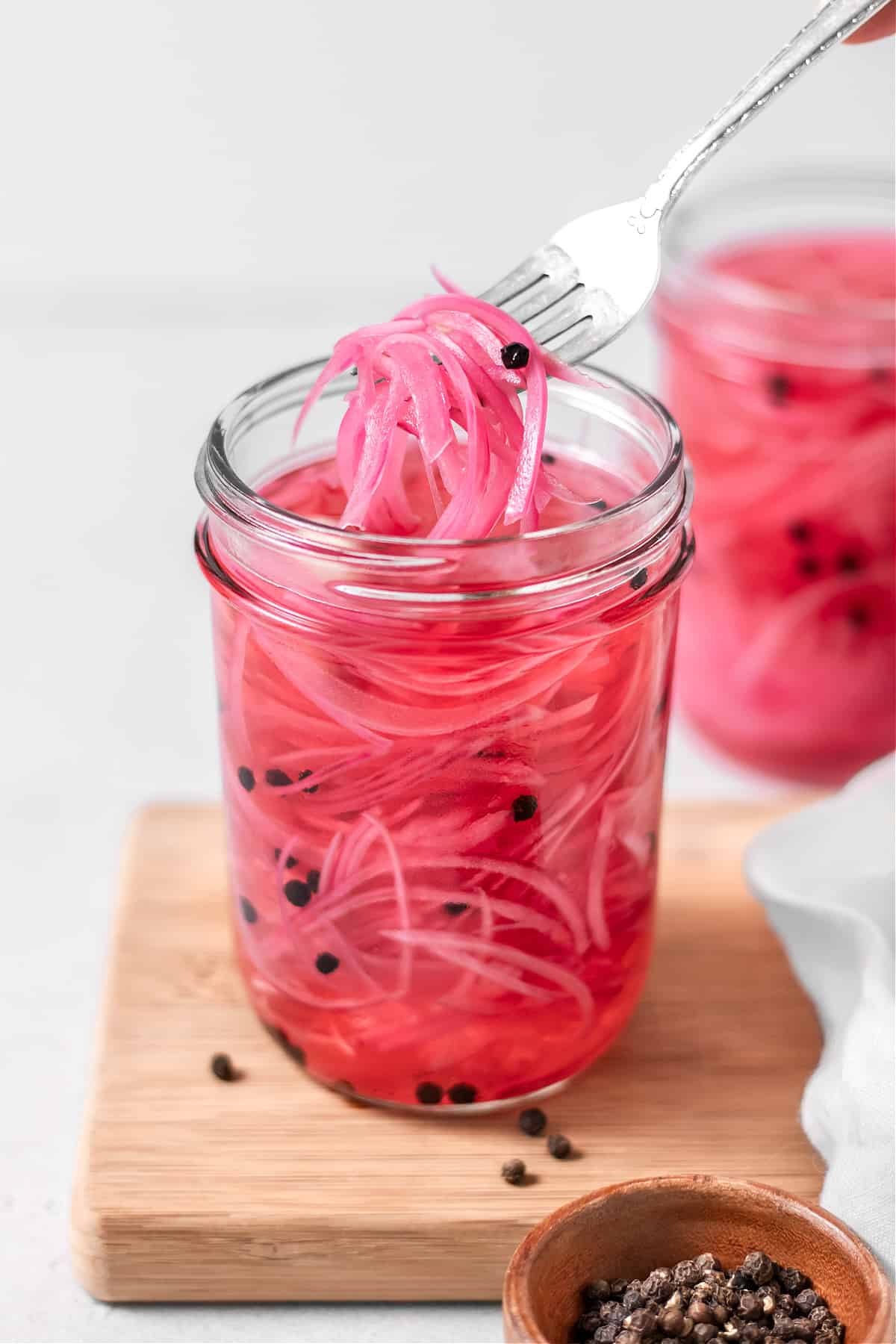 Not only do quick pickled red onions bring an eye-catching pop of color to your plate, but they also bring a symphony of flavors that harmonize with a wide range of cuisines. They are magical!
We always have a batch in our fridge and top them on a variety of foods. Their tangy sweetness pairs beautifully with grilled food, enhances the freshness of salads and veggies, and even adds a surprising twist to indulgent comfort foods.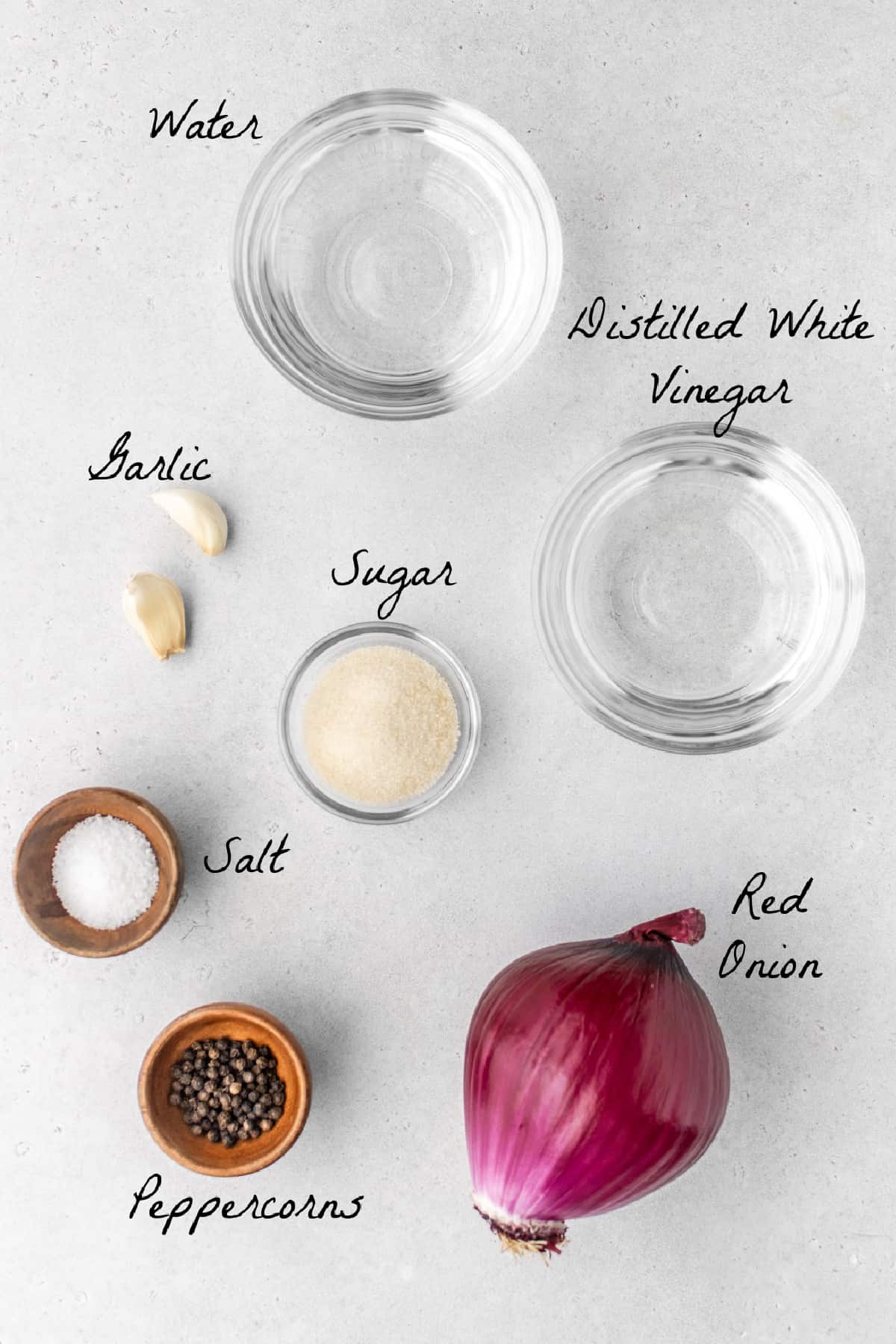 Red Onion - They have a mild, sweet flavor that pairs well with the pickling process. However, you can use any variety, just keep in mind that the flavor profile may vary slightly.
Distilled White Vinegar - I prefer its mild flavor but you can experiment with other types such as red or white wine vinegar, or rice vinegar. You can use apple cider vinegar, but it's a little overpowering in my opinion.
Cane Sugar - The purpose is to balance the acidity of the vinegar and enhance the overall flavor of the onions. You can use any type of sweetener.
Sea Salt - This is necessary to break down the raw onions and enhance their flavor. You can also use kosher salt or pickling salt.
Peppercorns - They add a subtle hint of peppery spice to the pickling liquid. If you don't have black peppercorns, you can use white peppercorns. Feel free to experiment with different spices like coriander seeds, mustard seeds, anise seeds, or even cloves to create your own unique flavor profile.
Garlic - It adds a delicious aromatic note to the pickled onions. If you're not a fan of garlic or don't have it on hand, you can omit it entirely or substitute it with other aromatic ingredients like sliced ginger, fresh herbs, or even citrus zest.
How to make Quick Pickled Red Onions
Here's how to pickle onions in 4 easy steps: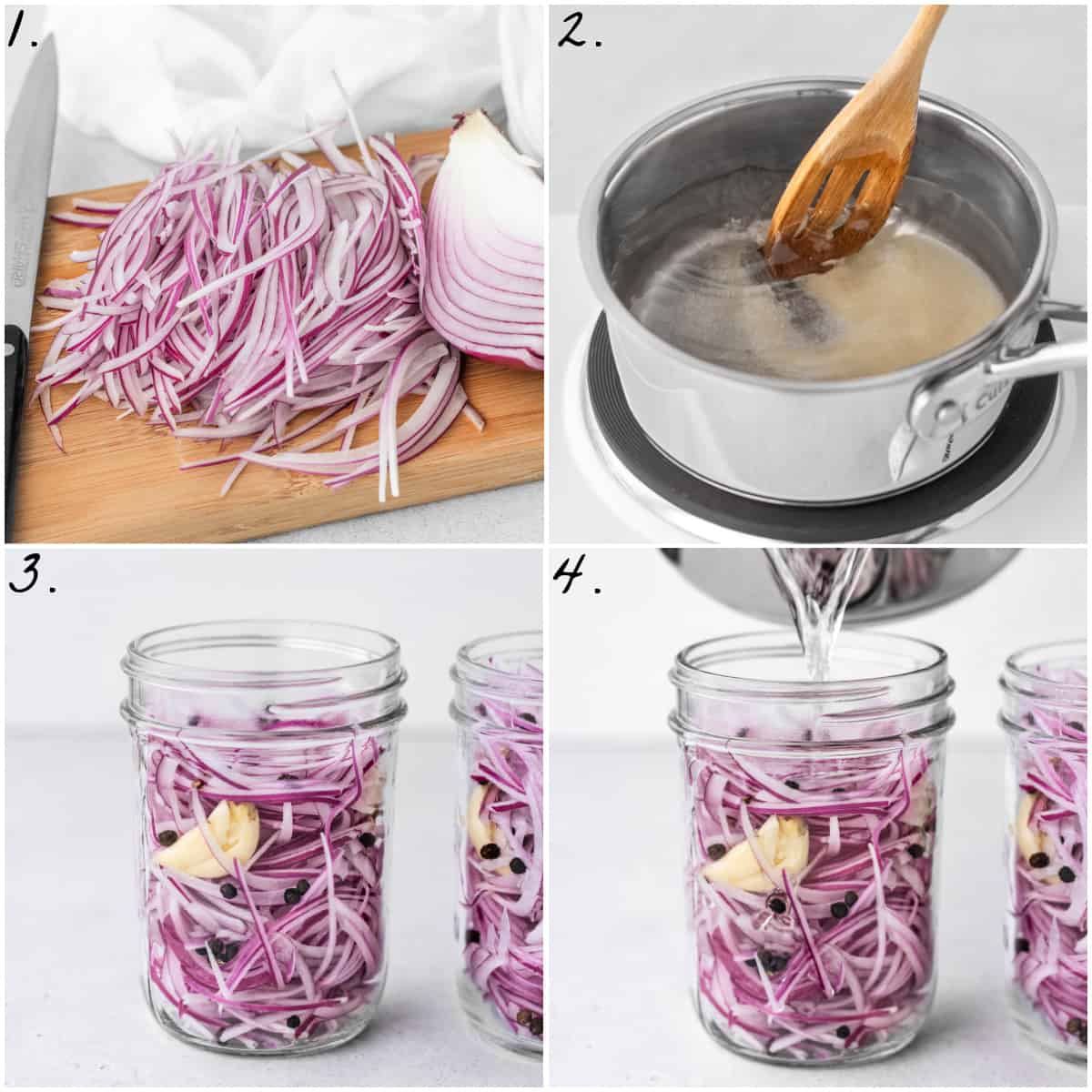 Thinly slice the red onions following the grain.
In a saucepan, combine the vinegar, water, sugar, and sea salt. Heat the mixture over medium heat, until hot and stir occasionally until the sugar and salt dissolve completely.
Place the onions, garlic, and peppercorns in a sterilized jar or container with a tight-fitting lid.
Pour the liquid over the onions, ensuring they are fully submerged then let them cook to room temp. Place the lid on the jars and let the pickled onions marinate in the refrigerator for at least 1-2 hours.
How to use Pickled Red Onions
Quick pickled red onions are incredibly versatile and can be used to spruce up various dishes. Here are just a few mouthwatering ideas:
Sandwiches and Burgers: Add a tangy punch to a vegan tuna sandwich, a vegan sloppy joe, or a delicious mushroom burger.
Breakfast Toast: It's the perfect topping for vegan beans on toast or this white bean avocado toast.
Salads: Toss a handful into your salads for an instant flavor boost. Their vibrant color and tangy taste will take your greens from ordinary to extraordinary.
Soups and Stews: Top them on your favorite vegan chili or vegan ramen for another layer of deliciousness.
Tacos and Wraps: Elevate your taco game by adding a refreshing element to your handheld delights. Such a tasty addition to these vegan fish tacos!
Vegan Charcuterie and Vegan Cheese Boards: Amp up the wow factor of your charcuterie and cheese boards by including a jar of pickled red onions. They add a pop of color but provide a tangy counterbalance to the richness of vegan meats and cheeses.
Storing Recommendations
Once your onions are pickled to perfection, it's important to store them properly to maintain their flavor and texture. Here's how to do it:
Transfer the jar to the refrigerator, ensuring the onions remain fully submerged in the pickling liquid. Properly stored pickled red onions can stay fresh for up to two weeks. Remember to label your jar with the date of preparation for easy reference.
Expert Tips and Tricks
To help you achieve pickling perfection, here are a few expert tips and tricks:
Thinly Slice the Onions: For the best texture and flavor infusion, slice the onions as thinly as possible. This ensures that the pickling liquid can penetrate the onions effectively, resulting in a well-rounded taste and crunchy texture.
Sterilize Your Jar: To prevent any unwanted bacteria, sterilize your jar or container before filling it with the onions and pickling liquid.
Customize the Spices: Experiment with additional spices and herbs to create your own unique twist. Try adding a pinch of red pepper flakes for a touch of heat or a sprig of fresh dill for an herbaceous note.
Quick and Overnight Options: If you're short on time, a couple of hours will do the trick. However, for maximum flavor development, allow the onions to marinate overnight in the refrigerator. The longer they soak, the more intense and well-rounded their taste will become.
FAQs
Can I reuse pickling liquid?
While you can reuse the pickling liquid once or twice, keep in mind that its flavor will become diluted with each use. For the best results, prepare a fresh batch of pickling liquid when making a new batch of pickled onions.
What kind of jars should I use for pickling?
Verify that the jars are heat-resistant and can withstand hot water. Mason jars are a reliable choice as they are designed for canning and preserving foods with hot liquids.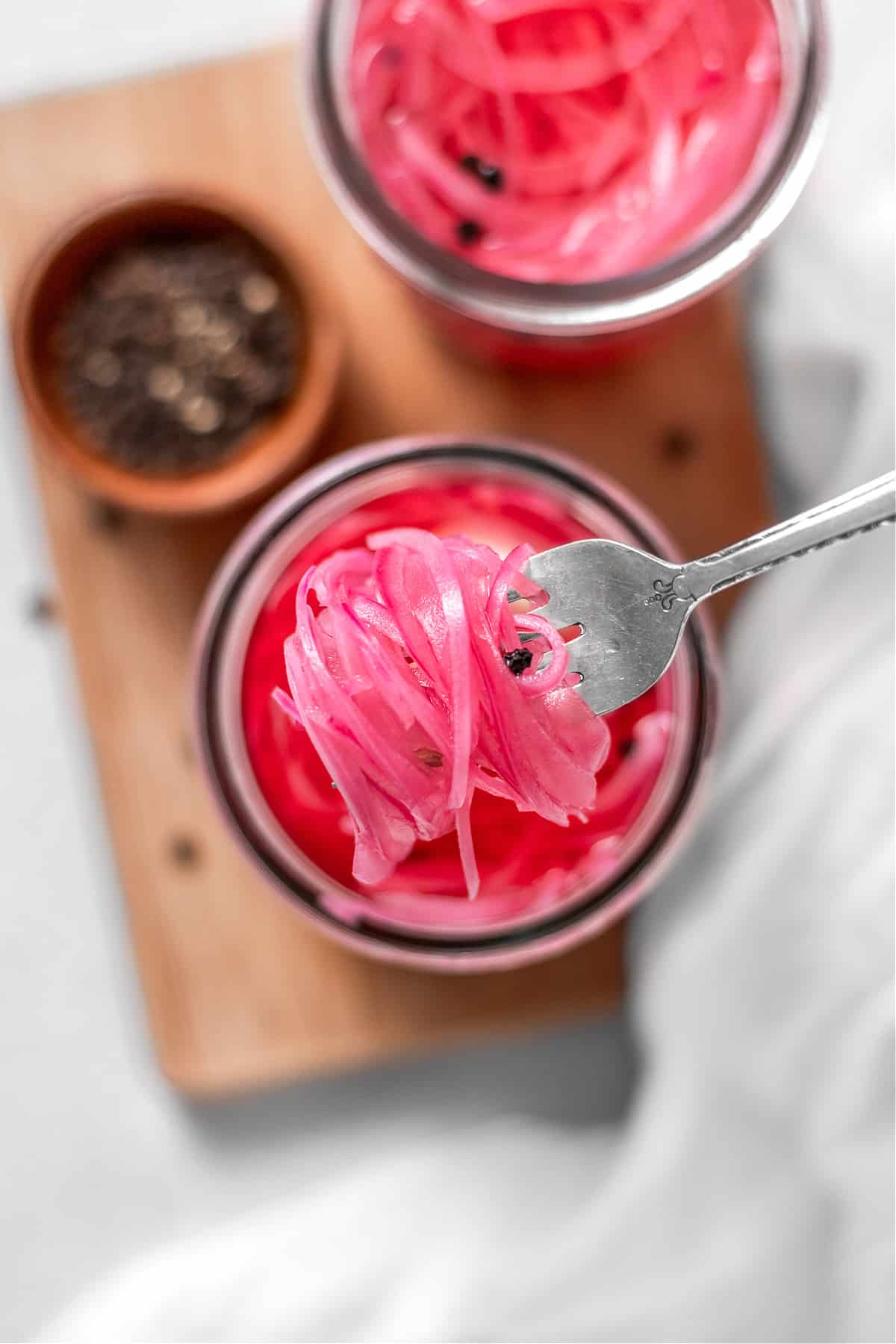 Did you make this recipe? Let me know what you think by leaving a star ⭐️⭐️⭐️⭐️⭐️ rating and sharing your feedback in the comment section below. It would really make my day!
⭐️ Subscribe to the Vegan Huggs Newsletter and receive weekly recipes straight to your inbox! You'll also receive my FREE eCookbook featuring my top 10 recipes.
📖 Recipe
Quick Pickled Red Onions
Add a tangy twist to your meals with these Quick Pickled Red Onions! This vibrant and zesty condiment is the perfect addition to sandwiches, salads, tacos, soups, and more
Ingredients
1

large

red onion

, thinly sliced following the grain

1

cup

white distilled vinegar

1

cup

water

3

tablespoons

cane sugar

1

tablespoon

sea salt

2

teaspoons

whole black peppercorns

(*optional)

2

garlic cloves

, peeled and lightly crushed (*optional)
Instructions
Prepare the pickling liquid: In a small/medium saucepan, combine the white distilled vinegar, water, cane sugar, and sea salt. Heat the mixture over medium heat, until hot and stir occasionally until the sugar and salt dissolve completely.

Fill the Jars: place the onion slices, garlic, and peppercorns in a jar that has a tight-fitting lid.

Add the pickling liquid: Pour the liquid over the sliced onions, ensuring they are fully submerged. Let cool to room temp without the lid on the jar.

Refrigerate: once the onions are cooled, place the lid on the jar and refrigerator for 1-2 hours or until the onions are tender and vibrant pink.
Notes
Storage: will stay fresh in the fridge for up to 2 weeks.
See the post above for step-by-step photos, extra tips, and FAQs
Nutrition
Calories:
27
kcal
|
Carbohydrates:
5
g
|
Protein:
0.3
g
|
Fat:
0.1
g
|
Saturated Fat:
0.02
g
|
Polyunsaturated Fat:
0.01
g
|
Monounsaturated Fat:
0.01
g
|
Sodium:
50
mg
|
Sugar:
4
g