This post contains affiliate links. Read my disclosure policy here.
This Ultimate Bean & Mushroom Burger passes the test! It won't fall apart and it's hearty, satisfying, smoky & bursting with rich umami flavor!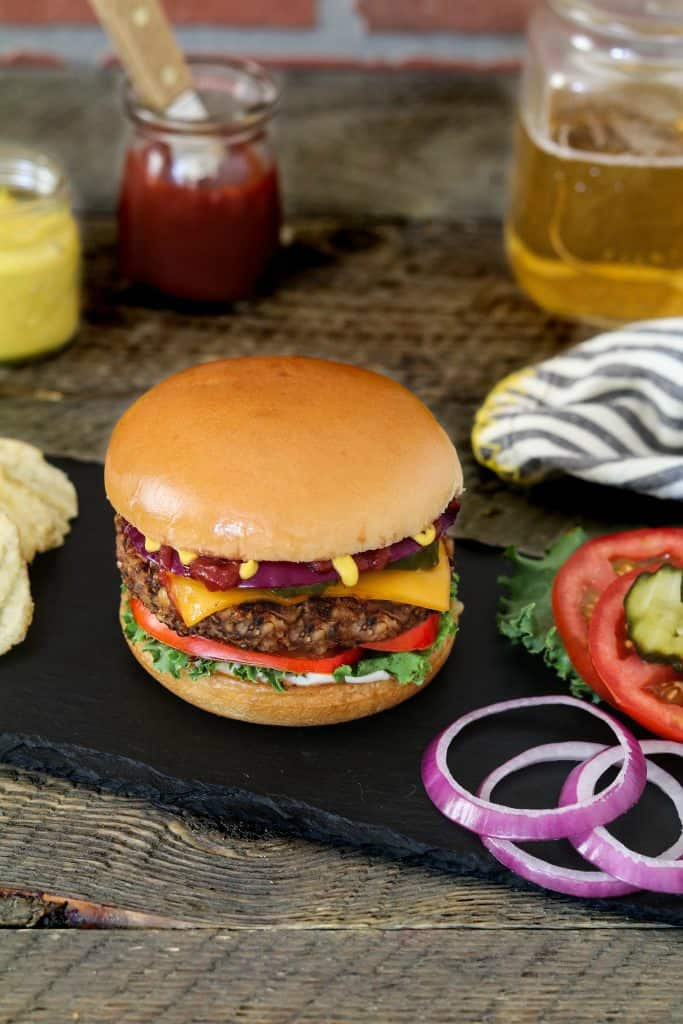 You guys, I'm just about to hit my 2-year blogiversary and I still don't have a burger recipe on the blog yet (gasp!). Where are my priorities? Well today that's all going to change, and to celebrate, I have this Ulitmate Bean & Mushroom Burger to share with you.
I think you're going to like it! Especially, if you're a mushroom lover like me. They create the perfect meaty texture for so many recipes. I've used them to replace beef for my Meatless Loaf and Vegan Mushroom Stroganoff. They are always a hit with my omnivore friends.
We all know that a good veggie burger is hard to come by. We've all experienced the patty that's falling apart, dry as the desert, and just sad.
Well, you don't have to worry about that here. This burger is hearty, juicy, and satisfying!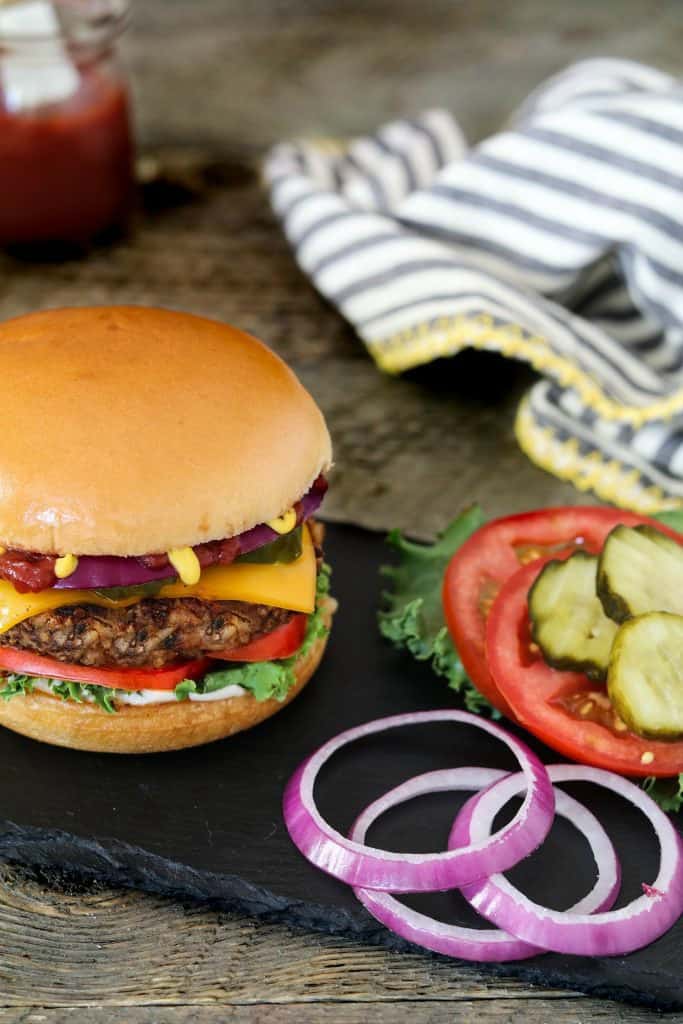 What makes this the ultimate veggie burger?
This burger gets a nice meaty texture from the mushrooms. They also provide a nice amount of moisture to prevent the desert-like patty we want to avoid. I sauteéd them in onions and garlic to bring out their rich umami flavor.
I smashed white beans into the mix to balance out the mushroom texture. It adds smoothness and helps hold the patties together too. Also, it adds a nice amount of protein and fiber for a satisfying meal.
I added oats, ground walnuts, and short-grain rice to enhance the meaty texture, and absorb some extra moisture from the mushrooms. They add a nice bite to the patties and make them extra hearty.
I really wanted a patty that had a classic, yet smoky & savory flavor, so I lightly seasoned the mixture with cumin, coriander, and oregano.
To boost the deep smokiness and savory flavor, I added smoked paprika, liquid smoke, tamari and vegan Worcestershire sauce. Feel free to boost up the flavoring to your liking.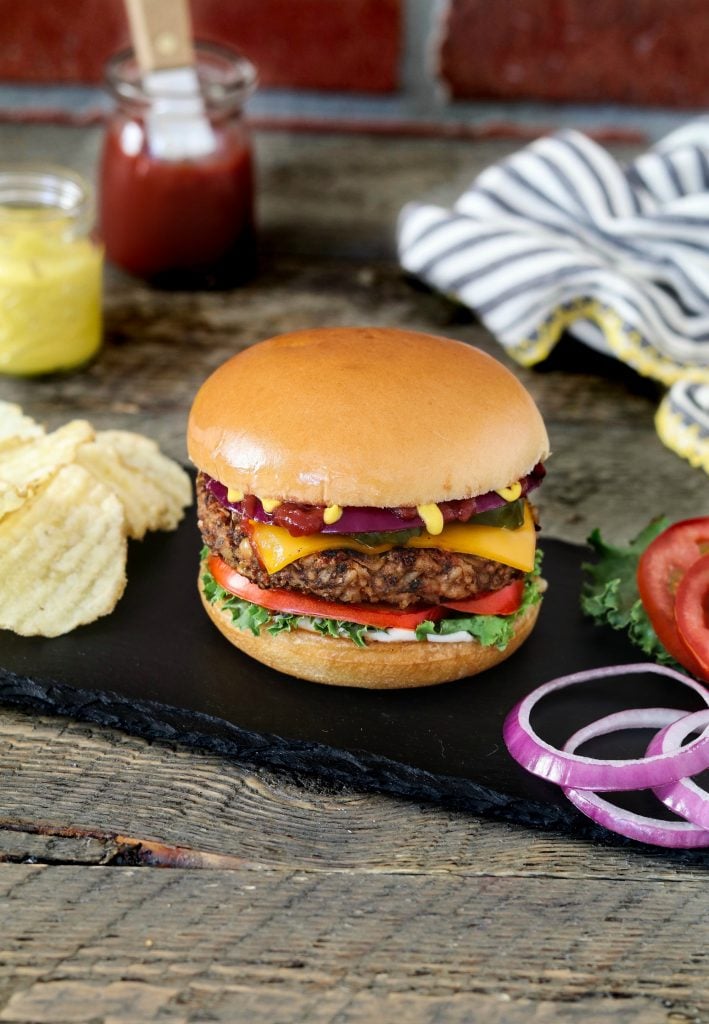 How to make a Mushroom Burger
You do need to be gentle with the patties, but they won't fall apart on you. I prefer to sear them in the pan because I feel it really locks in the flavor while keeping the inside moist and the outside crisp.
To perfectly sear them, heat up the oil in the pan and add the patties when the oil is hot and shimmering. You should hear the patty sizzle when it touches the pan.
To test for readiness, you can splash one small droplet of water on the oil. If it sizzles, you are ready to roll! Make sure not to overcrowd your pan or the patties will steam and create moisture.
The burger patty should be completely seared after 3 minutes. You'll know it's done because it will lift up easily with the spatula. If you flip too early, the patty will stick to the pan.
Baking them is another option and also a bit healthier. Just be careful not to bake them too long. This will avoid them from drying out. They should be tender inside and lightly crisp & browned on the outside.
* Tip: whether you're baking or searing, make sure to let the burger patties sit five minutes before handling. This will help them firm up a bit.
Now the fun part!
Dress up your Bean and Mushroom Burger to your liking. I like a classic burger bun with vegan cheese, red onion, lettuce, tomato, pickles, mayo, ketchup, and mustard with a side of chips.
More Mushroom Recipes to try
I'd love to hear from you
If you make this Bean & Mushroom Burger, I'd love to hear what you think in the comment section below. It would really make my day. You can also follow me on Instagram and share your creation with me. Just tag me @veganhuggs and hashtag #veganhuggs so I don't miss it.
📖 Recipe
The Ultimate Bean & Mushroom Burger
This Ultimate Bean & Mushroom Burger passes the test! It won't fall apart and it's hearty, satisfying, smoky & bursting with rich umami flavor! (Vegan & gluten-free)

Ingredients
2 ½

tablespooons

ground flaxseed

+ 5 tablespoons of water

1 ½

tablespoons

olive oil

(+ more for searing)

1

small

onion

, finely diced (red or yellow)

3

cloves

garlic

, minced

12

ounces

mushrooms

, finely chopped (about 4 ½ cups)

1

teaspoon each of

smoked paprika, cumin & oregano

, more to taste

14

ounce can

white beans

, drained well but not rinsed

1

cup

cooked rice

(short grain is best)

¾

cup

walnuts

coarsely ground (I pulse them in the food processor)

1

cup

gluten-free rolled oats

2

tablespoons

gluten-free tamari

, low sodium (sub soy sauce)

1

tablespoon

vegan worcestershire sauce

1

tablespoon

tomato paste

1 ½

teaspoons

liquid smoke

Salt and fresh cracked pepper

, to taste

3

tablespoons

arrowroot powder
Instructions
In a small bowl, mix together the ground flax and water to make flax eggs. Set aside about 10 minutes to thicken up and become gel-like.

In a large bowl, mash the drained beans with a fork or potato masher. Add the rice, walnuts, oats, arrowroot powder, prepared flax eggs, tomato paste, worcestershire sauce, tamari and liquid smoke. Combine really well and set aside.

In a large pan, heat oil over medium heat. Add onion and sauté for 3-4 minutes, until translucent. Add garlic and sauté for 30-60 seconds until fragrant.

Add the mushrooms and turn the heat up to medium-high. Sauté until they release their liquid and brown. Cook liquid completely off or there will be too much moisture. About 6-7 minutes. Now turn the heat back to medium and add the paprika, cumin and oregano. Sauté for 30-60 seconds. Remove from heat.

Transfer the cooked mixture into the large bowl of previously mixed ingredients. Combine well, using hands if necessary. Add cracked pepper and taste and add more seasoning if needed. Place mixture uncovered in the freezer for 25 minutes or the fridge for 45 minutes or more. This helps firm it up and meld the flavors a bit.

Form the mixture into individual patties, keeping the size of the burger buns in mind. Create a ball with the mixture and place on a large piece of parchment paper. Now flatten evenly with your hands to create a ½" disc. Smooth out sides and any cracks with your hands. Repeat until the mixture is gone. * I used ½ cup of mixture to form ½" thick patties to fit a 3.5" burger bun.
For Baking: Preheat oven to 375 degrees F
Line a large baking sheet with parchment paper. * Optional: lightly spray with cooking oil for a crisper surface. Place in the oven for 16-18 minutes until lightly browned. Flip halfway through. When finished, remove from oven and let them cool for 5 minutes before handling (to let them firm up a bit). At this point, you can eat them, refrigerate or freeze them.
For searing
Place 1-2 tablespoons of cooking oil in a large pan over medium heat. Make sure the oil is hot and shimmering before adding the uncooked patties (*The patties should sizzle when you place them on the pan). Don't overcrowd the pan or the patties will steam. Sear each side for about 3 minutes until crisp and brown. If you flip the patty to early, it will stick to the pan. It should lift up easier when the side is seared. Be gentle while flipping. Place them on a paper towel-lined plate and let them sit for 5 minutes to firm up. At this point, you can eat them, refrigerate or freeze them.
To Assemble
Spead vegan mayo on the burger buns. Dress burger with vegan cheese, lettuce, sliced tomato, red onion, pickles, mustard, and ketchup. Enjoy!
Notes
Cleaning Mushrooms: Use a damp paper towel or a soft brush to clean each mushroom. You can lightly rinse the mushrooms with water, but don't soak them. Pat dry when done. Mushrooms are like sponges and will absorb a lot of water, so I prefer the dry method.
Sautéing Mushrooms: Mushrooms can produce a lot of water when heated. Use the largest pan you have to prevent overcrowding and steaming. Make sure it's nice and hot before adding the mushrooms to the onion. You should hear a little sizzle. Cook the mushrooms until they dry out a bit and release all their liquid.
I pulsed the mushrooms a few times in the food processor to get them finely chopped and make life easier. Be careful not to over-process or they will be mushy. If you have a small processor, you may need to chop in two batches.
If at any point you feel the mixture is too wet or hard to handle, just add some oats, breadcrumbs or another ½ tablespoon of arrowroot powder. Another option is to grind up a few tablespoons of oats and add as needed. You can always pop it in the freezer for another 10 minutes too. * Be very gentle when handling the patties.
For easy flipping, use a thin and sturdy spatula.
If you only have whole flaxseed, you can grind the seeds in a coffee grinder.
These patties will store in the fridge for 5-7 days or the freezer for 2-3 months. Wrap them individually in wax paper and store them in a Ziploc or airtight container.
To reheat: Preheat your stove to 375 F. Place patties on a baking sheet and cook until heated through, flipping halfway. About 15-2o minutes.
Cook & prep time will vary depending on which method you choose. * Prep time doesn't include chilling time.
Nutrition
Serving:
1
Patty
|
Calories:
293
kcal
|
Carbohydrates:
46
g
|
Protein:
11
g
|
Fat:
6
g
|
Sodium:
178
mg
|
Potassium:
623
mg
|
Fiber:
6
g
|
Sugar:
2
g
|
Vitamin A:
30
IU
|
Vitamin C:
2.6
mg
|
Calcium:
74
mg
|
Iron:
3.5
mg