This post contains affiliate links. Read my disclosure policy here.
This Mushroom-Walnut Meatless Loaf w/ Ketchup Glaze is hearty, healthy & full of flavor. It will keep the vegans & non-vegans at the table together.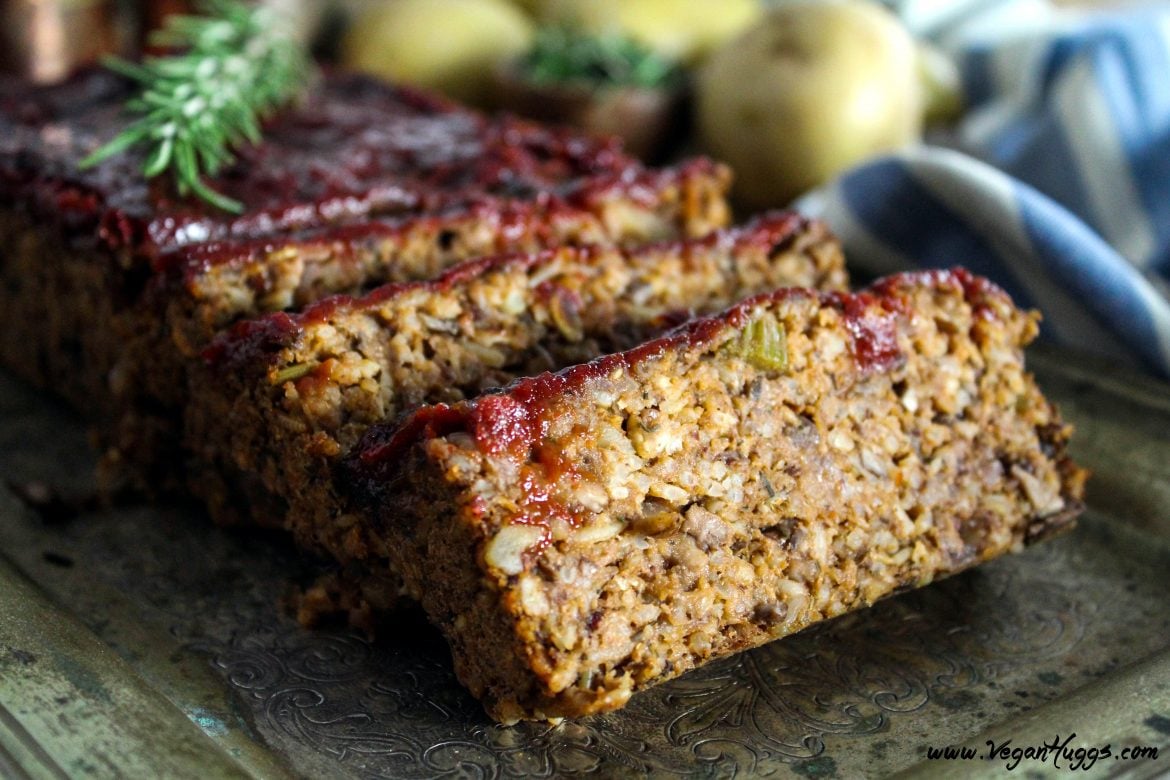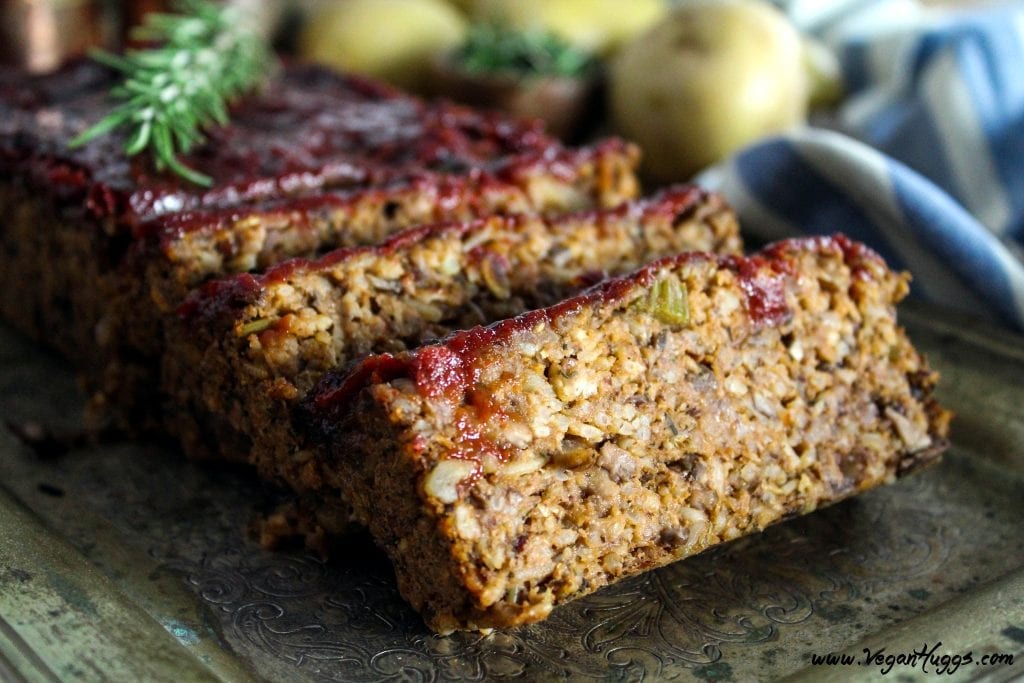 After going vegan, I really missed meatloaf, but when I really thought about it, it wasn't the meat that was comforting my taste buds & senses back then...it was the texture, taste, and aroma I craved. Meat by itself just smells & tastes gross…especially, when it's raw. So a Meatless Loaf was in my future.
I made this Meatless Loaf with mushrooms to capture that "meaty" texture, and I used most of the same veggies, herbs & spices of a classic meatloaf recipe. You won't be missing a thing!
Mushrooms will do the trick every time, and I use them often to replace the meat-like texture. These Lentil Mushroom Tacos and my Portobello Vegan Fajitas are very popular with my non-vegan friends, and they look forward to eating dinner at our house.
How do I make a Vegan Meatloaf?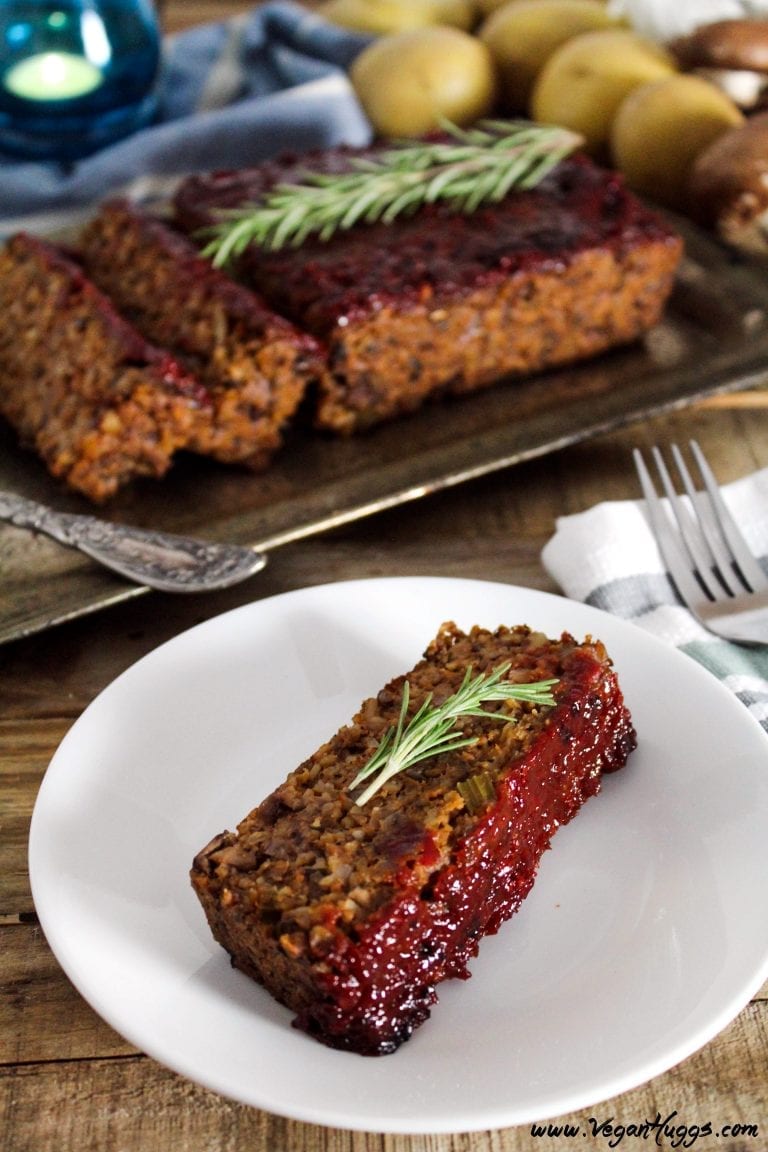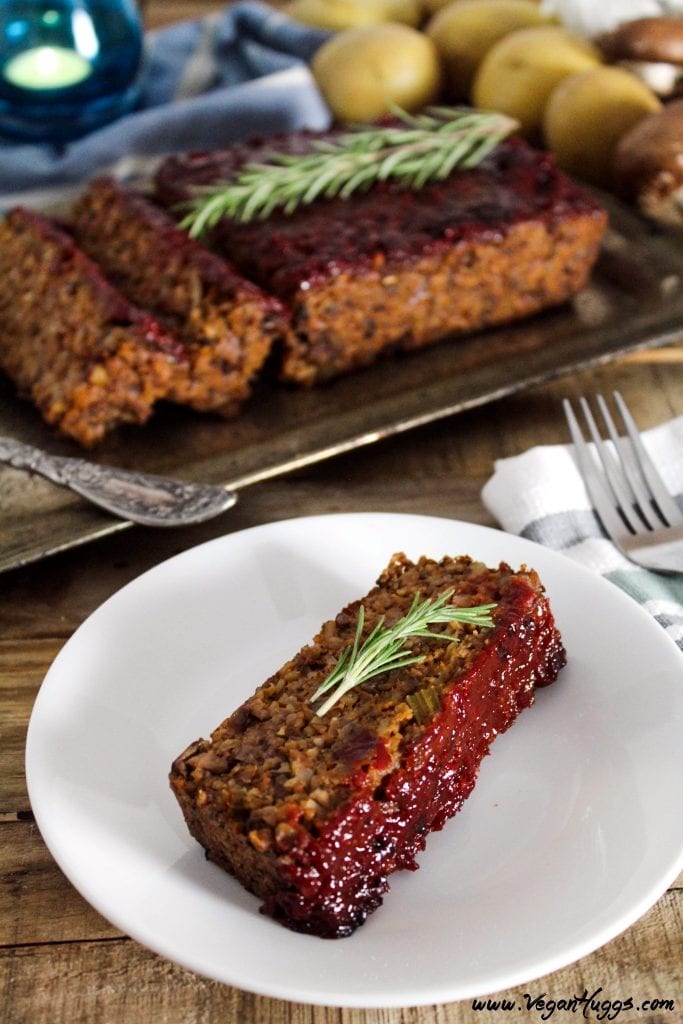 As I was saying, the mushrooms really do the trick for the meaty texture, but to pull it all together, I also added some cooked rice, rolled oats & mashed potatoes. Together, these ingredients add a nice bitey texture and will make the loaf tender and moist.
It's almost the same as making a meat-based loaf, with some additional steps. I promise it'll be worth it though. Here's what you'll need to do:
STEP 1
Cook your rice and potatoes. This helps with texture and the potatoes keep it all together. I make them the night before to make things easier.
STEP 2
Prepare your flax egg and set aside
STEP 3
Sauté the onions, celery, mushrooms and spices.
STEP 4
Add the sautéed veggies, flax egg and to a large bowl with the rice, potatoes, oats, tomato paste, Worcestershire, salt, and pepper. Combine well.
STEP 5
Transfer to a lined loaf pan and press down firmly so it molds into pan. Top with ketchup glaze and bake to perfection.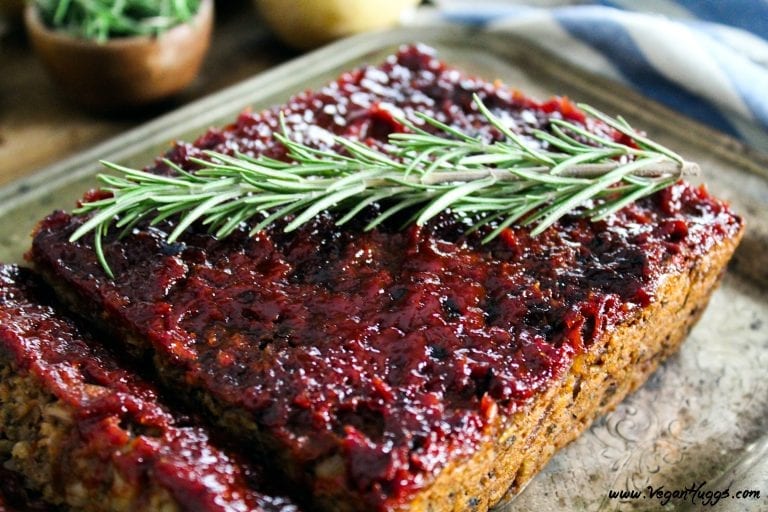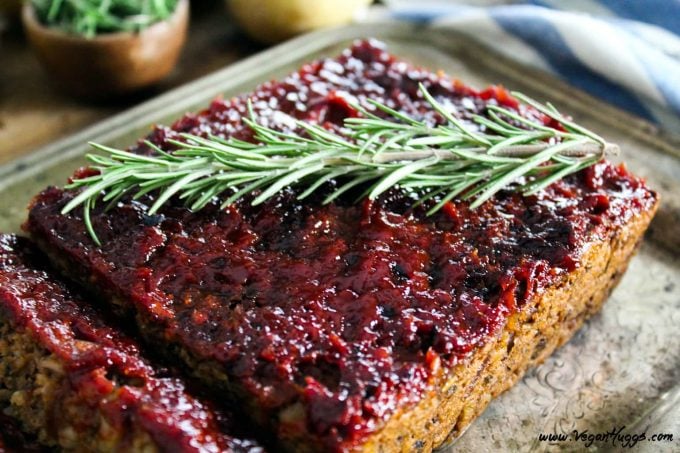 How do you make ketchup glaze for meatloaf?
It's really easy! You'll just need mustard, brown sugar, vinegar, salt, and of course, ketchup. Combined, these ingredients create a subtly-sweet, savory & tangy flavor.
Just mix them all together and set aside while you prepare the rest. When everything is done, just brush it on to the top of the loaf. During the baking process, it'll get bubbly, gooey, and caramelized. My mouth is watering just thinking about it!

Can I freeze it?
Yes! You can bake it all the way through and freeze or just freeze after you fill the loaf pan. I haven't tried freezing it with the ketchup glaze. It's so easy to make fresh, so I just do it the day of.
The loaf will take at least 30-40 minutes longer to heat throughout. I usually add the ketchup glaze at the halfway mark to avoid it getting too crispy.
What can I serve with it?
Salad
Sautéed Green Beans
I'd love to hear from you
If you make this recipe, let me know what you think by ★ star rating it and leaving a comment below. It would really make my day. You can also follow me on Instagram and share your creation with me. Just tag me @veganhuggs and hashtag #veganhuggs so I don't miss it.
📖 Recipe
Mushroom-Walnut Meatless Loaf with Ketchup Glaze
This Mushroom-Walnut Meatless Loaf w/ Ketchup Glaze is hearty, healthy and full of flavor. It will keep the vegans and non-vegans at the table together.
Ingredients
Ketchup Glaze:
½

cup

ketchup

2

tablespoons

mustard

3

tablespoons

brown sugar

½

teaspoon

apple cider vinegar

¼

teaspoon

salt
Meatless Loaf
2 ½

tablespoons

ground flaxseed

+ 6 tablespoons water (for flax egg)

2

tablespoons

grapeseed oil

(or preferred cooking oil)

1

medium

red onion

, diced

3

stalks

celery

, diced

3-4

cloves

garlic

, minced

12

oz

cremini mushrooms

, finely chopped or minced (about 4 cups)

2

cups

cooked rice

1

cup

cooked potatoes

, mashed

¾

cup

rolled oats

(gluten-free if preferred)

⅓

cup

breadcrumbs

(gluten-free if preferred)

¾

cup

walnuts

, pulsed in food processor into a loose meal (or finely chopped)

3

tablespoons

tomato paste

1 ½

teaspoons

dried thyme

1 ½

teaspoons

dried parsley

1

teaspoon

ground sage

1

teaspoon

dried rosemary

2

tablespoons

vegan worcestershire sauce

1 ½

teaspoons

salt

, more to taste

Fresh cracked pepper

, to taste
Instructions
Ketchup Glaze:
To make the glaze, mix all ingredients together in a small bowl. Mix well & set aside.
Meatless Loaf:
Preheat the oven to 375 degrees Fahrenheit.

Mix the water and flaxseed meal together in a small bowl, set aside for at least 10 minutes (this makes 2 flax eggs). It will gel up.

Prepare a loaf pan by lining with parchment paper. Lining the pan makes it so much easier to remove after cooking. Here is a quick video on how to line a loaf pan with parchment paper. Set aside.

In a large pan, heat the oil over medium heat. Sprinkle with salt. Sauté onion & celery over medium heat for 5-6 minutes, until onions are slightly browned and celery is softened.

Add garlic, thyme, rosemary, parsley, and sage. Sauté for 1 minute.

Turn heat up to medium-high and then add the mushrooms. Cook until they have released all their liquid and the pan and mushrooms are mostly dry. About 6-8 minutes.

Transfer the cooked mushroom mixture to a large bowl. Add the mashed potatoes, breadcrumbs, flax eggs, rice, rolled oats, walnuts, tomato paste, Worcestershire sauce, salt & pepper. Combine all ingredients really well, using hands if necessary. Give a quick taste to see if it needs any more seasoning, add as needed.

Place mixture into your lined loaf pan. Press down firmly so it molds into pan. Brush top of loaf with the ketchup glaze.

Bake for 30-40 minutes, until heated through.

If you would like to crisp the glaze a bit, turn the broiler on for 2-3 minutes. Be careful not to burn.

Let the loaf cool for about 10 minutes before trying to remove from pan. Use the paper to pull it up and onto your serving dish. Let sit for another 5-10 minutes before serving. This helps firm it up more.
Notes
Cleaning Mushrooms: use a damp paper towel or a soft brush to clean each mushroom. Or, you can lightly rinse the mushrooms with water, but don't soak them. Pat dry when done. Mushrooms are like sponges and will absorb a lot of water. I pulse the mushrooms a few times in a food processor to get them finely chopped and make life easier. Be careful not to over process or they will be mushy. If you have a small processor, you may need to chop in two batches. If you only have whole flaxseed, you can grind the seeds in a coffee grinder. Mashed Potatoes: make extra and serve them alongside the meatless loaf. This meal also goes well with green beans, carrots, or a big salad. Make the rice the night before and leave in the fridge. This will cut your prep time down. This makes the perfect holiday loaf. Even your non-vegans friends will love it.
Nutrition
Calories:
228
kcal
|
Carbohydrates:
35
g
|
Protein:
6
g
|
Fat:
9
g
|
Saturated Fat:
1
g
|
Sodium:
644
mg
|
Potassium:
439
mg
|
Fiber:
3
g
|
Sugar:
6
g
|
Vitamin A:
120
IU
|
Vitamin C:
4.9
mg
|
Calcium:
56
mg
|
Iron:
2.3
mg