This Vegan Nacho Cheese is creamy, spicy, tangy and full of mouth-watering flavor! It's easy to prepare and filled with wholesome ingredients, too.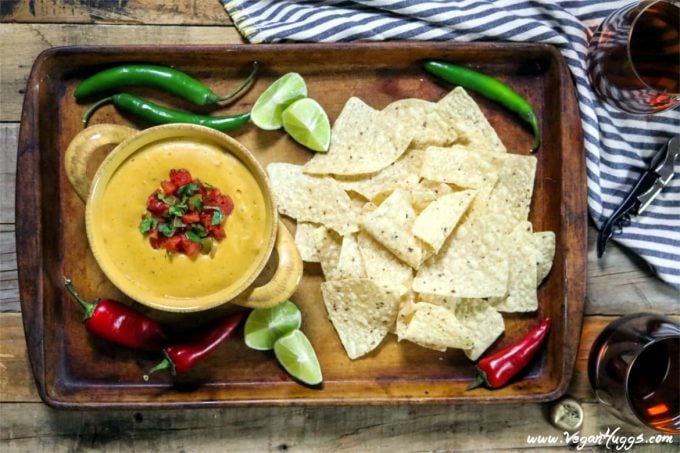 I used to love nacho cheese on everything – if it was on the menu, it was in my belly! However, it often left my stomach bloated and hurting afterward. I just dealt with it, because I didn't want to ruin my "fun". I never thought about the processed ingredients or the cruelty, but now I can truly have fun in a much healthier and kinder way with this Vegan Nacho Cheese.
I know what some of you might be thinking, but I promise this is close to the real deal (better in my opinion). Dairy isn't needed to make a dip that is melty, stretchy, tangy and cheesy tasting. Nature has gifted the earth with a variety of kind foods that are colorful, flavorful and nutritious. So, we can leave the cow's milk for the baby cows.
I'll be making this Vegan Nacho Cheese on game day, along with my Vegan Mozzarella Sticks, these Fried Olives Stuffed w/ Roasted Garlic and my Finger Lickin' Good Cauliflower Wings. I'm not even a big sports fan, but it's a perfect excuse to pig out and have some vegan beer with friends.
So, what's in this Vegan Nacho Cheese that makes it so "cheesy"?
The star of this show is butternut squash (boiled, steamed or roasted) and it gives this nacho cheese a buttery texture, and leaves it with a beautiful nacho cheese color. Not to mention, you'll be adding a full serving of vegetables to a typically unhealthy recipe. Don't worry, they'll never know they're in there 😉
Next up, are the ever-magical raw cashews. They will make this cheesy dip super creamy, thick, rich and will pack some protein in there, too. Just soak them in water for 2-4 hours to soften (or overnight), or you can soak them in hot water for 10-15 minutes to make it faster.
Along with that, I added unsweetened non-dairy milk for extra creaminess and vegetable broth for added flavor and depth. To create the spicy, tangy & cheesy nacho flavor, I added jarred jalapeños, jalapeño brine, chili powder, paprika, onion powder, garlic powder, lemon juice, nutritional yeast, salt and tapioca starch/flour.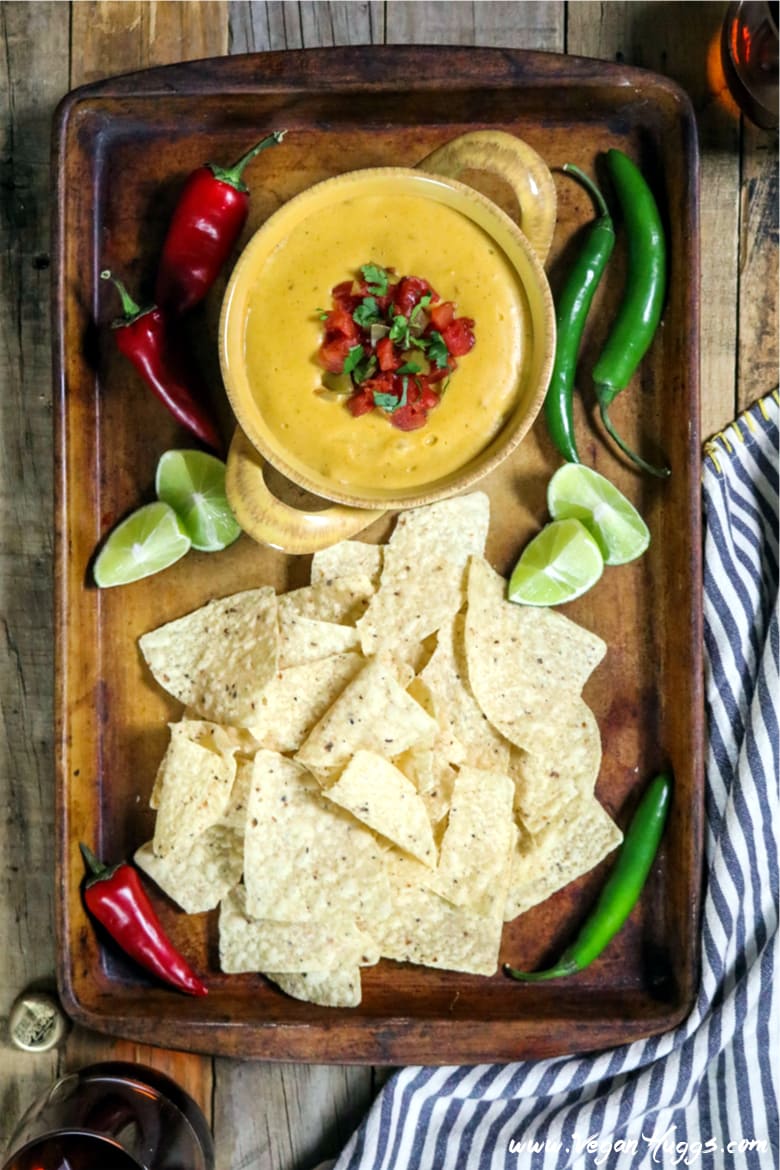 It's so easy to make
All you need to do now is throw it all into a high-speed blender and blitz it until smooth. Then place it in a medium sauce pot over medium heat, and in under five minutes, the sauce will thicken and become gooey and slightly stretchy. Now you're on your way to Vegan Nacho Cheese heaven!
Top with some fresh-cut cilantro, diced tomatoes, and serve warm alongside crispy tortilla chips, lime wedges and sliced jalapeños.
So how does it taste?
This nacho cheese is on the spicy side, but it's definitely easy to modify. Just cut down on the jalapeños and brine, or just leave it out altogether. Feel free to add more if you like it spicier, or add a pinch of cayenne powder to the mix.
Besides the heat, this nacho cheese has a great balance of tangy, savory and sharp flavors. Your taste buds won't even know what hit 'em!
The texture is:
Velvety-smooth
Creamy
Ooey-gooey
Melty
Stretchy
Dreamy
Cheesy
This cheesy sauce is perfect for dipping, but you can add it to loaded nachos, baked potatoes, veggies, sandwiches, mac & cheese, veggie, burgers, veggie dogs, casseroles, soups and more. The options are endless.
Also, it will stay good in the fridge for 3-5 days. Just reheat on the stove, and add a few splashes of vegetable broth. It does freeze well too, but I never get that far. This stuff is too good for keeping… it's for eating!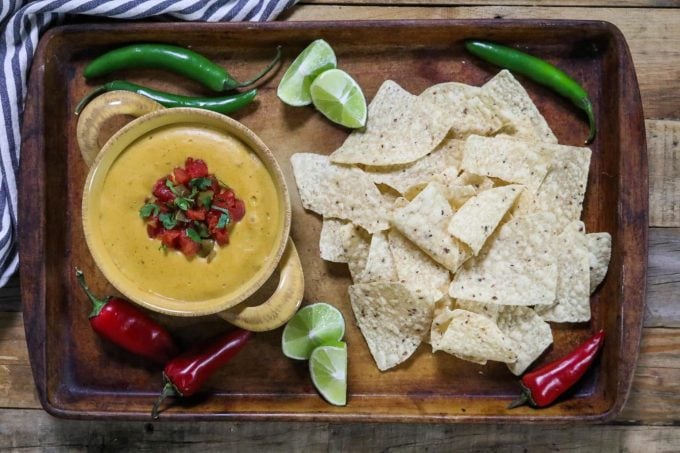 Alright, are you guys ready? Grab your chips and let's do this! Oh, don't forget the vegan beer 😉
Spicy Vegan Nacho Cheese
This Vegan Nacho Cheese is creamy, spicy, tangy and full of mouth-watering flavor! It's easy to prepare and filled with wholesome ingredients, too.
Recipe Type:
Gluten-Free, Vegan
Ingredients
1/2

cup

raw cashews,

soaked in water 4 hours, or overnight *See note

1 1/2

cups

butternut squash,

peeled & chopped into 1-inch cubes

1

cup

unsweetened soy milk

(or any plant-based milk)

3/4

cup

vegetable broth,

low sodium

1

teaspoon

chili powder

1

teaspoon

onion powder

1

teaspoon

garlic powder

1

teaspoon

himalayan salt

(or preferred salt), more to taste

1/2

teaspoon

paprika

2

tablespoons

nutritional yeast

2

tablespoons

+ 1 teaspoon tapioca flour/starch

1

tablespoon

jarred jalapeño slices *See note

1

tablespoon

jarred jalapeño brine

1-2

tablespoons

fresh lemon or lime juice

(I used 2 tablespoons)
Instructions
Steam or boil the butternut squash until tender (about 10-15 minutes). Drain and set aside.

Drain & rinse cashews and discard water.

Place all ingredients into a blender. Blend until smooth, about 1-2 minutes (mixture will look runny).

Pour mixture into a medium pot and place over medium heat. Stir often, so it doesn't stick or burn. Scrape the sides and bottom, as needed. It will get a little clumpy, but it with smooth out as it heats up.

When the cheese starts to thicken up, place heat on medium-low. Taste for seasoning and add more if needed. When it becomes stretchy, smooth and thick, remove from heat. This whole process should take about 5-6 minutes. Let it sit for 2-3 minutes and serve. Enjoy!
Recipe Notes
Prep time doesn't include soaking time for cashews.
* If you don't have/like butternut squash, you can replace it with 1 cup cooked potatoes, and a 1/2 cup cooked carrots. The method is the same. 
*To speed up soaking time for cashews: in a small pot, boil water and remove from heat. Add cashews and cover for 10-15 minutes, until softened.
*For a mild flavor, omit the jalapeños and the brine or cut amount in half. For a spicier flavor, add more jalapeños, or add a pinch of cayenne pepper. If you'd like a thicker cheese sauce, add 1 teaspoon of tapioca flour/starch while it's cooking. For a thinner sauce, add a few teaspoons of vegetable broth. For a more yellow cheese color, add 1/4 teaspoon of turmeric powder. No more than that, or it will change the flavor too much.
Top with some fresh-cut cilantro, diced tomatoes, and serve warm alongside crispy tortilla chips, lime wedges and sliced jalapeños. If you'll be leaving the cheese out for a crowd. It's best to serve it in a food warmer to keep the cheese smooth & warm. To reheat: Place in medium pot and cook over medium heat for 3-5 minutes. Add a few splashes of vegetable broth to thin it out a little. Stir often to prevent burning and sticking.
Nutrition Facts
Spicy Vegan Nacho Cheese
Amount Per Serving
Calories 119
Calories from Fat 45
% Daily Value*
Total Fat 5g 8%
Sodium 432mg 18%
Potassium 332mg 9%
Total Carbohydrates 13g 4%
Protein 5g 10%
* Percent Daily Values are based on a 2000 calorie diet.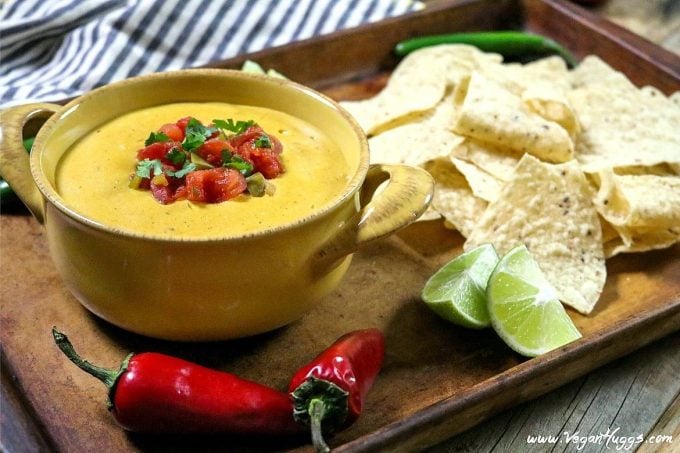 If you make this recipe, I'd love to hear from you. Leave a comment below and let me know what you think. It would really make my day. You can also follow me on Instagram and share your creation with me, Just tag me @veganhuggs and hashtag #veganhuggs.