Vegan Jalapeño Popper Dip ~ warm, spicy, cheesy & completely addictive. Made with simple & wholesome ingredients.
I really love spicy food, and I crave it often, especially when it's in dip form. I also love jalapeño poppers, but I'm not always down to make them when that craving hits.
This vegan Jalapeño Popper Dip takes care of all that in one shot. It's easy to make, super cheesy and perfectly spicy.
So, whenever I need a quick fix, I'll make this tasty Dip, which I adapted from my Spicy Nacho Cheese. Both recipes have a similar method, just slightly varied ingredients. It's kinda fun to turn a recipe into multiple ones.
My Mac n Cheese and Fettuccine Alfredo recipes are also very closely related and have been adapted from the nacho cheese as well. And I have more to share still. The fun continues!

Guests coming over?
No problem! This Jalapeño Popper Dip is pretty simple to make and quite the crowd-pleaser. Just put this warm cheesiness on the table and watch them flock to the deliciousness. It never fails!
Take caution
Your guests might hog this insanely addictive dip, so you might want to put your hosting politeness aside, and dig in while you can. Do not leave them unattended or you will miss out on all the fun. You can be polite later when they're asking for the recipe.
The perfect balance of heat
This Jalapeño Popper Dip is spicy enough to keep you coming back for more, but not SO spicy, that you'll be running for the hills. I think that's why it's so addictive, along with the subtle tanginess.
You can adjust the heat levels easily too, and customize to your liking. Just use fewer Jalapeños if you're feeling modest, and more if you're feeling wild and crazy.
I mostly use jarred jalapeños because it's easier, but fresh can be used too. Just make sure to deseed & roast them first, or your tongue will be on fire.
What's in it?
~ Potatoes, soy milk & cashews for the ultra-creamy & rich texture.
~ Tapioca starch for that cheesy-like stretch we all love.
~ Lemon & nutritional yeast for that cheesy tang.
~ Vegetable broth, onion powder, garlic powder & sea salt for added savoriness.
~ Vegan butter & panko bread crumbs for that golden brown, buttery topping
Oh, and the most important ingredient…JALAPEÑOS!!!
Easy to make
~ Soften the cashews
~ Boil or steam the potatoes
~ Blend up the cheese sauce ingredients
~ Heat on the stove until thick & stretchy
~ Pour in your favorite oven-safe dish
~ Cover with buttery breadcrumbs
~ Bake for 15-20 minutes
Now grab some bread and go to town!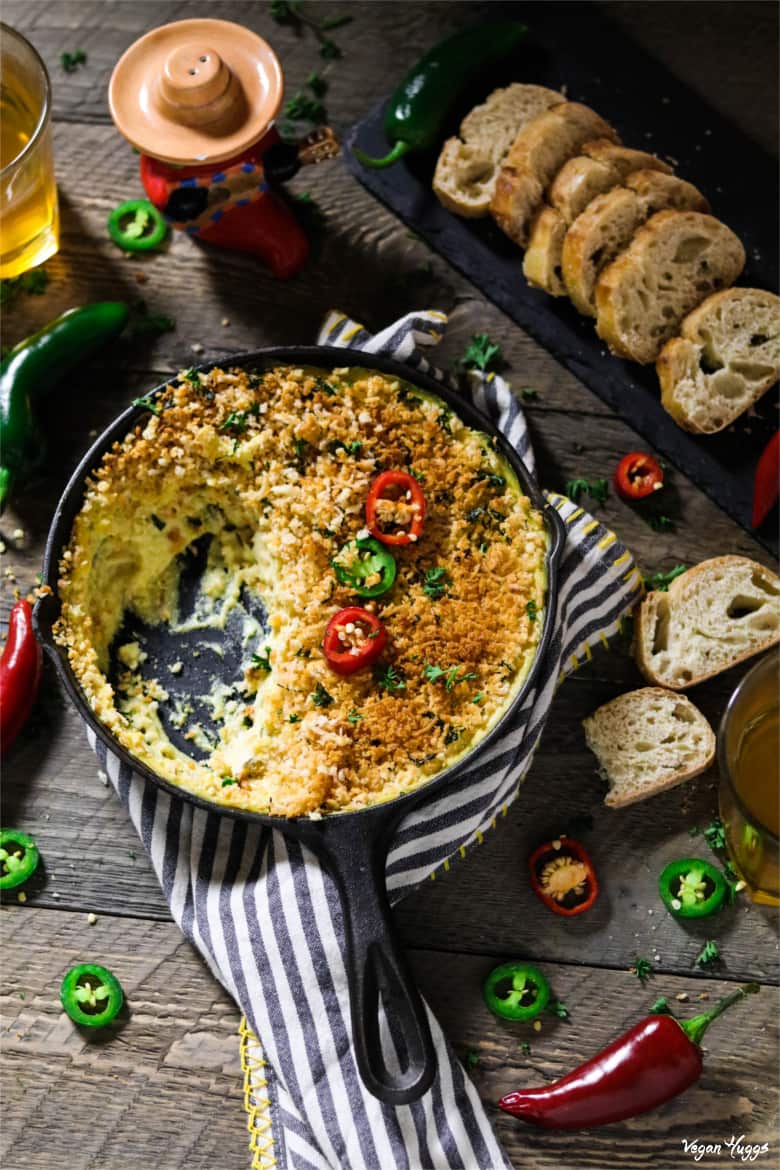 This ooey-gooey, Jalapeño Popper Dip will definitely spice up your life, or maybe just your day, but it does the trick. It pairs nicely with some fresh crusty bread or crackers. If you want to make it a little healthier, it works well with a veggie platter, too.
My favorite pairing… a tall, cold glass of vegan beer!
I'd love to hear from you
If you make this Jalapeño Popper Dip, I'd love to get your feedback. You can leave a comment below and let me know what you think. It would really make my day. You can also follow me on Instagram and share your creation with me. Just tag me @veganhuggs and hashtag #veganhuggs so I don't miss it.
*Click photo to pin*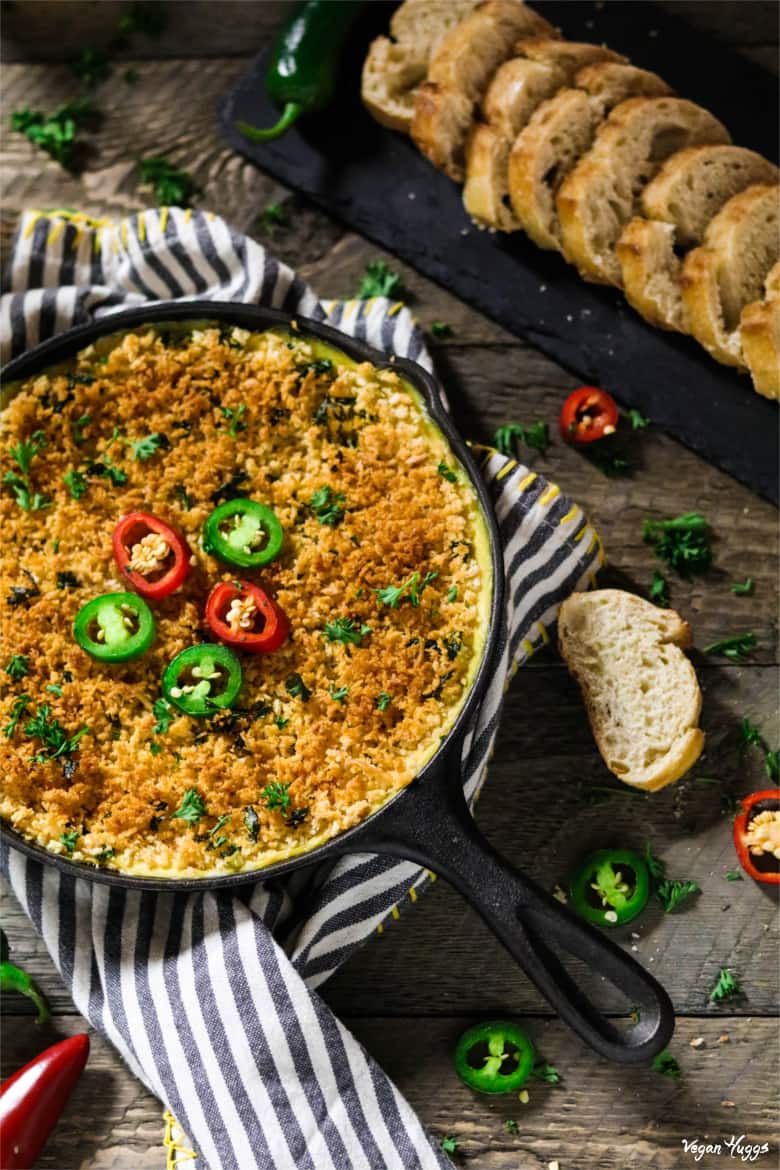 Vegan Jalapéno Popper Dip
Vegan Jalapeño Popper Dip ~ warm, spicy, cheesy & completely addictive. Made with simple & wholesome ingredients.
Ingredients
1/2

cup

raw cashews,

soaked in very hot water for 10-15 minutes. Keep covered. *See note

1 1/2

cups

potato,

peeled & chopped into 1-inch cubes

1

cup

unsweetened soy milk

(or any plant-based milk)

3/4

cup

vegetable broth,

low sodium

1

teaspoon

onion powder

1

teaspoon

garlic powder

1 1/2

teaspoons

himalayan salt (or preferred salt),

more to taste

2

tablespoons

nutritional yeast

1/4

cup

tapioca flour/starch

2

tablespoons

fresh lemon juice

(I used 2 tablespoons)

4

oz

can jalapeño peppers,

drained well & diced

1

cup

panko bread crumbs

2

tablespoons

vegan butter,

melted

2

tablespoons

fresh parsley,

chopped finely * optional
Instructions
Preheat oven to 375 degrees F.

Steam or boil the potatoes until tender (about 8-10 minutes). Drain and set aside.

Drain & rinse cashews and discard water. Now place all ingredients in a blender (except jalapenos). Blend until potatoes & cashews have completely broken down & sauce is smooth, about 1-2 minutes. Set aside.

Pour in cheese sauce in a medium skillet over medium heat, and stir in jalapeños. Cook for 4-5 minutes, until it thickens up and becomes slightly stretchy. Stir often to prevent burning. Taste for seasoning, and add more if needed.

At this point, you can transfer the cheese mixture to an oven-safe casserole dish (about 2-quart size) or you can leave it in the skillet, as long as it's oven safe and the right size for serving.

Combine the melted butter, parsley and breadcrumbs in a medium bowl. Now sprinkle evenly over cheese.

Place in the oven for 15-20 minutes, or until breadcrumbs are golden brown. Remove from oven and let sit for 5-10 minutes before serving. It will thicken up more as it cools a bit. Serve with fresh bread, crackers or veggies. Enjoy!
Recipe Notes
*Cashews: To make things easier, you can prep ahead, and pre-soften your cashews by placing them in cool water for 4 hours, or overnight in the fridge, instead of heating them in water for 10-15 minutes. Then they'll be ready to pop in the blender right away.
*Vegetable Broth: I like to use low sodium broth, so I can control the salt taste. Some broths are too salty and can ruin a good recipe. If you would like to use a regular broth, make sure to cut down the added salt in the recipe. Taste as you go along. Another option is to blend low sodium and regular broth together.
*You can cook the potatoes the night before and pop them in the fridge. This will make things even faster and easier.
*For a milder spicy flavor, use 1/2 the number of jalapeños. For more spice, add more jalapeños or 1 tablespoon of jalapeño brine. For a thinner cheese sauce, add a few teaspoons at a time of vegetable broth and combine well. Serve warm alongside crispy tortilla chips or crusty bread. To reheat: Place in medium pot and cook over medium heat for 3-5 minutes. Add a few splashes of vegetable broth to thin it out a little. Stir often to prevent burning and sticking.
Nutrition Facts
Vegan Jalapéno Popper Dip
Amount Per Serving
Calories 209
Calories from Fat 81
% Daily Value*
Total Fat 9g 14%
Sodium 440mg 18%
Potassium 479mg 14%
Total Carbohydrates 25g 8%
Protein 7g 14%
* Percent Daily Values are based on a 2000 calorie diet.