This post contains affiliate links. Read my disclosure policy here.
The Ultimate Vegan Mac n Cheese ~ super creamy, rich & oh-so dreamy! It takes less than 30 minutes to make & it's gluten-free.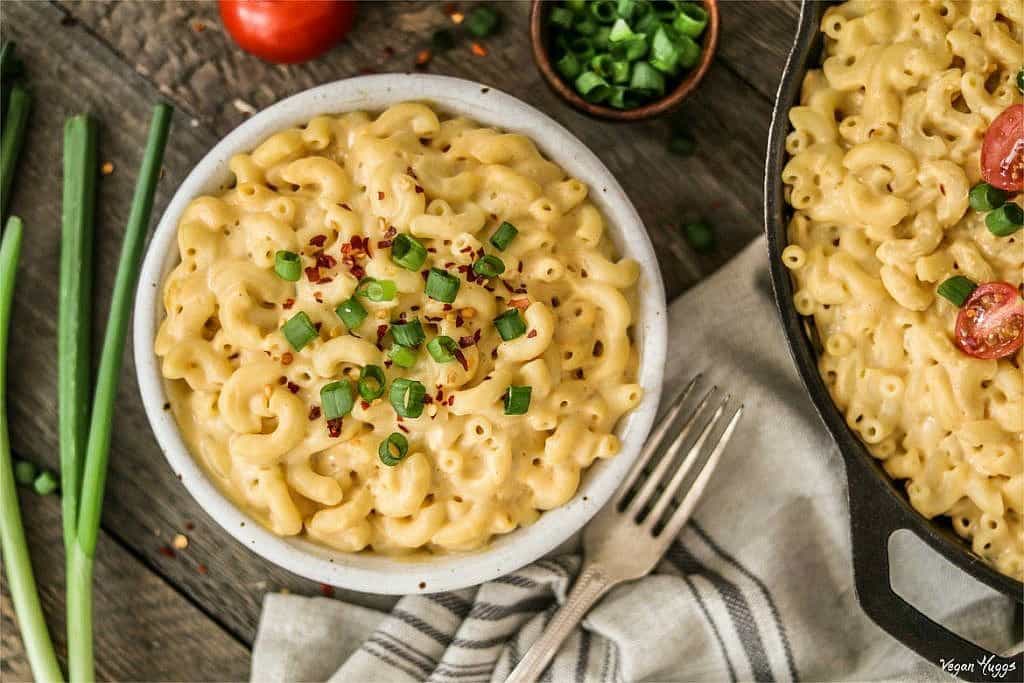 I've been on a little comfort food kick lately, and I'm taking it all in before the warmer weather hits. I live in the desert, but it gets a little chilly during the winter.
I love having comforting foods to keep me warm & cozy, and this Ultimate Vegan Mac n Cheese is the perfect way to do it.
What makes it THE ultimate?
Well, it's super creamy, velvety-smooth, rich, mouth-watering, and the cheesiest mac in town! This is a family favorite and we enjoy it at least once a week, along with Finger Lickin' Good BBQ Cauliflower Wings. It's the perfect combination and total comfort on a plate!

But it's not cheese
Some people out there (a.k.a the meat & dairy industry) don't like when vegans use words like meat, milk or cheese to describe our food because apparently, it confuses consumers into thinking they're buying "real" animal-based products.
Ya know, like that "real" neon-orange block of cheese that doesn't need to be refrigerated? That was more like a science project gone wrong.
Well, the utter truth is that consumers are waking up to the suffering and damage that animal-based foods are causing, and they're choosing to buy the latter.
This Vegan Mac n Cheese is twice as delicious, 100% healthier, and 100% kinder than its animal-based counterpart. Maybe it's not made with "real" cheese, but it sure tastes like it is, so why would I change the name to something else?
It's not confusing… it's damn delicious!

What's in this Vegan Mac n Cheese?
There are lots of ways to make a vegan cheese sauce. I love using cauliflower, cannellini beans, and I especially love using butternut squash, like I did for my Spicy Nacho Cheese.
It creates a creamy, buttery texture, and a gorgeous color too. I have a Baked Butternut Mac recipe I'll be sharing soon, so stay tuned.
For this Vegan Mac n Cheese recipe, I used potato to get that creamy & thick texture, like in my Fettuccine Alfredo. To create the cheddar cheese color, I tried something new and I used…
wait for it...wait for it…
CARROTS!
Normally, I'll just use a blend of turmeric, paprika, nutritional yeast, and chili powder to get that cheesy color. I didn't think of this genius idea up on my own, I saw it on Veg News Magazine a while back, and I've meant to give it a try.
The carrots worked out perfectly in this dish, and I've added another recipe to my arsenal now!
Woo-hoo!
To make the sauce extra creamy, I used unsweetened soy milk and raw cashews into the mix. When processed together with the potatoes & carrots, it makes an ultra-rich sauce base to drown your macaroni in.
The cheesy flavor is created with nutritional yeast (a.k.a nooch) and fresh lemon juice. For that cheesy stretch we all love, I added tapioca starch.
Nooch is a magical ingredient that turns your delicious cheese sauce into a melty, stretchy, vegan miracle!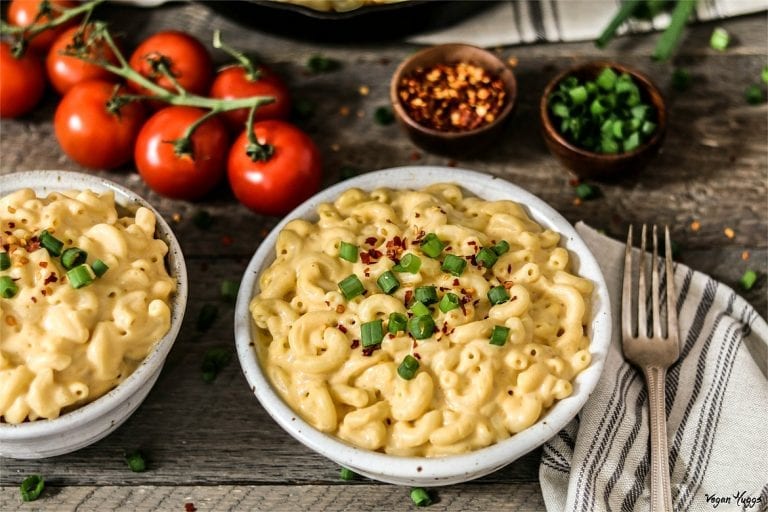 More goodness
I sautéed fresh garlic in vegan butter before adding the cheese sauce to the pan. It makes everything more savory and gives a buttery-garlicky kick. Now that's what I'm talking about!
If you aren't into butter or fresh garlic flavor, you can definitely omit the step entirely. I would add at least 1/2-1 teaspoon of garlic powder to the sauce though, and stir it often, so it doesn't burn.

Vegan Mac n Cheese is easy to make
Soften the cashews
Boil or steam the potatoes and carrots
Cook the macaroni until al dente
Blend up the cheese sauce ingredients
Sauté fresh garlic in vegan butter
Pour in the sauce and heat up until thick & stretchy
Add the macaroni to your sauce and combine
Now, Grab a fork and enjoy!
I'd love to hear from you
If you make this Vegan Mac n Cheese, I'd love to get your feedback. You can leave a comment below and let me know what you think. It would really make my day. You can also follow me on Instagram and share your creation with me. Just tag me @veganhuggs and hashtag #veganhuggs so I don't miss it.
Step By Step Photos Above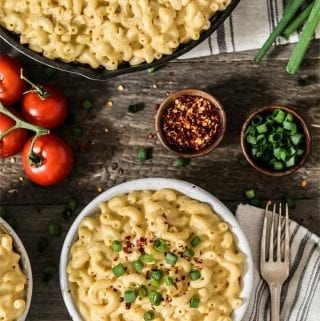 Vegan Mac n Cheese
The Ultimate Vegan Mac n Cheese ~ super creamy, rich & oh-so dreamy! It takes less than 30 minutes to make & it's gluten-free.
Print
Pin
Rate
Ingredients
1/2

cup

raw cashews,

soaked in very hot water for 10-15 minutes. Keep covered. *See note

16

ounces

dried elbow macaroni,

gluten-free or regular

1

cup

potato,

peeled & chopped into 1-inch cubes

1/2

cup

carrots,

peeled and chopped

1

cup

unsweetened soy milk

(or any plant-based milk)

3/4

cup

vegetable broth,

low sodium

1

teaspoon

onion powder

1 1/2

teaspoons

himalayan salt

(or preferred salt), more to taste

1/2

teaspoon

paprika

2-3

tablespoons

nutritional yeast,

more if preferred

2 1/2

tablespoons

tapioca flour/starch

*See note

2

tablespoons

fresh lemon juice

, more to taste

2

med/large garlic cloves,

minced

2

tablespoons

vegan butter
Instructions
Steam or boil the potatoes & carrots until tender (about 8-10 minutes). Drain and set aside.

Place macaroni in a large pot of salted boiling water. Cook until al dente & according to package directions (about 9-10 minutes). Drain and set aside.

Drain & rinse cashews and discard water. Now place all ingredients in a

high-powered blender

(except garlic & butter). Blend until potatoes, carrots & cashews have completely broken down & sauce is smooth, about 1-2 minutes. Set aside.

Heat up butter in large pan over medium heat. When melted, add garlic & sauté for 1-2 minutes, until lightly brown (be careful not to burn).

Pour in cheese sauce and cook for 4-5 minutes, until sauce thickens up and becomes slightly stretchy. Stir often to prevent burning. If it's too thick, add a small amount of broth & stir. Taste for seasoning, and add more if needed.

Now add pasta and gently toss to coat. Serve immediately. Enjoy!
Notes
To make things easier, you can prep ahead, and pre-soften your cashews by placing them in cool water for 4 hours or overnight in the fridge. Then they'll be ready to pop in the blender right away.
I usually start blending the sauce 5 minutes before the pasta will be done. This way the pasta isn't sitting too long, and it will be hot & fresh when it goes into the sauce.
I boil the vegetables and pasta at the same time (not same pot) to make it faster. They take about the same time to cook, so it works out perfectly.
You could also cook the potatoes and carrots the night before and pop them in the fridge. This will make things even faster and easier at mealtime.
If you'd like a thinner cheese sauce, use only 2 tablespoons of tapioca starch, or omit it altogether. The sauce will still be rich and creamy. Tapioca starch provides extra thickness and a slight "cheesy" stretch. 
The cheese has a very smooth and creamy texture. So, if it comes out a bit grainy, you may need to blend longer. If it's still grainy, your blender may not be strong enough to pulverize the cashews completely smooth. If you think your blender might not work properly, just soak the cashews for 8-10 hours or overnight in the fridge. This will make them soft enough for most blenders.
If you'd like to add another layer of flavor to the sauce, you can try 1/2-1 teaspoon of miso paste or dijon mustard. Blend it up with the cheese sauce. 
Nutrition
Calories:
418
kcal
|
Carbohydrates:
47
g
|
Protein:
17
g
|
Fat:
9
g
|
Saturated Fat:
1
g
|
Sodium:
445
mg
|
Potassium:
537
mg
|
Fiber:
2
g
|
Sugar:
2
g
|
Vitamin A:
2045
IU
|
Vitamin C:
4.6
mg
|
Calcium:
98
mg
|
Iron:
5.1
mg
Melissa is the creator and recipe developer of the popular food & lifestyle blog, Vegan Huggs. It's a friendly and approachable environment for anyone who's curious about plant-based eating or cruelty-free living. Her blog is filled with comforting, familiar and easy-to-follow recipes that will fit into every household. Each dish is beautifully photographed in her own unique style with an inviting feel to them. Also, she has built a solid relationship with her readers and has a real understanding of what makes them return.
Latest posts by Melissa Huggins (see all)