This post contains affiliate links. Read my disclosure policy here.
This Vegan Mozzarella Cheese is soft, fresh, creamy, and delicious! It's the perfect substitute for its dairy counterpart.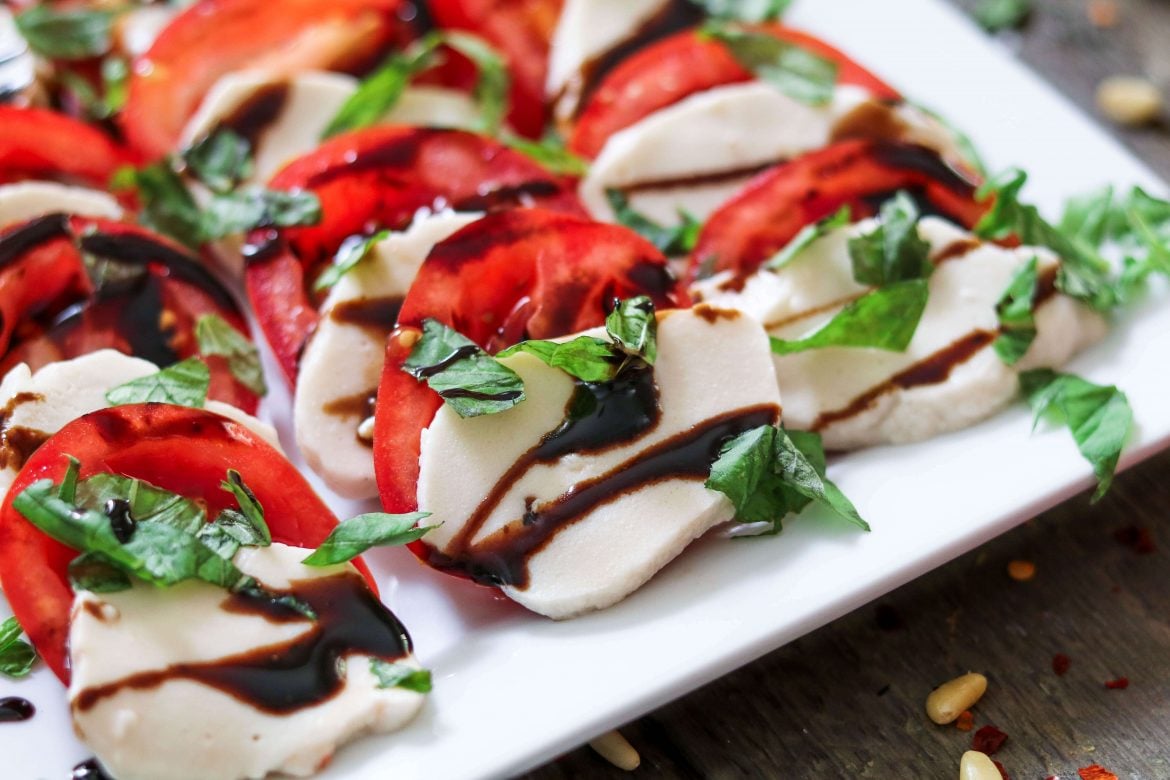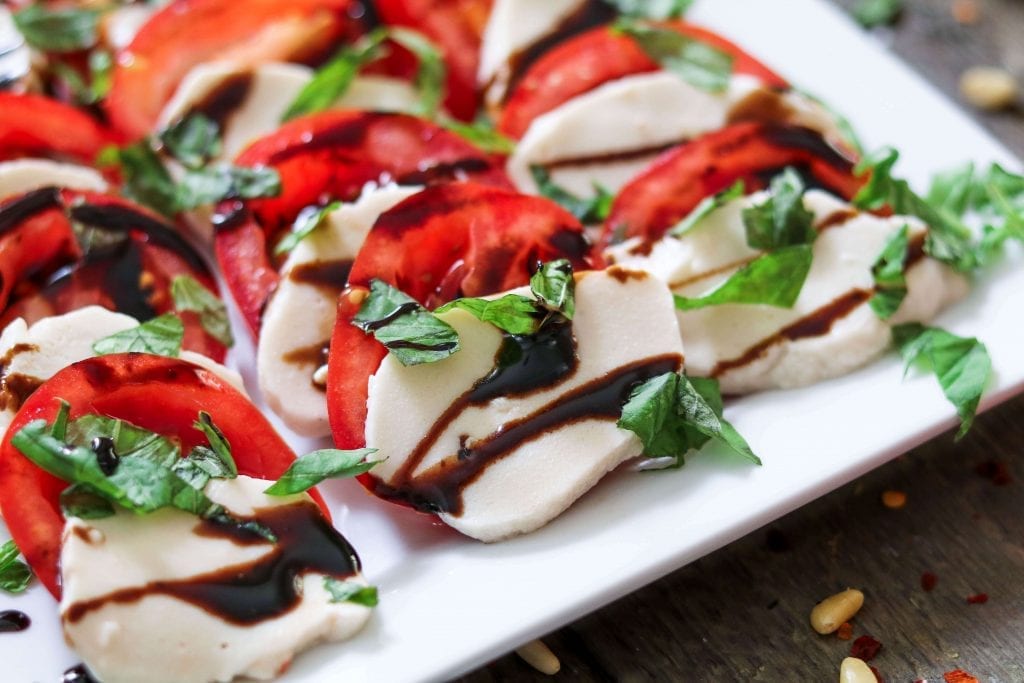 Guys! I have the best darn Vegan Mozzarella Cheese recipe to share today, and I'm really excited about it. We all know how hard it is to find a tasty dairy cheese alternative, and I think you're going to like this one.
The one thing that I missed most after going vegan was cheese. It wasn't the dairy I was missing, per se...it was the tangy flavor, the creamy, stretchy texture, and the fond memories attached to it.
I grew up eating cheese on everything and it was a food source of comfort for me. Knowing what I know now, I could never eat the dairy version again, but I can still enjoy everything else about it in a kinder way.
I still get to enjoy cheesy favorites, like Vegan Mac n Cheese, Pizza, Vegan Nacho Cheese, and this Jalapeño Popper Dip.

"But, I can't live without cheese"
Many people say they could never go vegan because they can't live without cheese. I was a complete cheese addict, so I understand. I felt like I was going through withdrawals, and there weren't many options out there.
When I went vegan, Daiya Cheese wasn't in existence, and most store-bought cheese substitutes were chalky and flavorless. Many also contained casein, so they weren't even truly vegan.
But since then, the options have expanded significantly and the taste keeps getting better with a much-improved texture. I've found many store-bought cheese varieties that I like, including Chao, Follow Your Heart, Treeline, and Miyoko's.
Although it's getting better, some grocery stores still don't have a big vegan selection to choose from, so this makes it hard to get your cheese fix. So, if you use vegan cheese as much as I do, you might want to start making your own.
The big plus is, you'll get to control the ingredients, it's less expensive and so fresh tasting when it's homemade.
Like I was saying, I grew up with cheese on almost everything, and it was really comforting to me. These days, I'm not missing out on comfort food at all, and I'm totally living without dairy, and it feels wonderful!

Recipe Inspiration
This Vegan Mozzarella recipe is adapted from Miyoko's, A Better Buffalo Mozzarella. I was floored the first time I tried this recipe, and it was the closest-tasting cheese recipe I've ever had.
It takes a bit longer to make because the recipe is cultured for 12-24 hours, but it really is worth it, and I highly recommend trying it out.
Simplified Version
Sadly, I'm not always so patient or great at preparing ahead, so I made a simplified version for my lifestyle.
Since my version is not cultured, I needed to bump up the tangy and cheesy flavor. I added lemon juice, nutritional yeast, and a bit more yogurt for that sharp cheese flavor.
For a softer and creamier texture, I added some soy milk, coconut oil and reduced the amount of agar powder. The agar has a subtle flavor, and I'm not a big fan, but it's the best stabilizer I've tried.
It gels up slightly and gives the cheese a perfect texture. Reducing the amount of agar, and adding the lemon juice and nutritional yeast completely masked the flavor, and I'm thrilled with the end result.
If you are looking for more cheese recipes. I highly recommend Miyoko's Artisan Vegan Cheese cookbook. You'll find an array of vegan cheese recipes from soft, creamy to sliceable, and totally tasty.
You'll satisfy your palate and wow your non-vegan friends!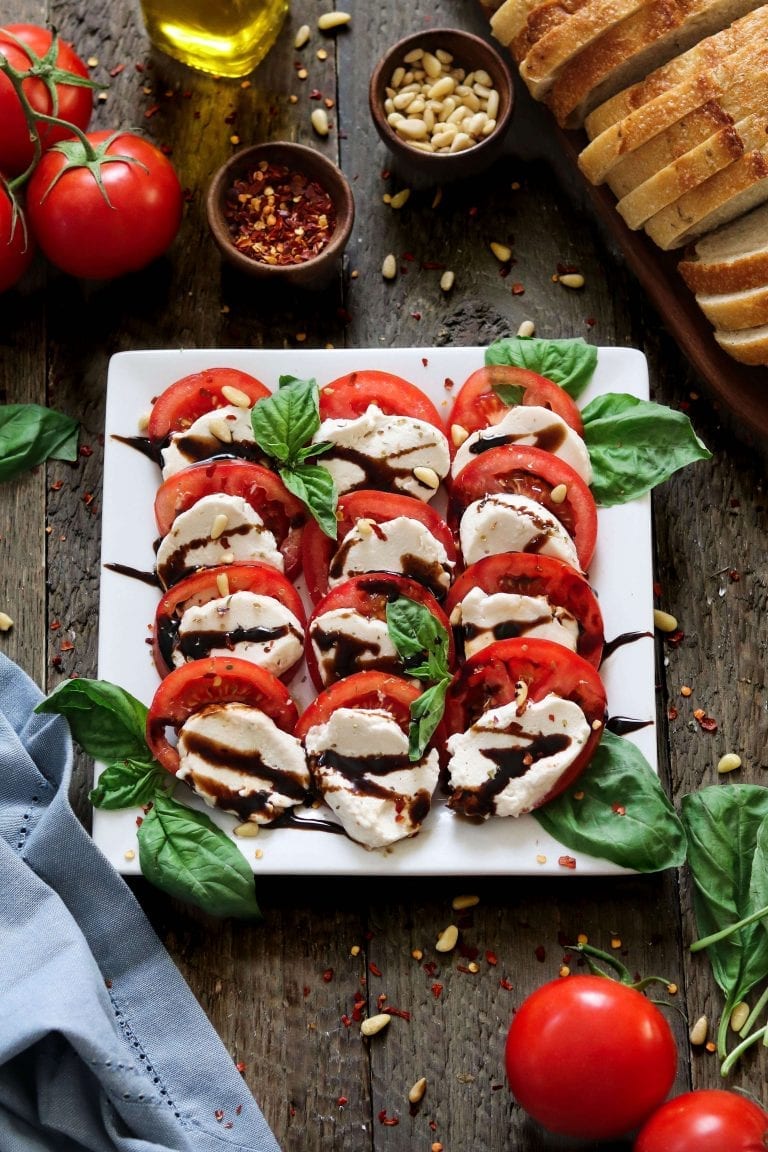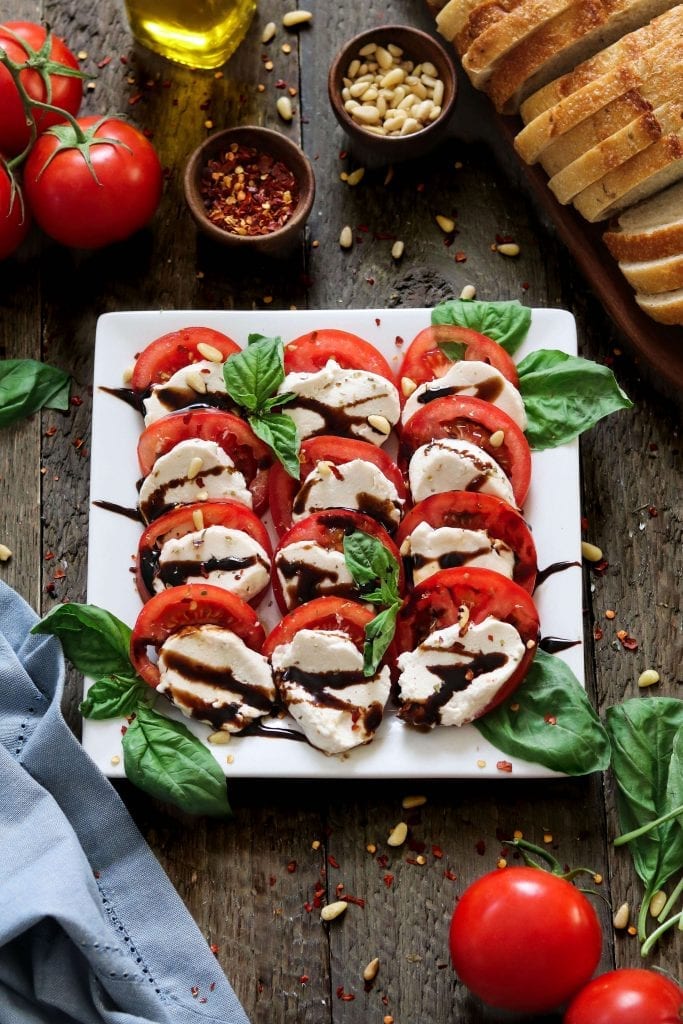 Here's what you'll need
Raw cashews
Non-dairy yogurt
Soy milk
Lemon Juice
Coconut oil or sunflower oil
Nutritional Yeast
Garlic Powder
Salt
Tapioca starch/flour
Filtered water
Agar powder
How to make Vegan Mozzarella Cheese
Soak the cashews in very hot water to soften them up. Mix all the ingredients in a high-powered blender or food processor until creamy. Whisk the agar powder in hot water until it turns gel-like.
Now stir in the creamy mixture and cook until the cheese becomes thick and stretchy. Scoop out the cheese with an ice cream scoop into ice water.
The cheese will harden fairly quick and form a ball shape. Let the cheese sit in the fridge (in the water) for at least 2-3 hours to firm up. The texture will be more ideal this way and the cheese will slice easier.
Ways to use it
Caprese salad
Crostini
Salad topping
Sandwich/burrito
Quesadilla
On a charcuterie board along with nuts, fried fruit, herbs, and vegan pepperoni.
Eggplant parmesan
Pasta topping
More vegan cheese recipes to try
I love to hear from you
If you make this recipe, I'd love to hear what you think. It would really make my day. You can also follow me on Instagram and share your creation with me. Just tag me @veganhuggs and hashtag #veganhuggs so I don't miss it.
📖 Recipe
Vegan Mozzarella Cheese
This Vegan Mozzarella Cheese is soft, fresh, creamy and delicious! It's the perfect substitute to its dairy counterpart.
Ingredients
1

cup

raw cashews

, soaked in very hot water for 25 minutes. Keep covered. *See note

1 ¼

cup

dairy-free yogurt

, unsweetened (I like So Delicious)

¼

cup

soy milk

, unsweetened (or any plant-based milk)

2

tablespoons

refined coconut oil

, or sunflower oil (*See note)

2

tablespoons

lemon juice

, fresh squeezed

3 ½

tablespoons

tapioca flour/starch

¼

teaspoon

garlic powder

2

teaspoons

nutritional yeast

1 ½

teaspoons

sea salt

, more to taste (plus more for brine)

½

cup

water

, plus more for brine

2

teaspoons

agar powder
Recommended Equipment
Medium Pot

Medium-Sized Bowl or Container
Instructions
In a medium sized bowl or container, fill it halfway with filtered water, a few pinches of salt, and 5-6 ice cubes (this will be the brine). Set aside.

Drain cashews and discard soaking water. Add the cashews, yogurt, soy milk, coconut oil, lemon juice, tapioca starch, garlic powder, nutritional yeast and salt to a high-powered blender. Blend on high for 1-2 minutes until completely smooth. Set aside.

In a medium pot, add ½ cup filtered water and warm over medium heat. When hot, whisk in the agar powder. Whisk well. The agar will start to appear gel-like after 3-4 minutes. When this happens, pour in the blended mixture. Stir in well.

Stir often so it doesn't stick or burn. Using a silicone spatula, scrape the sides and bottom as needed. The cheese will start to thicken up. When it becomes really stretchy and thick, remove from heat. This whole process should take about 5-6 minutes.

Scoop out mixture using an ice cream scoop (or something similar) and place each ball into the ice water/brine. Repeat this step until all the mixture is gone. Cover and place in the fridge (in the water) for at least 2-3 hours. Cheese will harden as it chills, and the texture will be more ideal. It will also be easier to slice.
Notes
To soak the cashews, boil water in a small pot, remove from heat, then add the cashews and cover them. Then let them sit for 25 minutes.
To make things easier, you can prep ahead and soften the cashews by placing them in cool water for 2-4 hours (or overnight in the fridge). Then they'll be ready to pop in the blender when you're ready to make the recipe.
Oil: make sure to use refined coconut oil to avoid a subtle coconut taste. I use unrefined because I prefer the taste better, but everyone is different. It depends on your taste buds. You can use any neutral flavored oil you like. I also like sunflower oil.
Prep time doesn't include chilling time.
Yields about 6-7 mozzarella balls (using a standard ice cream scoop).
Will stay fresh in the brine for 3-5 days. Keep refrigerated.
If you'd like to make the Caprese Salad pictured above, just slice up a few pieces of cheese and tomatoes. Layer them and sprinkle salt and pepper. Drizzle balsamic glaze and extra virgin olive on top. Add pine nuts and chili pepper flakes if preferred.
If you will be making this mozzarella to specifically melt. Add ¼ cup more soy milk to the ingredients. You can also take it out of the brine earlier (around an hour). It will be soft, but fine for melting. If you're making pizza, slice the cheese (not too thick) and place it on before the pizza goes in the oven so it has time to melt.
Note: This Vegan Mozzarella will not melt exactly like dairy cheese. However, it does melt a bit and becomes soft and slightly stretchy. I think it's a close alternative and so darn tasty.
Nutrition
Calories:
176
kcal
|
Carbohydrates:
11
g
|
Protein:
5
g
|
Fat:
12
g
|
Saturated Fat:
5
g
|
Sodium:
469
mg
|
Potassium:
215
mg
|
Sugar:
3
g
|
Vitamin A:
35
IU
|
Vitamin C:
1.7
mg
|
Calcium:
85
mg
|
Iron:
1.2
mg