This post contains affiliate links. Read my disclosure policy here.
This Vegan Parmesan Cheese has the perfect balance of salty, cheesy and tangy flavor. It's a real game-changer and it can be yours in 10 minutes or less!
Everyone has that must-have staple in their home and mine is definitely Vegan Parmesan Cheese. It adds a heavenly depth of flavor to so many dishes, and I use it all the time on pizza, pasta, soups, salads, popcorn and more.
I just made my Roasted Red Pepper Pasta last night and I didn't hold back. I coated it with a powdery blanket of cheesiness.
Even in my non-vegan days, I had a big green bottle of Kraft in the fridge at all times (so fancy). It was quite addicting and I dumped sprinkled it on everything. I loved the saltiness and slight tang it added to my food.
After going vegan, I was a little sad about the choices available in the store (10 years ago). They didn't taste anything like parmesan cheese and were quite expensive.
These days, there are a few more on the market and they definitely taste much better and closer to the dairy version. However, my local grocery store doesn't carry it and I have to travel an hour away to get it.
How to make Vegan Parmesan Cheese
I was on a mission to make a homemade version, but after a few failed attempts, I decided to try a recipe I saw circulating online for a while.
I wasn't sure how good it would be because it was made from ground cashews and I imagined it would be gritty, but I gave it a try anyway. To my surprise, it was really tasty and had the perfect texture, very similar to parmesan cheese.
I don't know who the original creator of this Cashew Parmesan is, but I wish I could thank them because it was a genius idea! I first saw the recipe on Minimalist Baker's blog and I've been making it ever since.
Recently though, I felt like this tasty Vegan Parmesan Cheese could use something more. It was definitely cheesy, but missing that slight tang that dairy cheese has.
I had a light-bulb moment when I remembered I bought a bottle of Lactic Acid a few months back. I bought it to experiment with fermented nut cheeses, but I never got around to it.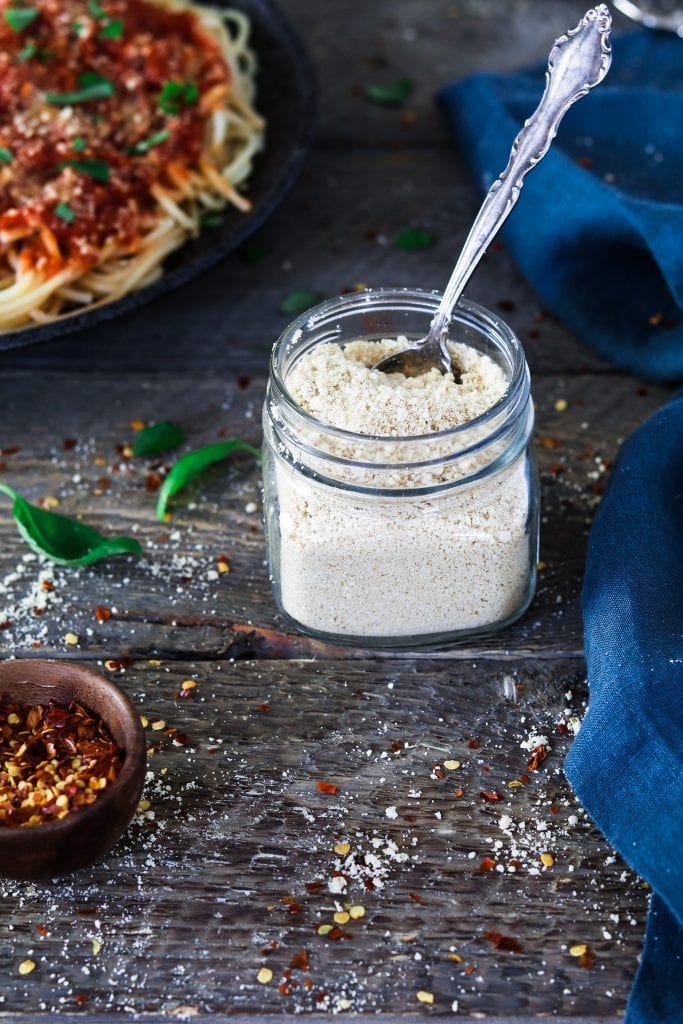 What makes Vegan Parmesan Tangy?
The Lactic Acid did the trick and it added that slight zing that I've been missing. It was a real game-changer and I can't wait to use it in future nut cheeses and sour candy recipes. I may even try it in my Vegan Mozzarella Cheese in replace of the lemon juice.
Lactic acid isn't typically in everyone's kitchen, but I promise, it's worth the purchase. You'll only need 1 1/4 teaspoon for each batch and the package contains 8 oz of product. The expiration is about 2 years, so you'll have plenty of time to use it.
This lactic acid is by Druids Grove and it's made from organic sugar beets. Also, its non-GMO, gluten-free and of course, vegan. You can find it in many health food stores, but it depends on your area. It's worth a look.
Cool find
I purchased these great Jar Shaker Caps on Amazon for the Cashew Parmesan and I love them! They fit on all regular mouth Mason Jars (including the small jar I photographed). The lid snaps closed to keep everything fresh. They sell them in larger quantities too.
Looking for more vegan cheese recipes? Here are my faves:
I'd love to hear from you
If you make these Vegan Parmesan Cheese, I'd love to hear what you think in the comment section below. It would really make my day. You can also follow me on Instagram and share your creation with me. Just tag me @veganhuggs and hashtag #veganhuggs so I don't miss it.
Step By Step Photos Above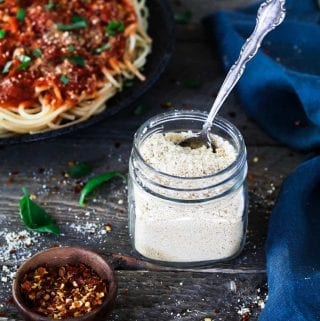 Vegan Parmesan Cheese
This Vegan Parmesan Cheese has the perfect balance of salty, cheesy and tangy flavor. It's a real game-changer and it can be yours in 10 minutes or less!
Print
Pin
Rate
Instructions
Place all ingredients In a high-powered blender or food processor. Pulse for 2-3 long pulses, until you have a fine meal-like texture. Don't over pulse or it will start to clump. Taste for seasoning and add more if needed.
Notes
* Store in airtight container and refrigerate for 3-4 weeks. 
* Sprinkle on pasta, salad, pizza, soup, popcorn and more. 
* Adapted from Minimalist Baker. 
Nutrition
Serving:
1
Tablespoon
|
Calories:
38
kcal
|
Carbohydrates:
2
g
|
Protein:
1
g
|
Fat:
2
g
|
Sodium:
111
mg
|
Potassium:
61
mg
|
Calcium:
2
mg
|
Iron:
0.5
mg