This post contains affiliate links. Read my disclosure policy here.
Today's Vegan Pizza Recipe is sponsored by Molly's Suds. I love sharing my new vegan finds along with a tasty recipe and sponsored posts help make that happen. Thank you for your support.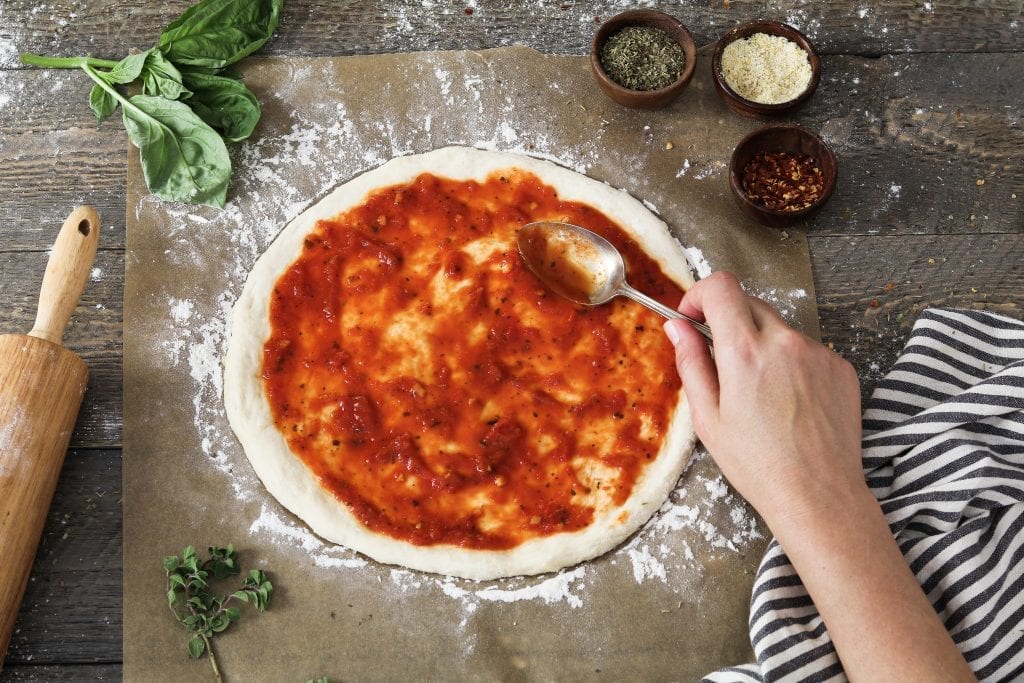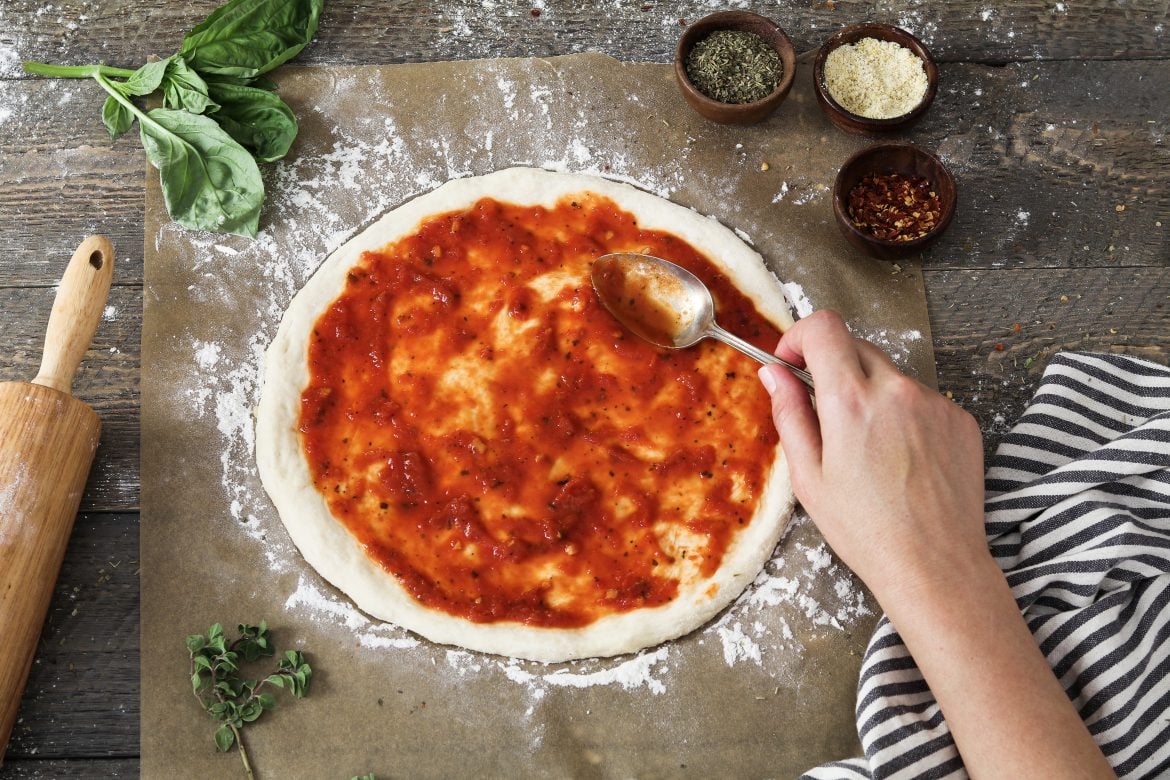 Try out this restaurant-style Vegan Pizza Recipe in the comfort of your own home. It's easy to make and delivers the most delicious crust. It's crispy on the outside and fluffy on the inside.
Everyone needs a good Vegan Pizza Recipe in their life. Amirite? However, nobody wants a pizza recipe that is difficult to follow or takes hours for the dough to rise.
Not fun!
Well, this Vegan Pizza Recipe will put the fun back in pizza making. It's so easy to make and will be on your table in just one hour (or less). Most of that time is just waiting for the dough, so you can sit back and relax while that's going on.

This is what you'll need:
For the pizza dough, you'll need warm water, fast-acting yeast, all-purpose flour, olive oil, sugar, salt and garlic powder.
You can top your pizza with anything you'd like so have fun with it. I kept it simple and added marinara sauce, dried herbs, fresh basil and homemade vegan mozzarella cheese.
Any store-bought melty vegan cheese will work well too.

* Laundry detergent talk *
Making pizzas are fun and easy, but they can be messy (as you can see in my apron above). I did get a little carried away though and It's not usually that messy, but I really wanted to put Molly's Suds to the test so I smacked the spoon down while I was adding the sauce to the pizza.
It definitely splatted a little more than anticipated. Oops!
So, while my pizza was cooking to perfection, I treated the stains by lightly rinsing with cool water and then directly brushing the All Sport Laundry Wash into the fabric.
I let it sit while we enjoyed our delicious pizza. Afterward, I washed the apron with the Oxygen Whitener and the Peppermint Scented Laundry Powder. I could've just used the All Sport as the main cleaner, but I was really interested in trying the powder as well.
Why Molly's Suds?
Well, the best thing is that their cleaning products are certified vegan. So many products are tested on animals or contain animal ingredients.
Even the most natural brands contain carmine for coloring (red pigment from the crushed female cochineal insect). It's so unnecessary!
The next best thing is that their products are completely non-toxic. They are free from fragrances, dyes, petrochemicals, phosphates, dioxane, optical brighteners and nonylphenol ethoxylates.
Washing laundry doesn't have to be dangerous for your health. Chemicals are not the answer and Molly's Suds is proving that every step of the way.
The conclusion
Well, I was pleasantly surprised to see my apron perfectly white again. Especially, after having tomato sauce splattered all over it. Tomato stains are hard to get out, but I think the rinsing, pretreating, and acting fast made the magic happen.
The Oxygen Whitener kept the apron really bright and white too. That's always a struggle for me because we have hard water here.
I really feel good about recommending these products to you guys. I'm thoroughly happy with them and I will continue to purchase them in the future.
I can't think of anything I'd change either. Molly's Suds will be expanding their products soon, so I'm excited to try more.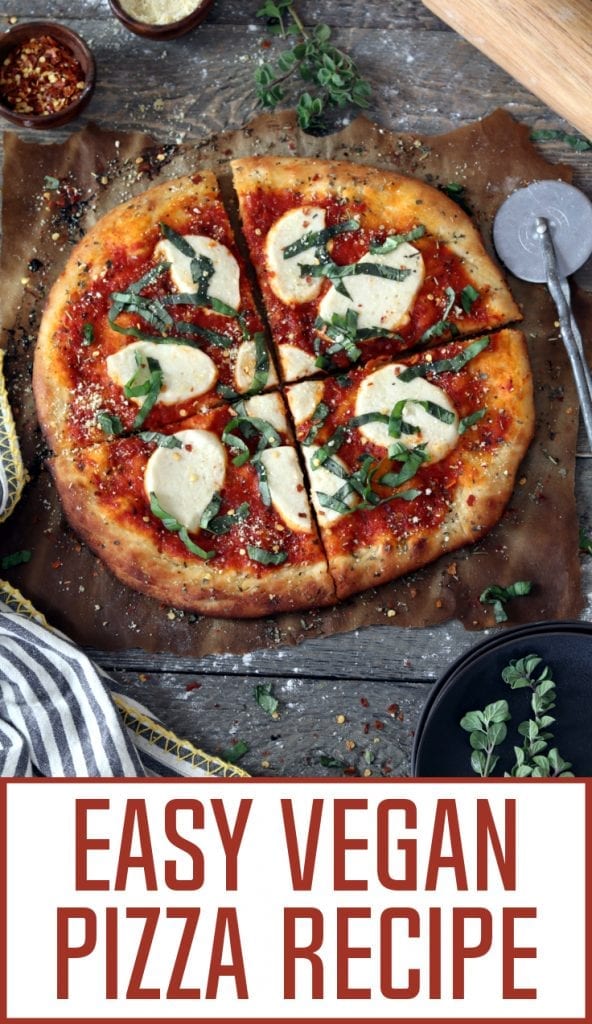 I'd love to hear from you
If you make this Vegan Pizza Recipe, I'd love to hear what you think in the comment section below. It would really make my day. You can also follow me on Instagram and share your creation with me. Just tag me @veganhuggs and hashtag #veganhuggs so I don't miss it.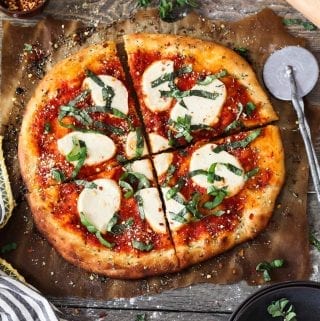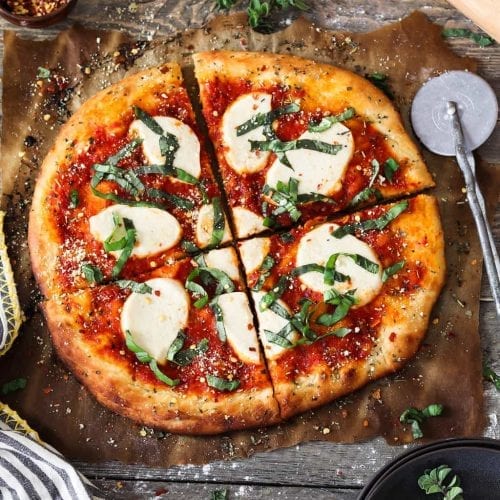 Easy Vegan Pizza Recipe
Try out this restaurant-style Vegan Pizza Recipe in the comfort of your own home. It's easy to make and delivers the most delicious crust.
Print
Pin
Rate
Ingredients
Pizza Dough
1

cup

warm water

1

packet

fast-acting yeast

2

cups

all-purpose flour

2

tablespoons

olive oil

(+ more for seasoning crust)

2

tablespoons

sugar

, divided

1

teaspoon

salt

(+ more for crust)

1/2

teaspoon

garlic powder
Toppings
1/2

cup

marinara sauce

(more if preferred)

homemade vegan mozzarella cheese

, sliced (or store-bought cheese)

1/2

cup

fresh basil

, chopped

1 1/2

teaspoons

Italian seasoning

(*optional)
Instructions
Pizza Dough
Preheat oven to 500 degrees F. (yup, as hot as it goes).

Stir yeast and 1/2 tablespoon sugar into warmed water until dissolved. Let it sit for 7-10 minutes, until foamy.

In a large bowl, add the flour, garlic powder, salt and remaining sugar. Whisk to combine. Add the activated yeast to the bowl along with the olive oil. Mix until all ingredients are well combined and form a dough. If dough is too sticky, add a couple tablespoons of flour.

Form the dough into a ball and place back in the bowl (*lightly dust bowl with flour before placing the dough ball in). Completely cover the bowl with a damp napkin or hand towel for 30 minutes or until dough doubles in size.

*You'll need a pizza pan or large cutting board ready to transfer the pizza into and out of the oven, but you won't be cooking on it. The pizza will be cooked on parchment paper only.

Place a large piece of parchment paper over your work area (about the size of your pan). Dust the paper with flour so you can spread your dough easily. * Cut the dough in half using a wet knife. This recipe makes two 10-inch pizzas. I make one pizza at a time. While one is cooking, I'll prepare the other.

Using your hands, spread dough across the parchment paper into a round pizza shape to your desired thickness. I spread the dough pretty thin because it rises while cooking. The edges should be slightly thicker to form a pillowed crust.

To season your crust, lightly brush with olive oil and sprinkle with salt and Italian herbs.

Using a spoon, spread the sauce evenly over the pizza and top with the mozzarella.

Carefully slide the parchment paper onto your pan to transfer to the oven. Now slide the parchment paper back off your pan and directly onto the middle oven rack.

Bake for 10-15 minutes, until the crust is golden brown. The pizza cooks fast so keep an eye on it.
Notes
* Makes 2 10-inch pizzas. * If the yeast doesn't foam up after 7- 10 minutes, start with a new packet. Make sure the water is warm, but not too hot or it won't work.    * Nutritional info does not contain the mozzarella cheese topping.       
Nutrition
Serving:
1
Slice
|
Calories:
159
kcal
|
Carbohydrates:
27
g
|
Protein:
3
g
|
Fat:
3
g
|
Sodium:
345
mg
|
Potassium:
71
mg
|
Sugar:
3
g
|
Vitamin A:
2.5
%
|
Vitamin C:
1.2
%
|
Calcium:
0.9
%
|
Iron:
8.9
%