Vegan Pepperoni Recipe – perfect for sandwiches, a party platter or your favorite pizza! It's loaded with peppery, spicy & smoky-sweet flavors that'll keep you coming back for more.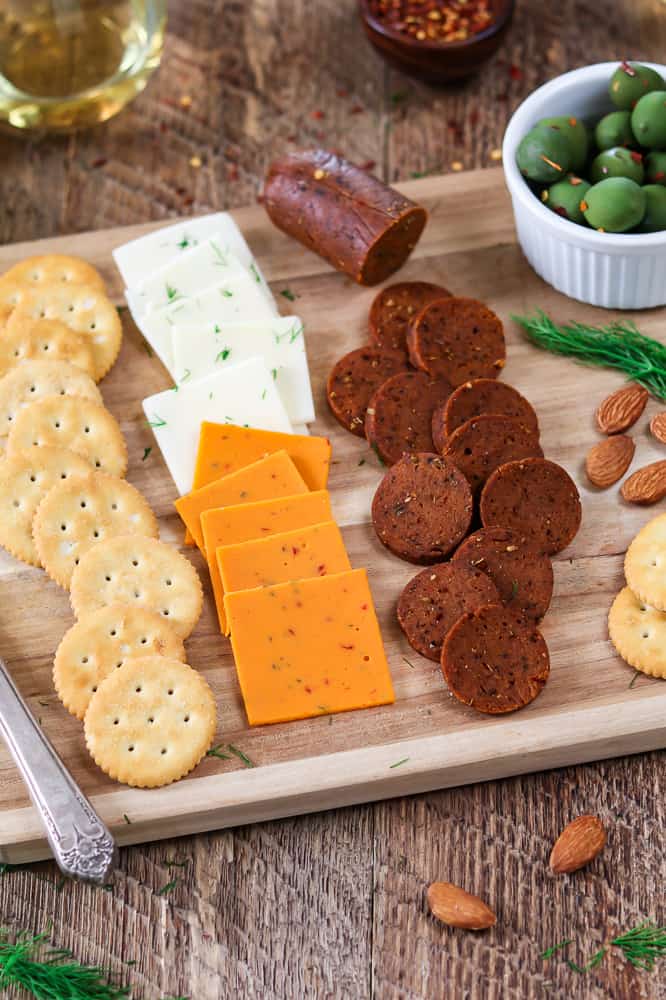 If you've been looking for the perfect pepperoni for your Vegan Pizza, you can end the hunt! You're going to love this Vegan Pepperoni Recipe!
I've been buying Field Roast Sausages for years and I use them for a variety of recipes. I usually add them alongside my Easy Tofu Scramble, Savory Pancakes or Roasted Red Pepper Pasta. They are great in sandwiches too!
They have clean ingredients and taste delicious! Unfortunately, they don't have Vegan Pepperoni yet, and I wasn't happy with the taste of other brands. So, I decided to try my hand at it.
Field Roast uses Vital Wheat Gluten for their sausages and I've never used it before, so I searched online for easy tips and tricks. I landed on this hilarious video by The Easy Vegan.
I made his recipe and the pepperoni texture came out perfect, I just made flavor adjustments to suit my personal taste. You guys have to try this!
How Do I make Vegan Pepperoni? 
It's really easy actually! Take a look: (full printable recipe below)
STEP 1
Whisk all the dry ingredients together to combine well.
STEP 2
In a separate bowl whisk all the wet ingredients to combine well.
STEP 3
Pour the wet ingredients into the bowl of dry ingredients and stir to combine. It will start to thicken up and form a dough. Using your hands, incorporate everything well by kneading for 1-2 minutes.
NOTE: Preparing the dough is like a weird science experiment. It will become thick and rubbery and will seem inedible, but I promise, it will all be tasty in the end.
STEP 4
Split the dough in half and roll each piece into a sausage-shaped log. Wrap it tightly in parchment paper followed by aluminum foil. Make sure the foil is overlapped or it will open during cooking. Twist the ends tightly to seal.
* Note: The parchment paper is optional and you don't need it to get the sausage shape. I use it to avoid aluminum exposure to the food. 
STEP 5
Now steam them for about 45 minutes. Every so often, check to make sure the water hasn't evaporated during steaming. Now remove from wrapping and let it cool before chilling it for at least an hour. This will help it firm up and make it easy to slice.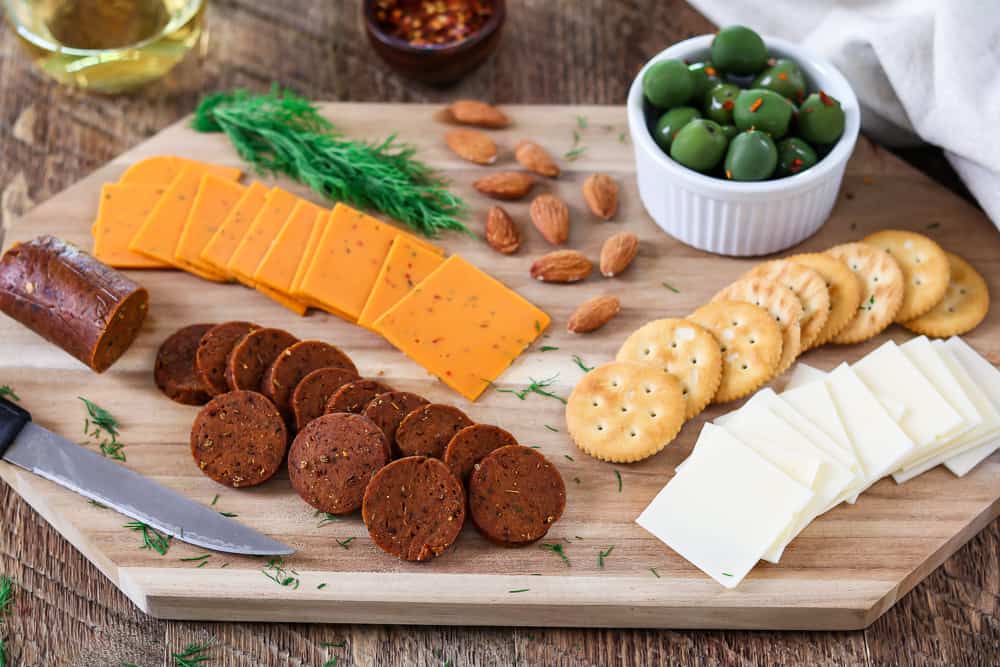 How should I  use Vegan Pepperoni?
As a Pizza Topping (along with my Vegan Mozzarella Cheese)
In a sandwich (it's great for school lunches)
For a party cheeseboard
Top it on a salad for savory flavor
Make healthier lunchables for the kiddos with crackers and Vegan Cheddar Cheese
Crumble it on baked potatoes or pasta
And much more!
* Tip: if you top it on pizza, add a little spritz of oil before cooking. This will keep it from getting dry.
Enjoy!
I'd love to hear from you
If you make this Vegan Pepperoni Recipe, let me know what you think by ★ star rating it and leaving a comment below. It would really make my day. You can also follow me on Instagram and share your creation with me. Just tag me @veganhuggs and hashtag #veganhuggs so I don't miss it.