Cheesy Vegan Savory Pancakes – The perfect way to start your morning! Loaded with cheddar cheese and green onions, these pancakes are flavor-packed and satisfying! Who can resist?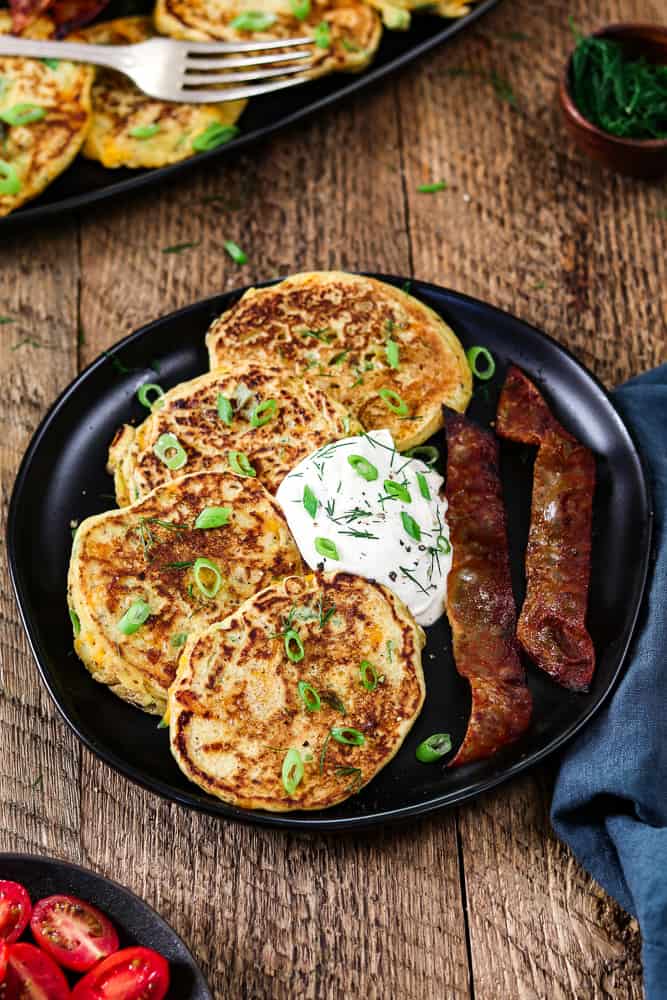 " What do you eat for breakfast as a vegan? "
I get asked this question a lot from genuinely curious people (mostly egg lovers). Many of them imagine me eating oatmeal every morning and feel bad for me. I do love morning oats, but when I tell them that I had Cheesy Savory Pancakes for breakfast they are in complete awe.
I totally understand because I used to eat scrambled eggs every day of my life. After going vegan, I discovered that Tofu Scramble was the perfect replacement and I didn't need eggs anymore.
But who wants to eat the same thing every morning? As a vegan, I enjoy Breakfast Quesadillas, Breakfast Muffins, Breakfast Bowls, Sweet & Savory Crepes, Fruit Pizza, Bagels with Almond Cream Cheese, chickpea omelets with Vegan Bacon, pancakes, and so much more.
I've been making savory pancakes for years, but I never put cheese in them. What was I thinking? Then recently, I came across this non-vegan recipe for cheesy savory pancakes and they looked so tasty! I just had to veganize them!
Now, you don't have to reserve these pancakes for breakfast, you can enjoy them as an appetizer, snack, lunch or even have them for dinner!
Who wouldn't love that?
Here's what you'll need for the veganized version:
Ground Flaxseed, Soy Milk, Apple Cider Vinegar (sub lemon juice), Vegan Butter, All-Purpose Flour, Cornmeal, Baking Powder, Baking Soda, Granulated Garlic, Salt, Vegan Cheese Shreds, and Green Onions. That's it!
So easy to make!
Pancake prep takes just 15 minutes
Instead of chicken eggs, I use ground flaxseed and water (flax eggs). It yields similar results and binds everything up nicely. Prepare flax eggs by adding ground flaxseed with water. Set aside about 10 minutes until it thickens up and becomes gel-like.
Instead of dairy buttermilk, I use a delicious vegan buttermilk, that's made by mixing the soy milk and vinegar together. It will slightly curdle and thicken up. It's perfect for this recipe!
In a large mixing bowl, add all the dry ingredients and whisk to combine well. Add the prepared flax eggs, buttermilk, and melted butter and whisk until just combined.
It's ok if the batter has some lumps so don't overwork it or it could yield a chewy texture. The pancake batter consistency should be thick, but somewhat pourable. If it's too thick or dry, add a small amount of milk and combine.
Time for the cheesy and savory goodness!
Now gently fold the cheese and green onions into the batter. If you have kiddos that don't like green onion, you can replace it with frozen corn instead (thaw first). The corn also adds a slight sweetness which they'll love. I love it too!
If you omit the green onion, add a 1/2 teaspoon of onion powder to the dry mixture so you don't lose too much savory flavor. You can also add 1/2 – 3/4 teaspoon of ground cumin.
How to make perfect pancakes
Pancakes are quite easy once you get the hang of it. It's important to get a feel for the pan you're using and how hot your stove runs. If you aren't sure, just start with a test pancake so you don't burn a bunch. Here's what you'll need to do:
Heat a large non-stick skillet (or griddle) over medium heat for about 1-2 minutes before adding anything. When the pan is evenly heated, drizzle with oil and spread with a paper towel to coat evenly.
Scoop a 1/4 cup of batter into the skillet to form pancake circles (they don't have to be perfectly shaped). * I usually cook four at a time. Cook the pancakes until you notice tiny bubbles/holes form on the top (see photo above) and the edges are somewhat firm (about 1-2 minutes).
Now flip your pancake and cook the other side about 1-2 minutes, until golden brown. Place cooked pancake on a baking sheet in the oven to keep warm (200 ° F).
Repeat until all the batter is gone. Drizzle oil in the pan before placing fresh batter down. *If the pan gets too hot, it could burn the batter fast. Take the pan off the heat and let it cool for a minute before starting again. Make sure to reheat evenly before adding fresh batter.

Pretty easy, right?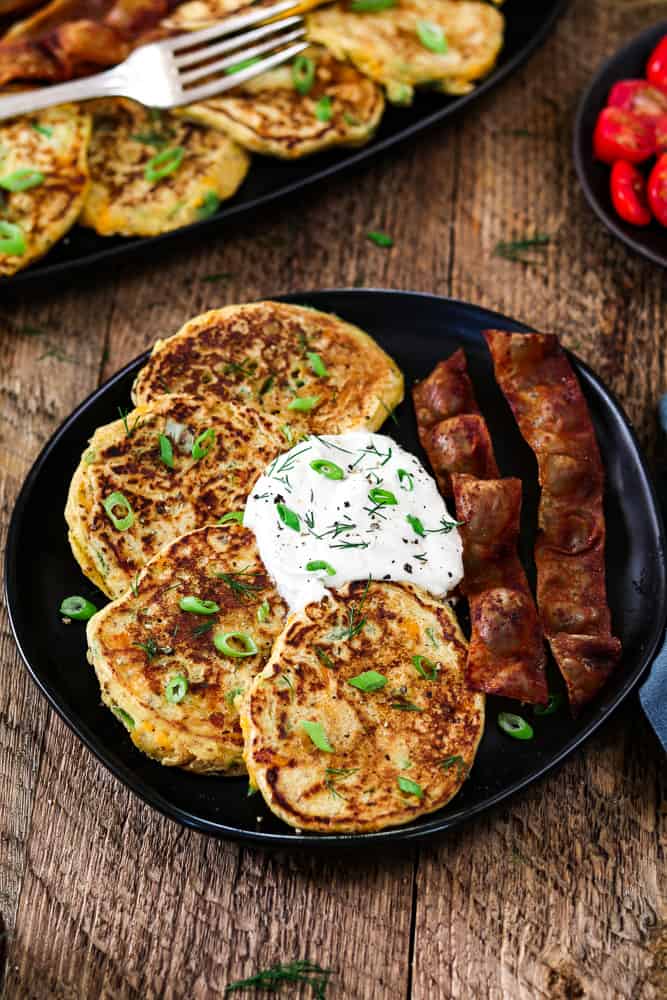 Serving & topping ideas
Side with vegan bacon, tomatoes, avocado or fruit. Top with fresh herbs, vegan butter, vegan sour cream, sliced green onions, maple syrup or your favorite dipping sauce. The sky's the limit!
Enjoy!
I'd love to hear from you
If you make these Savory Pancakes, let me know what you think by ★ star rating it and leaving a comment below. It would really make my day. You can also follow me on Instagram and share your creation with me. Just tag me @veganhuggs and hashtag #veganhuggs so I don't miss it.