This post contains affiliate links. Read my disclosure policy here.
Satisfy your morning hunger with this loaded Vegan Breakfast Quesadilla.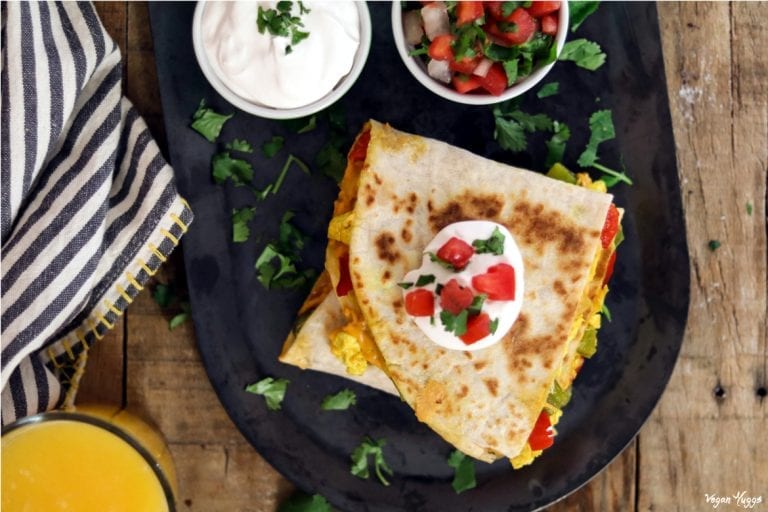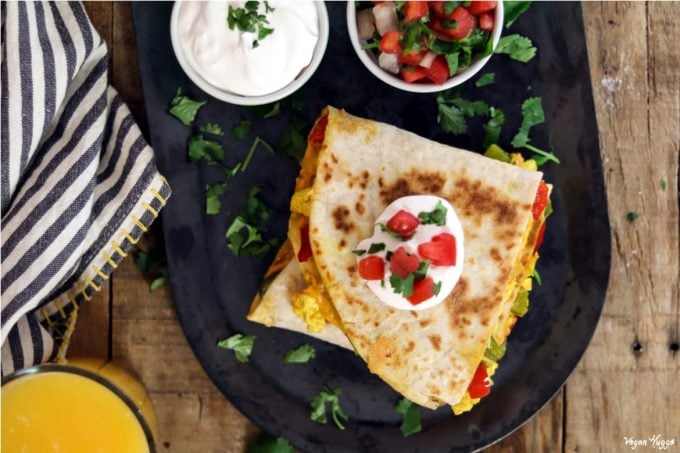 Some people think that vegans just eat oatmeal and smoothies for breakfast, but I'm here to break that stereotype with this Vegan Breakfast Quesadilla.
It's hearty, savory and oh-so-cheesy!
Now there's nothing wrong with having oatmeal or smoothies for breakfast, and I enjoy them often, but it's not the only thing on the menu for vegans. Yep, we can have fun too, and eat a wide variety of sweet, savory and comforting food.
There's nothing missing at all in my Chocolate Chip Pancakes or my Strawberry Breakfast Muffins and this Breakfast Sandwich, except animal ingredients.
This Breakfast Quesadilla is satisfying
Sometimes we just crave a savory and filling meal for breakfast, and these flavorful, protein-packed, cheesy tortilla wedges will satisfy that craving. They will provide the fuel to keep you going all morning, without getting hangry.
So move over Wheaties because there's a new breakfast of champions in town!
I love traditional cheese quesadillas and I make them often, but for breakfast, I like to make them into a hearty meal. I load them up with mouth-watering sautéed veggies, tofu eggs, and homemade or store-bought cheese.

QUESADILLAS ARE VERSATILE
Quesadillas are completely customizable, and you can adjust them to your liking easily. Just pick out your favorite vegan cheese, veggies, protein, toppings and you're good to go.
It's a win-win for everyone!
If you don't like tofu, but want the extra protein, you can use tempeh, vegan sausage, beans or legumes. To spice things up, you can add fresh or jarred jalapeño.
I love dousing them with hot sauce, so I leave out the extra heat. You can use a variety of different veggies too, like spinach, corn, tomatoes, zucchini, and mushrooms.

HOW TO MAKE A VEGAN BREAKFAST QUESADILLA
This breakfast quesadilla can be yours in about 25 minutes. Just wash and prep your veggies (can be done the night before), heat up the skillet and start sautéing. Then cook the tofu eggs until lightly brown.
Now heat up the tortillas, then add the vegan cheese, tofu, sautéed veggies and more cheese. Fold it over and cook on each side for 1 ½ minutes, until lightly browned and cheese is melted to perfection. Cut in half and they are ready to be gobbled up.
If you purchase tofu packaged in water, you'll need to press the tofu for 15 minutes. You can also press it overnight in the fridge to make it even quicker.
I like to buy vacuum packed tofu that's pre-pressed and ready to cook, but not every store carries this though. I don't recommend the silken tofu in the tetra pak for this recipe because the texture is too smooth.

TOPPING IDEAS:
Fresh-cut cilantro
Pico de gallo
Vegan sour cream
Hot sauce
Sliced avocado
Salsa
Jarred jalapeño
Guacamole
Alright, are you guys ready to have the breakfast of the century? Let's go!

MORE BREAKFAST FAVORITES:
I'd love to hear from you
If you make this breakfast quesadilla, I'd love to get your feedback. You can leave a comment below, and let me know what you think. It would really make my day. You can also follow me on Instagram and share your creation with me. Just tag me @veganhuggs and hashtag #veganhuggs so I don't miss it.
📖 Recipe
Vegan Breakfast Quesadilla
Satisfy your morning hunger with this loaded Vegan Breakfast Quesadilla.
Ingredients
olive oil

½

onion

, diced

1

red bell pepper

, diced

1

green bell pepper

, diced

1

block extra firm tofu

, pressed & crumbled into small bite-sized pieces (*see note)

½

teaspoon

turmeric

½

teaspoon

garlic powder

½

teaspoon

cumin powder

½

teaspoon

sea salt

, more to taste

1

cup

vegan cheese shreds

, more if preferred

3-4

10-inch

tortillas
Instructions
Heat 2-3 teaspoons of olive oil in a large skillet over medium heat. Add onions, red bell pepper, green bell pepper. Sprinkle with salt. Sauté for 5-6 minutes, until veggies are tender. Remove from pan and set aside.

Wipe out the same pan and return to stove on medium heat. Add 1 tablespoon olive oil & stir in turmeric, garlic powder & cumin, combine well. Now add crumbled tofu and sprinkle with salt. Toss to coat. Cook for 5-6 minutes, until heated through and lightly browned. Taste for seasoning and add more as needed.

Heat a separate large non-stick pan or griddle over medium heat. When heated, place one tortilla in the pan and heat for 30 seconds. Flip the tortilla and prepare to assemble. Sprinkle the cheese shreds on half of the tortilla. Now add a layer of tofu eggs on top, then a layer of onions & peppers, and top more cheese. Don't overfill. Fold over to close.

Lightly press down tortilla with the spatula. Cook for about 1 minute and flip. Cook other side for 1 ½ minutes, or until cheese is melted & tortilla is lightly browned. Lightly press with spatula again. Be careful not to burn. Remove from pan. Place in oven on low heat to keep warm. Repeat process for remaining tortillas. Cut in half to serve.
Notes
Makes 3-4 quesadillas using 10-inch tortillas
Pressing Tofu: place a block of tofu on a paper towel-lined plate, and wrap tofu in a few paper towels. Add another plate on top of tofu and add a few cans of food on top or a heavy book. Let it drain for 15 minutes. I like to buy vacuum-packed tofu that's pre-pressed and ready to cook, but not every store carries this though.
Prep time doesn't include tofu pressing time.
Optional topping ideas: pico de gallo, salsa, vegan sour cream, fresh-cut cilantro, guacamole, sliced avocado.
Additional seasoning ideas: smoked paprika, cayenne pepper, chili powder.
For an 'eggy' flavor, add a sprinkle of Kala Namak (black salt) on top of the tofu when it's finished cooking. Not too much because it's strong and also salty. I
Nutrition
Calories:
291
kcal
|
Carbohydrates:
34
g
|
Protein:
11
g
|
Fat:
12
g
|
Saturated Fat:
2
g
|
Sodium:
387
mg
|
Potassium:
411
mg
|
Fiber:
5
g
|
Sugar:
4
g
|
Vitamin A:
1040
IU
|
Vitamin C:
62.9
mg
|
Calcium:
95
mg
|
Iron:
2.4
mg