This post contains affiliate links. Read my disclosure policy here.
Strawberry Banana Breakfast Muffins - No refined sugar & they're vegan & gluten-free. That makes them guilt-free, so you can enjoy one for breakfast or any time of day.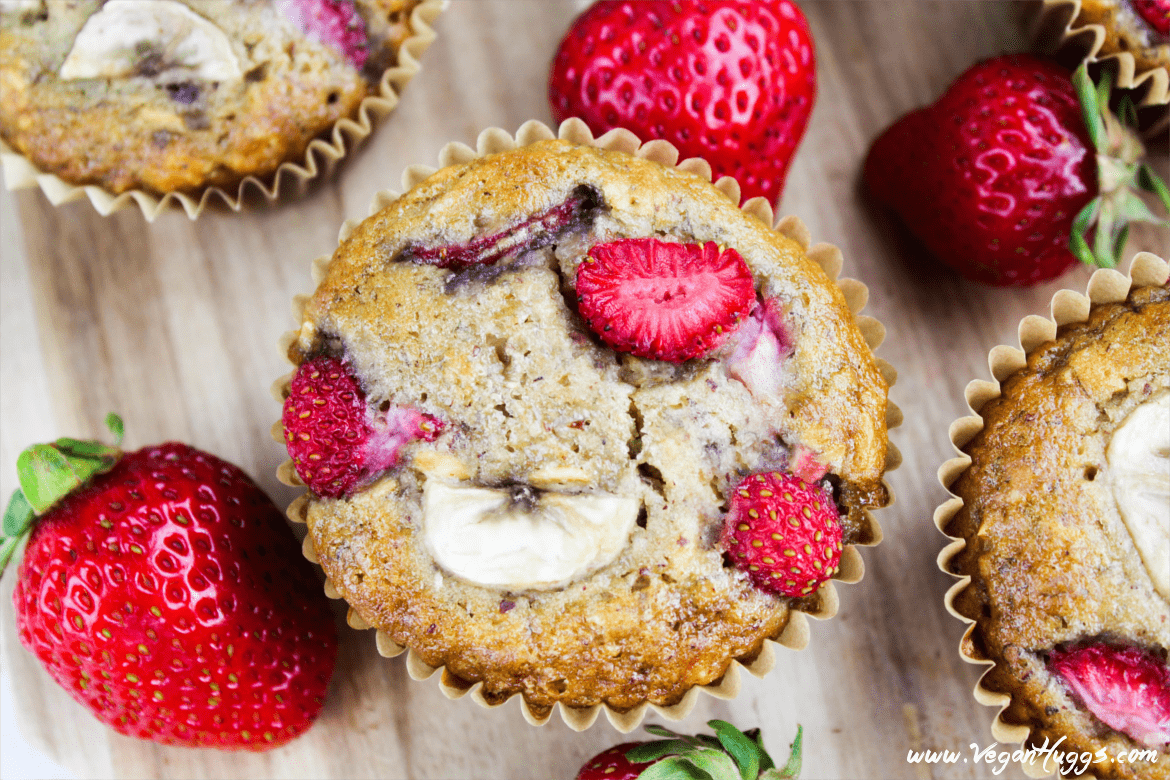 Strawberries and bananas in a muffin! Oh my!
This is my favorite fruit married in a moist and fluffy breakfast muffin. Yep, I called them breakfast muffins, because they are hearty, satisfying and scrumptious.
Now, I don't want to be misleading and suggest that you have one of these Strawberry Banana Breakfast Muffins every day for breakfast, but they are great for those on-the-go mornings or lazy mornings.
I feel that our diet should contain a variety of foods, including lots of fresh fruits and vegetables. Most mornings, I have a big colorful smoothie that's loaded with vitamins, minerals, fiber, and protein.
I don't always have time to make a meal, so smoothies help keep me going until lunch. On the weekends, I make a big hearty breakfast for the family and these muffins go perfectly with it, too.
Tasty and healthy!
I love the sweet and slightly tart flavor of fresh juicy strawberries, and they remind me so much of spring and summer. Besides their mouth-watering flavor, and beautiful red color, they are loaded with vitamin C. Super antioxidant power!
Bananas just seem to go well with anything, don't they? They also add a nice subtle flavor & sweetness to these muffins. Of course, they are nutritious, too. Potassium is the top contender in the lineup.
To make these muffins hearty & wholesome, I added almond meal & rolled oats. You'll get a nice dose of protein & heart-healthy fiber in these babies!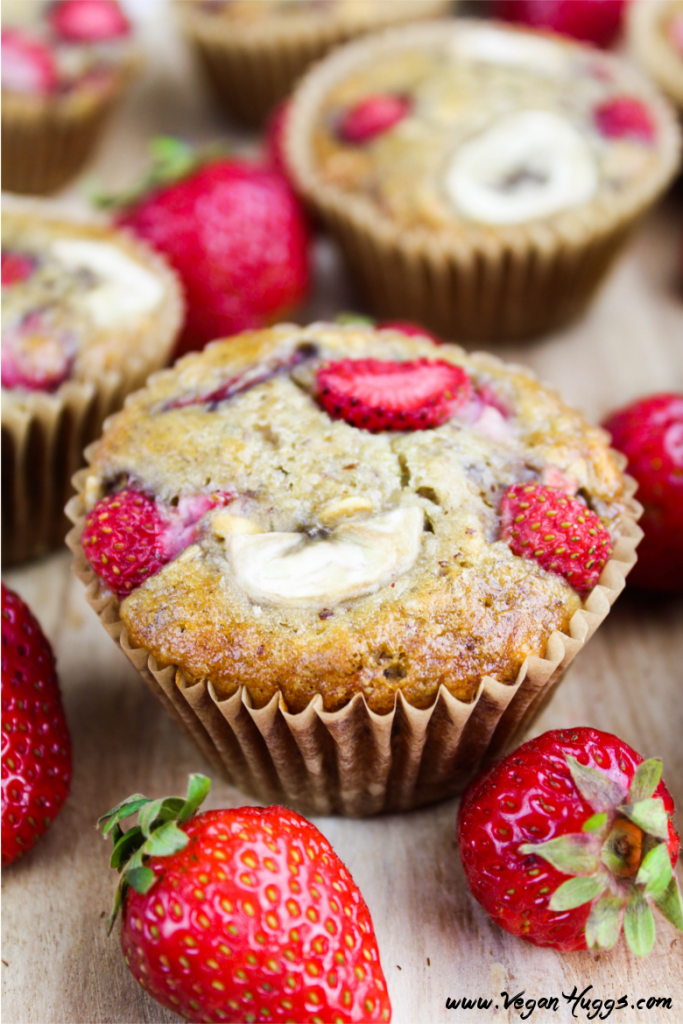 For extra sweetness
I used pure coconut sugar and maple syrup. No refined junk at all. These sweeteners are a much healthier alternative to regular processed sugar.
Coconut sugar and maple syrup will make the batter browner, so your muffins will look more golden brown while cooking, so don't think you've overcooked them. Also, feel free to use any sugar that you like. There are no rules for these muffins.
To keep everything moist and velvety
I used mashed banana and vegan buttermilk in the mix. Vegan buttermilk sounds fancy, but it's just dairy-free milk with lemon juice. It's magical!
Instead of chicken eggs, I used chia eggs. They work the same way as regular eggs. We don't need animal products to create the perfect recipe and there are so many alternatives out there.
We just need to be open to change. I added some other egg alternative options in the note section.
Very little time and effort
Just gather your wholesome ingredients, mix things up a bit, and pop them in the oven for about 20 minutes. They also freeze really well, so you enjoy them anytime.
They pair nicely with coffee, tea or some non-dairy milk.
A taste of summer in just a few bites
You need to make these Strawberry Banana Breakfast Muffins... they are sweet, moist, fluffy, and flavorful! You don't need to reserve these for breakfast though...you can enjoy them as a snack or a healthy dessert, too.
Let's do this!
I'd love to hear from you
If you make this recipe, I'd love to get your feedback. You can leave a comment below and let me know what you think. It would really make my day. You can also follow me on Instagram and share your creation with me. Just tag me @veganhuggs and hashtag #veganhuggs so I don't miss it.
📖 Recipe
Strawberry & Banana Breakfast Muffins (Vegan & Gluten-Free)
These Strawberry Banana Breakfast Muffins are worlds healthier than most muffins out there. There's no refined sugar and they're gluten-free. So, that makes them guilt-free and you can enjoy one for brekkie.
Ingredients
2

chia eggs

(mix together 2 Tbsps chia seed + 6 Tbsps water)

½

cup

vegan milk + 1 ½ tsps fresh lemon juice

(or ACV)

1 ½

teaspoons

baking soda

⅓

cup

coconut sugar

(sub granulated or brown sugar)

½

teaspoon

sea salt

½

cup

rolled oats

(gluten-free)

½

cup

almond meal

¾

cup

ripened banana,

mashed (about 2 bananas) (+extra for topping)

¼

cup

coconut oil,

melted

1

teaspoon

pure vanilla extract

¼

cup

pure maple syrup

(or agave)

½

cup

strawberries,

diced (+ extra for topping)
Instructions
Preheat oven to 375 degrees fahrenheit

Place 12 muffin liners in a standard muffin pan. Or, you can lightly grease each slot.

Prepare chia eggs in a small bowl and set aside, about 10 minutes, until it forms a gel-like texture.

In a separate small bowl, add the almond milk and lemon juice. Set aside about 10 minutes. This creates a vegan buttermilk.

In a medium bowl, add baking soda, coconut sugar, sea salt, rolled oats, almond meal and flour. (All dry ingredients) Combine well.

In a large bowl, mash banana and then add the melted coconut oil, vanilla extract, maple syrup, chia eggs and buttermilk mixture. Whisk to combine well.

Now add the dry ingredients into the large bowl of wet ingredients. Fold batter gently until just combined. Gently fold in strawberries.

Fill each muffin liner about ¾ full. Top each muffin with a few slices of strawberries & bananas (optional)

Place in oven & bake the muffins until they are slightly golden on top, about 18-22 minutes. Insert toothpick into middle of muffin, if it's mostly clean, then they're ready. Let cool for 10 minutes in the pan before transferring them to a cooling rack for another 10-15 minutes. To avoid the liner sticking to the muffin, let them completely cool before enjoying.
Notes
*Chia Egg Alternative: 1- If you don't have chia seeds, you can use ground flax seed instead. The measurements and method are the same as the chia. If you only have whole flax, you can grind the flax seed in a coffee grinder.
*This recipe makes about 12 standard sized muffins. Adapted from my Blueberry Jam Muffins, which were adapted from Minimalist Baker.
Nutrition
Serving:
1
Muffin
|
Calories:
165
kcal
|
Carbohydrates:
28
g
|
Protein:
4
g
|
Fat:
8
g
|
Saturated Fat:
4
g
|
Sodium:
248
mg
|
Potassium:
107
mg
|
Fiber:
2
g
|
Sugar:
9
g
|
Vitamin A:
30
IU
|
Vitamin C:
4.8
mg
|
Calcium:
50
mg
|
Iron:
0.8
mg