This post contains affiliate links. Read my disclosure policy here.
This Vegan Ricotta Cheese is super creamy, rich & tangy! It requires simple ingredients & 15 minutes of your time.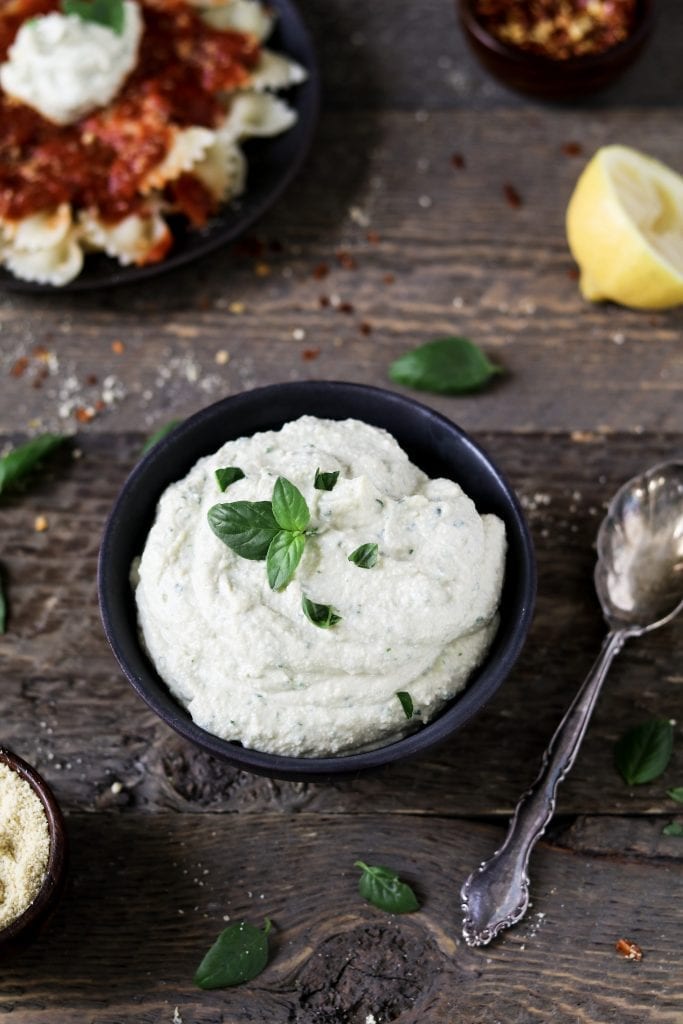 The options are endless in the vegan world and you don't have to miss out on a thing. This Vegan Ricotta Cheese is just one of MANY tasty examples.
Who wouldn't want a creamy cheese in their life? ** Crickets** Exactly my feelings too! However, we can have all that creaminess without the dairy. Isn't that amazing?
I never thought I could give up cheese, but I managed to do it cold turkey. I had pretty intense cravings for almost a year. It was terrible! The cravings did subside eventually, but I still missed creamy textures and tangy cheese flavors.
Over the years, I've learned to make alternatives to my non-vegan favorites like this Vegan Mozzarella Cheese, this Vegan Parmesan Cheese, and these Vegan Mozzarella Sticks.
I could never imagine going back to dairy now! I'm happy with the kinder and healthier alternatives.
What is Vegan Ricotta Cheese made from?
It can be made in a variety of ways with various ingredients, and I'll be sharing a few different versions in the near future. For this recipe, I used a blend of tofu and raw cashews as the base.
Together, they create a wonderful creamy texture. The cashews add extra richness, but the addition of tofu balances it out so it's not overly rich. It has a lighter consistency which I love.
What makes vegan cheese taste like dairy cheese?
The magical cheesy-flavored ingredient is nutritional yeast (a.k.a nooch). It tastes much better than it sounds, trust me! It's my favorite go-to pantry staple, and I use it in a variety of recipes.
While the nooch does provide the cheesiness, it doesn't provide the cheesy tang. So for that, I used lemon juice and unsweetened non-dairy yogurt.
The rest of the ingredients are short and simple. You'll need:
That's it! No hard-to-find ingredients here!
It takes 15 minutes to make!
This is just too easy! Just add everything to a High-Powered Blender or Food Processor. Blitz it all up until you've reached your desired consistency.
Voila! You've just made Vegan Ricotta Cheese!
So versatile
This cheese can be used in a variety of ways, and for sweet or savory dishes (recipe for sweet coming soon). For the savory, it's typically used in traditional recipes like lasagna, stuffed shells, manicotti and baked ziti.
Check out the other tasty possibilities:
- Spread it on toast & add your favorite toppings
- Top on savory pancakes or crepes
- Spread on crackers
- Top on a salad
- Mix in some cooked spinach and enjoy it as a dip
- Add to your favorite pasta for a super creamy sauce
- A great sandwich spread
- Dollop on soup
- Tasty on burritos, tacos, and enchiladas.
AND it's perfect in my Vegan Spinach Mushroom Lasagna!
I could go on forever, but I think you get the point. Basically, you can add it to just about anything you desire. The flavors are fairly neutral, so they won't overpower everything else.
ENJOY!
I'd love to hear from you
If you make this recipe, let me know what you think by ★ star rating it and leaving a comment below. It would really make my day. You can also follow me on Instagram and share your creation with me. Just tag me @veganhuggs and hashtag #veganhuggs so I don't miss it.
Vegan Ricotta Cheese
This Vegan Ricotta Cheese is super creamy, rich & tangy! It requires simple ingredients & 15 minutes of your time. Gluten-free & oil-free.
Ingredients
1

block (15 oz)

extra-firm tofu

, drained but not pressed

1

cup

raw cashews

, soaked in water 3-4 hours (*see note)

⅓

cup

non-dairy yogurt

, unsweetened

3

tablespoons

lemon juice

, more to taste

2

tablespoons

nutritional yeast

2-3

cloves

garlic

¾

teaspoon

sea salt

, more to taste

¾

cup

fresh basil

, loosely packed (*optional)
Instructions
Drain and rinse cashews (discard water) and add to a food processor. Now add lemon juice, yogurt, nutritional yeast, garlic, and salt. Process on high until it forms a smooth paste. Scrape down sides as necessary. (*If needed, you can add a few splashes of unsweetened non-dairy milk to help everything move easier)

Break up the tofu with your hands into large pieces and place in food processor. Pulse until you've reached desired consistency.

*You can make it smooth or with some texture. Taste for seasoning and add more if needed.


Now add the optional basil and pulse until you see green flecks.

Use immediately or cover and store in the fridge for 3-4 days.
Notes
* This recipe is oil-free, but if you'd like to add more richness, pour in 2-3 teaspoons of olive oil while the food processor is running (while the cashews are processing).
* Prep time doesn't include soaking time for cashews.
* To speed up soaking time for cashews: in a small pot, boil water and remove from heat. Add cashews and cover for 15-20 minutes, until softened.
* Makes about 3 ½ cups.
Nutrition
Serving:
4
Tablespoons
|
Calories:
111
kcal
|
Carbohydrates:
6
g
|
Protein:
6
g
|
Fat:
7
g
|
Saturated Fat:
1
g
|
Sodium:
251
mg
|
Potassium:
216
mg
|
Sugar:
1
g
|
Vitamin A:
125
IU
|
Vitamin C:
3.7
mg
|
Calcium:
32
mg
|
Iron:
1.5
mg