This post contains affiliate links. Read my disclosure policy here.
Are you ready for a whole new experience for Taco night? These Jackfruit Carnitas Tacos are the perfect replacement for traditional pork tacos. The texture & flavor will know your socks off.
I know what you guys are thinking, fruit as a replacement for taco meat? That's crazy! I thought it was crazy at first too, until I made these Jackfruit Carnitas Tacos and fell in love.
When cooked, jackfruit have an uncanny resemblance and texture to shredded pork or chicken. Also, the unripened jackfruit is virtually tasteless, and it has the ability to absorb lots of flavor from seasonings, just like meat.
The meat-like, shredded texture of the jackfruit, makes it a great replacement to pulled-pork or chicken recipes. When it cooks it will fall apart and shred, while absorbing all the goodness. It's very similar to traditional shredded carnitas (a Mexican cuisine, containing shredded pork).
Some people might say,"why do vegans want to eat something that reminds them of meat?" & that's a valid question. This is how I feel:
All vegans are different and some aren't interested in eating the same textures as meat, but some vegans like to have textures that are familiar to them, and it's all ok. It doesn't mean they are craving meat, it just means that they grew up eating a certain way and their palette appreciates certain textures.
Also, there are many people who are transitioning to a vegan lifestyle and these kinds of foods, help them make the switch. So, in my opinion, it's all positive, because No-Body was harmed in the making.


So, where does this incredible jackfruit come from?
Jackfruit is a tropical fruit from Southeast Asia and it looks like a gigantic dinosaur fruit. Seriously, it's a super long, prickly, green-looking monster. It's one of the largest fruits on the planet and can reach up to 50 pounds. Totally Jurassic Park!
It has a meaty, fibrous texture and it's packed with nutrition. It's a great source of Fiber, Antioxidants, Vitamin A, Vitamin C, Magnesium, Potassium, Calcium and Iron. The seeds are also loaded with vitamins, minerals and protein. The jackfruit tree can grow up to 150 jackfruits over two harvest seasons and all that fruit can feed an army.
To create the most delicious & savory Jackfruit Carnitas Tacos buy unsweetened, canned young jackfruit in water or brine. Whatever you do, don't buy the jackfruit packed in syrup for this recipe. It won't be what you are expecting. If you can't find jackfruit in your local grocery store, you can find it in most Asian grocery stores or markets. You can also find it on Amazon here.
To complement these Jackfruit Carnitas Tacos, I made an onion, cilantro & lime relish. It adds a nice crunchy texture and mouth-watering flavor. You can also just use your favorite salsa or pico de gallo. It's all delicioso!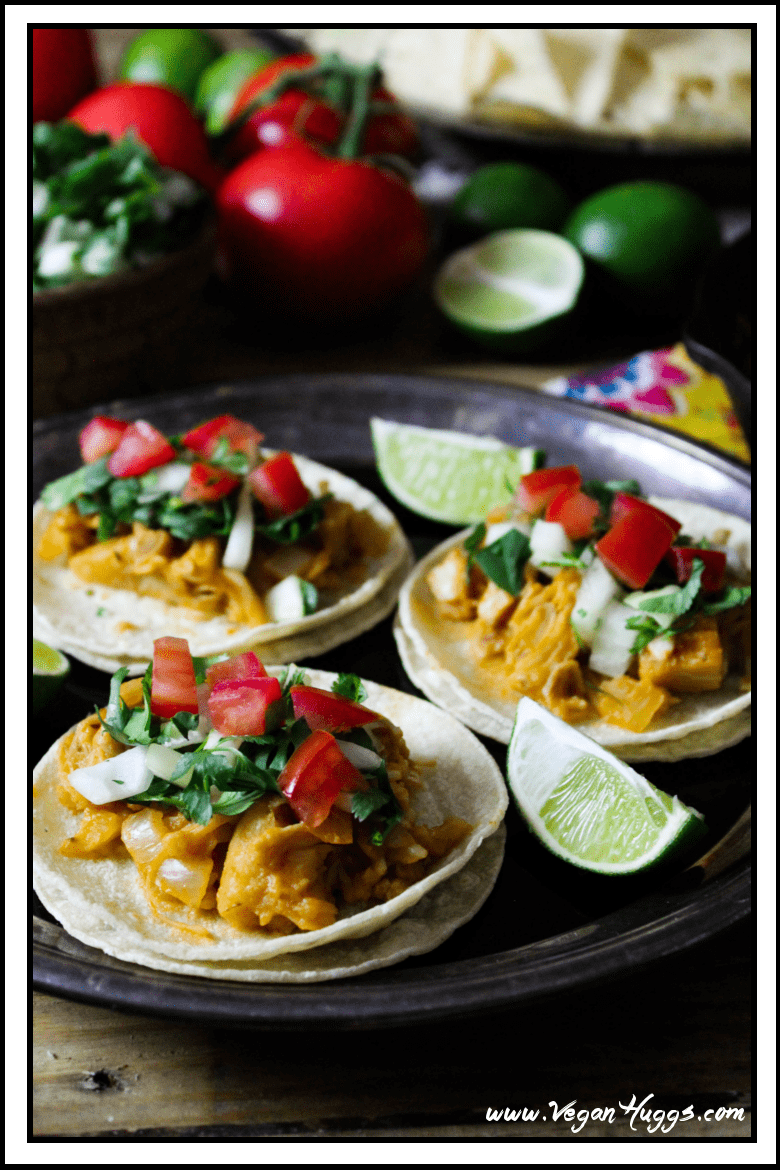 So, are you guys ready to get this fiesta started? Let's do this!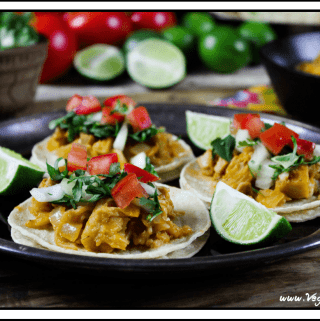 Jackfruit Carnitas Tacos
Are you ready for a whole new experience for Taco night? These Jackfruit Carnitas Tacos are the perfect replacement for traditional pork tacos. The texture & flavor will know your socks off!
Print
Pin
Rate
Ingredients
Onion and Cilantro Relish
1

small onion

, diced

1

handful of

cilantro

, cleaned & chopped

1

lime

, juiced

1/4

teaspoon

Himalayan salt

(or preferred salt), more to taste
Jackfruit Carnitas
1 1/2

tablespoons

olive oil

1

medium onion

, diced or thinly sliced

2

cans

young jackfruit in water

or brine , drained and rinsed well. Cut into 1" chunks. (14oz - 17oz)

1

teaspoon

Himalayan salt

, more to taste

Fresh ground pepper

, to taste

2-3

cloves

of garlic

, minced

1

teaspoon

cumin

1

teaspoon

chili powder

1/2

teaspoon

dried oregano

1/2

teaspoon

paprika

1

bay leaf

1/2

teaspoon

coconut sugar

(or any sugar)

1

tablespoon

tomato paste

1 1/2

cups

vegetable broth

, low sodium

1

tablespoon

fresh lime juice

Mini

Corn tortillas

(2 tortillas for each taco)
Instructions
Onion and Cilantro Relish
In a medium bowl, combine all ingredients well and pop in fridge. This can chill while you are preparing your jackfruit carnitas.
Jackfruit Carnitas
Heat oil in a large pan over medium heat. Add onion and sauté until translucent, about 4- 6 minutes.

Add the jackfruit, garlic, tomato paste, salt, pepper, sugar and spices (except bay leaf), sauté for 5-7 minutes. Stir frequently to prevent sticking. (if it starts to stick, add a touch of vegetable broth)

Add vegetable broth, lime juice & bay leaf. Bring to a simmer & cover. Cook for 10-12 minutes, or until the jackfruit starts to soften. Stir occasionally.

Remove lid and continue to simmer for another 10 minutes, or until most of the moisture is cooked off and jackfruit is soft and shredded. You can break up the jackfruit with a fork or use a potato masher to help it along. Taste for salt and add more if needed. Remove bay leaf

Warm up your corn tortillas. To build, double layer the tortillas for each taco, add the jackfruit and the relish. Top with diced tomato and some hot sauce, if preferred. Enjoy!
Notes
*I leave them the seeds in the jackfruit because they have protein and other nutrients, They will soften as they cook. They can also be taken out. Some canned jackfruit contains lime juice, so you might want to cut down on the lime in the recipe. Give a quick taste before adding the lime.    
Nutrition
Calories:
169
kcal
|
Carbohydrates:
33
g
|
Protein:
3
g
|
Fat:
3
g
|
Sodium:
418
mg
|
Potassium:
231
mg
|
Fiber:
3
g
|
Sugar:
2
g
|
Vitamin A:
3.5
%
|
Vitamin C:
6.4
%
|
Calcium:
6.7
%
|
Iron:
5.9
%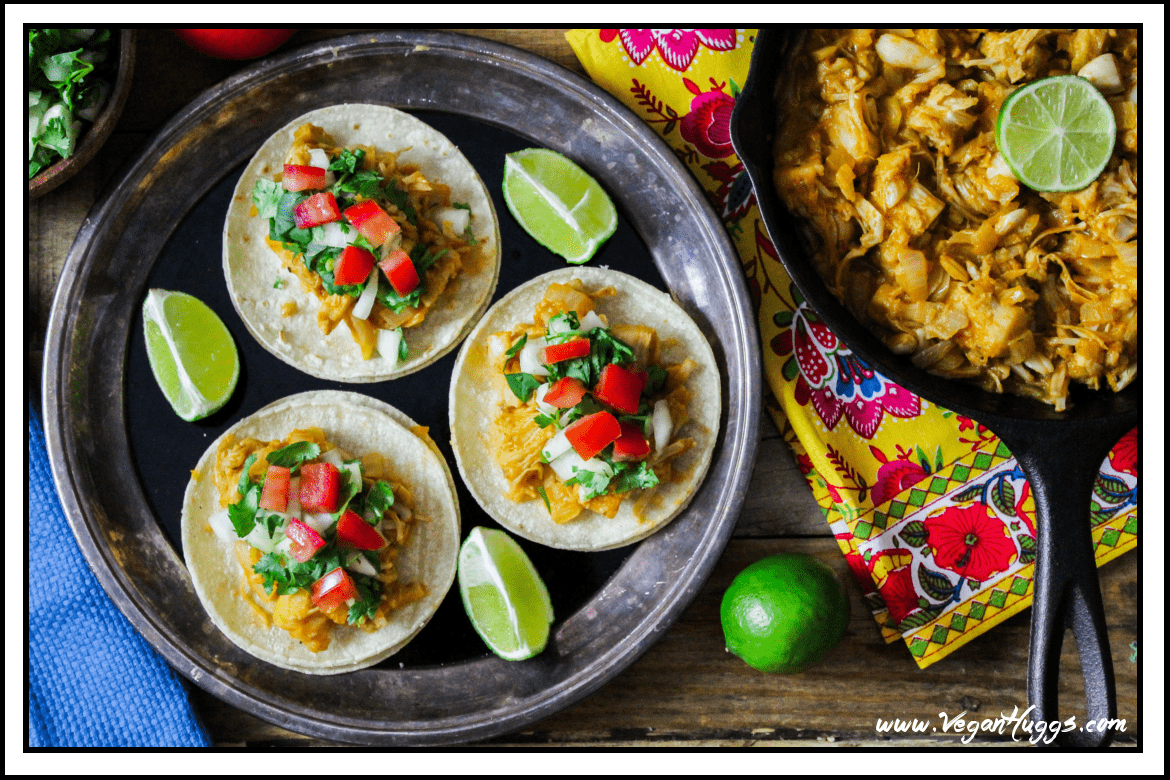 If you'd like to keep it spicy, you might like this Three Bean Mushroom Chili. It's hearty, healthy and so easy to make.
If you make these Jackfruit Tacos, or one of my other recipes, I'd love to hear from you. Leave a comment below and let me know what you think. It would make my day. You can also follow me on Instagram and share your creation with me, Just tag me @veganhuggs and hashtag #veganhuggs.
*  Pin for later 🙂