This post contains affiliate links. Read my disclosure policy here.
A vegan spin on a classic, this JUST Egg Omelette is fluffy, veggie-loaded, and just as good as the original! Plus, it requires minimal prep and takes less than 10 minutes on the stove.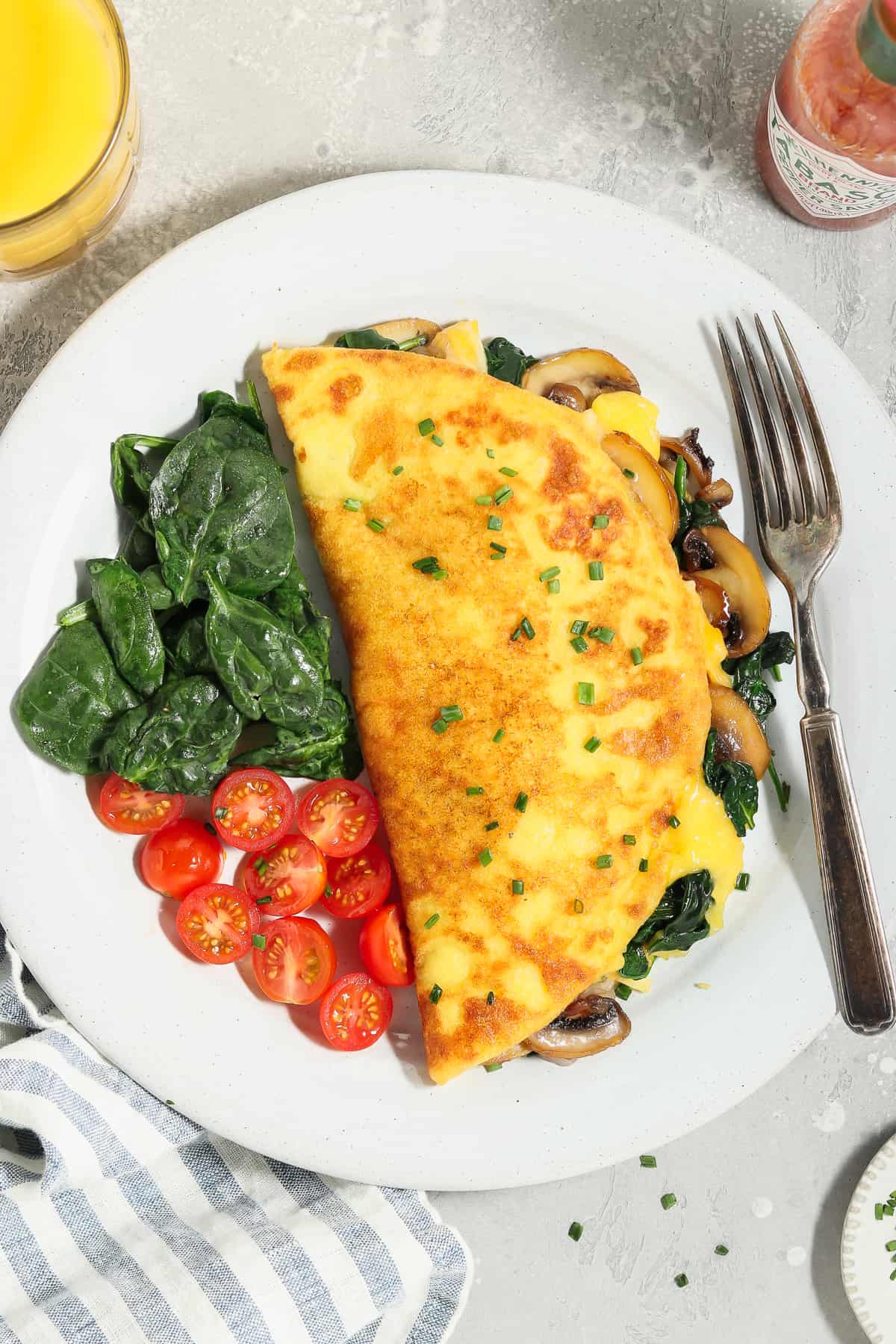 When it comes to savory meals for breakfast…this JUST Egg Omelette is one of my top 10 favorites! It's easy to make and truly reminiscent of a traditional egg omelette.
This is an all-in-one meal so you don't need to serve it with anything, but if you want to go all out, you can add a side of Roasted Breakfast Potatoes, fresh greens, or Vegan Bacon.
It's easy to make and infinitely customizable so you'll never get bored. Also, you don't have to reserve this recipe for breakfast, it also doubles as a quick and simple dinner.
What is JUST Egg made of and how does it taste?
It's made entirely from plants and the main ingredient is the ever-so-amazing mung bean. It's a delicious legume that has been around for 4,000 years and enjoyed all over the world. Plus, it's packed with protein.
The flavor is on point! It's savory, and it's not overly seasoned. This makes it easy to add to a variety of recipes. It's light, cooks up fluffy, and has a similar taste and texture to eggs! It's downright delicious and perfect for this JUST Egg Omelette recipe!
Ingredients, Notes, and Substitutions
️🌟 This is a quick overview with step-by-step photos. For the complete ingredient amounts and instructions, scroll down to the recipe card below.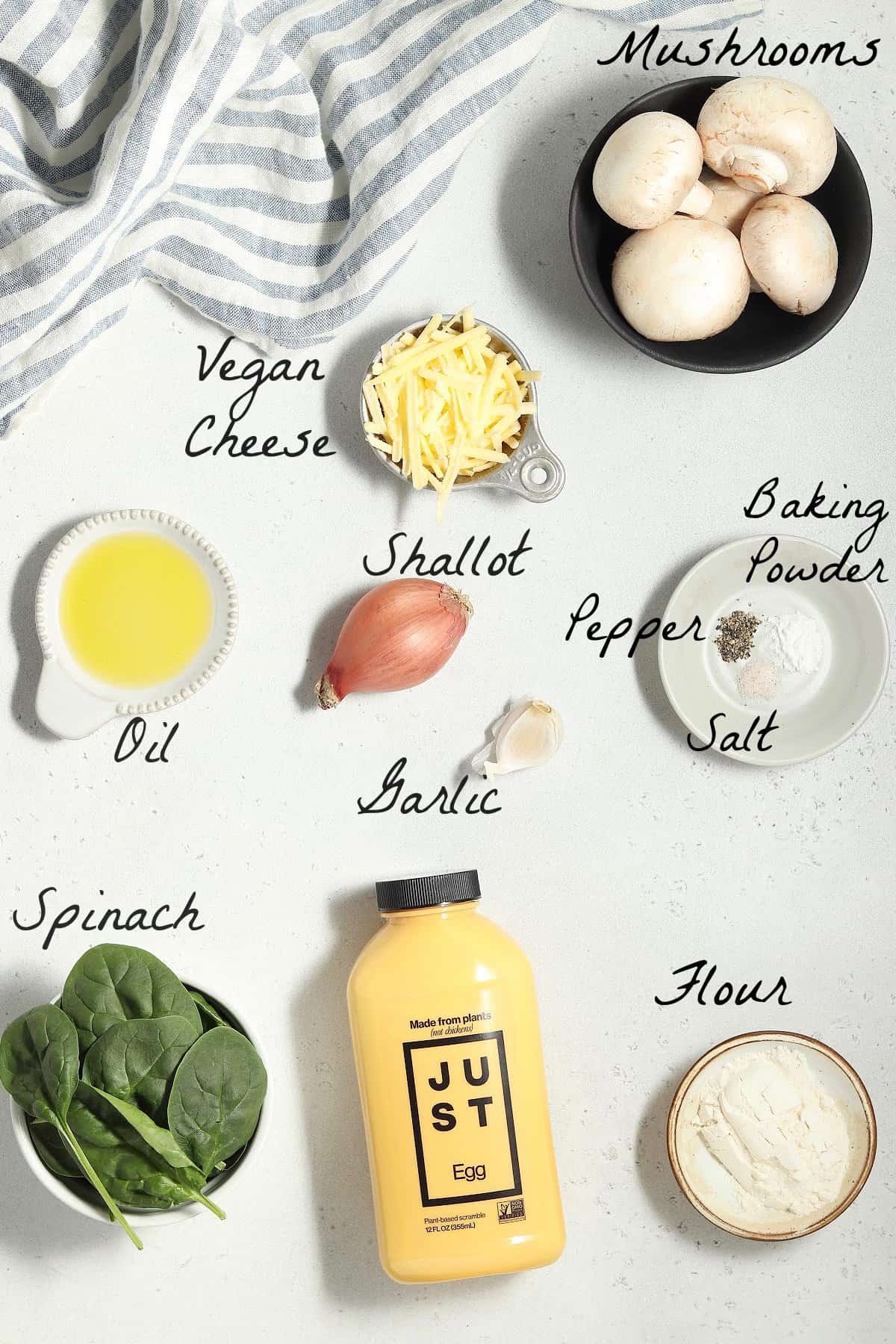 JUST Egg - many stores carry this now and you will find it in the refrigerated section near the eggs or in the vegetarian section of your grocery store.
All-purpose flour - a gluten-free 1.1 all-purpose will work too.
Baking powder - helps fluff up the omelette a bit more. I highly recommend it.
Shallot - you can also use diced red or yellow onion (about 2 tablespoons).
Garlic - fresh is best but jarred will work too.
Mushrooms - I like crimini or white mushrooms but any variety will work.
Spinach - arugula or kale will work well too.
Shredded vegan cheese - I like Daiya, Follow Your Heart or Chao shreds but any variety that melts will work. You can also use my homemade Vegan Nacho Sauce.
How to make a JUST Egg Omelette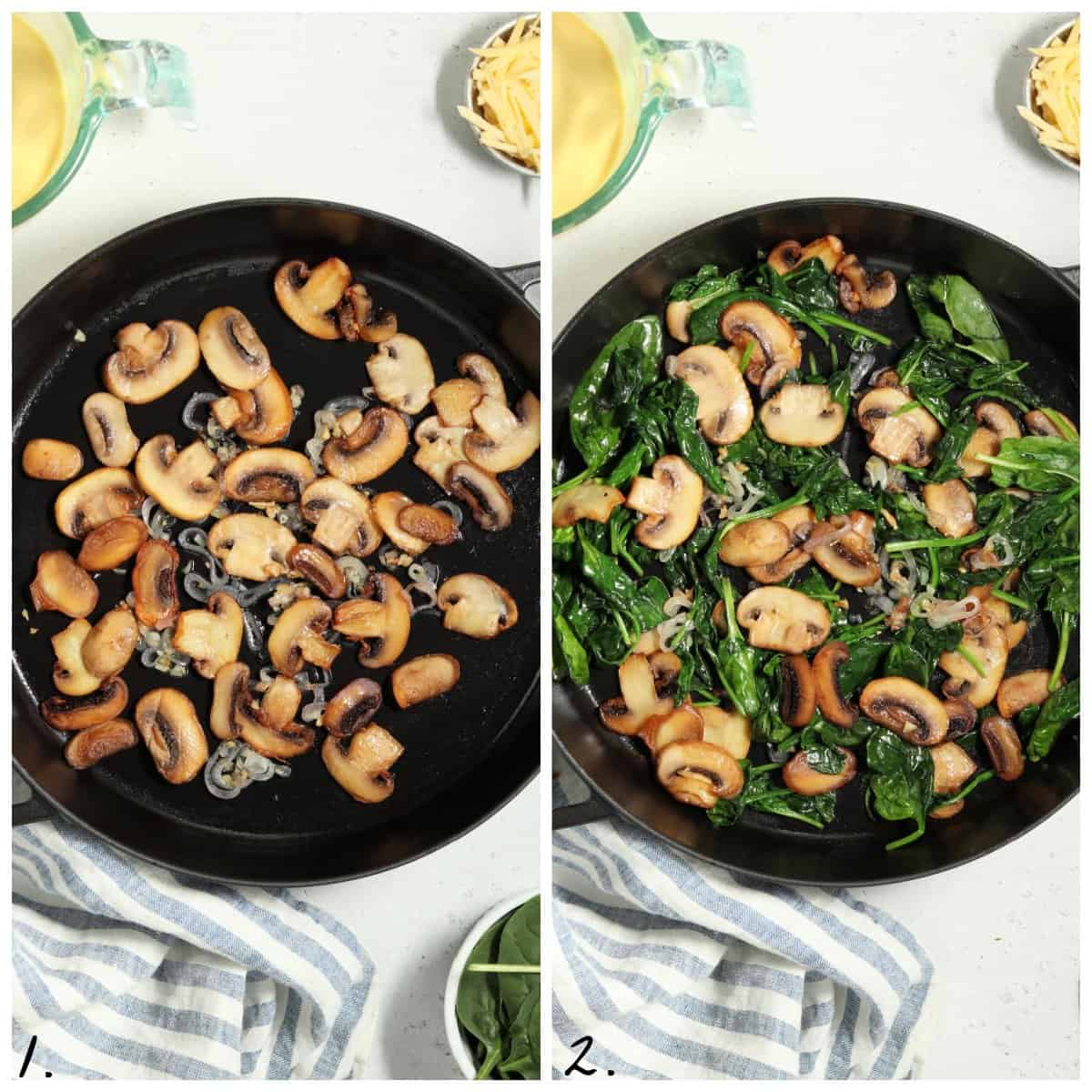 Heat oil in a pan over medium heat and add shallots and garlic. Sauté until softened and fragrant. Add mushrooms and sauté until softened.
Now add the spinach and cook until just wilted. About 1 minute. Lightly sprinkle with salt and pepper. Transfer mixture to a plate/bowl and wipe out the pan.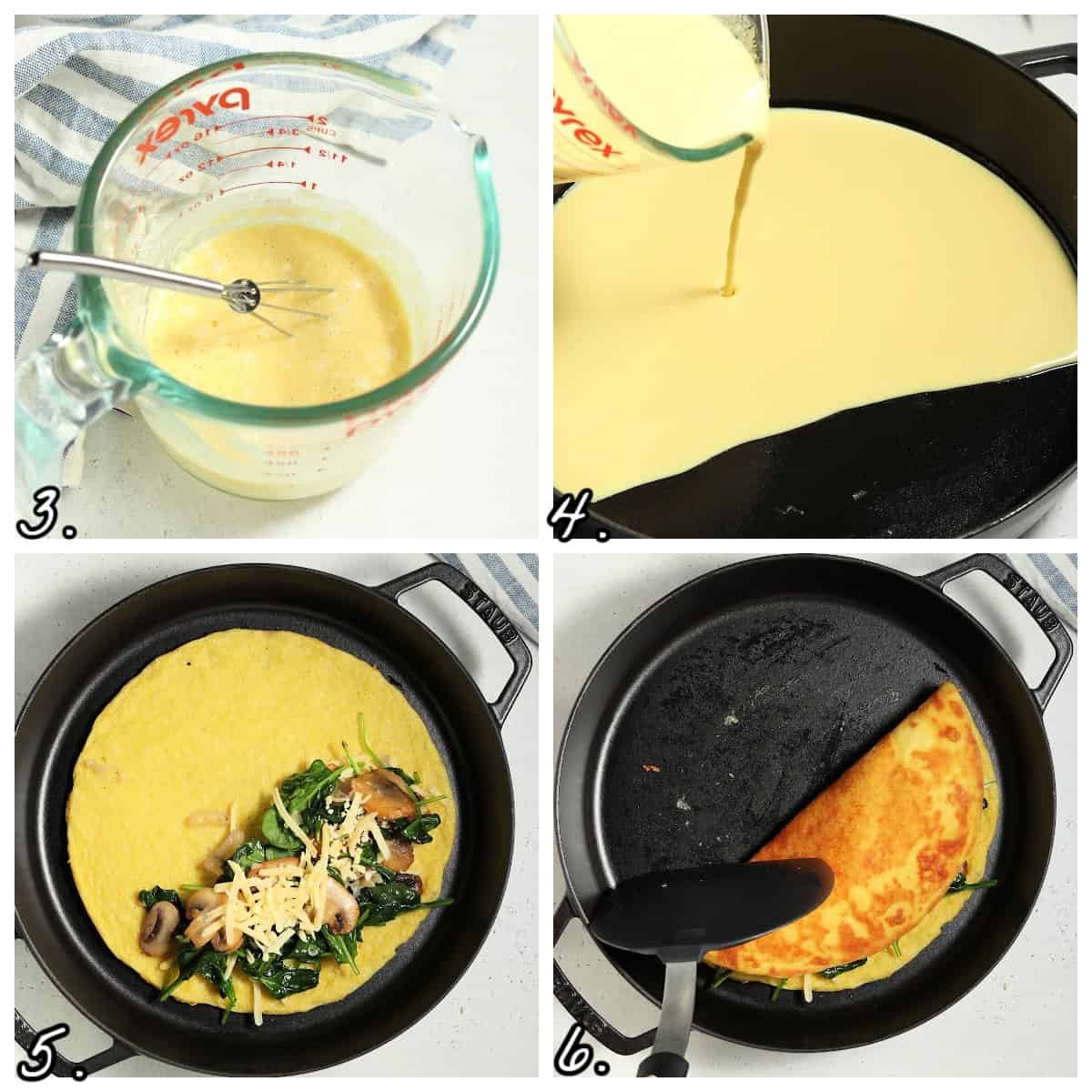 In a small bowl, whisk together the JUST Egg, flour, and baking powder until combined. Set aside.
Place the pan back on the stove and heat up the 2 teaspoons of oil on medium-low heat, then swirl to spread it out. Pour in the JUST Egg and tilt the pan to spread it across the bottom into an even circle. Once the edges begin to solidify, gently run your spatula around the edges.
When the top has fully cooked, gently and quickly flip the omelette. Place ½ of the shredded cheese on one side of the omelette, then the spinach and mushroom mixture, and then the remaining cheese.
When the bottom has cooked, fold over the omelette to close and remove from heat.
Omelette Success Tips
Shake the bottle of JUST Egg well before use.
If you're making multiple omelettes, you can increase the filling amount and cook it all together in a separate large pan. You will still need to make each omelette separately, but you'll have the filling ready to go for each one.
If the cooking surface of your pan is too large, the liquid will spread out too far. Try to use a pan with an 8-9" cooking surface. You can use a smaller one if you want a thicker omelette, but it will take a little longer to cook.
I recommend using a non-stick pan or a well-seasoned cast iron pan to prevent sticking.
It's best to use a thin, sturdy and wide silicone spatula to make flipping easy. You can also use an omelette turner if you feel more confident.
If your pan gets too hot, just lower the heat or remove the pan from heat for 10-20 seconds to prevent burning.
Topping Ideas
Fresh-cut herbs - parsley, green onion, chives, basil, or cilantro.
Add some heat - sriracha, salsa, sliced jalapeños, crushed red pepper flakes.
For extra freshness, add guacamole, tomatoes, avocado slices or lightly sautéed spinach on the top or side.
A dollop of vegan sour cream is nice, too!