Any yogurt lovers out there like me? Don't you just love the creamy texture, coupled with sweet and tangy goodness? Well, this Raspberry Coconut Yogurt will provide all that and more.
I've always been a big yogurt fan, even before I went vegan. For the longest time, there weren't many vegan yogurt options in the store. There were a few soy-based ones and they tasted like chalk. Eventually, the options grew a lot and I could choose almond or coconut yogurt in various flavors. We've sure come a long way from the chalky stuff.
I'm so happy that these options are now available in stores and they are delicious, but they can get expensive if you are an addict like me. Also, they are much healthier than dairy-based yogurt, but they still have more sugar than I prefer. So, I like to make my own as much as possible.
I love that coconut yogurt is so versatile
It makes the perfect breakfast, snack or even dessert. The smooth, creamy texture is perfect for smoothies, baked goods and many other recipes. It's great for on-the-go and can even be made into a fancy parfait, or some yummy fro-yo. You can enjoy it plain, or you can add granola, fruit jam, buckwheat groats, rolled oats, nuts, seeds, coconut shreds, your favorite fruit and more. The options are endless and you really can't get bored.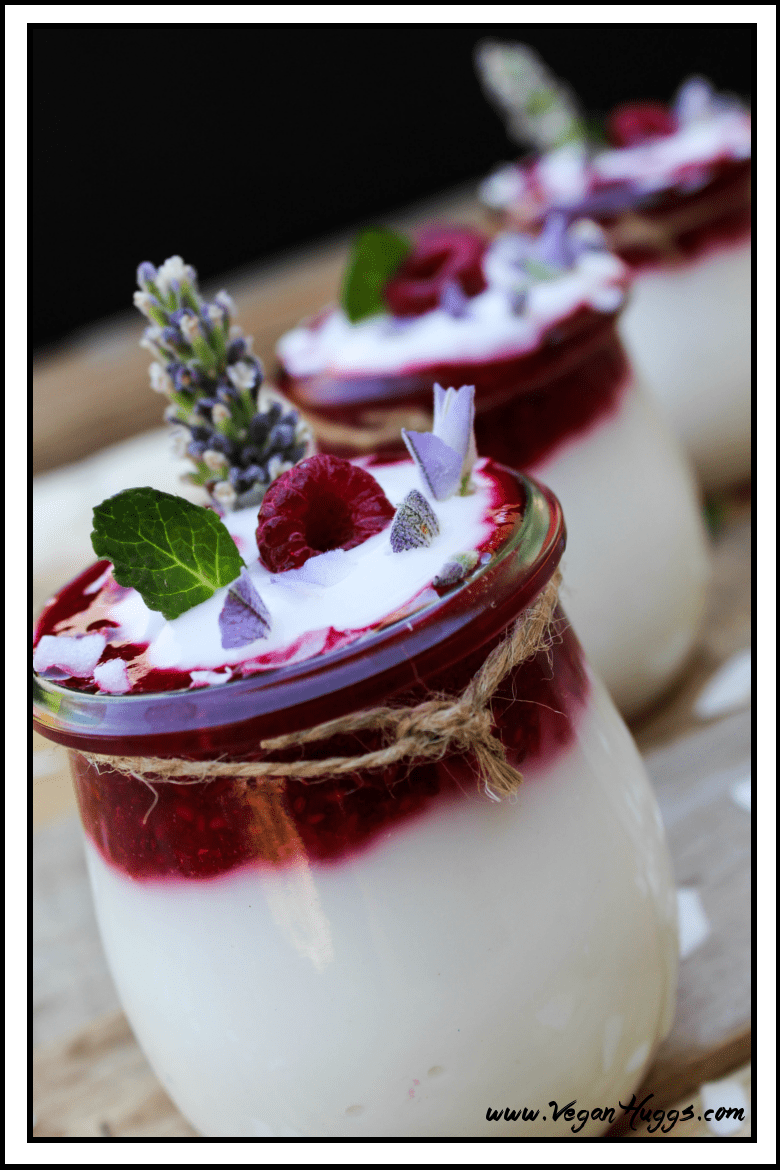 There are many ways to make homemade vegan yogurt. I shared a delicious cashew-based yogurt recipe a while back and you can check it out here. The recipe I'm sharing today is made with fresh young coconut meat, coconut water and raspberries.
This Raspberry Coconut Yogurt recipe is quick, easy and super heathy for you. This one isn't fermented like traditional yogurt, so you won't have the extra flora, but it's still really good for you. You can always add your favorite probiotic to get some happy bugs in your tummy, it just won't be as loaded as the fermented variety. I will be sharing the fermented version soon. It's easy, there are just more steps and waiting time.
This tasty treat is good for you!
Young coconut meat is rich in medium-chain fatty acids, heart-healthy fiber, potassium, folate and more. The water is super hydrating to the cells in your body and it also makes your skin glow. Bonus!
You can usually find white/young coconuts in the produce section, but they aren't near the brown/mature coconuts because they need to be kept cold. Brown coconut meat will not work for this recipe because the meat is too hard and fibrous. These delicious gems can be a pain to open at first, but once you get the hang of it, it's pretty easy. Check out this quick video to learn how. You can also buy frozen coconut meat to make it easier. It's just a bit more expensive.
I love adding fresh raspberry sauce to my coconut yogurt because it adds an extra zing and tartness to it. I balance it out with some pure maple syrup and vanilla extract. Any berries will work for this recipe and you can use fresh or frozen. You can also just add your favorite fresh fruit or fruit jam. It all works!
So are you ready to give this sweet, tangy and creamy treat a try? Let's do this!
Raspberry Coconut Yogurt
Any yogurt lovers out there like me? Don't you just love the creamy texture, coupled with sweet and tangy goodness? Well, this Raspberry Coconut Yogurt will provide all that and more
Recipe Type:
Gluten-Free, Oil-free, Vegan
Ingredients
Raspberry Sauce
1 1/2

cups

raspberries

, or your favorite berries (fresh or frozen)

1

teaspoon

pure maple syrup
Coconut Yogurt
2 1/2

cups

young Thai coconut meat

, fresh or frozen (thawed)

3/4

cup

coconut water

(fresh or bottled)

2 1/2

teaspoons

fresh lemon juice

1/4

teaspoon

probiotic powder

(optional)

1/8

teaspoon

Himalayan salt

2-3

teaspoons

pure maple syrup

1

teaspoon

pure vanilla extract
Instructions
Mash the raspberries and 1 teaspoon of maple syrup in small sauce pan, over medium heat. Set heat to medium-low and lightly simmer for 2-3 minutes. Remove from heat and let cool.

Add the remaining ingredients to a blender. Blend until smooth and creamy. Add more coconut water, if it's too thick. (tablespoon at a time)

Pour the yogurt into your favorite glass. Then put the raspberry sauce on top. Put in fridge to chill for 30 minutes.
Recipe Notes
*Add more or less lemon, depending on how tangy you like it.
*Yogurt can be stored in the fridge for 3-5 days.
*Prep time doesn't include chilling time.
Nutrition Facts
Raspberry Coconut Yogurt
Amount Per Serving
Calories 226
Calories from Fat 126
% Daily Value*
Total Fat 14g 22%
Cholesterol 0mg 0%
Sodium 130mg 5%
Potassium 358mg 10%
Total Carbohydrates 19g 6%
Protein 2g 4%
* Percent Daily Values are based on a 2000 calorie diet.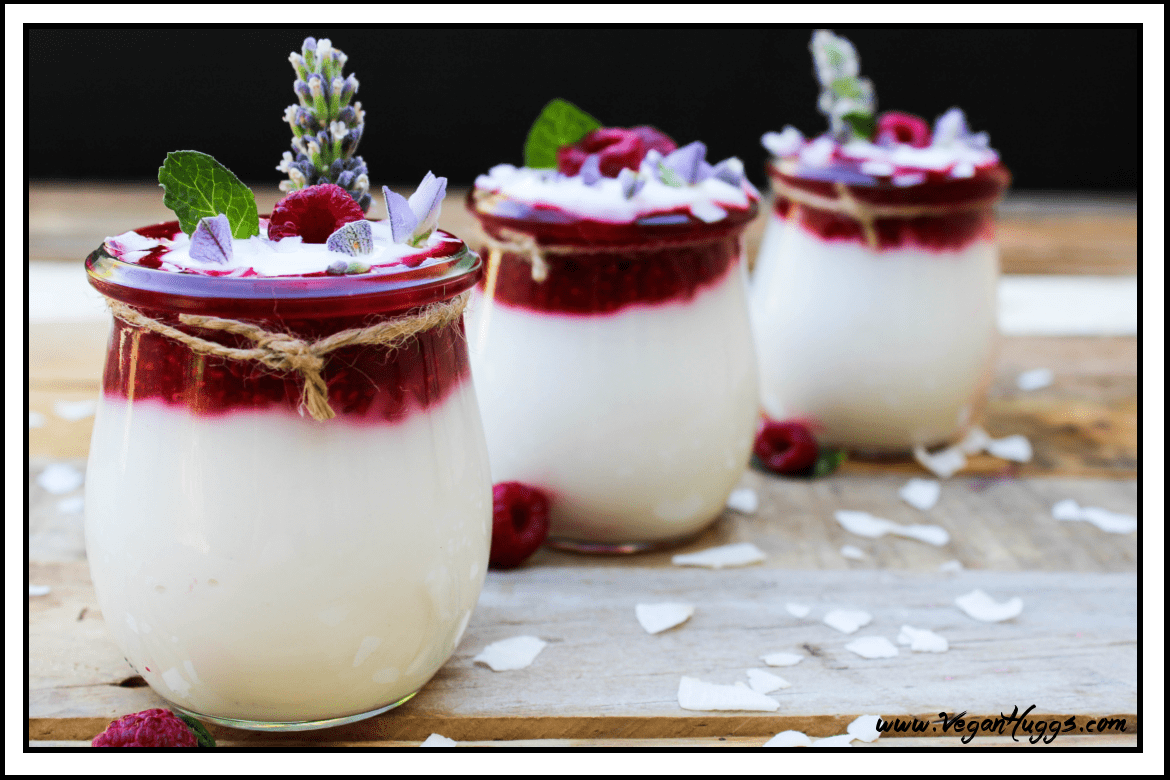 Looking for more healthy snacks? You might be interested in this Chewy No-Bake Granola Bars. They are full of flavor with the perfect balance of salty and sweet. They are oaty, nutty & fruity!
If you make this coconut yogurt, I'd love to hear from you. Leave a comment below and let me know what you think. It would really make my day. You can also follow me on Instagram and share your creation with me, Just tag me @veganhuggs and hashtag #veganhuggs.

* Pin for later ????