This post contains affiliate links. Read my disclosure policy here.
O.k, it's getting closer to summer and that means it's time for lots of healthy & refreshing treats. No complaints here! It gets really hot in my neck of the woods, so we need lots of cooling action over here. These Coconut-Lime Popsicles, definitely do the trick. They are creamy, coconutty and full of zesty flavor! You will feel like you landed in the tropics on a paid vacation. O.k, that might be a little exaggerated, but they will make you happy!
I'm trying really hard not to reference that "famous" song, but those darn lyrics have been in my head all day. I've always wondered if there was some meaning behind those lyrics. I mean, it seems so simple, but there must be more. Maybe there was some rum involved in the making of that song.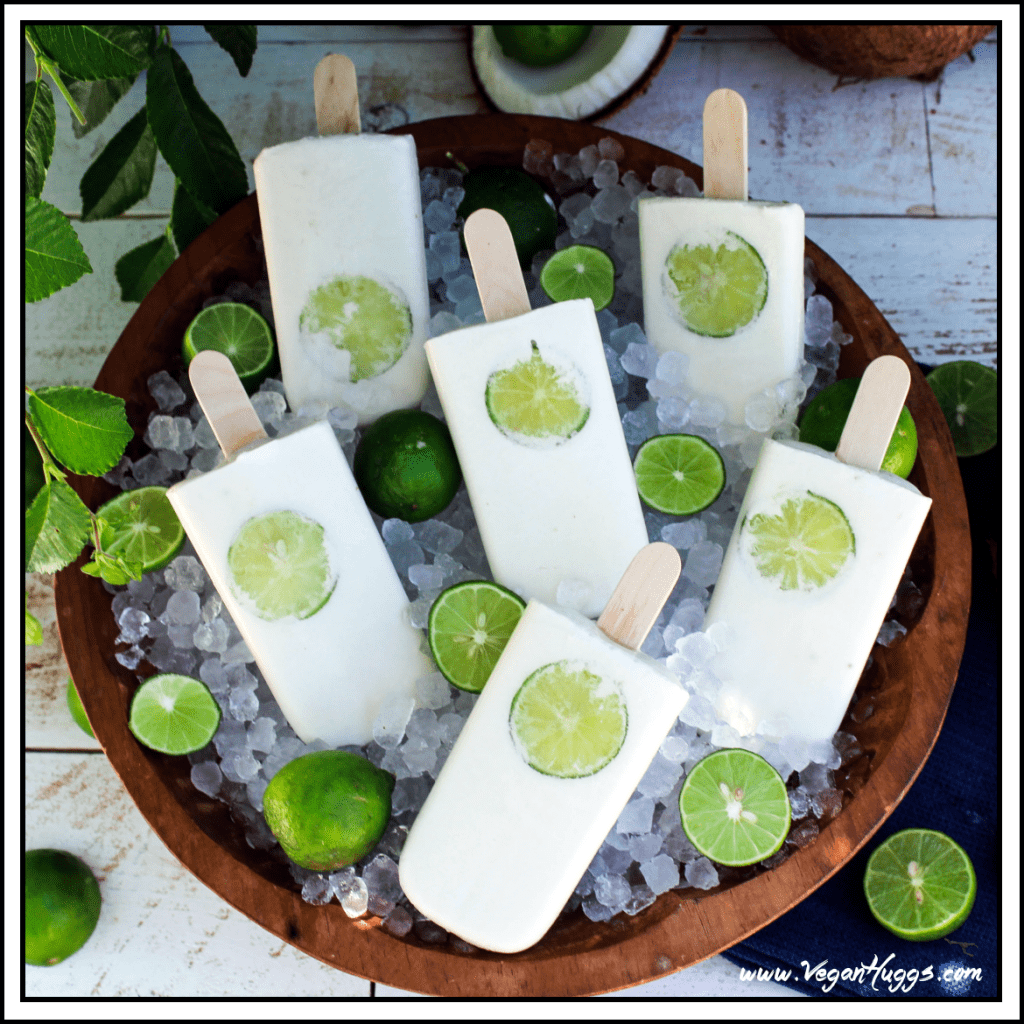 These Coconut-Lime Popsicles can be customized to your taste buds really easily. If you like less tang, just add less lime or you can also omit the lime zest. If you really want to go nuts, add a 1/4-1/2 teaspoon of chile powder. This will take things to another level and you will definitely feel like you have landed in the tropics then! No exaggeration!
Most of the ingredients are probably in your pantry already. You'll need a can of full-fat coconut milk, pure maple syrup, fresh lime juice and zest, pure vanilla extract, and a pinch of sea salt. That's it, the whole enchilada…I mean popsicle!
These are the BPA free popsicle molds that I use. I used wooden popsicle sticks instead of the ones that they come with, but that was just for the pictures. You get 6 popsicles molds, sticks and a stand-up tray. I've purchased a few of these because we are popsicle fanatics around here.
So, let's get this pop party started! "Put the lime in the coconut and drink 'em both together". Darn, I couldn't help myself!
Enjoy!

Ingredients
1

can full-fat coconut milk

(13- to 15-ounce)

1 1/2

teaspoons

lime zest

2 1/2

tablespoons

fresh lime juice

1/4

cup

pure maple syrup

1

teaspoon

pure vanilla extract
Instructions
Place all the ingredients in a blender or food processor, and blend until completely creamy and smooth.

Pour the mixture into the mold, leaving about 1/4" of room on top. Place stick in the mixture and place in freezer for 4-6 hours.
Notes
The lime flavor can be adjusted easily. Just add more or less according to your taste. You can also add a bit more sweeter, if desired. I stuck a slice of lime inside of each popsicle mold. It's mostly just for decoration because the lime does get in the way, while eating the pop. If you would like to do this, just stick the lime to the inside of the mold before pouring in the mixture. It might not work well, if the popsicle mold isn't flat inside.