This post contains affiliate links. Read my disclosure policy here.
This Post is sponsored by Nubian Heritage. All opinions are my own.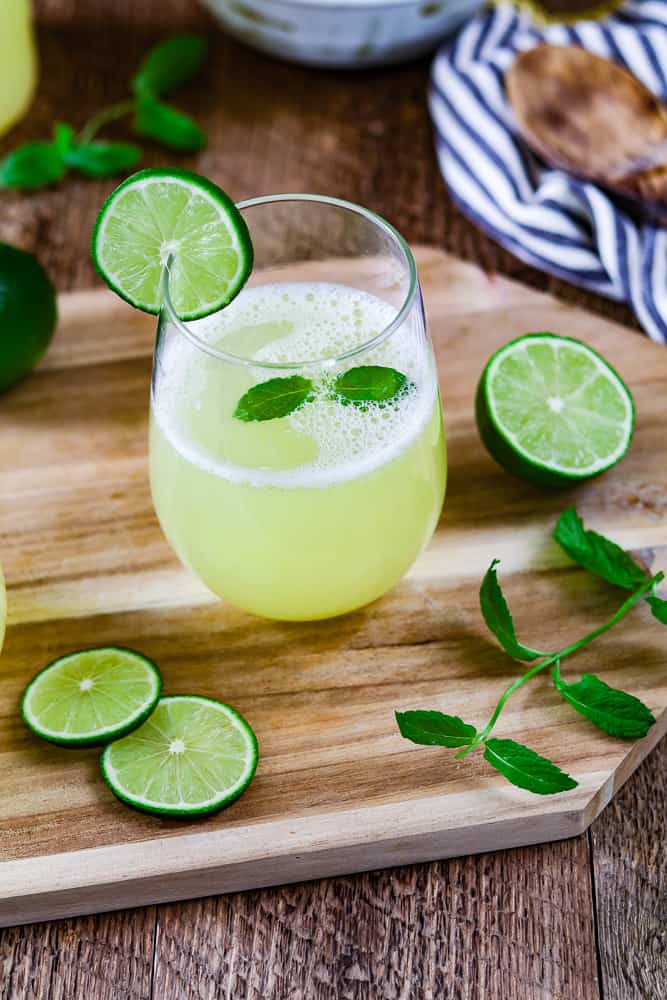 When life gives you limes, you make a Fresh Limeade Recipe! It's naturally sweet, tart and seriously thirst-quenching!
We have a lime tree in our backyard that gifts us with a plethora of juicy limes every year. It's like Christmas for us because we use limes for so many recipes. It's an exceptional flavor-enhancer for Tacos, Fajitas, Soup, dressings and more!
Plus, limes are loaded with nutrition!
They are rich in vitamin C which is wonderful for the health of your skin. It gives you that glow! They are also mineral-rich with calcium, iron, copper, sodium, magnesium, phosphorus, and potassium.
They have high water content and are a great source of soluble fiber, which can help lower blood pressure, reduce inflammation, and boost blood circulation.
Limes are a little tart on their own, so for a Fresh Limeade recipe, you'll need a little sweetener to balance it out. However, it's best to use an unrefined and natural sweetener so you don't counteract the healthy benefits of the lime.
So, I use pure maple syrup to lightly sweeten everything up. It's loaded with antioxidants and it's mineral-rich with zinc, iron, potassium, and manganese. Now, it's still sugar so you need to use it in moderation, but it's worlds healthier than regular white sugar.
Taking care of your outside is just as important
Protect and nourish your skin
The skin is the body's largest organ and it filters toxins and protects our insides. However, it also absorbs everything we put on it like a sponge. So, it's best to use toxin-free beauty products that will protect and nourish your skin.
I was excited to try out Nubian Heritage products because they are toxin-free and cruelty-free. Their products are free of Sulfates, Parabens, Phthalates, Paraffin, Gluten, Propylene Glycol, DEA, Silicones, Mineral Oil, Petroleum, Triclosan, Synthetic Fragrance or Artificial Color.
Nubian Heritage uses worldwide ingredients that are culturally authentic and inspired by ancient rituals. Their products are ethically sourced and designed to protect, heal and nourish the skin, as well as the senses.
They use high concentrations of shea butter in all of their products which I love! I live in the desert and it can wreak havoc on my skin if I'm not careful.
Shea butter is not only great for protecting the skin, it also penetrates the skin to nourish and hydrate it. It's 60% fat, very emollient and has anti-inflammatory benefits. My skin loves it!
My experience
Nubian Heritage sent me a variety of products to choose from. I received their Body Wash, Body Lotion, Bar Soap and 24-Hour Deodorant from their Coconut & Papaya line and Indian Hemp & Haitian Vetiver line.
They both smelled delicious!
The Coconut & Papaya focuses on polishing & renewing, while the Indian Hemp & Vetiver focuses on softening and moisturizing.
Body Wash – I'm pretty picky what I wash my skin with because soap can be very drying. Both cleansers were very gentle and had a creamy consistency that hydrated my skin. I preferred the Coconut & Papaya because my skin loves coconut oil and it made it extra silky.
Bar Soap – I don't typically use bar soap, but this was a nice change. Both lathered up nicely and felt silky smooth as it cleaned my skin. No dryness or residue either. I probably won't continue to use them in the shower because I prefer liquid, but they make a great hand soap. Plus, they make the bathroom smell heavenly, too!
Body Lotion – I love lotion and I apply it right out of the shower and throughout the day. It helps keep my skin soft and smooth. I was very happy with the consistency of the Nubian Heritage Body Lotion. It was rich and absorbed into my skin nicely. I used it as a hand lotion too and it kept them hydrated after washing.
24-Hour Deodorant – These are nice!! They glide on smooth and they don't leave marks on your clothes. Does it work? Yep, no stinky pits here! I was pleasantly surprised by its strength. You don't need chemicals to have fresh-smelling armpits. These are aluminum-free and made with non-GMO corn starch.
The conclusion?
I would definitely buy Nubian Heritage products again. I loved both scents and they left my skin soft and nourished, but If I had to pick only one, I would choose the Coconut & Papaya. It has a soft tropical aroma that I tend to gravitate toward. It made my skin feel super silky, too.
I'm excited to try out other products in the Nubian Heritage line. You can find their products in many stores nationwide. I recently noticed them at Sprouts Farmers Market and Whole Foods Market. Let me know if you give them a try.
I hope you guys enjoyed my review of these delicious beauty care products! Now, it's onto the mouth-watering Fresh Limeade Recipe. It's so easy to make and it will nourish your skin from the inside.
Enjoy!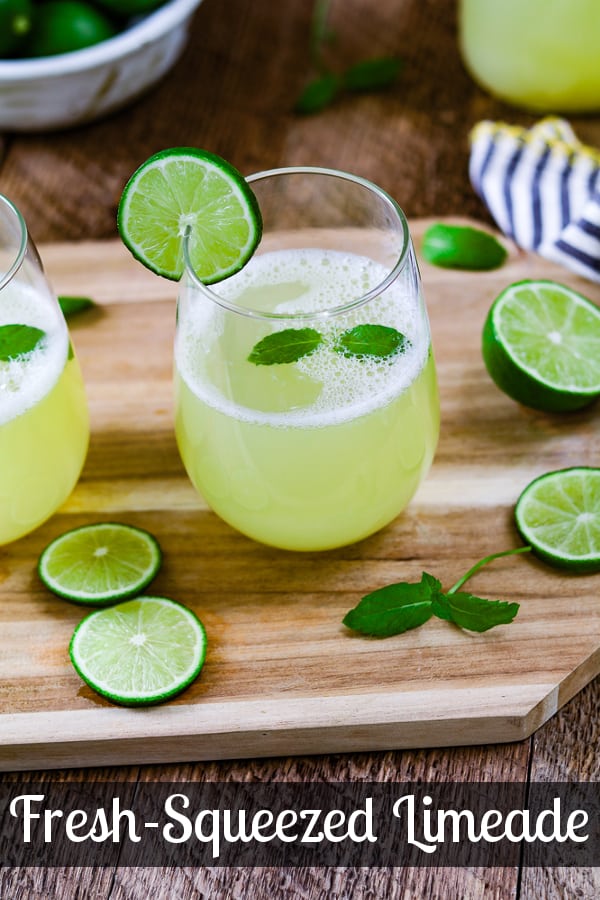 I'd love to hear from you
If you make this Fresh Limeade Recipe, let me know what you think by ★ star rating it and leaving a comment below. It would really make my day. You can also follow me on Instagram and share your creation with me. Just tag me @veganhuggs and hashtag #veganhuggs so I don't miss it.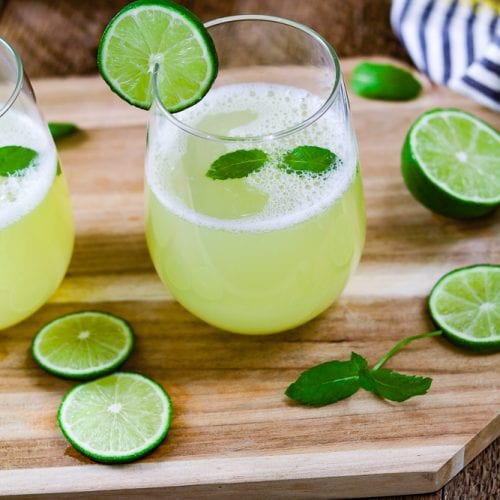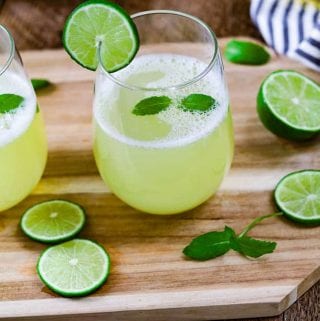 Fresh Limeade Recipe
When life gives you limes, you make a Fresh Limeade Recipe! It's naturally sweet, tart and seriously thirst-quenching!
Print
Pin
Rate
Ingredients
1

cup

lime juice

, freshly squeezed

1/2

cup

pure maple syrup

5

cups

filtered water
Garnish
Lime slices

Mint sprigs

(sub basil)
Instructions
Add all the ingredients to a pitcher and stir to combine well. Taste and add more water or sweetener if needed. I usually keep it somewhat tart because it will mellow out when served over ice.

Chill in the refrigerator for 1-2 hours or enjoy right away over ice. Garnish with a lime slice and mint sprig. Enjoy!
Notes
* Tip: before cutting the limes, roll them on the counter with the palm of your hand. This will help get the maximum amount of juice out of them.     
Nutrition
Serving:
1
(8 oz)
|
Calories:
82
kcal
|
Carbohydrates:
21
g
|
Sodium:
7
mg
|
Potassium:
107
mg
|
Sugar:
16
g
|
Vitamin A:
0.4
%
|
Vitamin C:
14.7
%
|
Calcium:
4.1
%
|
Iron:
0.2
%