Get ready to cry some happy tears, because you have found a Vegan French Onion Soup. This bistro-style classic is rich, savory & downright scrumptious. It calls for very simple ingredients & just a little love.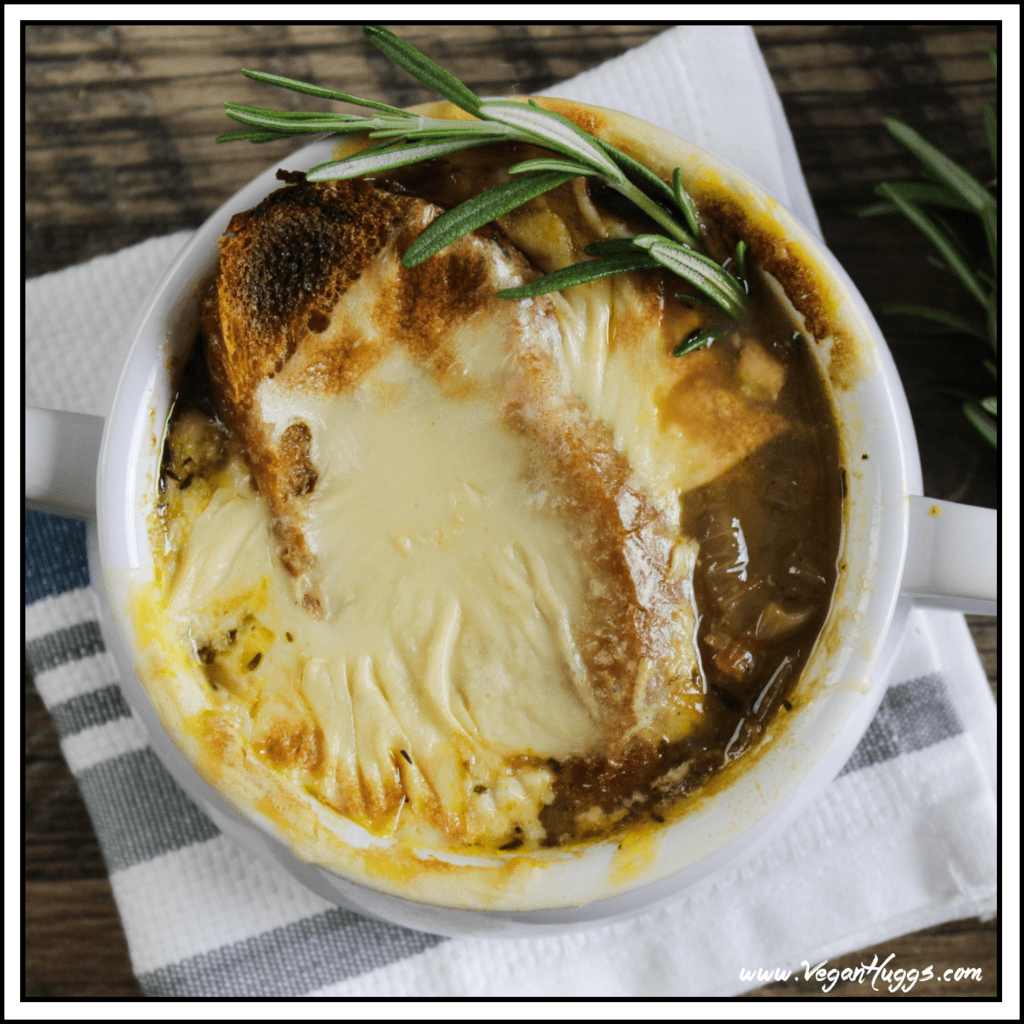 French Onion Soup was definitely a childhood favorite. I loved that savory aromatic soup, with bubbly gooey cheese, over broth infused bread. I really enjoy turning my past food memories into reality and this Vegan French Onion Soup lets me reminisce of the past, while nourishing my body, mind & soul. Wow, that's deep! (who needs chicken soup!)
O.k, so let's talk soup:
I love making soup, especially in the cooler months. They are easy to make, inexpensive, warm, comforting and great for make-ahead meals. They freeze really well, and make great left-overs, too.
This Creamy Potato Leek Soup is another family favorite, along with my Butternut Squash & Sweet Potato Soup. They are both hearty, savory & satisfying!
The onions are the star of this show!
They will create a deep, rich & flavorful soup. So, give them thyme and let them do their thing. Just relax and have a glass of that red wine and watch the magic happen. They will reach a deep golden brown color as they caramelize and they will give off a heavenly, sweet aroma in your kitchen. They will shine!

No dairy needed
Check out that soft, gooey & stretchy cheese. Doesn't it look delicious? You can have all that deliciousness without a drop of dairy. Can you believe it?
You'll just need some raw cashews, tapioca starch, nutritional yeast, plant-based milk, lemon, salt and a blender. These healthy ingredients will make the most delicious mozzarella-like cheese ever.
This fabulous stretchy vegan cheese adds the perfect creamy texture to your savory soup. Just toast a baguette slice, drop it into the soup and cover with this gooey goodness. You won't be missing a thing, I promise.
So,  let's try this homemade batch of loveliness. You will be happy that you did!
Enjoy!
I'd love to hear from you
If you make this Vegan French Onion Soup, I'd love to get your feedback. You can leave a comment below and let me know what you think. It would really make my day. You can also follow me on Instagram and share your creation with me. Just tag me @veganhuggs and hashtag #veganhuggs so I don't miss it.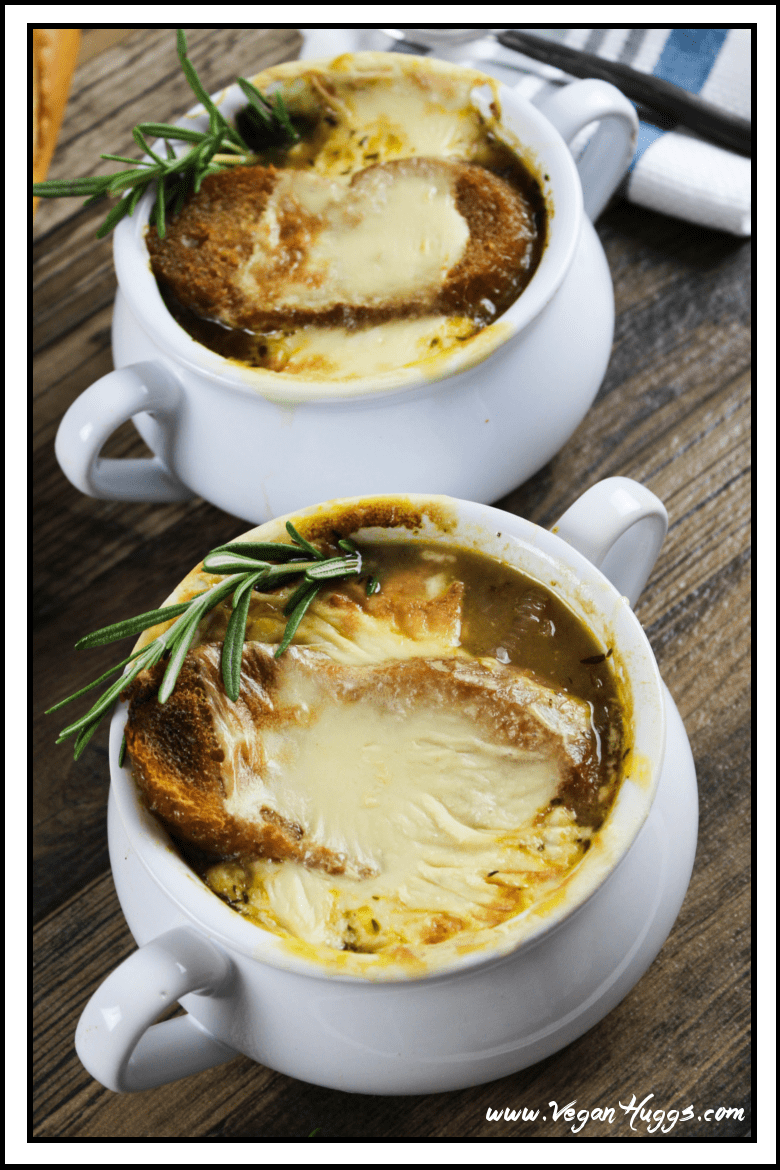 Vegan French Onion Soup
Get ready to cry some happy tears, because you have found a Vegan French Onion Soup. This soup is rich, savory & downright scrumptious. It's calls for very simple ingredients and just a little love. This bistro-style classic can be yours in no time.
Recipe Type:
French, Vegan
Ingredients
Soup
3

tablespoons

vegan butter

1

tablespoon

olive oil

(or preferred cooking oil)

4

medium yellow onions

, sliced

3-4

cloves

of garlic

, minced

1/2

teaspoon

sugar

1 1/2

teaspoons

Himalayan salt

(or preferred salt), more to taste

Fresh ground pepper

, to taste

1 1/2

teaspoons

dried thyme

2

bay leaves

3/4

cup

red wine

(*see note)

3

tablespoons

all-purpose flour

2

quarts

vegetable broth

, low sodium

1

tablespoon

lemon juice

1

baguette

, sliced and toasted
Cashew "Mozzarella" Cheese
1/4

cup

raw cashews

, soaked in water 2-4 hours

1 1/4

cup

unsweetened plant-based milk

, hot (be careful not to burn the milk)

2

tablespoons + 1 teaspoon

tapioca flour/starch

1

tablespoon

nutritional yeast

1

teaspoon

lemon juice

1/2

teaspoon

garlic powder

3/4

teaspoon

Himalayan salt
Instructions
In a large pot, heat the butter and oil over medium heat. Add the onions, garlic, thyme, sugar, salt, and pepper. Sauté until the onions are very tender & caramelized, about 40-50 minutes. Stir often to avoid the onions sticking to the pot. If they start to stick, you can add a few splashes of wine or vegetable broth and turn heat a little lower. Keep pot uncovered

Add the red wine and bring to a simmer. Now reduce heat and simmer on medium-low for about 10-15 minutes, or until the wine has evaporated.

Stir the flour into the onions. Turn the heat down to low and cook for another 1-2 minutes. Stir often so the flour doesn't burn.

Add the vegetable broth, bay leaves and lemon juice. Turn heat back to medium and simmer for 10-15 minutes. Taste the soup to see if it needs any more salt or pepper and add if needed.

Now's a good time to prepare the "mozzarella" cheese. Drain cashews and discard water. Place all ingredients into a blender. Blend until smooth, about 1-2 minutes. Pour mixture into a small pot and place over medium heat. Stir often, so it doesn't stick or burn. Scrape the sides and bottom, as needed. The cheese will start to thicken up. Place heat on medium-low. When it becomes stretchy and thick, remove from heat. This whole process should take about five minutes.


Heat the broiler to high. * Remove bay leaves. Carefully ladle the soup into oven-safe crocks or bowls. (small Pyrex bowls work great) Fill half way, and place 2 slices of toasted baguette into each bowl. Now add more soup, pouring directly over bread. Make sure not to overfill the bowls. You don't want it to spill over and get burned. Now top each baguette slice with a big scoop of cheese and place the bowls in the oven. I placed a big piece of parchment paper under the bowls. Sometimes the cheese melts over, so it avoids mess in your oven.

Broil for 2-3 minutes to slightly brown and melt the cheese. Be careful not to burn the cheese.
Recipe Notes
*Top with some fresh green onions or fresh thyme. 
*Not all wine is vegan and may contain egg whites. However, there are many that are vegan. Here is a vegan wine directory.
*Vegetable Broth: I like to use low sodium broth, so I can control the salt taste. Some broths are too salty and can ruin a good recipe. If you would like to use a regular broth, make sure to cut down the added salt in the recipe. Taste as you go along. Another option, is to blend low sodium and regular broth together.
*Leftover cheese can be stored in the fridge for 3-5 days. Just reheat to make it soft and stretchy again. You can add a splash of milk, if it's too thick. If you would like to skip the "cheese" step, you can use stretchy store-bought vegan cheese. Daiya and Follow Your Heart make delicious vegan cheese. Just slice and place on top of soup. Broil for 2-3 minutes to melt.
*Cheese adapted from Vedged Out. You can find more delicious recipes on their page.
Nutrition Facts
Vegan French Onion Soup
Amount Per Serving (1 Bowl)
Calories 323
Calories from Fat 117
% Daily Value*
Total Fat 13g 20%
Sodium 577mg 24%
Potassium 397mg 11%
Total Carbohydrates 35g 12%
Protein 11g 22%
* Percent Daily Values are based on a 2000 calorie diet.