This post contains affiliate links. Read my disclosure policy here.
Do your morning meals need a makeover? This Vegan Breakfast Burrito from The Blossom Cookbook will help start your day off right. It's hearty, savory, protein-packed and oh-so delicious!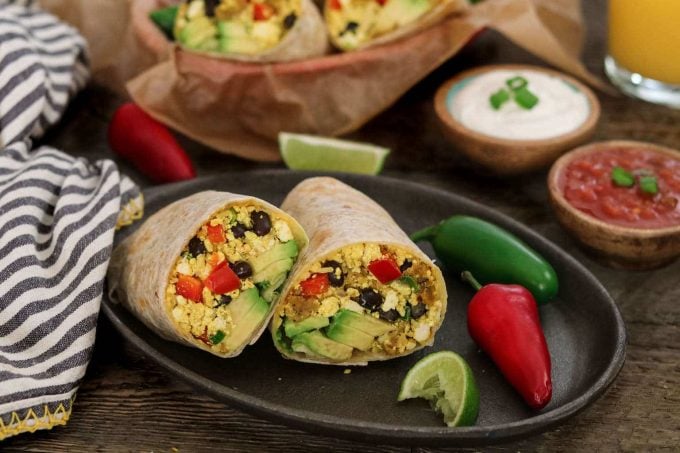 Have you heard of Blossom restaurants before? If you haven't, you might want to stop by the next time you're in New York City. Trust me on this one folks, it's worth it! They have the best damn food in town, and you can order anything on the menu because it's 100% VEGAN! I'd be there every day if I didn't live clear across the country.
However, I'll be visiting again the next time I'm in NY, which will be this August. I can't wait! For now, I get to enjoy this Vegan Breakfast Burrito of theirs, and I'm sharing the recipe with you guys, too!
Blossom has two locations in NYC, The first one opened up in 2005 in Chelsea, and their newer location is on the Upper East Side. Each location has its own unique menu and ambiance to experience. The original eatery has a cozy, intimate and upscale feel, and the other has an open and airy vibe with a touch of elegance.
I recommend dining in each one if possible. You can bring your omnivore friends along because this place breaks the mold when it comes to vegan dining, and they'll love it. Blossom has a wide variety of food to choose from that is creative, comforting, satisfying and flavorful. They have many dishes that are reminiscent of non-vegan classics (like my Vegan Crab Cakes & Vegan Clam Chowder), which I always love. They've been going strong since 2005, and that says a lot because it's really hard to keep a restaurant running so long in NYC.
Can't get to New York City?
Too many miles in your way to visit Blossom? Well, the problem is solved, because I've got good news for you. You can now have the next best thing because Blossom has released their very first cookbook. Yep, that's right, you can enjoy their signature menu items right in the comfort of your own home. Their new book is packed with over 80 mouth-watering recipes for breakfast, lunch, dinner and dessert. Plus a lovely array of sauces, dips and dressings. I'm getting hungry just thinking about it!

A look inside
When the The Blossom Cookbook arrived, I did what I normally do, and I flipped through the pages to gawk at the food photos. Doesn't everyone do that? Well, to no surprise I found tons of drool-worthy recipes to make. My only problem was choosing which one to make first and which one to share with you guys.
The book is broken down into 8 recipe categories:
Sauces and dressings
Appetizers
Side Dishes
Soups
Salads & Sandwiches
Brunch
Entrées
Desserts
Some of the recipes I've made so far are: Buffalo Risotto Croquettes, Sweet Potato Coconut Curry, Trumpet Mushroom Scallops, and the Breakfast Burrito. I was completely impressed with the flavors of each recipe, and I can't wait to dive in and make more. I plan on making the Waldorf Salad, and the Peach Cobbler next.
Vegan Breakfast Burrito
Like I was saying, it was really hard to choose just one recipe to share, but I ultimately decided on the Breakfast Burrito. The reason being is a lot of newbie vegans don't know what to make for breakfast, and I get asked a lot about it. Especially from people who were used to eating eggs in the morning (me!), and would like to eat something similar to them. They want something quick and easy to make, but also filling (like this Vegan Breakfast Quesadilla). Oatmeal and smoothies are great, but they aren't always satisfying and can get boring on a daily basis.
This Vegan Breakfast Burrito is bursting with flavor and is protein-packed, hearty, and a downright hungry-man meal! It'll fill you up and keep you going until lunchtime. No more hanger pains! This burrito is loaded with savory tofu scramble, brown rice, black beans, vegan sausage, bell peppers, and avocado. Feel free to add or omit whatever you'd like, because this is one versatile breakfast. Oh, and you'll never crave eggs again after this meal.
The best thing, it's totally doable for busy mornings too. You can prepare the filling the night before, and warm it up the next morning, then wrap it up with fresh avocado. It will literally take you under 10 minutes to make it this way. If you're super pressed for time, you can assemble the entire burrito the night before, and warm it up in the oven (I would leave the avocado out). Yep, it's totally portable and you can take it out the door with you.
*Confession: I've eaten one cold and it was delicious!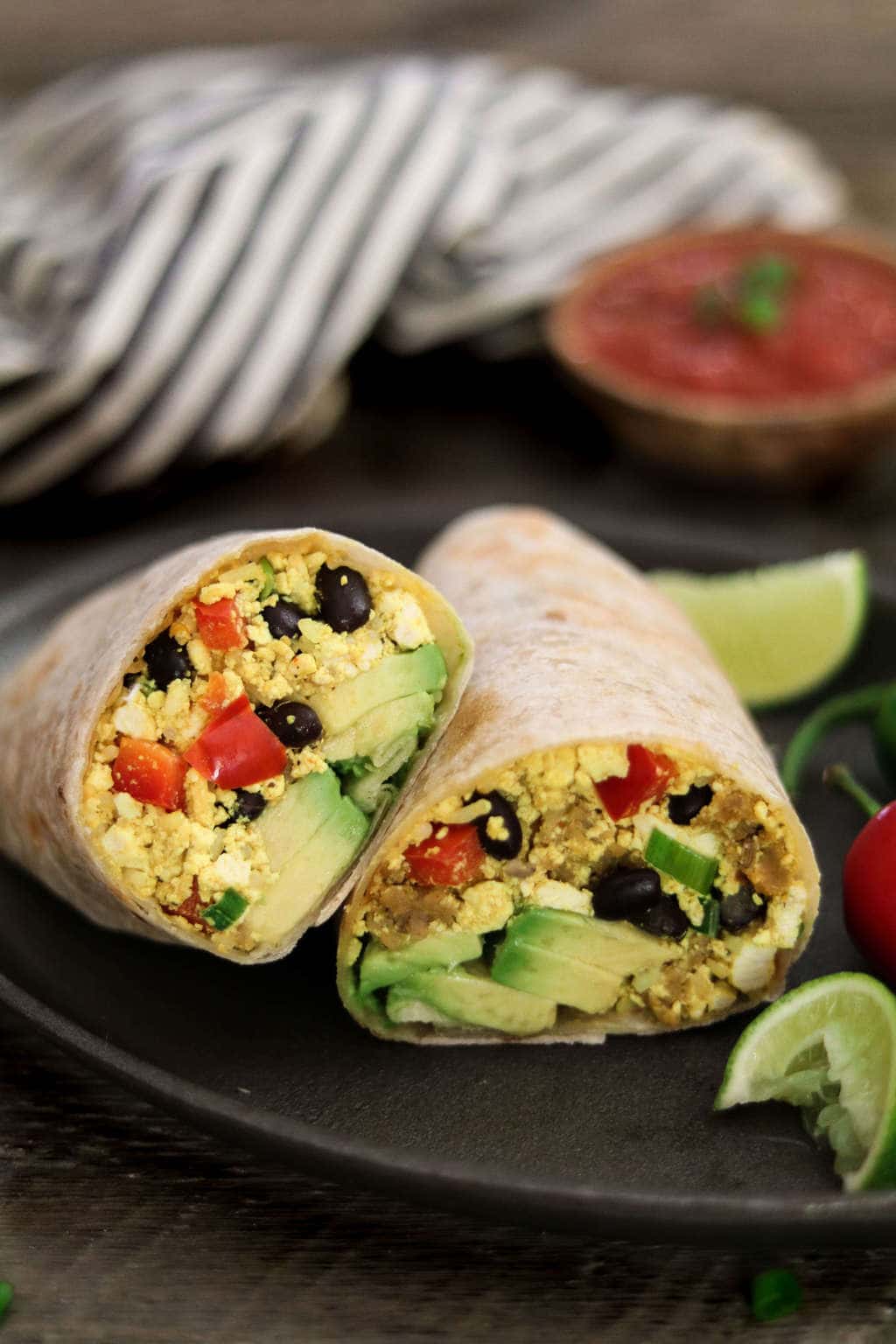 I hope you enjoyed my review of The Blossom Cookbook. I'm really happy with it and I would definitely recommend it to vegans and non-vegans alike. The recipes are very straight forward, and pretty simple to make. I love the variety, and I look forward to making many more delicious meals from it. It's now a part of my ever-growing cookbook collection.
If you're looking for more morning meals, you may want to check out this line up of 30 Vegan Breakfast Recipes. It's filled with kick-ass recipes, that'll make your mornings fun again. There's something for everyone!
I'd love to hear from you
If you make this Vegan Breakfast Burrito, I'd love to hear what you think. It would really make my day. You can also follow me on Instagram and share your creation with me. Just tag me @veganhuggs and hashtag #veganhuggs so I don't miss it.
Vegan Breakfast Burrito
Simple to make, but absolutely exploding with flavor, this breakfast burrito is filled with our famous tofu scramble and vegan sausage. Feel free to add your favorite hot sauce to the mix if you're craving some spice or a ripe avocado for a traditional Mexican flavor combination.Reprinted from THE BLOSSOM COOKBOOK by arrangement with Avery Books, a member of Penguin Group (USA) LLC, A Penguin Random House Company. Copyright 2017, Ronen Seri and Pamela Elizabeth

Ingredients
2

(14-ounce)

blocks firm or extra-firm tofu

, drained

1

tablespoon

ground turmeric

3

tablespoons

chopped scallions

¼

cup

chopped red bell pepper

½

cup

black beans

, cooked (canned is fine)

½

cup

cooked brown rice

1

tablespoon

vegan butter

1½

cups

chopped vegan sausage

1½

teaspoons

salt

¼

teaspoon

black pepper

4

large tortillas

2

ripe avocados

, halved, pitted, and sliced
Optional Toppings:
Tomatillo Salsa

(or preferred salsa)
Instructions
Using your hands, crumble the tofu into a large bowl. Add the turmeric, scallions, bell pepper, black beans, and brown rice. Mix well. Set aside.

In a large sauté pan, melt the vegan butter over medium-high heat. Add the vegan sausage and sauté until it begins to brown, 1 to 2 minutes. Add the tofu and vegetable mixture and sauté for 2 to 3 minutes. Add the salt and black pepper and stir.

Set one tortilla on each of four plates. Divide the filling evenly among the tortillas. Add ½ sliced avocado to each tortilla and roll up tightly into a burrito. Garnish with Tomatillo Salsa and Sour Cream, if desired.
Nutrition
Calories:
412
kcal
|
Carbohydrates:
44
g
|
Protein:
15
g
|
Fat:
18
g
|
Saturated Fat:
3
g
|
Sodium:
648
mg
|
Potassium:
519
mg
|
Fiber:
10
g
|
Sugar:
3
g
|
Vitamin A:
570
IU
|
Vitamin C:
22.4
mg
|
Calcium:
85
mg
|
Iron:
3.9
mg