This post contains affiliate links. Read my disclosure policy here.
Who wouldn't love a cozy cup of chocolatey goodness topped with sweet pillowy marshmallows? This Hot Chocolate on a Stick is the perfect gift for just about anyone on your list.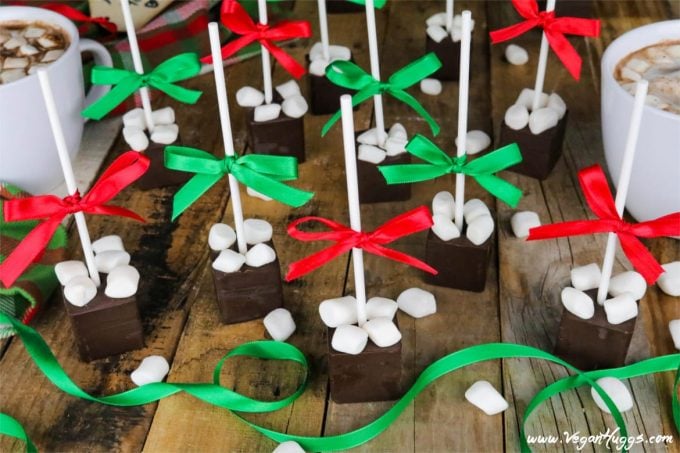 Hi friends! I'm back with another easy, fun, and festive DIY holiday gift. If you are running out of ideas and time, this Hot Chocolate on a Stick might be what you're looking for because nothing says it's holiday time, like a hand-warming cup of hot cocoa, and it's definitely a wintertime favorite, too. In addition to cookies & warming soups, hot chocolate is on my list of necessary wintery items.
Here's what you'll need
These chocolatey sticks are perfect to give last minute and you probably have most of the ingredients in your kitchen now. You'll just need vegan chocolate, sugar, cinnamon, vegan mini marshmallows, lollipop sticks, a Ziploc bag, and a silicone ice cube mold.
To decorate, you'll need some festive ribbon, gift tags, extra marshmallows, and small paper or cellophane bags. Then you'll wrap it all up into a cute little gift. Sure, have a cup for yourself while you're spreading the DIY joy!
If you want to add a little more to this DIY gift, you can buy a mug to go along with it, and add some crushed or whole candy canes inside the bag. You can also attach a festive ornament to the outside.
If they are over 21, you can add a mini vegan liqueur to complement the decadent chocolate. Now we're talkin'!

Who could you gift these decadent treats to?
This Hot Chocolate on a Stick is perfect for teachers, co-workers, friends, postal workers, family, neighbors, or anyone who loves chocolate, and that is like EVERYONE. Especially, when it's on a stick, topped with mini mallows, and wrapped up all cute & festive!
Whether it's classic hot chocolate, peppermint, or rich dark chocolate, this warm holiday treat continues to be popular all around. The smooth taste of the chocolate, the heat warming our hands, and the sweetness of added marshmallows will bring cheer to anyone on your list.
Hot chocolate really is one of the best holiday tokens out there!

This Hot Chocolate on a Stick is also great for parties.
If you're having a holiday party, you can set up a cool hot chocolate bar. It will be a hit! Just set out a table with the chocolate sticks and all sorts of toppings in little bowls.
Set out a carafe of heated vegan milk or water. This will be all the buzz and the most crowded place at your celebration. Chocolate just brings people together!
A chocolate bar setup is great for kid's parties, too. Sure, they'll be bouncing off the wall from the sugar & caffeine, but they'll have the time of their lives and think you're the coolest parent ever. So worth it!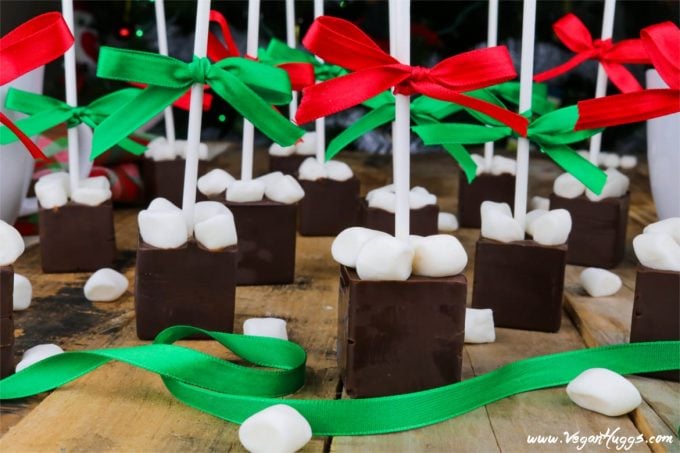 Did I mention how easy this was?
This is a no-fuss recipe for you - just melt some chocolate, combine cocoa powder, and sugar, and then pipe them into silicone molds. Now push in some sticks, top them with marshmallows, and pop them in the fridge for 45 minutes.
Then it's time to check out the deliciousness you've created. Decorate as much or as little as you'd like, because the chocolate is the star anyway, and will be greatly appreciated.
They are super easy for the gift recipient, too - just attach instructions for them to dip & stir in some hot milk or water. They will be delighted by this eye candy (literally) and overjoyed by your thoughtfulness. Easy-peasy!
So, is this chocolate on a stick really tasty?
Hell yes! It's rich, creamy, chocolatey, sweet & decadent. It's a dreamy cup of heaven and nothing like that chalky mix that comes in single-serving packets. This hot chocolate is legit and a whole lotta awesome!
Now that's what I call gift-giving done right! Are you ready to make one of the easiest DIY gifts this season? Let's get started!
I'd love to hear from you
If you make this Hot Chocolate on a Stick, I'd love to hear what you think in the comment section below. It would really make my day. You can also follow me on Instagram and share your creation with me. Just tag me @veganhuggs and hashtag #veganhuggs so I don't miss it.
Looking for more DIY holiday gifts?
You might be interested in these Buttery Soft Jam Thumbprint Cookies, or these Cranberry-Oatmeal Chocolate Chip Cookies in a Jar. They are both easy to make, fun, and delicious!
If you need more gift ideas for the vegan in your life, you may want to check out my list of Vegan Gift Ideas. It'll make your shopping a breeze!
📖 Recipe
DIY Gift – Hot Chocolate on a Stick
Who wouldn't love a cozy cup of chocolatey goodness topped with sweet pillowy marshmallows? This Hot Chocolate on a Stick is the perfect gift for just about anyone on your list.
Ingredients
Items Needed:
Lollipop sticks

, popsicle sticks, or wooden spoons.

Silicone ice cube tray or similar

*See note

Piping bag or Ziploc bag
Instructions
Melt chocolate using a double boiler. Stir often until smooth, about 2-3 minutes. Alternatively, place chocolate in a microwave safe bowl & put on med-high for 2-3 minutes. Rotate and stir mid-way through. Remove from heat.

Add cocoa powder, sugar, cinnamon and salt. Stir to combine well. It will have a thick consistency. Let cool for 2-3 minutes.

Cut the tip of the piping bag, or the corner of a Ziploc. Fill bag with chocolate using a large spoon or measuring cup. Twist the top closed and begin piping chocolate into silicone molds. Fill about ¾ of the way. Gently drop mold on counter a few times to level out chocolate. Add 3-4 mini marshmallows on top.

Pop in fridge for 10-15 minutes before adding sticks. When chocolate has slightly hardened, add the sticks and let set for 45 minutes in fridge. Check on them in between to make sure the sticks haven't fallen. Make sure chocolate has completely hardened before removing from molds. Place in airtight container until ready for use (I store them in a cool dry place, not the fridge).
For Gifting:
Place in cellophane bags and add extra marshmallows or crushed or whole candy cane to bag.

Tie closed with festive ribbon or bakers twine. Attach name tag and write instructions on back.
Instructions for Gift Recipient
Add chocolate stick to 8-10 oz of very hot non-dairy milk or water. Stir until melted and smooth. Enjoy!
Notes
*Prep time doesn't include chilling time.
*This recipe will make 15 hot chocolate sticks (if using a standard silicone ice cube tray).
*CHOCOLATE: Any type of vegan chocolate can be used. I prefer semi-sweet, but dark can be used or a blend of both. If you're using dark, add 3 tablespoons more sugar. You can also break up chocolate bars instead of mini chips.
*SUGAR: I've used regular sugar & powdered on separate occasions and have had success with both. The regular sugar will make the chocolate appear gritty before setting, but it will set smooth. I use ½ cup of sugar and feel it adds a nice sweetness, but feel free to add a few more tablespoons for extra sweetness.
*CHOCOLATE MOLD: If you don't a have silicone ice cube tray, you can use a silicone mini muffin mold. You can also use small Dixie cups but only fill half-way. Peel off cup after chocolate has set. *Be very careful not to get water or any other liquid into the melted chocolate. The chocolate will seize up and get clumpy and hard.
Nutrition
Serving:
1
Stick
|
Calories:
236
kcal
|
Carbohydrates:
32
g
|
Protein:
3
g
|
Fat:
14
g
|
Saturated Fat:
8
g
|
Sodium:
19
mg
|
Potassium:
21
mg
|
Fiber:
3
g
|
Sugar:
26
g
|
Calcium:
56
mg
|
Iron:
3.2
mg