This post contains affiliate links. Read my disclosure policy here.
Impress your taste buds with this Roasted Pepper Salad with Balsamic Vinaigrette. It's a fresh, colorful dish, bursting with sweet & smoky flavors.
Have you ever tried Roasted Pepper?
If not, you really have to!
Better yet, you need to try this Roasted Pepper Salad.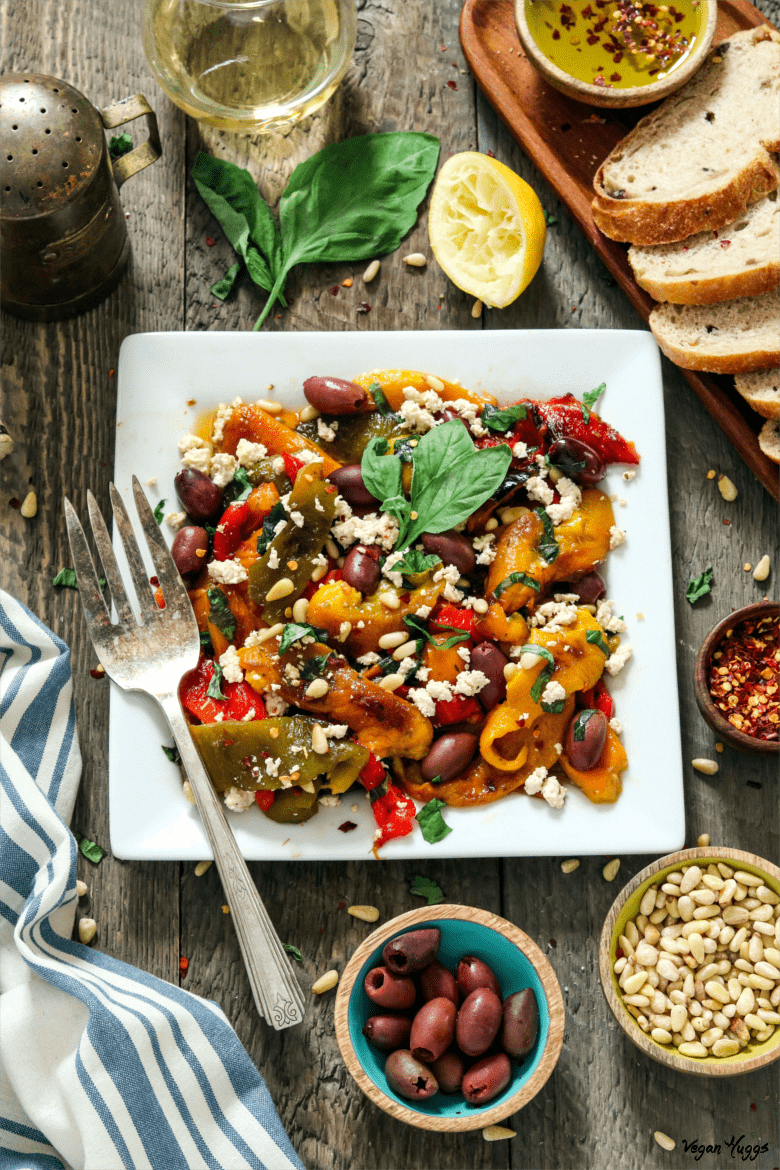 I absolutely love fresh bell peppers...
and I add them in salads often. Each color has a slightly different flavor and sweetness. The yellow pepper is my favorite of all, because of its fruity-like taste. I could seriously eat it like an apple. Is that weird?
However, when these colorful little gems are roasted, the flavors are taken to another level of deliciousness. They emerge out of the oven with soft flesh, and a sweet, tangy, and smoky flavor. They are far superior to jarred roasted peppers and well worth the effort.
Roasted Pepper is delicious on its own, marinated, lightly seasoned, or you can make a satisfying and mouth-watering meal with these Santa Fe Roasted Stuffed Peppers. They are really something to marvel over.
How do I roast bell peppers?
It's fairly simple to roast peppers. It takes some time, but I promise, it'll be worth it! The hardest part is waiting for them to roast. Other than that, they're really easy to prepare. I prefer to roast them whole and deseed them after, to keep them from drying out. Plus, I can fit more on the baking sheet this way.
I usually roast them under the broiler, because it's quicker, and the peppers really get charred. The charring infuses them with a deep smoky flavor, and roasting them enhances the sweetness of the peppers. There are many ways to roast peppers to perfection. I found an informative guide with helpful tips and step-by-step photos here. It's really helpful if you've never roasted them before.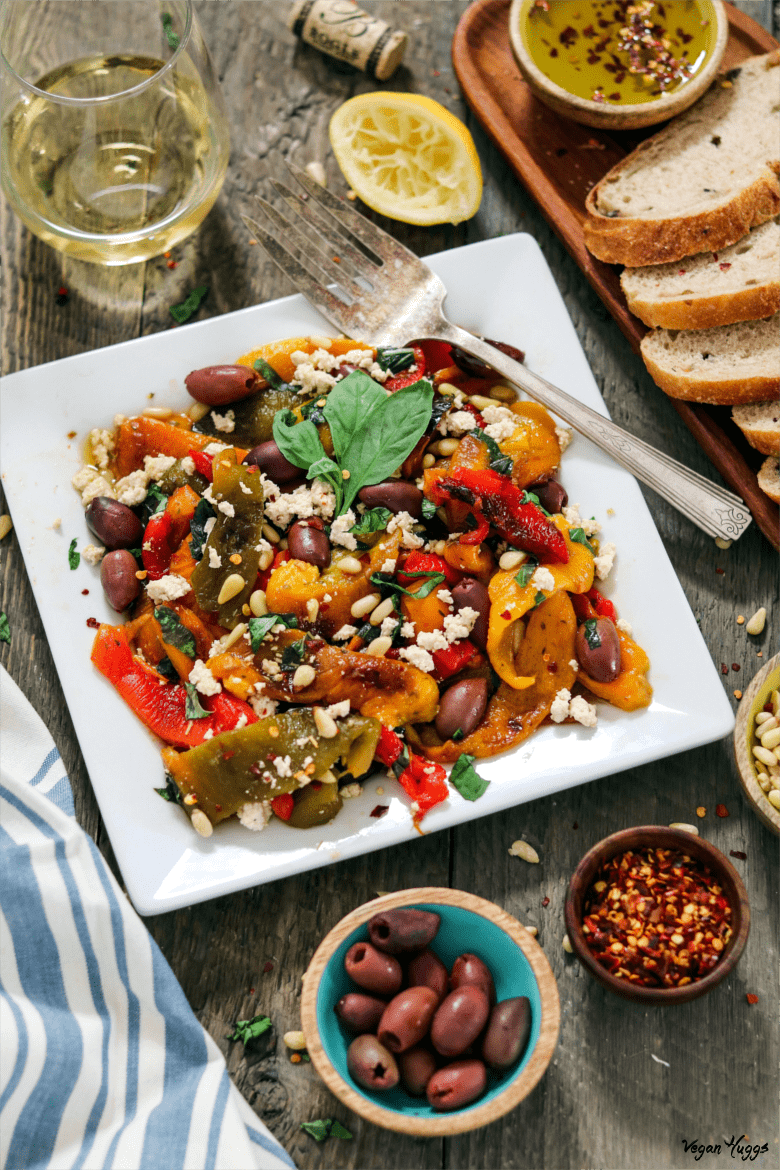 Here's what you'll need to do:
You won't need anything fancy to get started, just some kitchen basics such as aluminum foil, baking sheet, oven mitt, tongs, large bowl, and of course, the yummy PEPPERS!
Look how easy it is:
~ Turn on your broiler
~ Place whole peppers on a lined baking sheet
~ Broil until the skins start to blister and blacken
~ Rotate peppers every five minutes until all sides are charred.
~ Place peppers on a cutting board and cover with a large bowl to steam them, about 15 minutes.
~ Remove the stems, seeds, and charred skin.
Voila! It's THAT easy!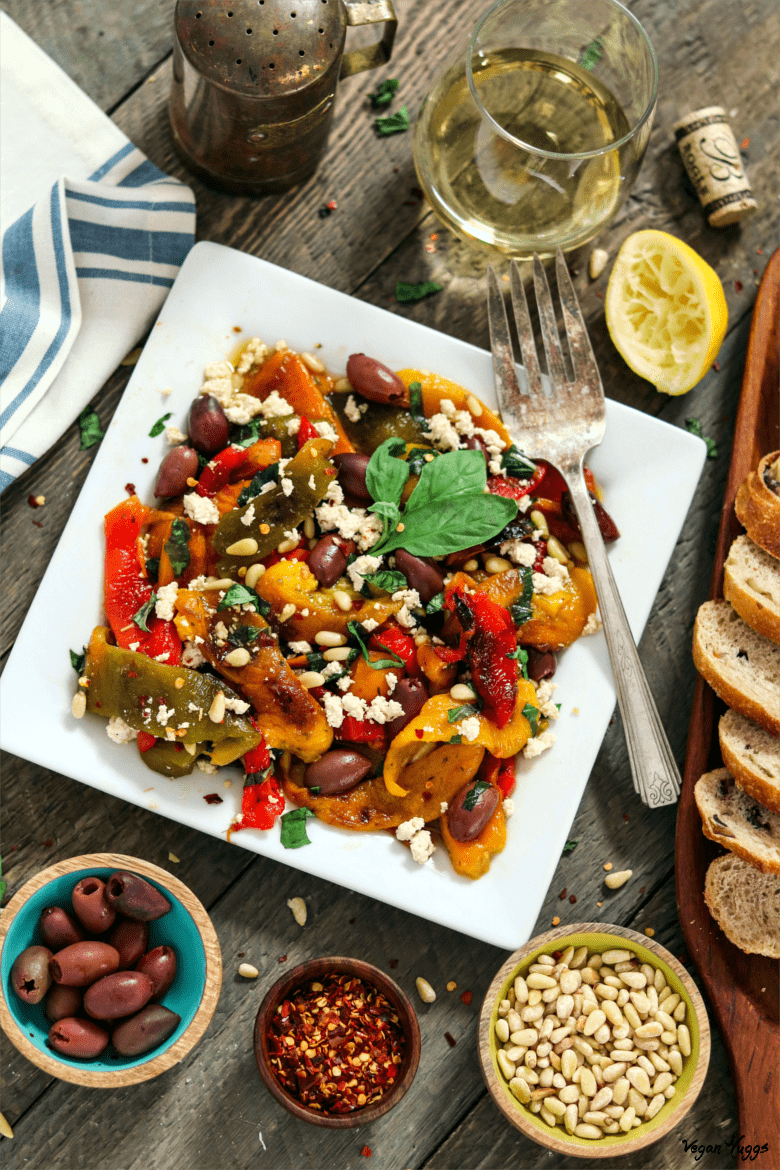 Let's make things even better
Roasted peppers are delicious on their own, but adding some seasonings make them even more delectable. Now, if you want to take it to the max, add salty kalamata olives, balsamic vinegar, olive oil, fresh-cut basil, tangy tofu feta, buttery pine nuts, and spicy chile pepper flakes. Sounds like a lot, but I promise, it's DELISH!
You can serve this as an appetizer or side dish, and pair it with a glass of wine or crusty bread. It's a real crowd-pleaser, and great to bring to a potluck or picnic, too. It will disappear fast so make sure you get in there. Don't be shy!
Alright, are you guys ready for this? Let's get roastin'!
I'd love to hear from you
If you make this Roasted Pepper Salad, I'd love to get your feedback. You can leave a comment below and let me know what you think. It would really make my day. You can also follow me on Instagram and share your creation with me. Just tag me @veganhuggs and hashtag #veganhuggs so I don't miss it.
📖 Recipe
Roasted Pepper Salad
Impress your taste buds with this Roasted Pepper Salad. it's a fresh, colorful dish, bursting with sweet & smoky flavors.
Ingredients
½

block extra firm tofu,

pressed & crumbled into small bite-sized pieces (*see note)

1

tablespoon

fresh lemon juice

6

large bell peppers,

a combination of red, yellow, orange or green

2

tablespoons

olive oil,

divided

1 ½

tablespoons

balsamic vinegar

1

teaspoon

garlic powder,

divided

1 ½

teaspoons

dried oregano,

divided

Salt and pepper

¼ - ½

teaspoon

crushed red chile pepper

(optional)

¼

cup

fresh basil,

chopped (more for garnish)

⅓

cup

kalamata olives,

pitted

¼

cup

pine nuts
Instructions
Tofu Feta:
In a medium bowl, add 1 teaspoon olive oil, 1 tablespoon lemon juice, ½ teaspoon oregano, ¼ teaspoon garlic powder, salt and pepper, to taste. Add pressed and crumbled tofu and gently toss to coat. Place uncovered in fridge to marinate.
Peppers:
Position oven rack to the highest position and turn on the broiler. Line a baking sheet with foil. Place whole peppers on the sheet about 2 inches apart.

Broil in the oven until skin starts to blister and blacken. Using tongs, rotate peppers a quarter turn until all sides are charred, about 5 minutes each side. The peppers should be slightly collapsed and soft. The whole process should take about 20 minutes.

Remove from the oven and place peppers on a cutting board. Cover peppers with a large bowl or pot to steam them, about 15 minutes.

While peppers are steaming, prepare the dressing. In a large bowl, add the remaining olive oil, balsamic vinegar, remaining dried oregano, red pepper flakes, salt and pepper. Whisk to combine.

When peppers are cool enough to handle, slice them vertically, and spread them open to make a long strip. Remove the stem and seeds. Flip the pepper over and remove charred skin. It should peel off easily.

Cut peppers into ¾-inch strips and place them in the bowl of dressing. Add fresh-cut basil and toss to coat. Taste for seasoning and add more as needed.

At this point, you can decide to serve the peppers right away and top with pine nuts, olives and tofu feta, OR you can let the peppers marinate in their dressing for an hour or more. Just cover and place in the fridge after tossing. Add the toppings when you are ready to serve. Enjoy!
Notes
*Pressing Tofu: place block of tofu on a paper towel-lined plate, and wrap tofu in a few paper towels. Add another plate on top of tofu, and add a few cans of food on top or a book. Let it drain for 15 minutes. You can also press it overnight in the fridge to make it even quicker. I like to buy vacuum packed tofu that's pre-pressed and ready to cook, but not every store carries this though. I don't recommend the silken tofu in the tetra pak for this recipe, because the texture is too smooth.
*If you don't have time to press the tofu, just wrap the tofu in paper towels and gently squeeze out as much water as you can. Don't press too hard. Getting out the water will enable the tofu to absorb the flavors of your seasonings better.
*This recipe only calls for half the block of tofu. Once opened tofu needs to be consumed in 3-4 days, so it doesn't spoil. If you'd like to make extra feta, just press the whole block, and double the seasoning for the crumbles. You can add it to salads, sandwiches, dips, dressings and more. Some stores carry tofu that has split packaging, so half the block will stay fresh. That's another option.
*Prep time doesn't include tofu pressing time.
Nutrition
Calories:
144
kcal
|
Carbohydrates:
13
g
|
Protein:
4
g
|
Fat:
9
g
|
Saturated Fat:
1
g
|
Sodium:
19
mg
|
Potassium:
359
mg
|
Fiber:
2
g
|
Sugar:
6
g
|
Vitamin A:
3780
IU
|
Vitamin C:
153.1
mg
|
Calcium:
22
mg
|
Iron:
1.3
mg