This post contains affiliate links. Read my disclosure policy here.
These vegan Mummy Cupcakes will be a hit at your next Halloween bash. They are kid-friendly & completely adorable. Also, they are gluten-free, chemical-free and delicious!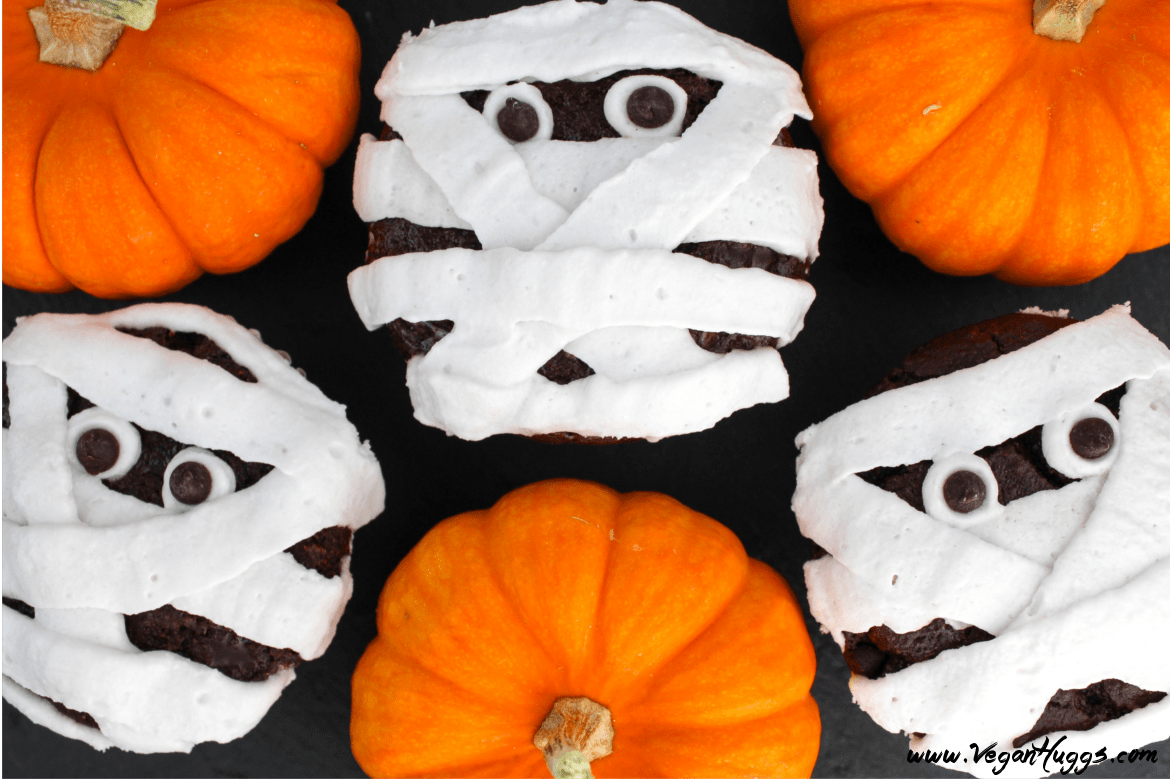 It's getting close to that ghoulish time of year again….let the fun begin! This year Halloween falls on a Monday and my little one has school. So, I've decided to send him to class with a Halloween treat for him & his classmates. I'm keeping it a surprise, but I can share it with you guys – I've decided to make these adorable Mummy Cupcakes. He's going to be so excited on Halloween morning.
Grant (my son) has already picked out his fire fighter costume for the big day, and not the fluffy lion costume, I suggested. He's growing up and won't let mommy have fun anymore. So, my little fire fighter will be rolling into school with a big batch of mummy cupcakes.
Last week, he took a batch of these Apple Cinnamon Baked Oatmeal Muffins for his class, but I think his classmates will be just a tad bit more excited this time. Spooky treats always win!

How did I get the idea for these adorable mummy faces? Well…
I first saw mummy cupcakes on Pinterest, but they seemed difficult to create (I'm not much of cake decorator), so I forgot about them. However, I was inspired again, when I saw these cute English Muffin Pizzas by Veggies Save the Day. Aren't they adorable? So, I decided to try my hand at these mummified cupcakes after all. What the hell, right?
When I started researching how to decorate these spooky treats, I learned that there were specific pre-made strips & eyes to purchase, which would make them so easy to make. However, they are filled with junk and far from vegan. So, I figured out a healthier and kinder way to make them.
For the mummy strips, I used a coconut whipped cream frosting. It's easy to prepare and worlds healthier than store-bought frosting. It's not too sugary and it's easy to work with for this design. For the eyes, I just used a dot of frosting and placed a vegan chocolate chip on top. Easy- peasy!

Can you believe that these soft, chocolatey cupcakes are gluten-free? How can it be?
There are some gluten intolerant children in my son's class, so I made these gluten-free. However, you'd never know it, because they are moist, fluffy and chocolate-y!
I used a flour mixture of almond meal, oat flour and gluten-free flour. I adapted this flour blend from Minimalist Baker and I use it for many of my baked goods. It's so simple and it just works well.
To make these mummy cupcakes super moist & fluffy, I also added apple sauce, coconut oil & almond milk. These combined ingredients make magic together.
To make these mummy cupcakes super moist & fluffy, I used apple sauce, coconut oil & almond milk.
To make them extra chocolate-y, I melted Enjoy Life Vegan Chocolate Chips into the oil & I added extra chips to the mix. To kick up the chocolate flavor I added some espresso powder.  These are seriously some death by chocolate muffins. These kiddos are going to be ghoulishly happy after these mummified treats.
So, are you ready to have some Halloween baking fun? Let's do this!
Step By Step Photos Above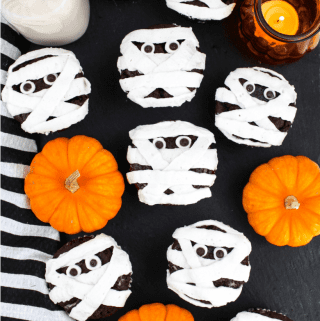 Mummy Cupcakes
These vegan Mummy Cupcakes will be a hit at your Halloween bash. They are kid-friendly & completely adorable. They are also gluten-free, chemical-free and delicious! They are moist, fluffy, super chocolate-y and so easy to make.
Print
Pin
Rate
Ingredients
Cupcakes:
2

flax eggs

(2 tablespoons ground flax seed+ 6 tablespoons filtered water) * See Note

3/4

cup

almond milk

(or any plant-based milk) + 2 1/2 teaspoons fresh lemon juice (or apple cider vinegar)

1

cup

unsweetened apple sauce

1/3

cup

coconut oil

, melted

1

tablespoon

vanilla extract

1/2

cup

pure maple syrup

(or agave)

1

cup

vegan chocolate chips

, divided (set some aside for mummy eyes too)

1/2

cup

gluten-free oat flour

*See note

1/2

cup

almond meal

3/4

cup

gluten-free flour

(all-purpose)

1/2

cup

unsweetened cocoa powder

1/3

cup

coconut sugar

(sub granulated or brown sugar)

2

teaspoons

espresso powder

1/2

teaspoon

baking soda

1 1/2

teaspoons

baking powder

1/2

teaspoon

sea salt
Coconut Whipped Cream Frosting: *See note
Instructions
Cupcakes:
Preheat oven to 375 degrees fahrenheit

Place 12 muffin liners in a standard muffin pan. Or, you can lightly grease each slot.

Prepare flax eggs in a small bowl and set aside. About 10 minutes.

In a separate small bowl, add the almond milk and lemon juice. Set aside, about 10 minutes. This creates a vegan buttermilk.

In a small sauce pan, over low heat, melt the coconut oil and 1/4 cup of chocolate chips together. Stir constantly to avoid burning. Should take 1-2 minutes.

In a medium bowl, add the apple sauce, melted coconut oil/chocolate mixture, vanilla extract, maple syrup, flax eggs and almond buttermilk mixture (all wet ingredients)Whisk to combine well.

In a large bowl, add, GF flour, almond meal, oat flour, baking powder, baking soda, espresso powder, coconut sugar, sea salt. (All dry ingredients) Combine well.

Now add the wet ingredients into the large bowl of dry ingredients. Fold batter gently until just combined. Don't over work it. Gently fold in 3/4 cup chocolate chips

Fill each muffin liner about 3/4 full and bake the muffins until they puff up. About 25-30 minutes. Press gently with finger to see if they slowly spring back (be careful not to burn your finger. Insert toothpick into middle of muffin, if it's mostly clean, then they're ready.

Let cool for 10 minutes in the pan before transferring them to a cooling rack for another 10-15 minutes. To avoid the liner sticking to the muffin, let them completely cool before enjoying.
Coconut Whipped Cream Frosting:
You will need a large bowl, hand beaters or a stand mixer. Chill bowl and beaters in freezer for 15 minutes.

Take can out of fridge & turn upside down. Open the bottom end. Pour out liquid and save for another recipe. Scoop out the solidified coconut and place in chilled bowl.

Whip the coconut cream for 3 to 5 minutes. Start on low speed and then go up gradually to high. Whip until it's fluffy and light. Mix in sweetener, salt and vanilla, whip for another minute.
Decorating Method:
Place a decorating tip into your pastry bag (I a used #45 flat frosting tip). You can also use a gallon Ziploc bag with the corner cut off. Pop in fridge for 10 minutes while you are creating the mummy eyes.

Using a toothpick, make two dots with the frosting on each cupcake for the eyes. Place one chocolate chip over each dot and gently push down. *See note

Remove frosting bag from fridge. Pipe a full line across the middle of the cupcake (right under the eye area & across face).

Pipe another line diagonal across cupcake (from temple to jaw on mummy). Now repeat the same line on the opposite side of cupcake (from temple to jaw).

Pipe a line across the top of mummy's head and another line across mummy's jaw & mouth. Feel free to pipe more lines for a more layered effect. There's no right way to do it. Have fun with it.
Notes
*EGG ALTERNATIVE: 1- If you don't have ground flax seeds, you can use chia seeds instead. The measurements and method are the same as the flax. If you only have whole flax, you can grind the flax seed in a coffee grinder. 2- Another alternative to the flax eggs, is the liquid from a garbanzo bean can/pack. You will need 5 tablespoons of liquid to replace the 2 flax eggs. Just whisk well into the wet ingredients.
*OAT FLOUR: This can easily be made with rolled oats (not instant), by placing 1/2 cup oats in a blender. Blend until finely ground. If you'd like to skip the coconut whipped frosting, you can use a store-bought vegan frosting instead.
*COCONUT CREAM: If you don't have coconut cream, you can use a regular can of full-fat coconut milk. You will need two cans, to replace the one can of coconut cream. Some brands of coconut milk won't solidify properly. I recommend Native Forest, Trader Joe's and Thai Kitchen. You will still put the can in the fridge overnight & scoop the hardened part out. Save leftover liquid for smoothies or other recipes.
*DECORATING MUMMY: I used a separate pastry bag with a small round tip for the mummy eyes, but I realized it's not needed. You can use a tooth pick to dot a small amount of cream for the eyes. The chocolate chips will be placed on the cream and pushed down, so it doesn't have to be perfect.
*Decorating Tip: Wait until cupcakes have completely cooled before decorating. For best results, decorate close to serving time. You can also store the decorated cakes in the fridge. The decorated cupcakes will be fine left out for 2-3 hours at room temperature.
* You might have some leftover frosting. Just keep it in the fridge in an airtight container. It can be used for desserts, smoothies, hot cocoa and more. It will last for 3-4 days. *Prep time doesn't include decorating time.
Nutrition
Calories:
298
kcal
|
Carbohydrates:
29
g
|
Protein:
4
g
|
Fat:
14
g
|
Saturated Fat:
14
g
|
Sodium:
133
mg
|
Potassium:
227
mg
|
Fiber:
3
g
|
Sugar:
15
g
|
Vitamin A:
5
IU
|
Vitamin C:
0.9
mg
|
Calcium:
80
mg
|
Iron:
2.4
mg
If you make these Mummy Cupcakes, or one of my other recipes, I'd love to hear from you. Leave a comment below and let me know what you think. It would really make my day. You can also follow me on Instagram and share your creation with me, Just tag me @veganhuggs and hashtag #veganhuggs.
If you love this recipe, you might like this Pumpkin-Peanut Butter Cookie recipe. They are delicious and perfect for Halloween, too.
                                                                                            *Pin for later 🙂 
Melissa is the creator and recipe developer of the popular food & lifestyle blog, Vegan Huggs. It's a friendly and approachable environment for anyone who's curious about plant-based eating or cruelty-free living. Her blog is filled with comforting, familiar and easy-to-follow recipes that will fit into every household. Each dish is beautifully photographed in her own unique style with an inviting feel to them. Also, she has built a solid relationship with her readers and has a real understanding of what makes them return.
Latest posts by Melissa Huggins (see all)