This post contains affiliate links. Read my disclosure policy here.
 This Vegan Potato Leek Soup is creamy, comforting and filling. It's dairy-free, gluten-free and nutritious. Perfect for those chilly days, too.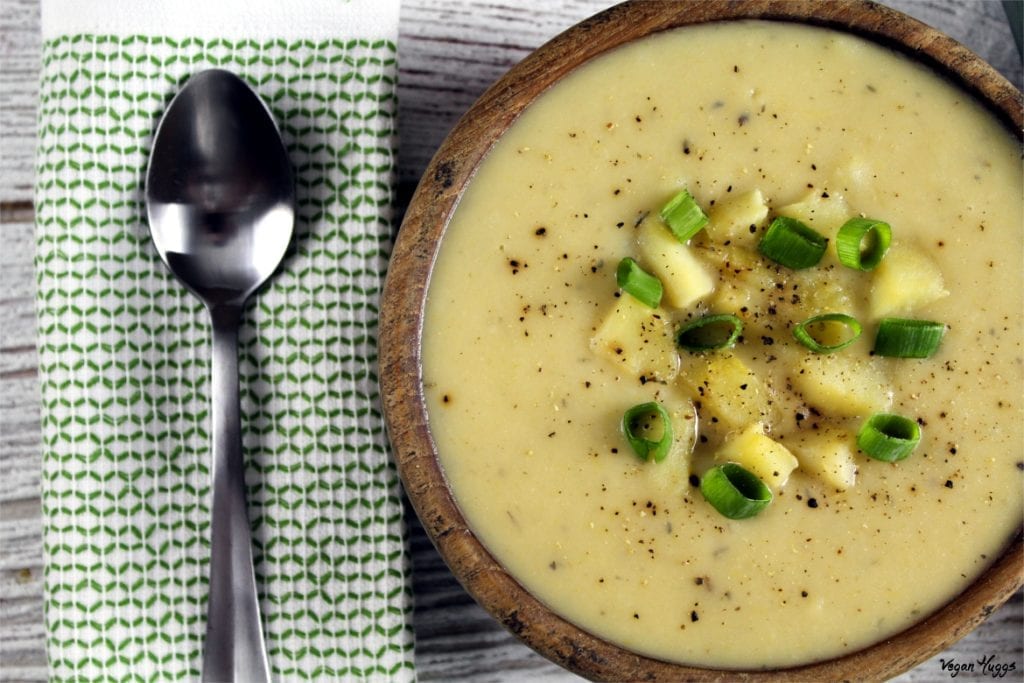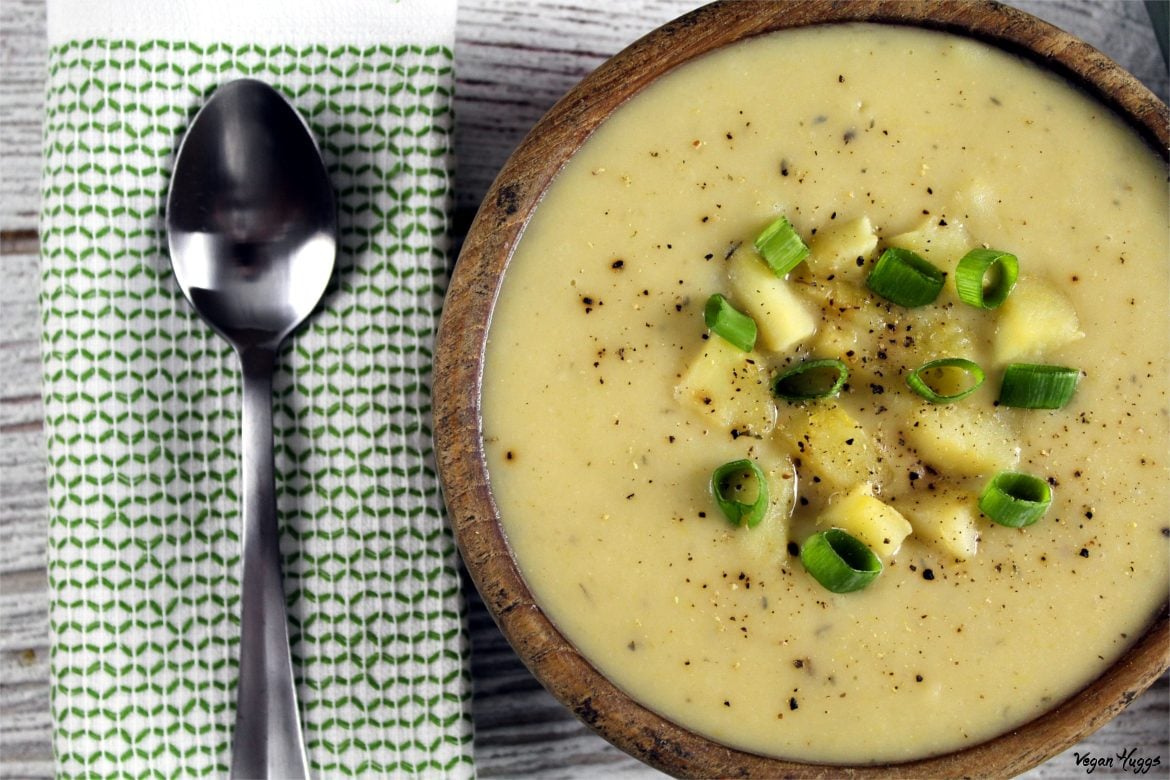 Potatoes are my favorite comfort food…
I love them baked, broiled, fried, mashed or soup-ified! They are especially comforting when the cooler weather hits, so my kitchen counters are overflowing with those heavenly gems.
This Vegan Potato Leek Soup fits the bill when it comes to comfort and I make it all year winter long! It's satisfying, belly-warming and oh-so-cozy!
I'm a big soup lover and It's definitely my go-to meal in the winter. It's easy to make, inexpensive, hearty, filling and delicious!
Plus, it freezes really well too, so I always have a variety to choose from. It makes weeknight dinners a breeze, and we never get bored.
This Vegan French Onion Soup is another favorite of mine and I make it often. It's so rich & savory and makes the house smell heavenly!
Oh, yes, it's topped with bubbling vegan cheese too!
 A few more soup favorites:
– Vegan Corn Chowder
– Vegan Clam Chowder
– Instant Pot Yellow Split Pea Soup

Potatoes are good for you!
Yes, it's true! They are an excellent source of potassium, zinc, copper, B6, vitamin C, phosphorus, manganese, niacin, fiber, and pantothenic acid. Lots of antioxidant power!
What's not to love about these lovely gems? They are healthy and delicious!
Unfortunately, deep frying doesn't make them healthy anymore, so we must enjoy french fries in moderation. BUT, you can always bake them too.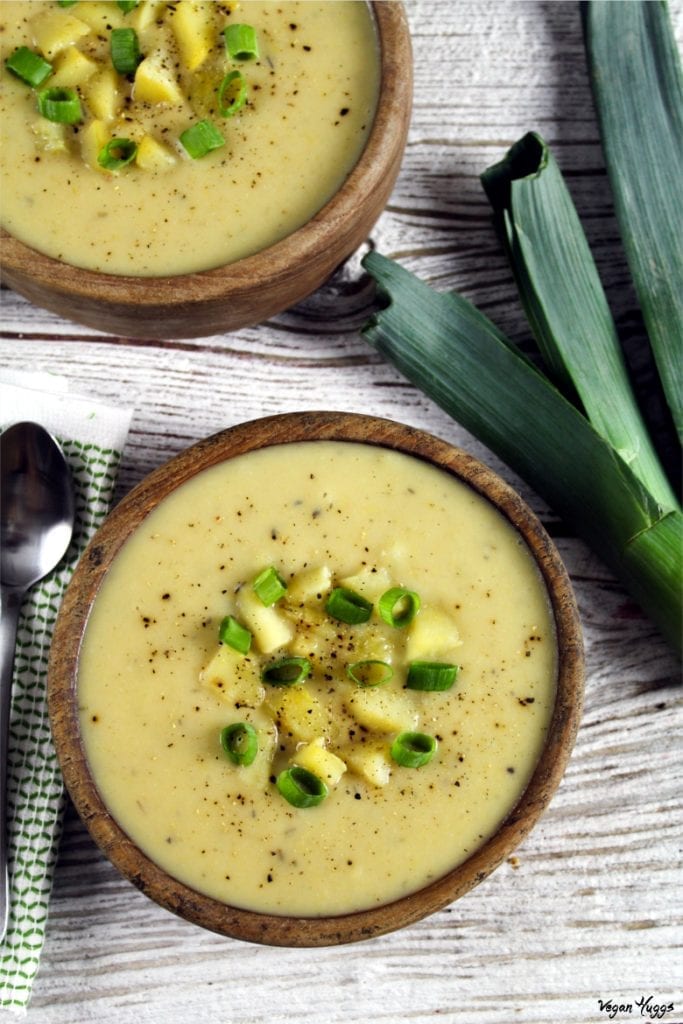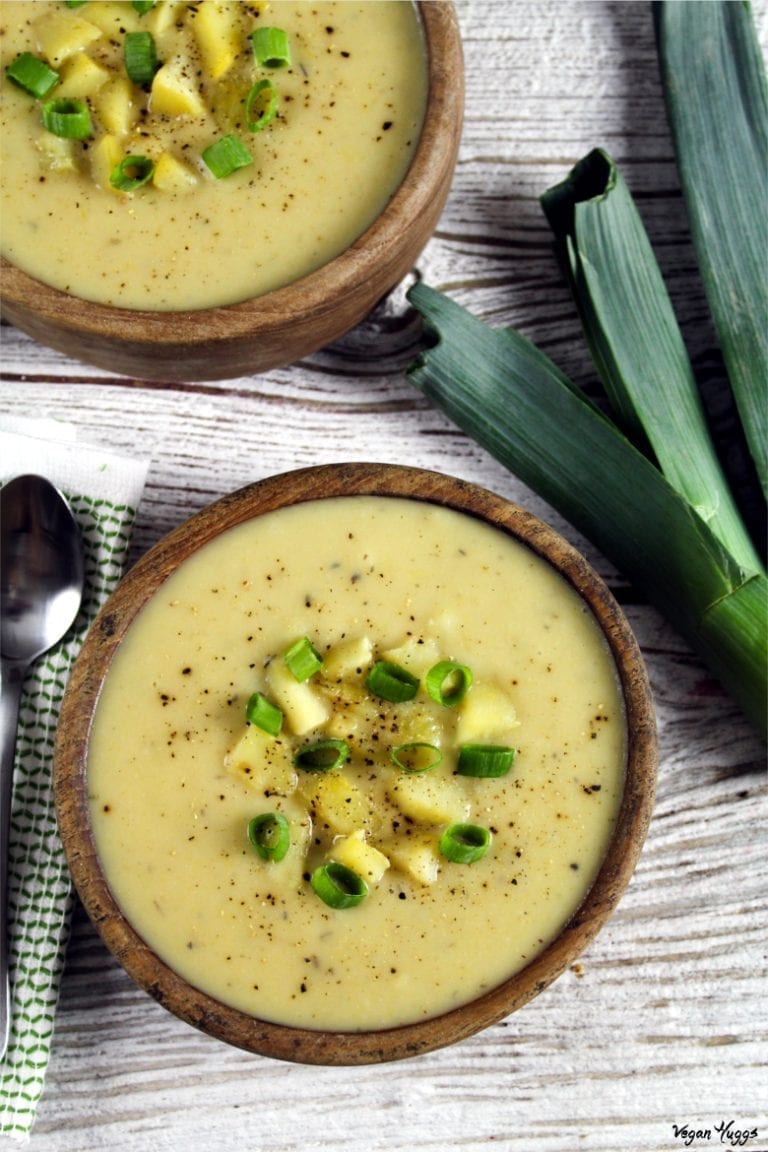 Before my vegan days
I've always had a love for potato leek soup. However, it was a love/hate relationship because it often left my tummy in knots. I now know it was because of the dairy.
Humans were not meant to digest cow's milk and that's why most people are lactose intolerant. It was designed specifically for baby calves and for their development. Makes so much sense now.
After going vegan, I was easily able to make this soup in the veganized version. There's nothing missing at all in this soup. It's flavorful, rich and still has that classic creamy taste.
So, I can still enjoy this yummy soup, but without the unhealthy fats, animal ingredients and tummy aches.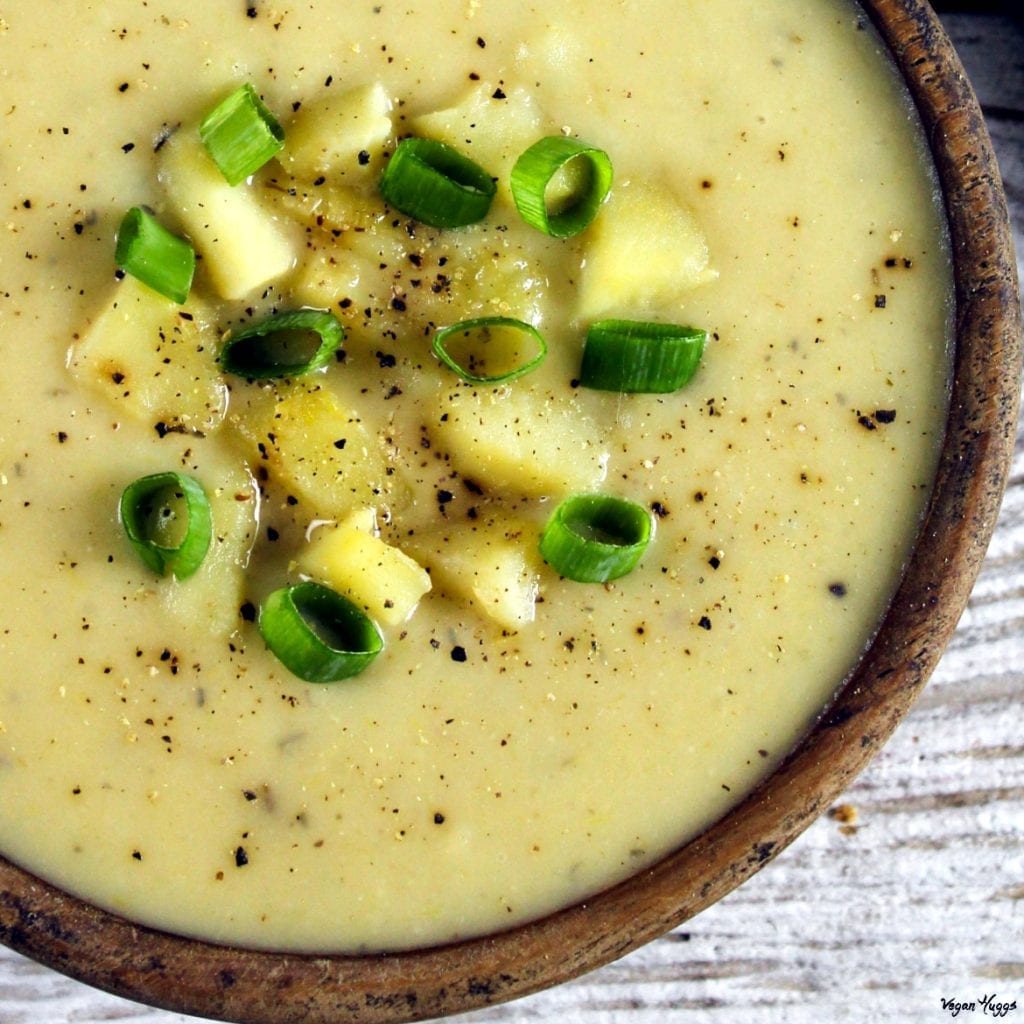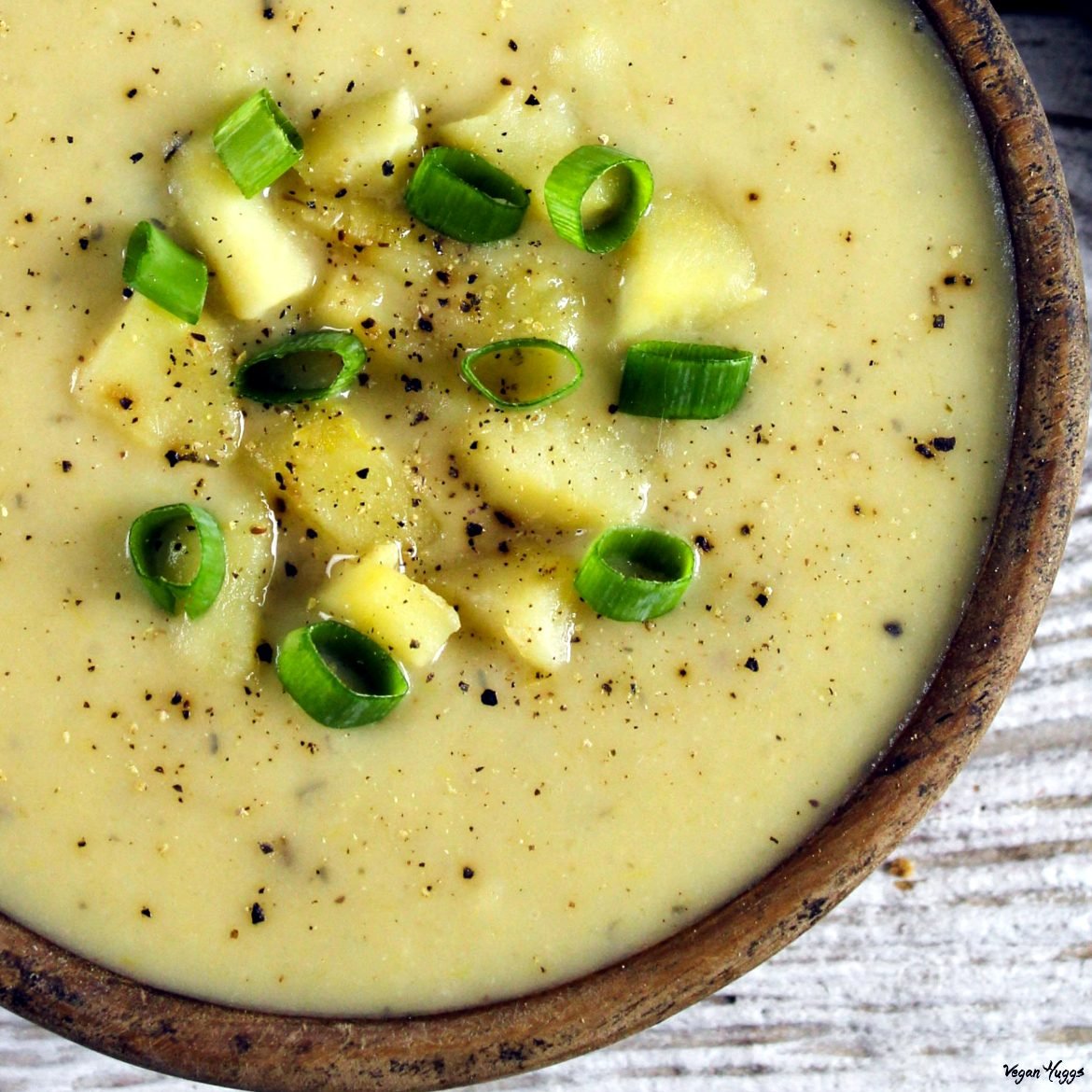 Simple ingredients
You won't need to buy anything fancy to make this soup, just basic kitchen staples that are inexpensive and easy to find. You'll need:
Olive oil
Vegan Butter
Onion
Garlic
Leeks
Potatoes
Thyme, Rosemary, Coriander & Bay Leaves
Salt & Pepper
Lemon Juice
Canned Milk
If you don't like coconut milk, you can use any unsweetened non-dairy variety. You can even omit the milk altogether, it will still be really creamy. The potatoes work most of the magic anyway.
Along with simple ingredients, this Vegan Potato Leek Soup is SO easy to make. Here's what you'll need to do:
Wash the leeks well (they are very dirty inside)
Sauté the onions and leeks
Add the potatoes, garlic, salt, pepper & spices
Add the vegetable broth & bay leaf
Simmer for 15-20 minutes (until potatoes are tender)
Stir in coconut milk and lemon juice
Blend until smooth and creamy (you can also leave it chunky)
Garnish and serve
Are you ready to try this unbelievably creamy, comforting and satisfying soup?
It's just GOOD!
Let's do this!
I'd love to hear from you
If you make this Vegan Potato Leek Soup, I'd love to hear what you think in the comment section below. It would really make my day. You can also follow me on Instagram and share your creation with me. Just tag me @veganhuggs and hashtag #veganhuggs so I don't miss it.
* Click photo to Pin *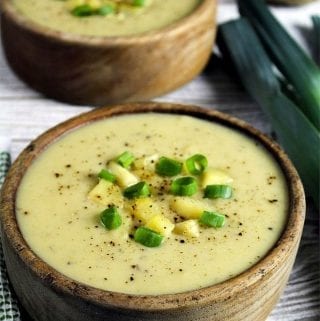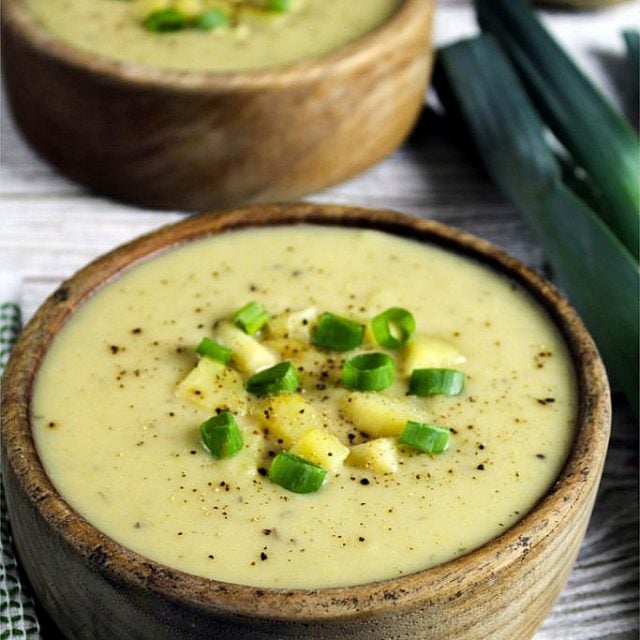 Creamy Vegan Potato Leek Soup
This Potato Leek Soup. It's unbelievably creamy, comforting and filling! It's the perfect choice for those chilly days, too. This recipe is for the veganized version and it does not disappoint.
Print
Pin
Rate
Ingredients
1 1/2

tablespoons

olive oil

(or preferred oil)

1

tablespoon

vegan butter

1

small onion

, diced

3

large leeks

, cleaned well & thinly sliced (white & light green part only) *See note

5

medium russet potatoes

, peeled and chopped

3-4

cloves

of garlic

, minced

1

teaspoon

salt

, more to taste

Fresh ground pepper

, to taste

1 1/2

teaspoons

dried thyme

1/2

teaspoon

dried rosemary

1/2

teaspoon

ground coriander

(optional)

5

cups

vegetable broth

(low sodium) *See note

2

bay leaves

1-2

tablespoons

fresh lemon juice

(optional)

1

cup

canned coconut milk

(or any unsweetened plant-based milk)
Toppings Ideas
Green onion

, chopped

Pieces

of cooked potato

Fresh ground pepper
Instructions
Make sure leeks are washed well first. *See note on instructions

Heat the oil, butter and a pinch of salt in a large pot over medium heat. Add the leeks & onion, sauté until softened, about 5-6 minutes.

Add the potatoes, garlic, thyme, rosemary, and coriander. Sauté for 2-3 minutes.

Add the vegetable broth, bay leaf, salt, and pepper. Raise heat so it starts to simmer. Now reduce heat to a low simmer and cook for about 15-20 minutes, or until the potatoes are fork tender.

Remove from heat and remove bay leaves. Stir in the coconut milk and optional lemon juice. Taste for seasoning and add more to taste.

Using an immersion blender, blend until smooth and creamy. You can also use a regular blender and carefully blend in batches. Before blending, set aside a few pieces of potato for the garnish.

Serve in soup bowls and top with chopped green onion, fresh ground pepper and a few pieces of cooked potato.
Notes
*Leeks can be very dirty inside the layers because they are grown in sandy soil. To clean thoroughly, cut off the dark green part and discard (or save for stock). Cut off the roots, and slice the stalk lengthwise in half. Now slice the entire leek into pieces. Place in a small bowl of water and swish around to release the dirt. Place in a colander and drain well.
*Vegetable Broth: I like to use low sodium broth, so I can control the salt taste. Some broths are too salty and can ruin a good recipe. If you would like to use a regular broth, make sure to cut down the added salt in the recipe. Taste as you go along. Another option is to blend low sodium and regular broth together. If you would like to omit the non-dairy milk, just add a 1/2 cup more vegetable broth. The soup will still have a creamy texture from the potatoes.   * If you don't have vegan butter, you can replace it with olive oil.    *If you don't like coconut milk, my second choice for this recipe would be unsweetened soy milk, because it has a richer & creamier texture, but any plant-based milk will work.
Nutrition
Calories:
356
kcal
|
Carbohydrates:
43
g
|
Protein:
10
g
|
Fat:
15
g
|
Saturated Fat:
9
g
|
Sodium:
483
mg
|
Potassium:
1155
mg
|
Fiber:
4
g
|
Sugar:
5
g
|
Vitamin A:
14.8
%
|
Vitamin C:
21.7
%
|
Calcium:
7.3
%
|
Iron:
21.6
%