This post contains affiliate links. Read my disclosure policy here.
These Vegan Mocha Cheesecake Bites are the perfect healthy treat. They are gluten-free, dairy-free and guilt free.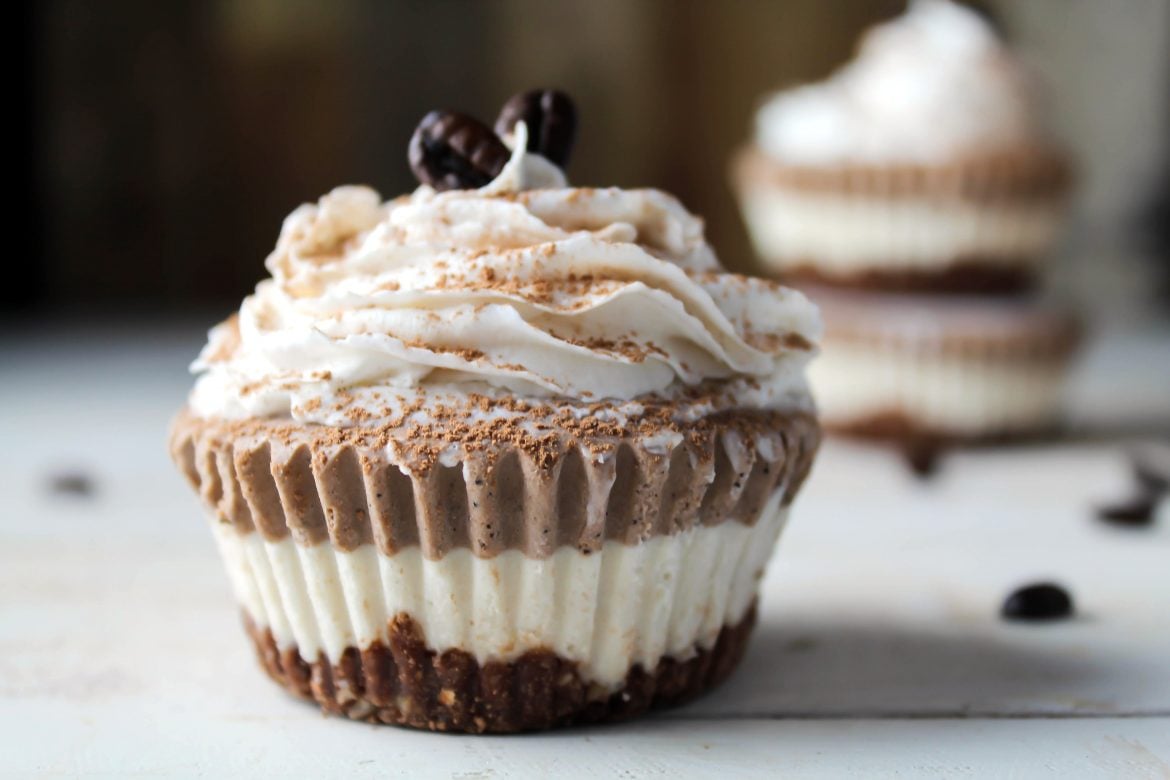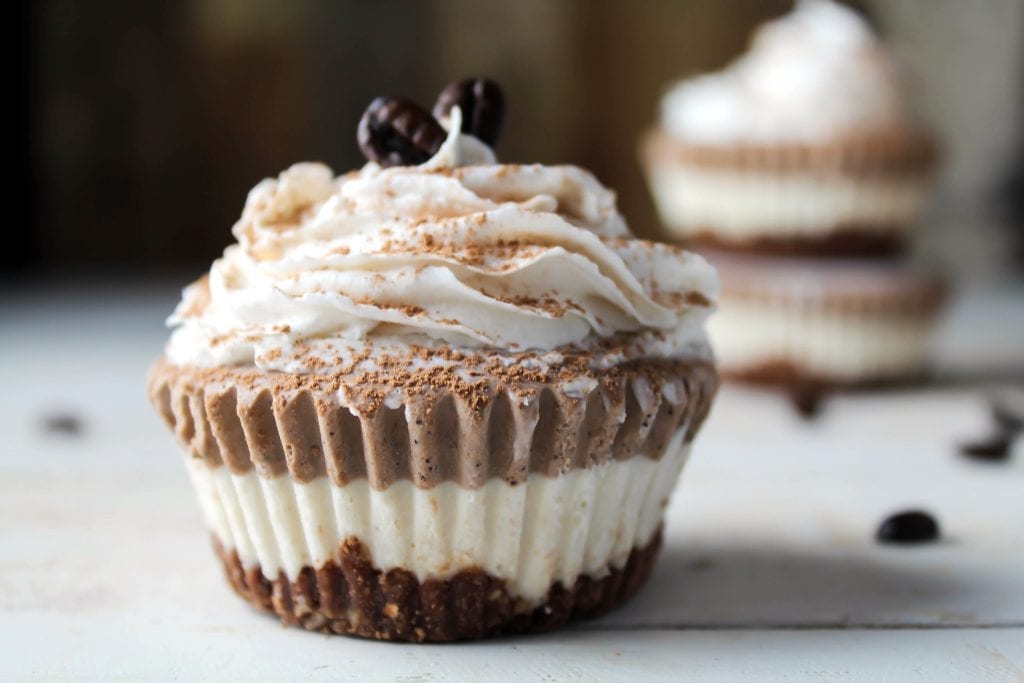 Sometimes I just need coffee...or chocolate...or cheesecake and sometimes I need all three at once! Can anyone relate? Well, these Vegan Mocha Cheesecake Bites can satisfy those cravings all at once, but in a healthier way.
Last week was one of "those" weeks for me. I made delicious recipes to share, but some weren't photographing the way I would like. Can you believe that some food isn't photogenic?
Trust me, these Cheesecake Bites look innocent and cute, but they were so unruly during the shoot. Frozen desserts...plus hot lighting...equals disaster.
I always have a plan before I start shooting, but sometimes it doesn't turn out the way I imagined it. With frozen desserts, I have to act quickly to change the setup and sometimes, I'm not quick enough.
Anyway, I was able to get a few shots in before they quit on me. My shoot officially ended when my light bounce fell on top of them and whipped cream splatted everywhere. Fun!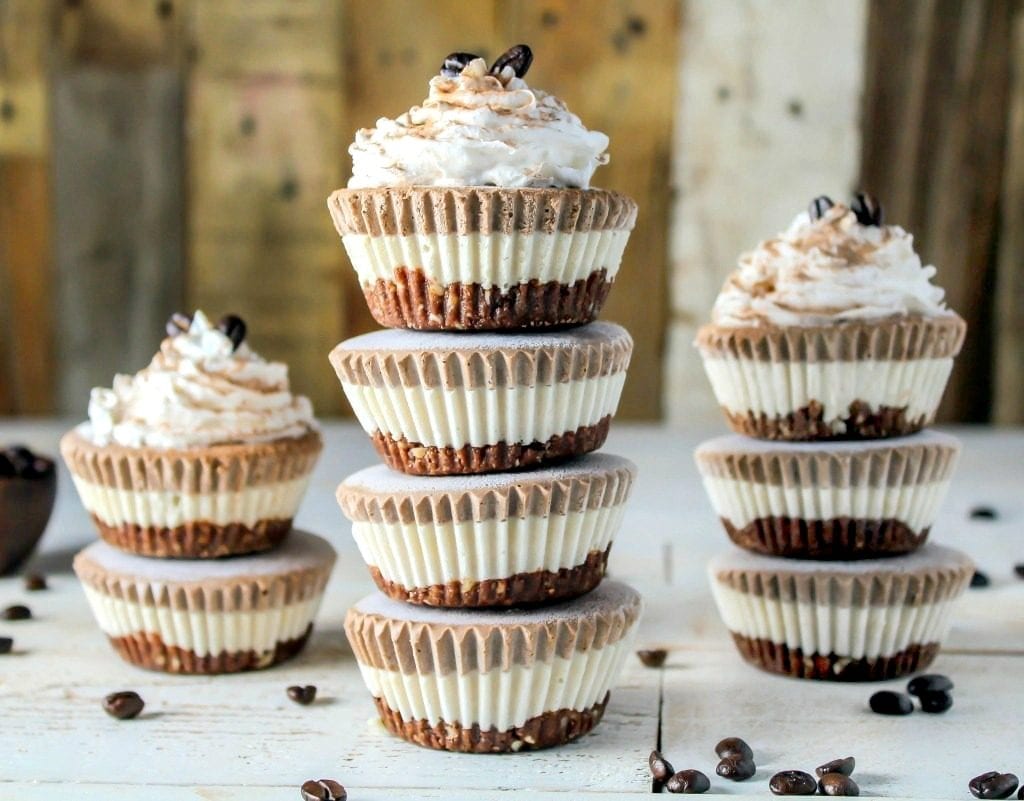 These heavenly Vegan Mocha Cheesecake Bites will satisfy your craving for coffee, chocolate, and cheesecake, but you won't feel like crap after eating them. Sounds good, huh?
You won't find any processed junk in these babies...they are made up of cashews, coconut milk, almonds, dates, pure maple syrup, coconut oil, pure vanilla extract, cacao powder and espresso powder.
They won't make your tummy hurt from the dairy and processed sugars found in most standard treats. Also, you'll be giving your body a healthy dose of protein, fiber, vitamins & minerals. You can enjoy them and feel guilt-free.

Let's talk about those layers
The base layer is a chocolate-almond crust, which is held together by naturally sweet dates. It has the perfect chocolate flavor with a slight almond-y crunch.
Next up, is the vanilla layer. It's soft, creamy, sweet & velvety. It tastes so much better than dairy-based treats. The creaminess comes from cashews and coconut cream. They work magic together!
The topping is a decadent mocha layer. It's rich, chocolate-y and has the perfect hint of coffee flavor. The aroma alone will give you an instant pick-me-up.
These heavenly bites are perfect just the way they are, but if you would like to dress them up, you can add dairy-free whipped cream and dust them with cacao powder.
So, are you ready to indulge in these Vegan Mocha Cheesecake Bites, but not feel like you overindulged?
Let's do this!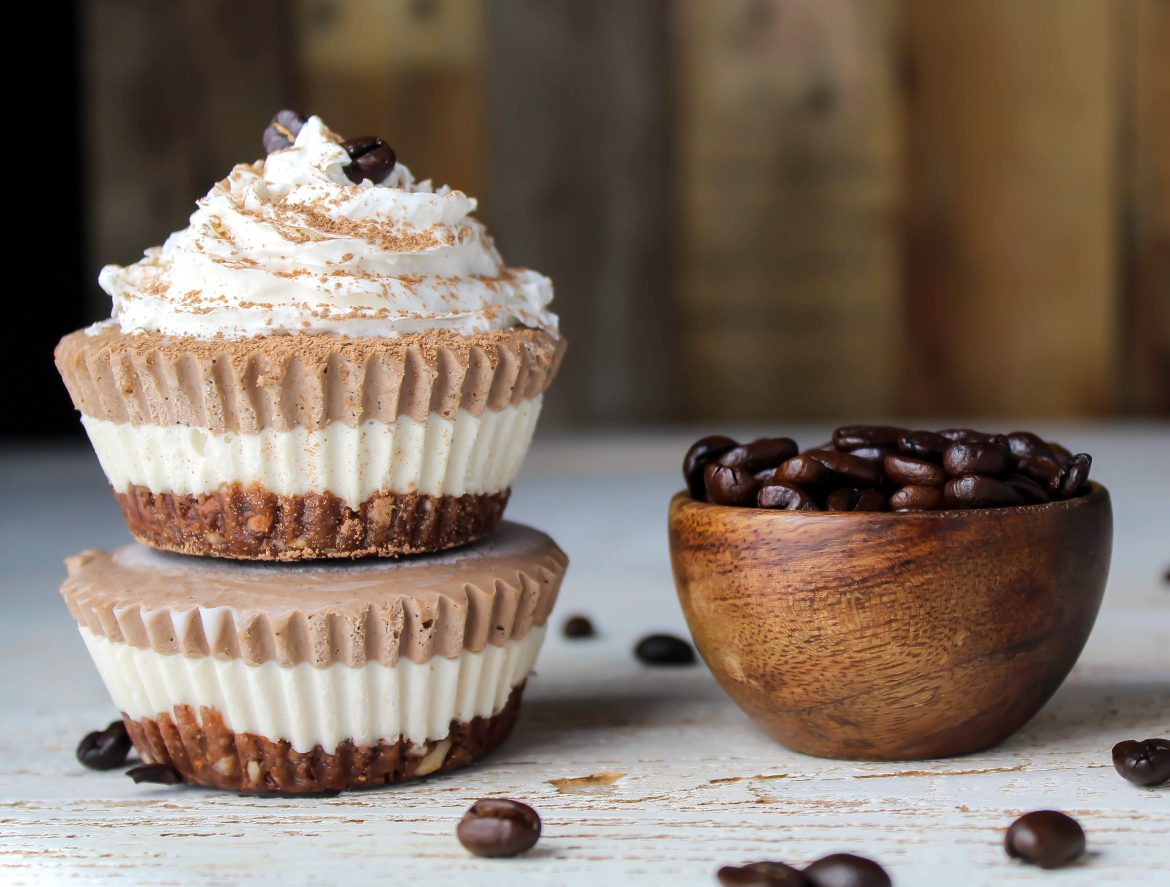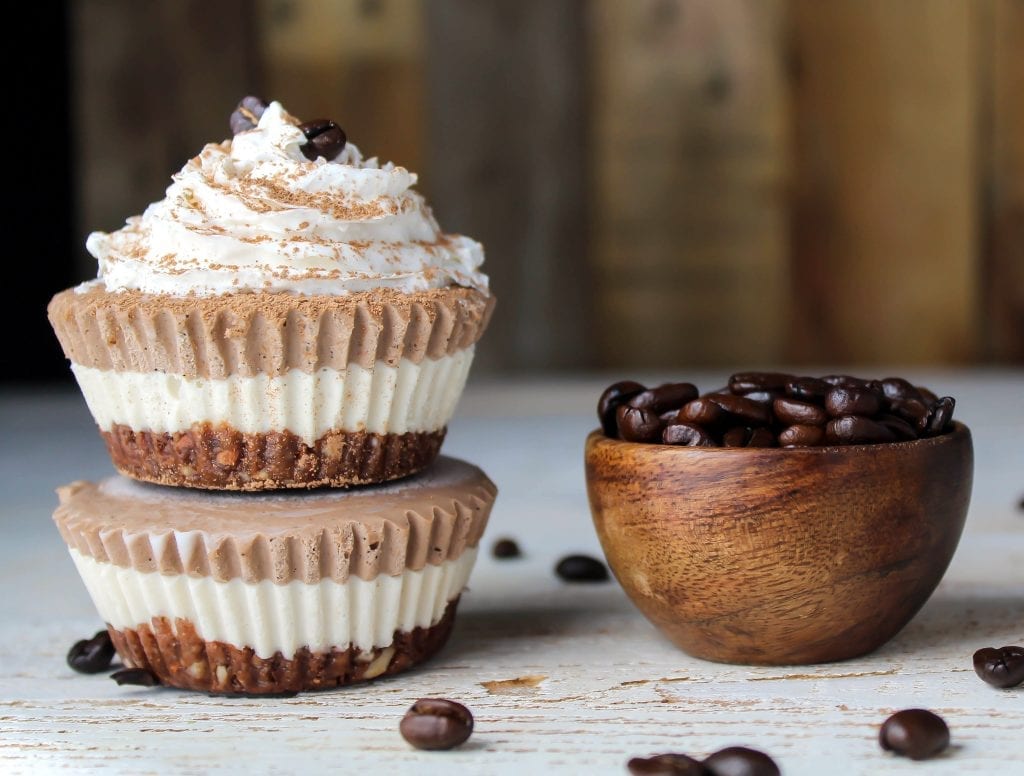 I'd love to hear from you
If you make this recipe, I'd love to hear what you think in the comment section below. It would really make my day. You can also follow me on Instagram and share your creation with me. Just tag me @veganhuggs and hashtag #veganhuggs so I don't miss it.
📖 Recipe
Vegan Mocha Cheesecake Bites
These Vegan Mocha Cheesecake Bites are the perfect healthy treat. They are gluten-free, dairy-free and guilt free. They are made with pure & natural ingredients.
Ingredients
Chocolate Almond Crust:
½

cup

raw almonds

½

cup

dates

, pitted (*see note)

2

tablespoons

raw cacao powder

(or unsweetened cocoa powder)

A pinch of salt
Cheesecake Base:
1 ½

cups

raw cashews

, soaked in water for 4 hours or more

⅓

cup

coconut oil

, liquified

1

cup

of coconut cream

(*see note)

½

cup

pure maple syrup

(*see note)

2-3

teaspoons

pure vanilla extract

¼

teaspoon

of salt
Additional Ingredients for Mocha Layer:
Instructions
Crust:
Place all ingredients into a food processor. Process until if forms a loose dough. Press between your fingers to make sure it sticks together. Add more dates or nuts for the needed consistency.

Line a muffin pan with standard-size liners. Put about 1 heaping tablespoon of crust at the bottom of each liner. Press firmly down. (*see note) Pop in freezer while you make the filling
Vanilla Cheesecake Base:
Drain & rinse cashews. Discard soaking water.

Combine all ingredients (except raw cacao powder & espresso powder) in a blender or food processor. Blend until really creamy and smooth.

Place 2 ½ tablespoons of mixture on top of crust (for 10 cheesecake bites) Pop back in freezer for about 20 minutes, to firm up the layer a bit.
Mocha Layer:
Place the raw cacao powder and espresso powder into the remaining filling. Blend until creamy and smooth. Pour about 2 ½ tablespoons of filling on top of the vanilla layer. (approximate measurement for 10 cheesecake bites) Freeze for 4-6 hours. Thaw 3-5 minutes before enjoying. Store in airtight container in the freezer.

Top with some

homemade

or store-bought whipped cream. Enjoy!
Notes
*This recipes makes about 10 cheesecake bites.
*DATES: If the dates aren't soft & somewhat moist, soak them in water for 15 minutes, before using. Drain well and pat dry before use.
*CRUST: If the crust sticks to your fingers and it's hard to press into liners. Use a small round jar, lined with plastic wrap to press down. I used the tamper from my food processor and it worked perfectly.
* COCONUT CREAM: If you don't have coconut cream, you can use a regular can of full-fat coconut milk. Don't shake the can before use, just scoop out & use most of the creamier, hardened part. You might need some of the liquid part to make up 1 full cup and that's totally fine. Some brands of coconut milk won't solidify properly. I recommend Native Forest, Trader Joe's and Thai Kitchen. You will still put the can in the fridge overnight & scoop the hardened part out. Save leftover liquid for smoothies or other recipes. Ultimately, you can use the coconut milk, even if it doesn't separate. The bites will still be delicious & creamy, just not as creamy as the other way.
*MAPLE SYRUP: If you want to reduce the amount of maple syrup, ⅓ cup gives a nice subtle sweetness. I prefer them like that, but my family likes them sweeter, so I use a ½ cup. It all depends on your desired taste. You can also use agave instead of maple syrup.
*MOCHA LAYER: If you'd like a stronger coffee flavor, add ½ - 1 teaspoon more of espresso powder, depending on your taste.
*Prep time doesn't include the freezing time of 4-6 hours.
Nutrition
Serving:
1
Cheesecake bite
|
Calories:
361
kcal
|
Carbohydrates:
26
g
|
Protein:
6
g
|
Fat:
24
g
|
Saturated Fat:
15
g
|
Sodium:
5
mg
|
Potassium:
376
mg
|
Fiber:
3
g
|
Sugar:
15
g
|
Vitamin C:
0.7
mg
|
Calcium:
52
mg
|
Iron:
2.5
mg