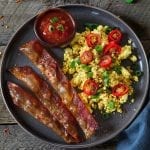 Print
Rice Paper Vegan Bacon Recipe
Looking for a healthier alternative to traditional bacon? This Rice Paper Vegan Bacon is crispy, chewy, sweet, salty, smoky, and just as tasty as the original.
Preheat oven to 375° F (190° C). Line a large baking sheet with parchment paper.

In a small bowl, add all marinade ingredients and whisk to combine well. Set aside.

Put two sheets of rice paper together with smooth sides facing each other. Now quickly run under water to make them pliable and stick together. Be careful not to trap too much water in between sheets (a little is ok). You don't have to soak the rice paper sheets, just wet them enough so they adhere together. Gently brush off excess water with your fingers. *Alternatively, you can brush on water and stick them together that way.

Lay adhered sheets on a flat surface and brush marinade on each side. Don't put too much or this will cause soggy and really chewy bacon. You should have just enough marinade for all 8 sheets of rice paper.

Now, using clean kitchen scissors, (this is a bit messy) cut the rice paper into thick strips (see above photo). I snip off and discard a small portion of the rounded edges to keep the strips a similar shape.

Now, place the bacon strips on your prepared baking sheet. Fit as many strips as you can, but leave a little room in between each one so they cook properly.

*This next step is optional and will create a slightly chewier texture on the edge of the bacon. Just lightly brush the marinade on half of the bacon strip. No need to flip it over, one side is enough (see photo above).

Place the pan in your preheated oven. You'll need to keep a close eye on the strips because they can burn really easily. My oven tends to get hot, so I rotate the pan at the halfway mark. The bacon should take anywhere from 5-7 minutes to finish (maybe more for some ovens). It should become crispy and perfectly browned. If you take it out too soon, it will be too chewy to eat, and taking it out too late will cause an awful burnt taste. If you aren't sure how it will work in your oven, you can do a test run with 5-6 strips.

Remove pan from oven and place bacon strips on paper towels to absorb excess oil. The bacon will crisp up even more over the next few minutes.

Eat right away or store in an airtight container for 4-5 days. Layer on top of paper towels. Store in a dry area.
Serving:
4
strips
|
Calories:
143
kcal
|
Carbohydrates:
18
g
|
Protein:
3
g
|
Fat:
6
g
|
Sodium:
560
mg
|
Potassium:
126
mg
|
Fiber:
1
g
|
Sugar:
4
g
|
Vitamin A:
3
%
|
Calcium:
1.8
%
|
Iron:
6.6
%