This post contains affiliate links. Read my disclosure policy here.
These Lemon Poppy Seed Pancakes are moist, fluffy and flavorful. Also, they are rich in fiber & protein to start your day off right.
This post is dedicated to all the pancake lovin' peeps out there. This is the first pancake recipe that I am posting and I want it to be noteworthy. I picked a favorite recipe of mine that will satisfy most taste buds and is perfect for summer mornings. These Lemon Poppy Seed Pancakes are light, flavorful, refreshing and sunny.
These babies are hearty, subtly sweet, fragrant & lemon-y and they will undoubtedly bring some sunshine into your morning. The best thing is these Lemon Poppy Seed Pancakes are gluten-free and vegan. You won't be missing a thing though, because they are super moist and fluffy. Not your typical gluten-free hockey puck-pancakes. So, you can enjoy a flavorful and pillowy pancake, that is actually healthy for you. Take that IHOP!
Don't get me wrong, I will definitely order some vegan pancakes while I'm dining out, but the unhealthier version is usually served. They are enjoyable to eat, but I usually leave feeling carbo-loaded and not quite satisfied. Who's with me on this one? Well, when I'm home I make heartier, healthier and yummier pancakes (in my humble opinion). I want breakfast to be satisfying, yet nutritious and filling. A real breakfast of champions!
"So, what's in these dreamy little pancakes that makes them so hearty and delicious", you ask? For the heartiness, I use gluten-free oat flour, that I make in 20 seconds with GF rolled oats and my blender. I also add almond flour to give them a little more texture. The oats and almonds will also add a nice dose of protein and heart-healthy fiber. To make them moist & fluffy, I use flax-eggs and vegan buttermilk. For the subtle sweetness and lemon-y flavor, I use pure maple syrup, fresh lemon zest & juice. The poppy seeds add a delicate little crunch, that I love (feel free to omit, if you don't like them). Then I add the usual suspects like baking soda, baking powder, sea salt, vanilla extract and cinnamon. There ya' have it, a healthy & flavorful breakfast, that is sure to bring smiles to the table.
Step By Step Photos Above
Lemon Poppyseed Pancakes (Vegan + GF)
This recipe will make about 9-10 4" pancakes
Print
Pin
Rate
Ingredients
2

flax eggs

(2 tablespoons ground flax seed + 6 tablespoons water)

1 1/4

cup

almond milk

(or any plant based milk)

Zest and juice of one large lemon

1 1/2

cups

oat flour or rolled oats

(gluten-free, if preferred)

1/2

cup

almond flour/meal

1

teaspoon

baking powder

1/2

teaspoon

baking soda

1/2

teaspoon

sea salt

1/2

teaspoon

cinnamon

1

teaspoon

pure vanilla extract

3

tablespoons

pure maple syrup

1

tablespoon

poppy seeds

Coconut oil for cooking
Instructions
To prepare the 2 flax eggs, add 2 tablespoons of ground flax seed to 6 tablespoons of water. Let is sit for 10-15 minutes.

In a separate small bowl or glass, add the almond milk and lemon juice. Set aside, about 10 minutes. This creates a vegan buttermilk.

If using rolled oats, make oat flour by placing 1½ cup oats in a blender. Blend until finely ground.

Place the buttermilk, flax eggs and additional ingredients, except the poppy seeds, in a blender and blend until smooth. Stir in poppy seeds and set aside.

Heat a griddle or large pan over medium heat for about 1-2 minutes. When pan is evenly heated, melt 1-2 teaspoons of coconut oil. Scoop a 1/4 cup of batter onto the griddle/pan to form pancake circles. (if batter is too thick, add a tablespoon of milk at a time, until it's pourable.)

Cook the pancakes until you notice bubbles form on the top and the edges are formed, about 2-3 minutes. Now flip your pancake and cook the other side about 2-3 minutes, until light golden brown. Place finished pancake on paper towel-lined plate. Repeat until all the batter is gone. Add a tiny bit of oil to the pan before placing fresh batter down.(about 1/4- 1/2 teaspoon of oil)

Serve warm with maple syrup
Notes
Keep finished pancakes warm in the oven, while you are cooking the rest of the mixture. Serve with warm maple syrup.
I use these 4 pancake rings to make the perfect pancake shape, but they are not needed. They come in different sizes, too.
If you don't have ground flax seed, just grind whole flax seeds in a coffee grinder.
If you make these Lemon Poppy Seed Pancakes, or one of my other recipes, I'd love to hear from you. Leave a comment below and let me know what you think. It would really make my day. You can also follow me on Instagram and share your creation with me, Just tag me @veganhuggs and hashtag #veganhuggs.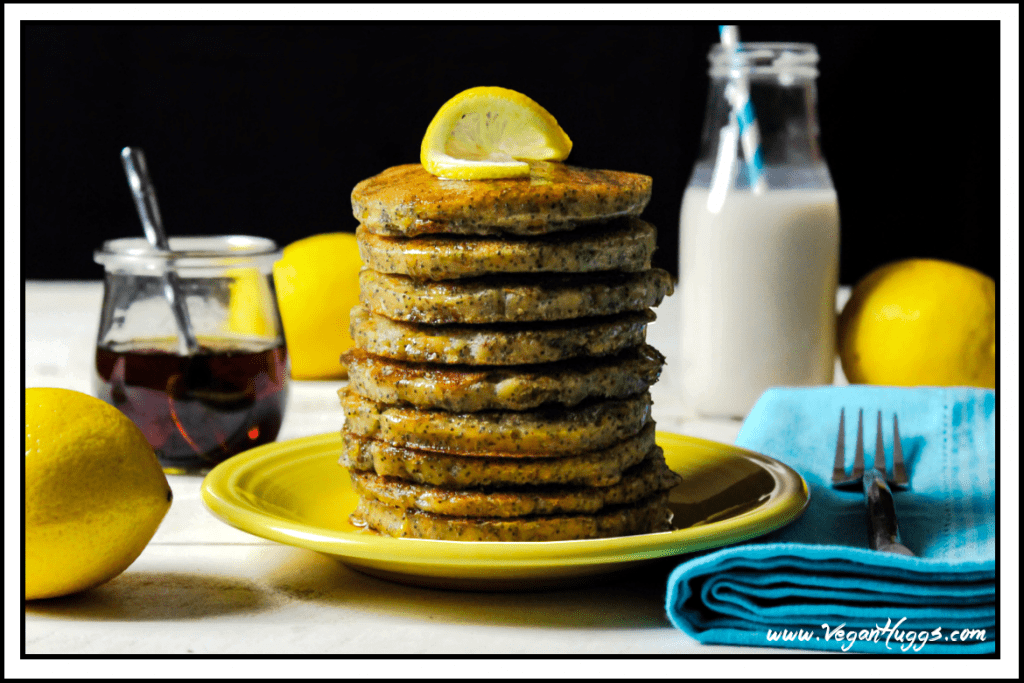 Melissa is the creator and recipe developer of the popular food & lifestyle blog, Vegan Huggs. It's a friendly and approachable environment for anyone who's curious about plant-based eating or cruelty-free living. Her blog is filled with comforting, familiar and easy-to-follow recipes that will fit into every household. Each dish is beautifully photographed in her own unique style with an inviting feel to them. Also, she has built a solid relationship with her readers and has a real understanding of what makes them return.
Latest posts by Melissa Huggins (see all)