Jam Thumbprint Cookies – the combination of delicious jam, melt-in-your-mouth shortbread, and sweet powdered sugar will help you bring on the festive spirit!

Ok, I'm back, and as promised, I'm presenting these jam-filled, Vegan Thumbprint Cookies right in time for the holidays.
They are buttery-soft, sweet and a little tart. Who can resist such cute, colorful and powdery deliciousness? I sure can't!
These homemade delights are perfect for gift giving
There's just something so special about a handmade gift. They are unique, fun and bring tons of smiles.
This year I'll be handing out my Vegan Thumbprint Cookies, these Snowmen Meringue Cookies, my super hydrating Body Butter and this Pumpkin Spice Latte Sugar Scrub. I have a few more up my sleeve and I'll be sharing them next week with you guys.
Another great thing about DIY gifts is that they are inexpensive and most can be made for less than $5. You can surprise your hair cutter, postal worker, neighbor, co-worker, landscaper or mechanic.
You can also drop off gifts at a local homeless shelter, children's hospital or give to a stranger who needs a little love. Homemade gifts really come from the heart and the receiver will truly feel special.
The best thing – you can make a batch for yourself, too! Yep, you can "feed two birds with one scone" with these delicious & festive treats.
I'm sure Santa would appreciate them, too 😉
Going to a holiday party & don't want to be empty-handed?
Bring these easy Vegan Thumbprint Cookies along!
With the holidays around the corner, various celebrations can pop up out of nowhere (no complaints here). Desserts and treats alike, are quick and easy things to bring to your host and will be so appreciated.
Hosting a party can be stressful, so the more helping-hands, the better. These classic festive cookies will definitely win over the guests and make your host happy.
Besides being easy on the host of the party, these tasty little treats are easy on you, too. You'll need simple ingredients like vegan butter, all-purpose flour, sugar, jam, baking powder, salt, powdered sugar, vanilla & almond extract.
Together these ingredients will create soft, buttery & sweet cookies that nobody can resist!
I used a cookie cutter, but you can just roll the dough into little balls to make your cookies. Then just put your signature thumbprint in each one and fill with your favorite jam. Easy-peasy!
These Vegan Thumbprint Cookies are one of the best treats to make with your family. Your kiddos can press their tiny thumbprints in the cookies, and put their favorite jam in as well.
Everyone will have their own special cookie to enjoy. It's a great tradition to start each holiday season with those you love.
The kids(or the kid-in-you) can enjoy these with vegan milk, or homemade hot cocoa. You might like them with your favorite cup of coffee or tea.
Oh heck, it's the time of year to celebrate, go grab that "special" eggnog instead. And don't forget the never-ending Christmas tunes to go along with everything 😉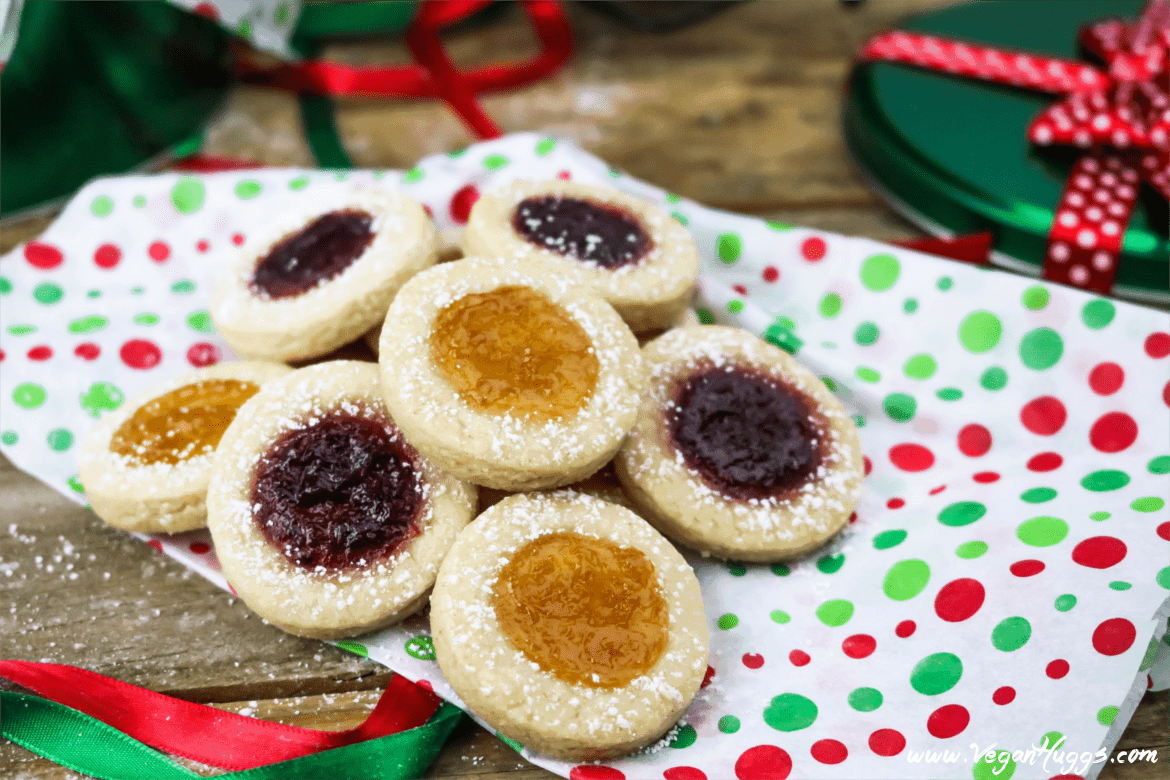 These cookies are definitely worth trying out this year. Whether they are for a thoughtful gift, holiday party or quality family time, they will help bring everyone together & spread holiday cheer.
Who couldn't smile when they bite into one of these? They have the essence of comfort, winter & joy all wrapped in one.
I love making these cookies every year. They're simple, fun, and the end result is a delicious, comforting taste.
They're the perfect treat to put together last-minute, or when you're itching to bake for the holidays. The rich, buttery shortbread topped with a sweet, natural fruit jam is almost addictive.
Are you ready to bring on the festivities? Let's get started!
I'd love to hear from you
If you make these Vegan Thumbprint Cookies, I'd love to hear what you think in the comment section below. It would really make my day. You can also follow me on Instagram and share your creation with me. Just tag me @veganhuggs and hashtag #veganhuggs so I don't miss it.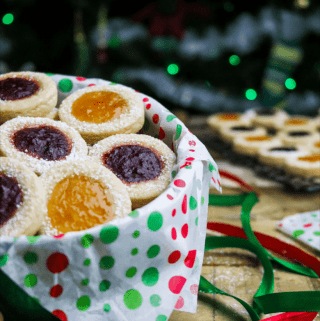 Jam Thumbprint Cookies
It's not the holidays unless there's some jam-filled Vegan Thumbprint Cookies floating around. The combination of delicious jam, melt-in-your-mouth shortbread, and sweet powdered sugar will help you bring on the holiday spirit!
Ingredients
2

cups

all-purpose flour

1/2

teaspoon

salt

1/2

teaspoon

baking powder

1/2

cup

vegan sugar

3/4

cup

softened vegan butter

(I prefer stick butter)

2

tablespoons

almond milk

, or any plant-based milk

1

teaspoon

vanilla extract

1/2

teaspoon

almond extract

(optional)

1/3

cup

store-bought or homemade jam.

(I used cranberry sauce & apricot jam)

*Optional: powdered sugar for sprinkling

(about 3 tablespoons)
Instructions
Heat the oven to 350°F

Line a large baking sheet with parchment paper.

In a medium bowl, whisk flour, salt, and baking powder, combine well.

In a separate bowl, beat the butter & sugar, until light & fluffy. Now add almond milk, vanilla extract & almond extract, combine well.

Add flour mixture slowly into the wet, & combine until dough is formed. Don't overwork the dough. If the dough is too sticky, add a teaspoon of flour. If your dough is really soft, roll into a large ball & cover with cling wrap & put in the refrigerator for 15-20 minutes.

Lightly flour your work surface. Roll dough out to about 1/4 inch thick, and use a round cookie cutter to cut out each cookie shape. Place on baking sheet.

Press your thumb in the middle, while dough is still in cookie cutter (I cheated & used the top of my Cholula hot sauce cap). This will provide more uniform results (Alternatively, you can skip the cookie cutter & roll the dough into small balls. Slightly flatten on the baking sheet, and press an imprint with your thumb). Space cookies about 1 inch apart on baking sheet.

Whisk jam together for a smoother consistency. Fill each thumbprint with about a a 1/4 teaspoon (or more) of jam. Smooth out jam with the back of a spoon or damp finger.

Bake for 12-14 minutes or until lightly golden. Cool on cooling rack 10-15 minutes. *Optional: Sprinkle powdered sugar on top of cookies using a mesh strainer (*see note). Store in airtight container.
Recipe Notes
*Prep time doesn't include chilling time.
*This recipe makes about 40 cookies that have a diameter of about 2 inches.
* TIP: if you don't want powdered sugar on the jam, cut a little circle from a piece of parcment or wax paper. Place it on top of the jam before sprinkling on sugar. You can reuse the circle for each cookie.
Nutrition Facts
Jam Thumbprint Cookies
Amount Per Serving (2 Cookies)
Calories 116
Calories from Fat 45
% Daily Value*
Total Fat 5g 8%
Sodium 115mg 5%
Potassium 28mg 1%
Total Carbohydrates 16g 5%
Protein 1g 2%
* Percent Daily Values are based on a 2000 calorie diet.