This vegan Butternut Squash Sweet Potato Soup is rich, creamy and comforting. It's dairy-free, gluten-free and delicious!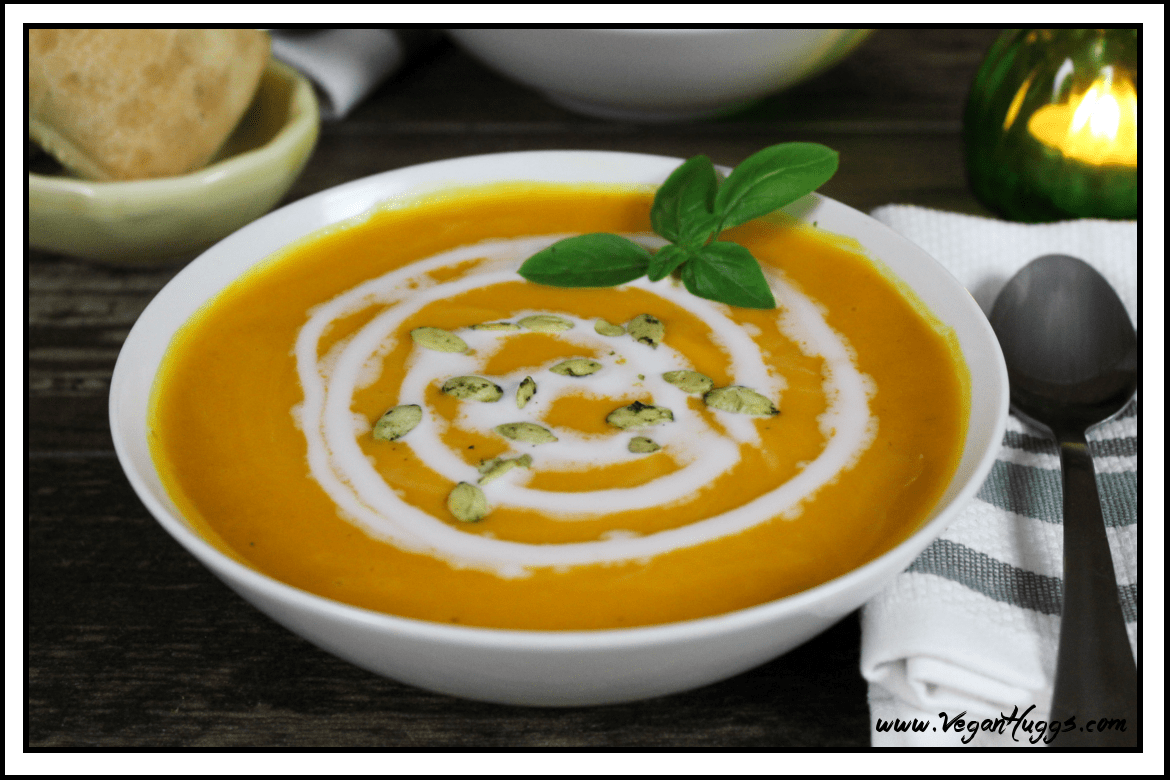 Even though the weather is still warm in my neck of the woods, I'm feeling the fall weather in spirit. I grew up with seasons, so it's just a part of my being. It's ok though, I just turned up the a/c a little and made this delicious Butternut Squash Sweet Potato Soup. My tummy feels all toasty and warm just thinking about it.
Don't you just love this time of year? Pumpkin is everywhere, the leaves are falling and it's time for belly warming soups. I will get the cooler weather over here, but it doesn't start for another month. I'm ready!
We've been straight-up soupaholics in our home lately! Last week I made my Creamy Potato Leek Soup & my bistro-style French Onion Soup. I usually like to freeze left over soups, but these never made into the tundra. We gobbled them up for lunch & dinner for a week. No boredom here!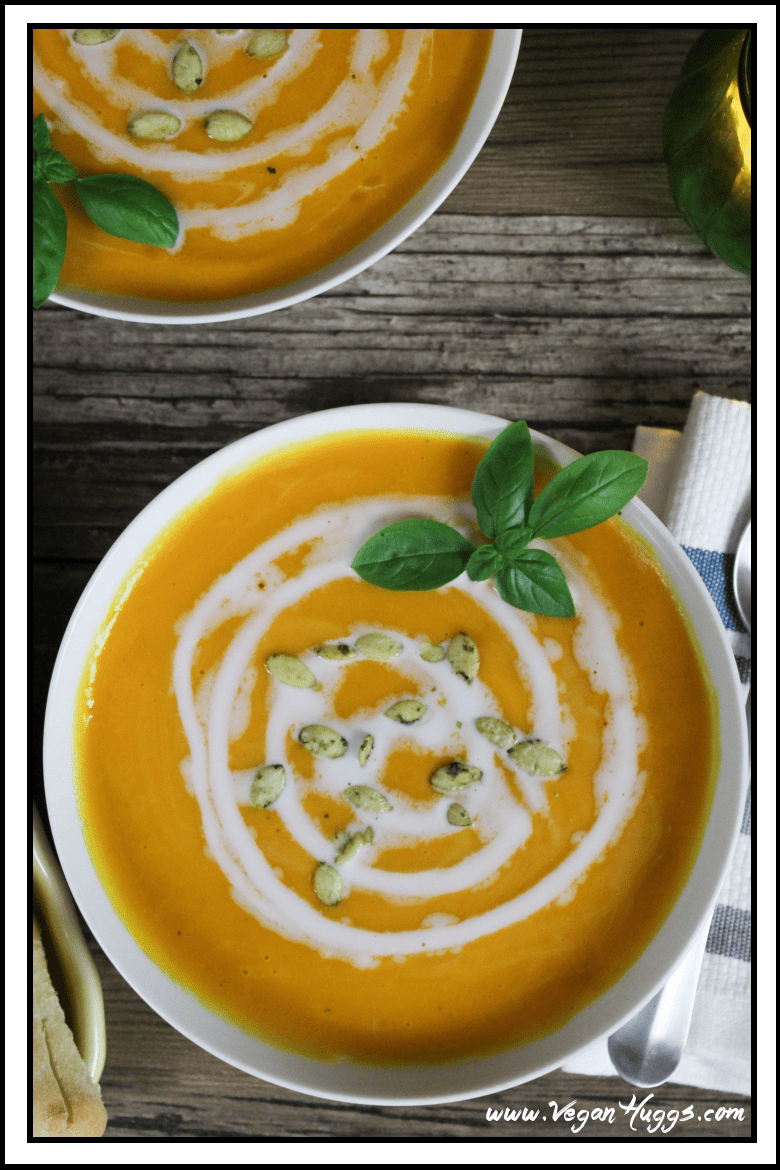 Together, the butternut squash and sweet potatoes, make a silky, creamy & satisfying meal. A bowl of this golden-y goodness, pairs well with my Gluten-Free Cornbread Muffins, too.
Sending your kiddos to school on a chilly day? This soup is totally portable, so send them off with a warm Thermos filled with this tummy warming soup. So much better than a cold sandwich, don't you think?

Besides being utterly delicious-this soup is really healthy for you, too! Take a look:
Butternut squash has a sweet, nutty taste and a beautiful light orange color inside (major antioxidant power!). Also, it's a great source of vitamin A, vitamin C,  potassium and magnesium. It has lots of friendly fiber, too.
Sweet potatoes are also an excellent source of vitamin A, vitamin B ,vitamin C, manganese, potassium, fiber and many other vitamins and minerals. I love the orange color and the sweet taste they have. I love to eat them straight out of the oven, because they don't need anything except a sprinkle of salt.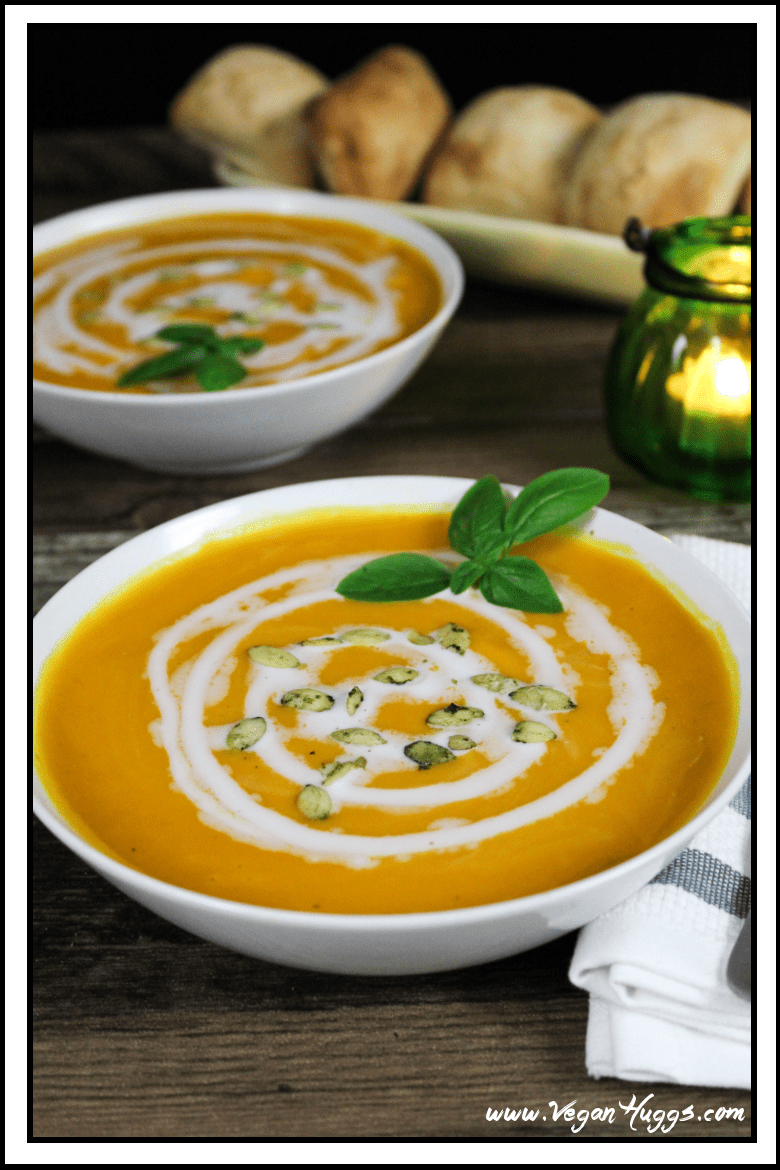 Melissa | Vegan Huggs
Vegan Butternut Squash & Sweet Potato Soup
This Vegan Butternut Squash & Sweet Potato Soup is rich, creamy and comforting. It's dairy-free, gluten-free and delicious!
10 minPrep Time
25 minCook Time
35 minTotal Time
Ingredients
1 small yellow onion, diced
2 large carrots, peeled and chopped
2-3 cloves garlic, minced
1 medium butternut squash, peeled and diced (about 4- 5 cups)
1 large sweet potato, peeled and diced (about 2 cups)
3 cups vegetable broth, low sodium *See note
1 medium tomato, diced
1 teaspoon dried thyme
1/2 teaspoon cumin
A pinch of ground nutmeg
1 1/2 teaspoons sea salt (more to taste)
Fresh ground pepper, to taste
1 tablespoon fresh lemon or lime juice
Instructions
In a large pot, heat the coconut oil over medium heat. Add the onion, carrots and garlic, sauté until onions are softened, about 3-4 minutes
Add the squash, sweet potato, tomato, vegetable broth, salt, pepper and spices. Bring to a slight boil, then reduce to a simmer, cook for about 20-30 minutes or until the veggies are tender.
Remove from heat and add the coconut milk & lemon juice. Taste for salt and add as needed.
Using a regular blender or an immersion blender, purée the vegetables until it's a smooth & creamy consistency. Place into soup bowls, swirl some coconut milk & add pumpkin seeds on top.
Notes
**Vegetable Broth: I like to use low sodium broth, so I can control the salt taste. Some broths are too salty and can ruin a good recipe. If you would like to use a regular broth, make sure to cut down the added salt in the recipe. Taste as you go along. Another option, is to blend low sodium and regular broth together.
Serve with some warm bread. Garnish with some fresh ground pepper, fresh basil or cilantro.
7.5
8
http://veganhuggs.com/butternut-squash-sweet-potato-soup/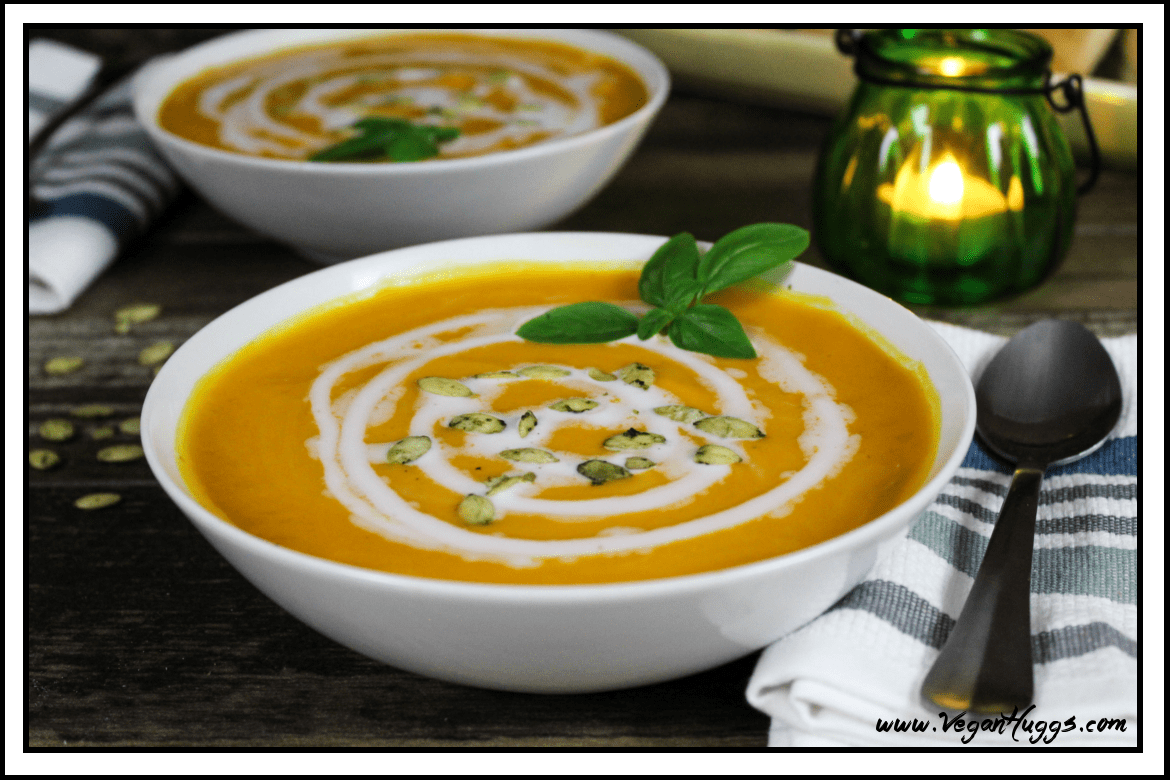 If you make this Butternut Squash Sweet Potato Soup, or one of my other recipes, I'd love to hear from you. Leave a comment below and let me know what you think. It would really make my day. You can also follow me on Instagram and share your creation with me…just tag me @veganhuggs and hashtag #veganhuggs.
*Pin for later 🙂

Vegan Huggs is a participant in the Amazon Services LLC Associates Program, an affiliate advertising program designed to provide a means for sites to earn advertising fees by advertising and linking to amazon.com. This post may contain affiliate links, which means I make a small commission if you purchase the item after clicking on the link. This helps cover the cost of keeping the site running. There will be no additional charge to you, if you purchase an item through an affiliate link. I will only link items that I use myself.